For the New Year, I wanted to make a "healthy" cake. I decided to whip up this honey yogurt cake. So dreamy, isn't it? It's sweetened with honey. It has a mix of wheat and almond flour, coconut oil, vanilla, and lemon. I love it because it's not too sweet but still satisfying! I was going to pair this with a zesty lemon buttercream but felt it would be too overpowering. I considered putting whipped cream on top but as many of you know, whipped cream is not stable and is not well suited for a layer cake. The solution? A mascarpone whipped cream mixture! It is so good that it is virtually impossible to describe.It is so creamy and light and it pairs perfectly with ALL berries! Did I mention that I ate the entire cake over the course of a day? Yup. Not sorry about it!
Print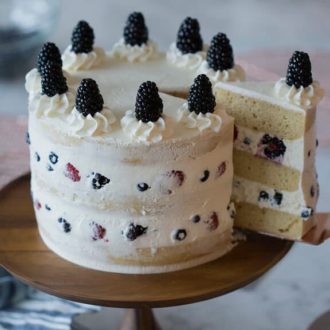 Mascarpone Honey Cake
A dreamy honey yogurt cake filled with a mascarpone cream and berries.
Ingredients
For the Cake
3

cups

all-purpose flour

2

cups

almond flour

1

tbsp

baking powder

heaping

1/2

tsp

kosher salt

2

cups

sour cream

1

cup

honey

4

eggs

room temperature

2

tsp

vanilla paste

you can substitute with vanilla extract

2

tbsp

lemon zest

zest of about two lemons

1/2

cup

coconut oil

melted and cooled
For the Frosting
18

oz

mascarpone cheese

room temperature

3

cups

heavy cream

1

cup

powdered sugar

3

tsp

vanilla extract
Berries
2

cups

raspberries

2

cups

blackberries

2

cups

blueberries
Instructions
Grease and flour three 8" pans. If you have them, add wet cake strips to the edge of the pans. Pre.heat oven to 350F

Sift the dry ingredients together in a larg bowl and whisk together.

Add the wet ingredients into a meduim bowl and mix well. Make sure to distribute the honey well.

Add the wet ingredients into the dry and mix well.

Pour the batter into the cake pans and distribute to edges.

Bake for 25-30 minutes or until the centers are done.
For the Filling
Add the cream and sugar to a stand mixer fitted with a whisk

Whip the cream until it just starts to thicken

Add the marscapone and beat on low, bringing the speed up to high as the mascarpone is incorporated into the cream. Add the vanilla.

Beat until the mixture holds firm peaks. Overbeating can lead to a grainy texture.
For the assembly
Add the filling to the first layer then cover with berries. Add more cream on top and smooth out. Add second cake layer, and repeat steps then add third layer, cover with frosting and smooth out.

Push berries into the filling on the side of the cake then smooth out with an offset spatula.

Pipe dollops of cream on the top edge with a large star tip. Top each dollop with a large blackberry.
Nutrition Facts
Mascarpone Honey Cake
Amount Per Serving
Calories 154
* Percent Daily Values are based on a 2000 calorie diet.
This cake has the softest texture and using the baking strips meant that there was no hard crust at the edge!
The mascarpone filling is deceptively light. There's definitely a lot of milk fat in there but it's not super-sweet so you feel like you could just keep eating it an not get that sick stomach feeling you get after over-indulging…
Cake is totally presentable at this stage. In it's naked form it could totally be part of a balanced breakfast..JK
Ready for smoothing and some strategically placed berries.
I know this is more of a Summer cake but, with all the berries available at the market I couldn't help myself!