For the New Year, I wanted to make a "healthy" cake. I decided to whip up this honey yogurt cake. So dreamy, isn't it? It's sweetened with honey. It has a mix of wheat and almond flour, coconut oil, vanilla, and lemon. I love it because it's not too sweet but still satisfying! I was going to pair this with a zesty lemon buttercream but felt it would be too overpowering. I considered putting whipped cream on top but as many of you know, whipped cream is not stable and is not well suited for a layer cake. The solution? A mascarpone whipped cream mixture! It is so good that it is virtually impossible to describe.It is so creamy and light and it pairs perfectly with ALL berries! Did I mention that I ate the entire cake over the course of a day? Yup. Not sorry about it!
If you find cake decorating to be a bit intimidating then check out my How to Decorate a Cake post, it has lots of helpful tips and a full how to video.
Some Tips And Pointers
If you see little clumps of butter after you mix the wet ingredients don't panic, it all works out by the time you mix in the dry ingredients. You can even use melted butter and warm the milk and sour cream up a bit if you like.

You can substitute whole milk yogurt for the sour cream if desired, I do it all the time and can't really tell the difference.

To get FLAT layers that are moist inside and out try using cake strips! You can buy a set on the shop page

or make your own from foil and paper towels at home. I made a whole

blog post on it

so check it out if you're interested!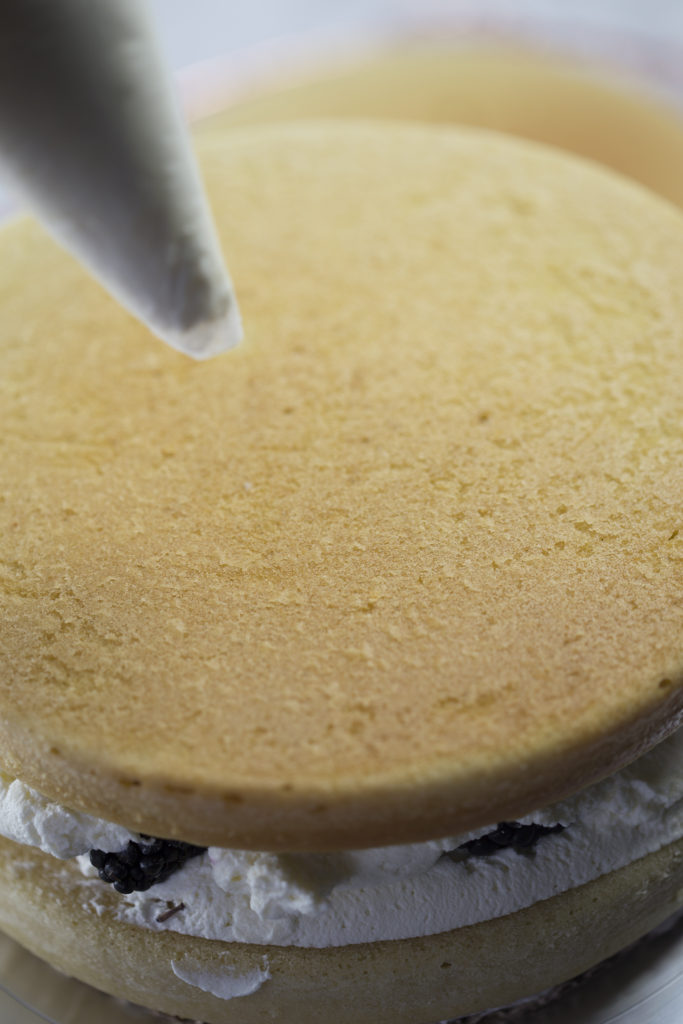 This cake has the softest texture and using the baking strips meant that there was no hard crust at the edge!
WHAT IF YOU CAN'T FIND MASCARPONE ANYWHERE?!?
A while back I was making a cake with a mascarpone buttercream and realized mine had expired! I didn't have time to go to the market so I followed Nigella's advice for a reasonable facsimile and mixed the following ingredients together until combined. Make sure they are all at room temperature!
8oz cream cheese
1/4 cup heavy cream
2 tbs unsalted butter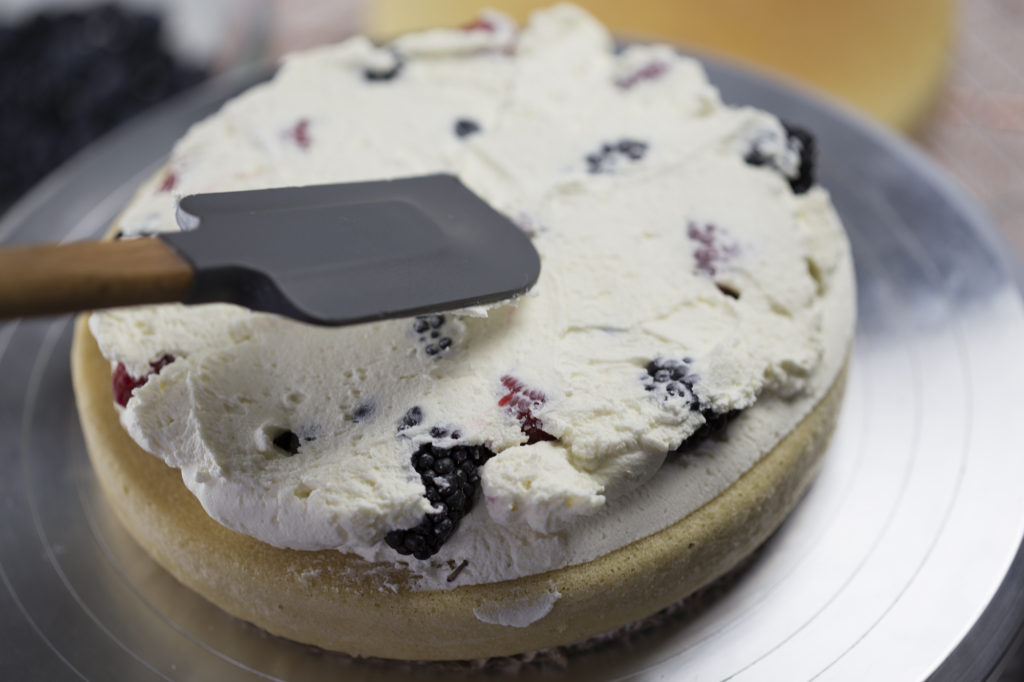 The mascarpone filling is deceptively light. There's definitely a lot of milk fat in there but it's not super-sweet so you feel like you could just keep eating it an not get that sick stomach feeling you get after over-indulging…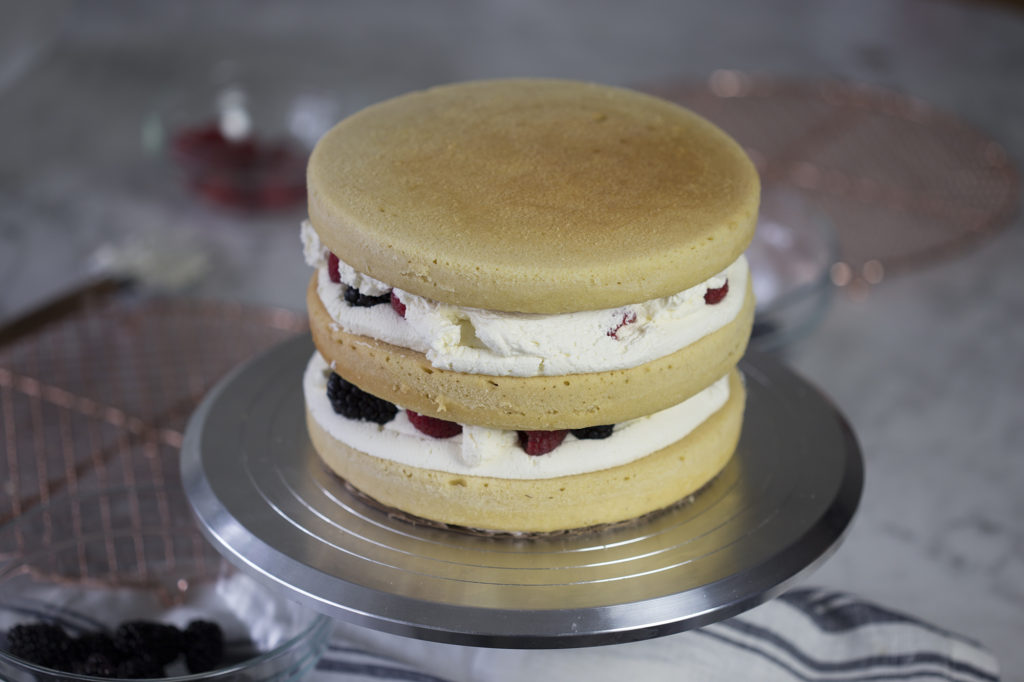 Cake is totally presentable at this stage. In it's naked form it could totally be part of a balanced breakfast..JK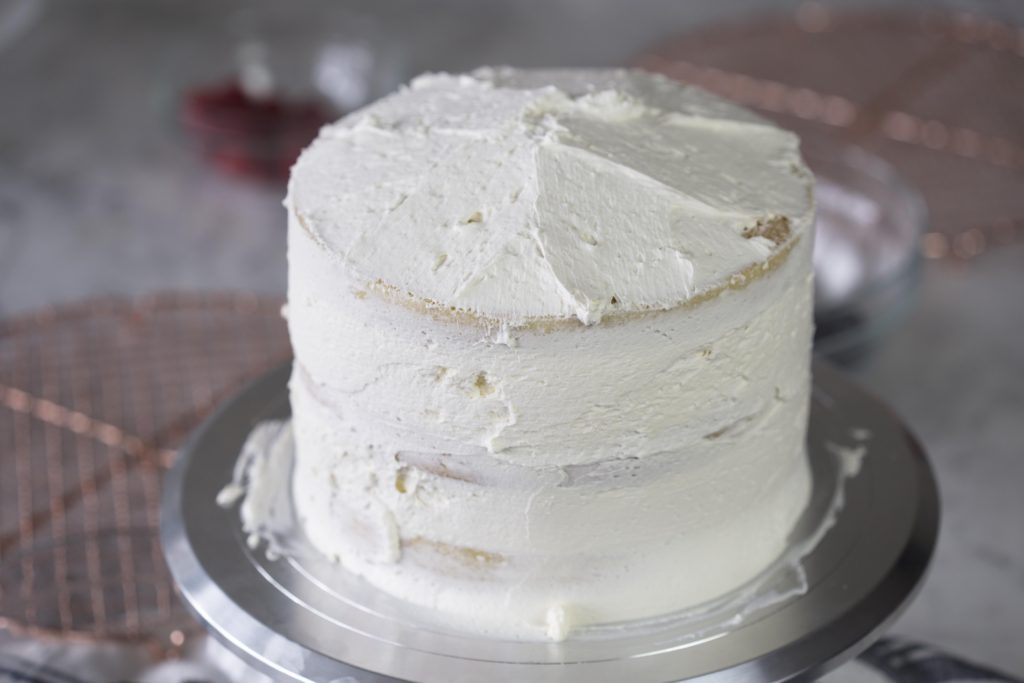 Ready for smoothing and some strategically placed berries.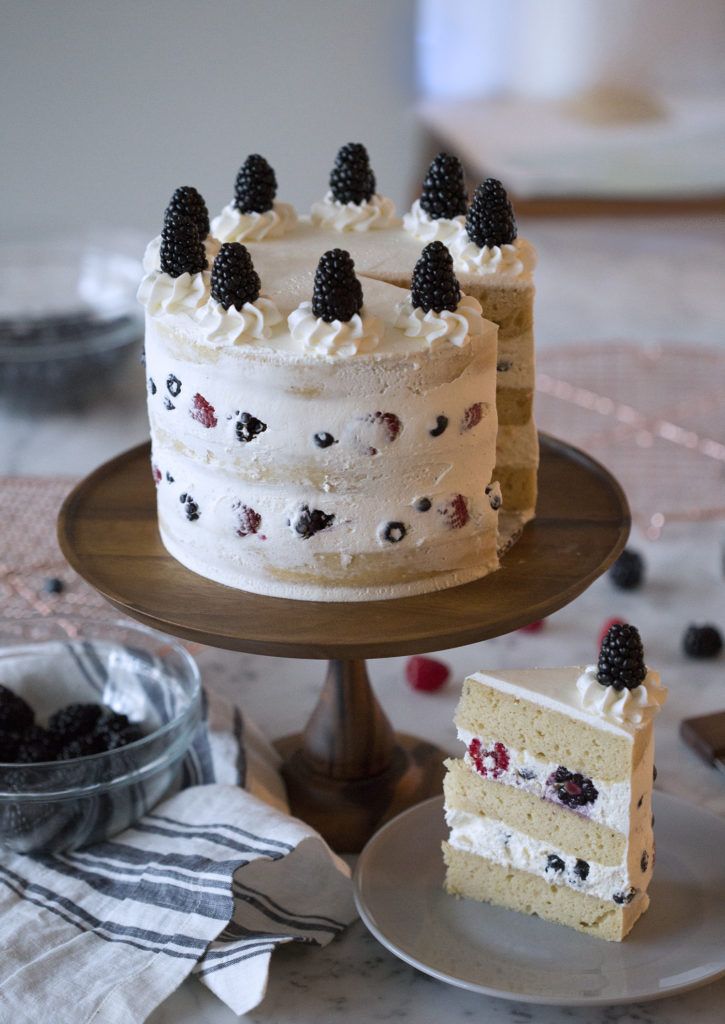 How do You Use Mascarpone?
This frosting is made by whipping cream to soft peaks with some sugar and vanilla and then adding in the ROOM temperature mascarpone and beating until combined. If you over beat the consistency can become grainy.
Mascarpone buttercream can be made by mixing a batch of American buttercream and then mixing in the room temperature mascarpone, beating until combined.
If you've tried this berries and mascarpone cake then don't forget to rate the recipe and let me know how you got on in the comments below, I love hearing from you!
Print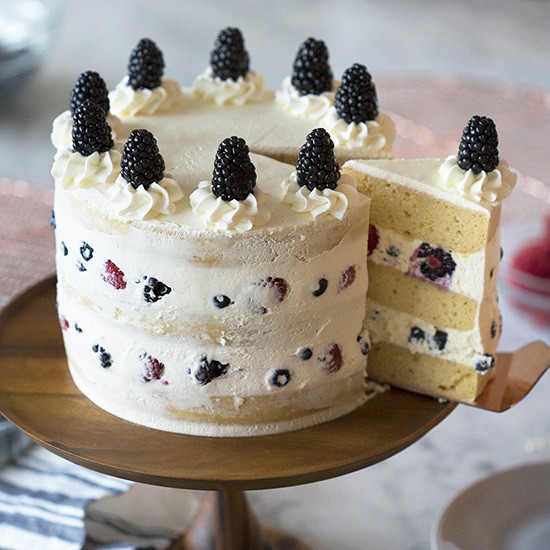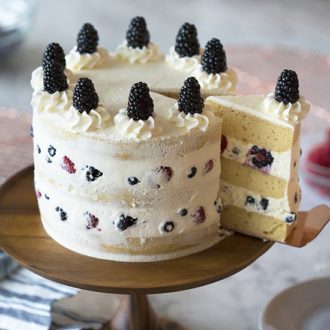 Berry Cake
A dreamy honey yogurt cake filled with a mascarpone frosting and berries.
Ingredients
For the Cake
3

cups

all-purpose flour

360g

1 1/2

cups

almond flour

144g

1

tsp

baking soda

6g

1

tbsp

baking powder

12g

1/2

tsp

kosher salt

3g

2

cups

sour cream

460g

1

cup

honey

340g

4

eggs

room temperature

1

tbsp

vanilla paste

15mL, you can substitute with vanilla extract

2

tbsp

lemon zest

12g, zest of about two lemons

1/2

cup

coconut oil

118mL, melted and cooled
For the Frosting
18

oz

mascarpone cheese

525g, room temperature

3

cups

heavy cream

709mL

1

cup

powdered sugar

125g

1

tbsp

vanilla extract

15mL
Berries
2

cups

raspberries

250g

2

cups

blackberries

220g

2

cups

blueberries

220g
Instructions
Grease and flour three 8" pans. If you have them, add wet cake strips to the edge of the pans. Pre.heat oven to 350F

Sift the dry ingredients together in a larg bowl and whisk together.

Add the wet ingredients into a meduim bowl and mix well. Make sure to distribute the honey well.

Add the wet ingredients into the dry and mix well.

Pour the batter into the cake pans and distribute to edges.

Bake for 25-30 minutes or until the centers are done.
For the Filling
Add the cream and sugar to a stand mixer fitted with a whisk

Whip the cream until it just starts to thicken

Add the marscapone and beat on low, bringing the speed up to high as the mascarpone is incorporated into the cream. Add the vanilla.

Beat until the mixture holds firm peaks. Overbeating can lead to a grainy texture.
For the assembly
Add the filling to the first layer then cover with berries. Add more cream on top and smooth out. Add second cake layer, and repeat steps then add third layer, cover with frosting and smooth out.

Push berries into the filling on the side of the cake then smooth out with an offset spatula.

Pipe dollops of cream on the top edge with a large star tip. Top each dollop with a large blackberry.
Recipe Video
Nutrition Facts
Berry Cake
Amount Per Serving (1 piece)
Calories 463
Calories from Fat 198
% Daily Value*
Total Fat 22g 34%
Cholesterol 106mg 35%
Sodium 225mg 9%
Total Carbohydrates 60g 20%
Protein 8g 16%
* Percent Daily Values are based on a 2000 calorie diet.
If you love this recipe try these out!