There are so many delicious things you can bake when you have some pastry dough waiting for you in the refrigerator. In a previous post, I made three batches of a versatile pastry dough and set two aside for later. Today I get to make a delicious fruit tart in about a third of the time! Let me know what you think of it.
Print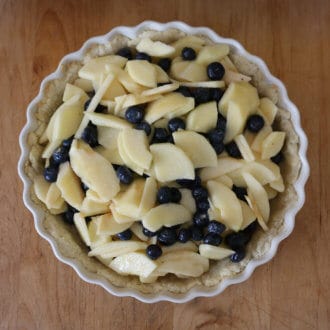 Blueberry Apple Tart
Blueberries and apples... what more could you want from a dessert?
Instructions
INSTRUCTIONS:
Place your chilled dough onto a lightly floured surface and roll out into a rough circle. Set your oven to 400f.

Transfer your dough to a tart form and press and trim. Use a fork to create some venting holes.

Cover your tart in parchment paper and then pour in your metal baking beans. These will provide the weight needed to keep your pastry crust from bubbling up.

Bake at 400 for 10 minutes, remove from oven and take weights and parchment off then replace in oven for another 8 minutes.

Mix blueberries, apple, lemon juice, sugar and flour in a bowl.

Top pastry crust with filling and place in oven.

Cook for approximately 30 minutes at 400f.

Allow to cool briefly...

Serve with a generous dollop of whipped cream and enjoy!
Nutrition Facts
Blueberry Apple Tart
Amount Per Serving
Calories 165
* Percent Daily Values are based on a 2000 calorie diet.