I never really understood why some people liked marshmallows. Sure, I enjoy them in s'mores but that's when the marshmallows are the melty, gooey kind. I would never just snack on one or think, "Gosh, I could really go for a marshmallow right around now." Clearly, I had never had a fresh homemade marshmallow! Totally different… not similar in the least. These are soft, taste great, and for me most importantly, not all dry and papery on the outside. Making them was easier than Italian meringue but not going to lie, it was messy! And I had to wait for them to set so I could get them out of the pan and cut them even though I wanted to eat them immediately… ???? I finished mine off with a quick dip in chocolate and some crushed candy cane but I already have so many ideas for variations in mind. Can you guess what I'll be making next??
If you've tried these dipped marshmallows then don't forget to rate the recipe and let me know how you got on in the comments below, I love hearing from you!
Print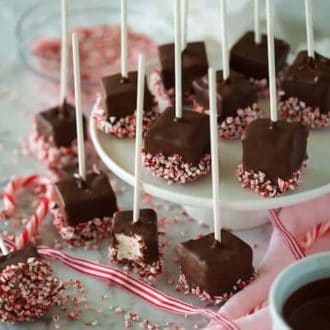 Chocolate-Dipped Peppermint Marshmallows
Gooey and crunchy marshmallows with a kick of peppermint.
Ingredients
INGREDIENTS
Vegetable oil for brushing pan

1

cup

confectioners' sugar

for coating pan and marshmallows

3/4

oz

envelopes powdered of unflavored gelatin

1 1/2

cup

granulated sugar

1

cup

light corn syrup

1/4

tsp

salt

2

tsp

pure vanilla extract

1/4

tsp

peppermint oil

optional

1

cup

water

divided
For the Decoration:
1/2

cup

semi-sweet chocolate

melted and cooled

1/2

cup

crushed candy cane
Instructions
For the Marshmallows:
Using vegetable oil, brush the bottom of a 9-inch baking pan. I recommend a square pan. After, dust your pan using confectioner's sugar.

In a stand mixer (with a whisk attachment) pour in the 1/2 cup of water. Add the gelatin. Stir thoroughly as to ensure that the gelatin is completely saturated. Allow time for it to soften as you move onto the sugar syrup.

In a large saucepan, combine the corn syrup, salt, 1/2 cup water and granulated sugar. Place over medium heat. Bring to a boil. Stir the sugar until it has dissolved. Place the candy thermometer into the syrupy liquid -- without stirring -- until it is at 240°F. Still, allow it to boil. If it begins to foam up DO NOT WORRY! Just turn the heat down and/or remove saucepan from heat until it has cooled slightly.

Put the mixer on a low speed. Pour the sugary-syrup liquid into the gelatin. Gradually increase mixer speed to high. Beat until the marshmallow has a very thick consistency. You will know it's ready when it forms a thick ribbon once the whisk has been removed. Wait 5 minutes then beat in the vanilla.

Transfer the marshmallow to the pan. WARNING: It will be sticky. Wet your fingers. Spread the marshmallow evenly. Smooth the top. Allow it to sit, uncovered. Keep it at room temperature. When the surface is no longer sticky, pull the marshmallow from the sides of the pan. Give the Marshmallow a minimum of 4 hours to sit. Do not wait longer than 12 hours.

Dust the cutting board using confectioner's sugar. Using a rubber kitchen tool (perhaps a spatula) pull the marshmallow from the pan's sides and bottom. Place the marshmallow on the cutting board. Again, dust it with confectioner's sugar. Dust the knife between each cut. Cut the marshmallow lengthwise. Cut around 8 strips. Square them into eighths. It should come to about 64 squares of 2inch cubes. Again, coat marshmallows with the confectioner's sugar. If you are making these marshmallows in advance, they can be stored between layered sheets of parchment/wax paper within a dry container. If stored in a cool room, they can last for around 1 month.
For the Decoration:
Press a lollipop stick into each 2-inch cube.

Dip into the melted chocolate.

Press bottom onto a plate of crushed candy canes. Set aside to allow the chocolate to set. Serve!
Recipe Notes
RECIPE NOTES
Equipment necessary:

Pastry brush; 1 (9-inch) square baking pan; large stand mixer (with a whisk attachment) and a candy thermometer

To flavor marshmallows:

Replace the vanilla extract with a different flavor extract (ex: peppermint/almond/strawberry).

To color marshmallows:

Once you've added the vanilla, add 1/2 tsp (or about 45 drops) of food coloring. Beat it into the marshmallow mixture. Make sure the color is evenly distributed. If you are unsatisfied with the color, add more food coloring and repeat.
Nutrition Facts
Chocolate-Dipped Peppermint Marshmallows
Amount Per Serving (30 g)
Calories 120
Calories from Fat 27
% Daily Value*
Total Fat 3g 5%
Sodium 15mg 1%
Total Carbohydrates 22g 7%
Protein 1g 2%
* Percent Daily Values are based on a 2000 calorie diet.
IF YOU LOVE THIS RECIPE TRY THESE OUT!
White Chocolate Peppermint Cookies