You'll love all the easy, delicious, nutritious ways you can pair MorningStar Farms Original Sausage Patties to make a memorable breakfast in a snap! This post is sponsored by MorningStar Farms; I only partner with brands I believe in and I love the convenient vegetarian protein their products provide!
**Serving size 1 patty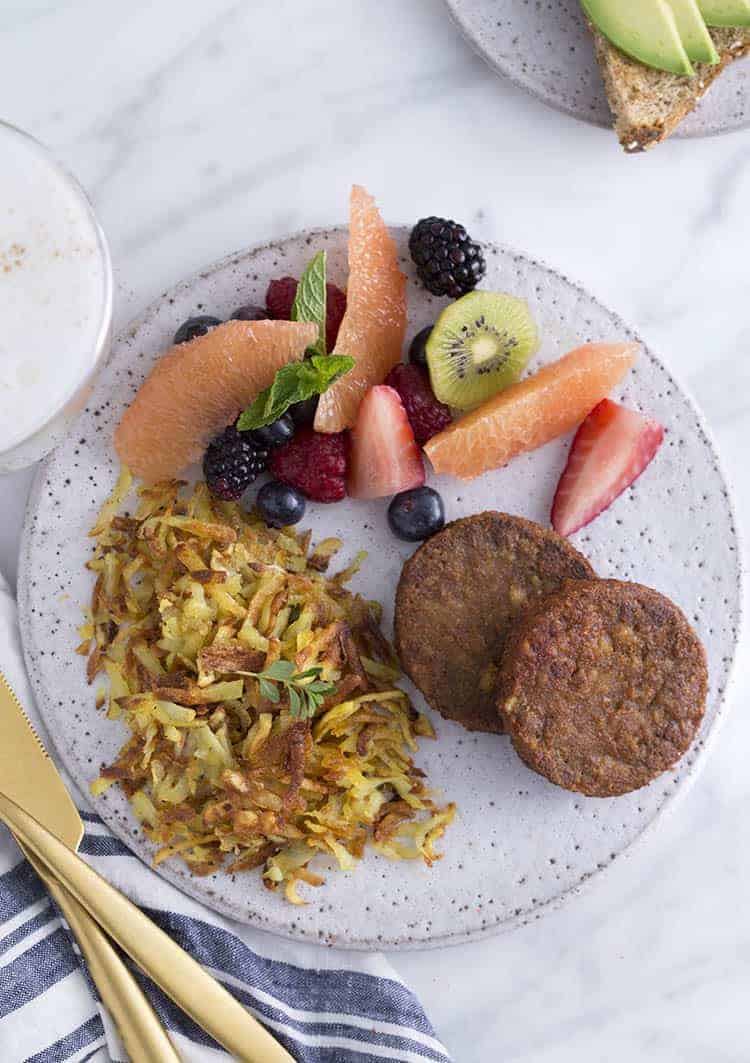 When convenience, deliciousness and nutritiousness combine you've got to take notice and add something to your shopping list! I've prepared MorningStar Farms Original Sausage Patties with three different pairings. I've got twin boys that are almost two so I need to all the shortcuts I can get. Mornings are super packed with getting YouTube and Instagram videos up, replying to comments, walking the dogs, getting the boys up and somewhere in there breakfast needs to be prepared! These vegetarian sausage patties are an easy and delicious way to add some extra protein to my morning
Biscuits with soft scrambled eggs and MorningStar Farms Sausage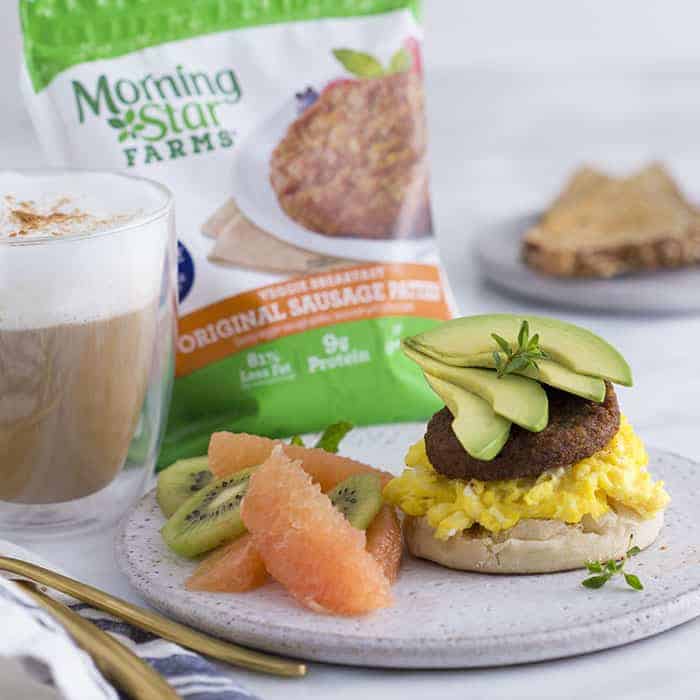 Make a batch of my FAVORITE fluffy buttermilk biscuits and pair them with some creamy soft scrambled eggs and plant-protein packed MorningStar Farms Sausage. You can make the biscuit dough the night before or way in advance if you freeze it. Pop into the oven and the whole thing comes together in a snap! If you want a fast and convenient alternative try making this with English muffins! The whole thing comes together in about 10 minutes.
How do you soft scramble eggs?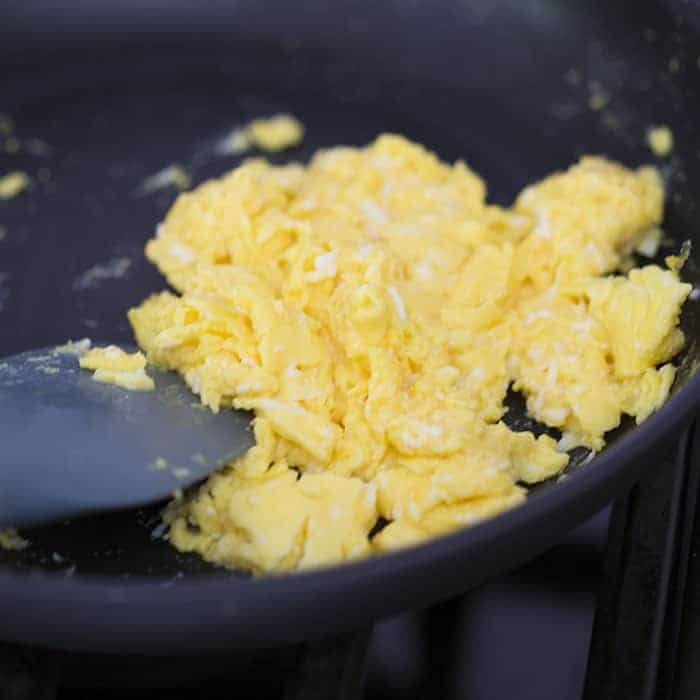 Soft scrambling eggs gives a much more rich velvety texture. There are tons of variations on how to make them the "best" way but I like to just go low with the heat and keep an eye on it. move the eggs around with a rubber spatula or whisk almost continuously after they warm up. You can add a splash of milk or cream and season to taste.
Crispy hash browns and MorningStar Farms Sausage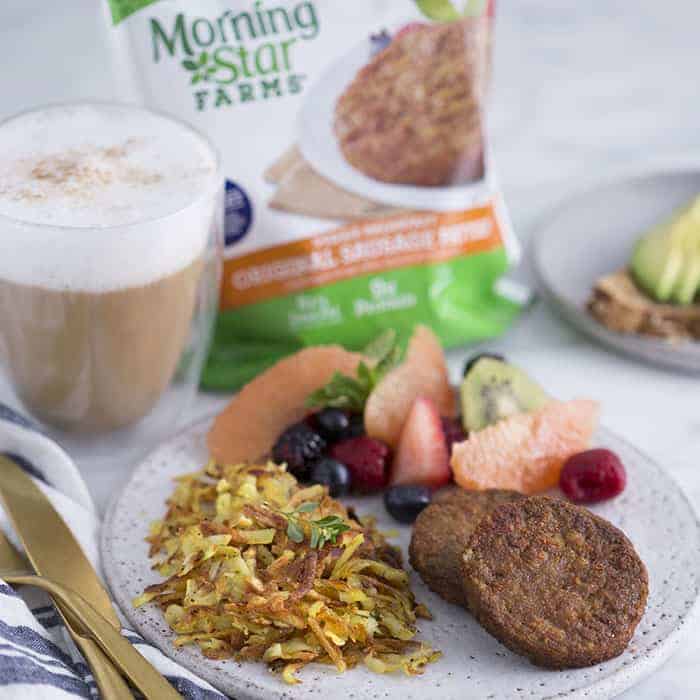 Serving size 1 patty
Hash browns are a restaurant favorite that not enough people think of making at home. So quick, easy, and satisfying. When you pair them with a vegetarian patty you have a balanced breakfast to start the day off right.
To make your hash browns: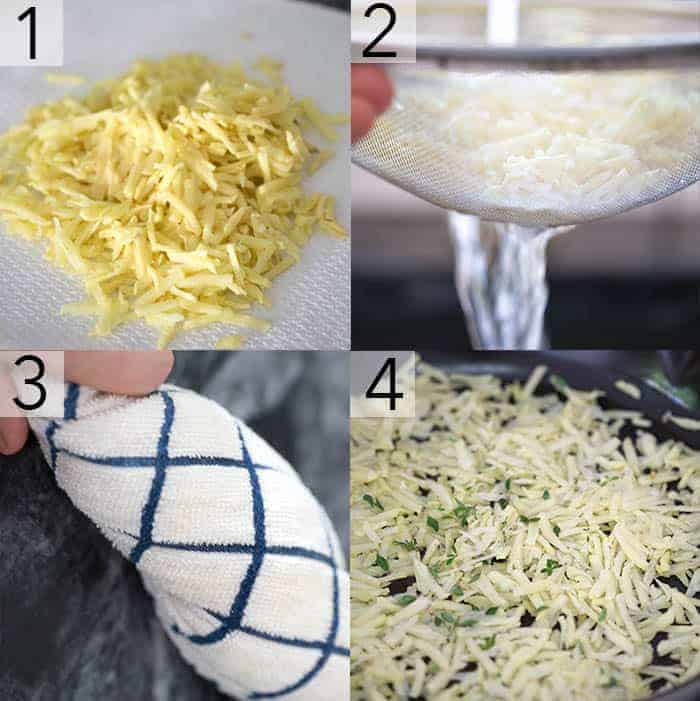 Grate potatoes (peeling is optional) About 1/4 pound per person.
Rinse with cool water to remove excess starch. You'll know you're done when the water runs clear.
Wrap small batches of the grated potato in a clean, dry tea towel and squeeze to remove as much water as possible. This is the key to crispy hash browns.Toss the potato with some salt, pepper, garlic powder and if desired, some minced fresh thyme.
Heat a few tablespoons of extra virgin olive oil in a large pan over medium-medium high heat and then start cooking your potatoes. You can do this in batches if making a lot. Spread them out into a thin layer and press flat. Allow potatoes to cook for about 2 minutes then flip over sections and allow to cook for 2 more minutes. Repeat process until your hash is golden brown. Transfer to paper towels to drain and serve.
Easy Veggie scramble and MorningStar Farms Sausage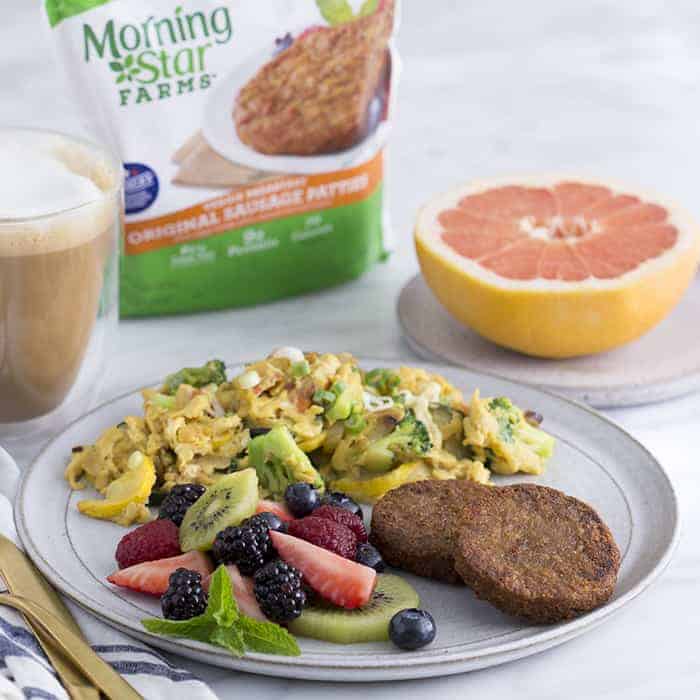 **Serving size 1 patty
Who can say no to a delicious veggie scramble in the morning?? If might be one of the easiest ways to feed your family while still providing all the nutrients they need to start the day right. Pairing this with a MorningStar Farms patty adds SO much extra flavor and protein. It's a great option if you're looking for low carb ideas that will still delight the palate.
The easiest way to prepare a veggie scramble is to start with a bunch of blanched/ precooked vegetables. You can blanche and sauté all your vegetables a day or 3 ahead of time and have them ready for the morning for a quick breakfast.
Steps to Make a MorningStar Farms Veggie Scramble: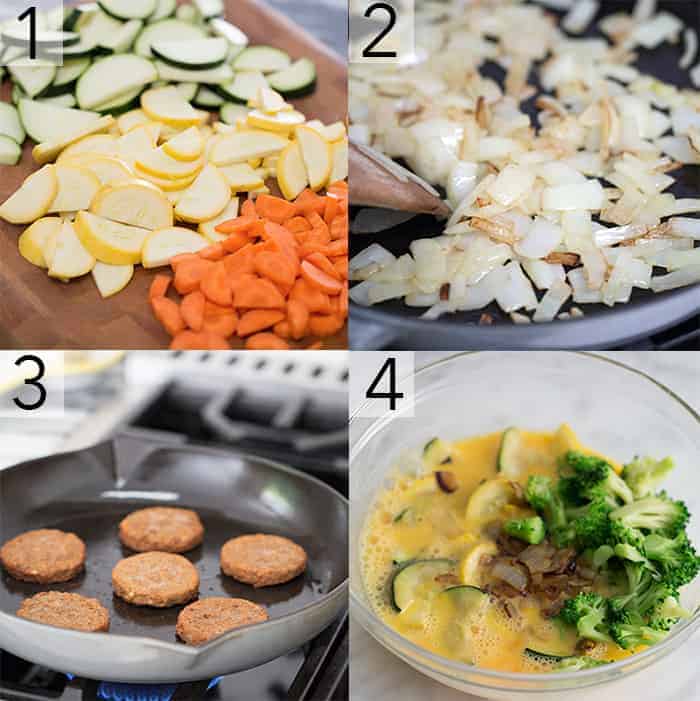 Start off by chopping all your veggies into manageable pieces. I'm using zucchini, squash, broccoli, onions, and carrots!
I'm caramelizing some onions for extra flavor. The carrots and broccoli get blanched in boiling water for a couple minutes while the zucchini and squash get sautéed.
You can microwave your patties but cooking them on the stovetop gives them a nice crisp texture on the outside that I must love. Cook on a lightly oiled pan over medium heat for about 4 minutes on each side.
Whisk up your eggs and mix in the veggies. Cooke the scramble in a nonstick pan over medium low heat while moving everything around regularly so the eggs stay soft and don't burn.
If you liked these pairings why not check out some more???
Try pairing with a Poached egg or two and your favorite toast.
You can serve a vegetable quiche with these delicious patties and a strawberry walnut salad for an amazing brunch!