One of the very few things I was able to make myself as a child…. a grilled cheese sandwich! Mine are super basic. Just whatever bread we had — with butter — with a bunch of cheddar in the middle. I have to say, I still enjoy a really nice grilled cheese sandwich. The only difference is that now I like to experiment with different cheese, breads and fillings. This version uses a favorite of mine: Jalapeño jelly. You cannot beat the combination of sweet & spicy that it adds to any dish! I used sourdough bread because I love the extra layer of flavor it brings. A nice, fresh sourdough always has a wonderful texture. This version has a combination of cheddar and fontina but ya know… I couldn't say, "no" to a nice soft cheese like brea. What would you add to yours?
Print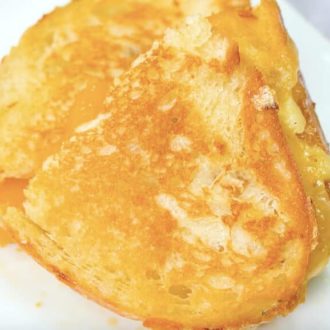 Grilled Cheese
Grilled cheese sandwiches with a twist.
Ingredients
INGREDIENTS
2

slices

good, fresh sourdough bread

1-2

tbsp

unsalted butter

room temperature

1

tbsp

habanero jelly

1

oz

grated text sharp cheddar

1

oz

fontina
Instructions
INSTRUCTIONS
Butter one side of each bread slice generously.

Spread jam on one slice of bread on the unbuttered side.

Place one slice butter side down on a skillet over medium heat and top with cheese.

Close sandwich butter outside and cook. Once the bottom is browned, flip sandwich and cook until the other side is browned (about 3 minutes for each side.)
How to Make Grilled Cheese
How to Make Grilled Cheese
Easy to make and will make the whole family happy!
Full recipe on blog.