I still remember how proud my mother was of the KitchenAid stand mixer she bought WAY BACK in 1982. My grandmother and aunt both had one for the longest time and my mother was the last one in the family to get one. It was her first major purchase and immediately became the jewel in her kitchen.
She used that mixer to make all sorts of cakes, frostings, breads and pastas for our homemade meals and Sunday dinners at my grandparents' house. We only went to restaurants a couple times a year, every meal was homemade!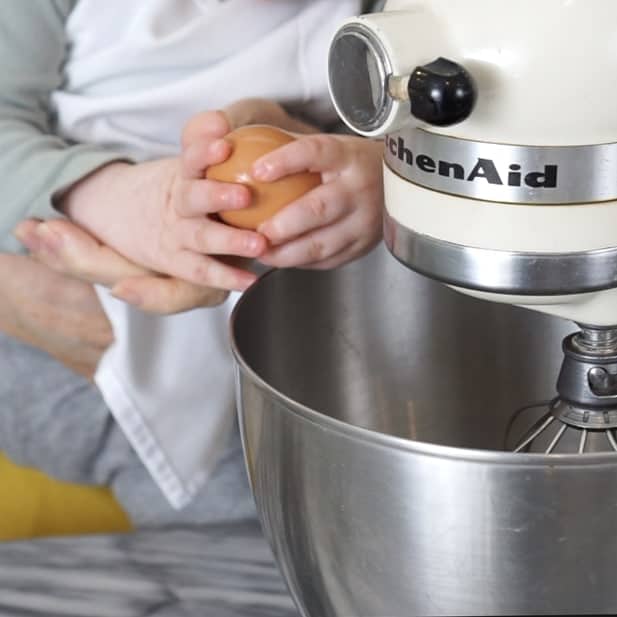 My first memory in the kitchen is helping my mom make a cake for one of those Sunday dinners. She let me crack an egg in the bowl of her beloved KitchenAid Stand Mixer but there were definitely shell pieces everywhere! I remember her patiently picking them out and telling me how much more fun it was to make something when I was there to help her. Her encouragement and enthusiasm inspired me to keep trying new things in the kitchen and remember to enjoy the process. It's a lesson and experience I'm hoping to pass on to my son, George (who helped me recreate the scene from my memory in the picture above).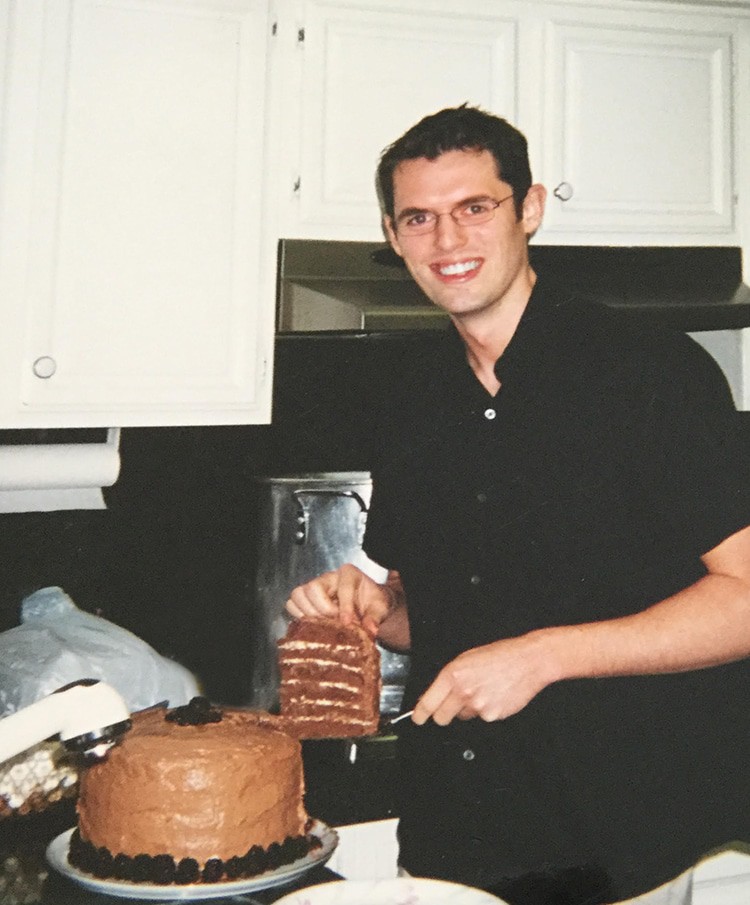 Rest assured, I did eventually learn how to crack an egg. In fact, here I am back in the 90's at a cousin's house showing off my "famous" chocolate cake! I've always loved baking and sharing my creations–a trait that's common across my whole family.

My grandmother was a serious amateur cook/baker who loved trying and perfecting new recipes. She introduced me to tons of kitchen tools I had never heard of before; pie weights, cake leveling knives, pastry mats and of course she had a KitchenAid Stand Mixer, which my mother coveted!
Fast forward several years, how cool is it that I have my own KitchenAid Stand Mixer, and even cooler, a KitchenAid 100 Year Limited Edition Stand Mixer in the new Misty Blue color?! With a heritage-inspired KitchenAid logo and a custom Power Hub cover celebrating 100 years of making, this mixer has quickly become my new favorite kitchen tool.
Now it's Your Turn to Share and Enter to Win !
Share your favorite  memory in the kitchen with KitchenAid on Instagram @KitchenAidUSA with #MmakingHhistory100 for a chance to WIN that GORGEOUS 100 Year Limited Edition Sstand Mixer in Misty Blue. It's super easy and I can't wait to read about all of your experiences in the kitchen!
Post a photo on Instagram of your favorite memory of making in the kitchen and tag it with #MakingHistory100 and #SweepstakesUS for the chance to win a KitchenAid® 100 Year Limited Edition Stand MixerK. No Purchase Necessary. US/DC18+. Ends 11/24/18 11:59 PM ET. RulesClick here to read the terms and conditions: MakingHistory100Sweeps.com