Fresh pesto and sweet tomatoes make an amazing pair! Making pizza from scratch is a really fun way to bring people together in the kitchen. You can make a batch of dough ahead of time (even the night before) and have all the ingredients set out for people to make their own pizza pie.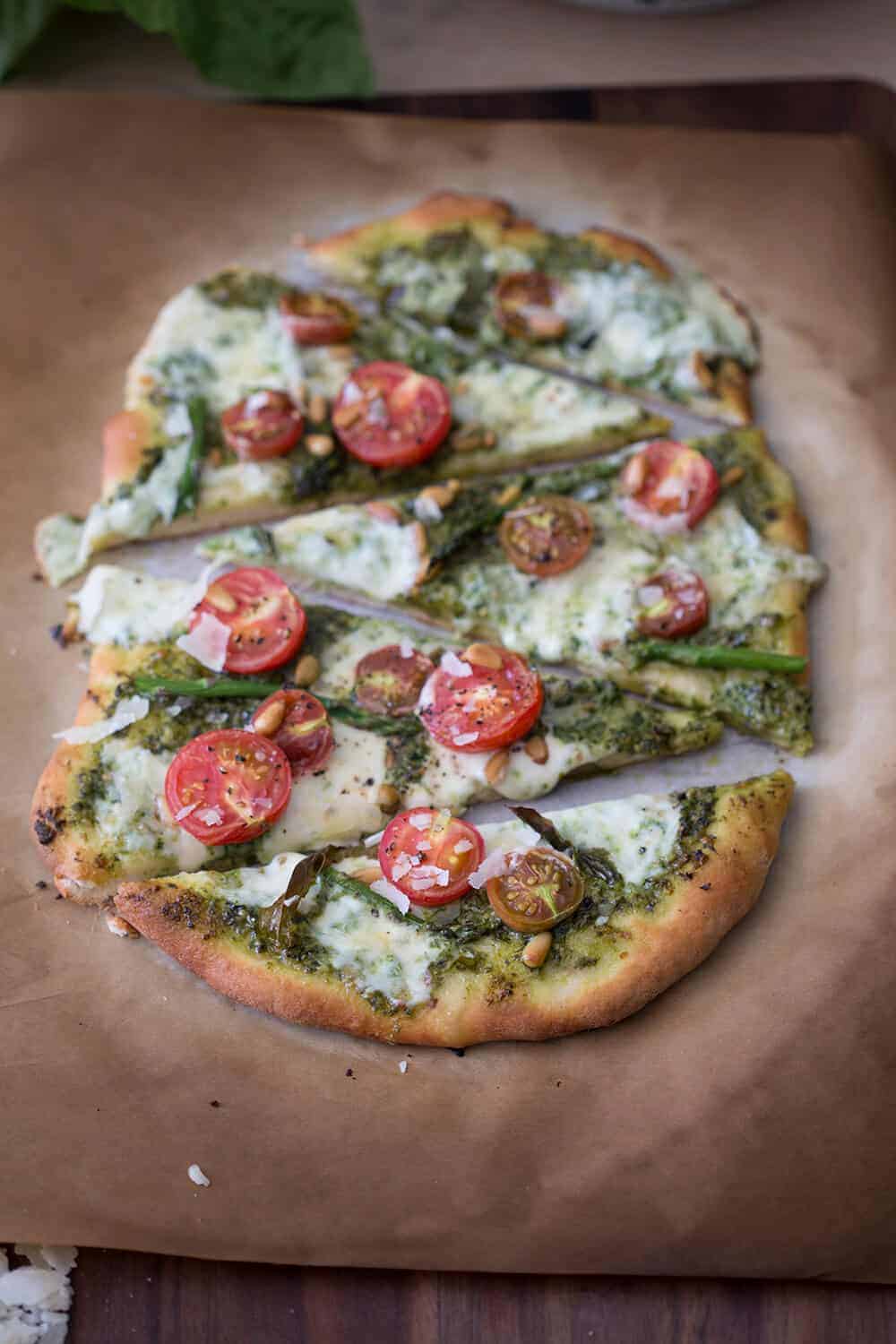 The star of this dish has to be the amazing summer tomatoes but I have to say the pesto is a very close second!
Heirloom Tomato Pesto Pizza
A yummy pizza for the whole family!
Ingredients
For the Dough:
1 1/4

cups

warm

100 to 110 degrees

2

packages dry yeast

1

tablespoon

honey

1

tsp

good olive oil

plus extra for the bowl

4

cups

all-purpose flour

plus extra for kneading

1

pinch

Kosher salt
For the Pesto:
3

cups

Basil

1/4

cup

Pine Nuts

1/2

cup

olive oil

1/3

cup

parmesan

1/2

tsp

salt

4

cloves

garlic
For the Topping:
Pesto

1/2

cup

Toasted Pine Nuts

2

cups

Fresh Mozzarella

cut into slices

2

cups

Halved tomatos

Cherry

1

cup

Asparagus tips
Instructions
For the Dough:
Combine honey, yeast and water into the bowl of a standing mixer (fitted with a dough hook attachment). When the yeast has dissolved, add half the flour and salt. Mix on medium-low speed. While the mixer is on, add the additional flour (the goal is to make the dough soft).

Knead the dough for approximately 10 minutes, or until smooth. Sprinkle the flour -- when appropriate -- the keep the bread from sticking.

Kneed by hand at least a dozen times. It should be silk smooth and elastic-like.

Next, the dough must rise. In a well-oiled bowl, place the dough. Cover it with a towel. Give it 30 minutes -- at room temperature -- and it will rise.

Preheat the oven to 500F.

Divide the dough into 6 equal pieces. Put the pieces on sheet pans, lined with parchment paper. Cover the dough with a damp towel. Let it rest for 10 mins then immediately place in the refrigerator. Give it up to 4 hours in the fridge.

Remove the dough from the fridge. Let it come to room temperature. Contort the balls of dough into an 8-inch circle. Place 2 circles on eat lined pan.
For the Pesto:
Place basil, parmesan, salt, pine nuts and garlic into the blender.

Pour in olive oil as the blender begins to blend the original ingredients.
For the Topping:
Brush the dough with the pesto. Add mozzarella, tomatoes, and asparagus.

Assemble pizza and back for about 10 minutes or until crust os golden brown and tomatoes have softened.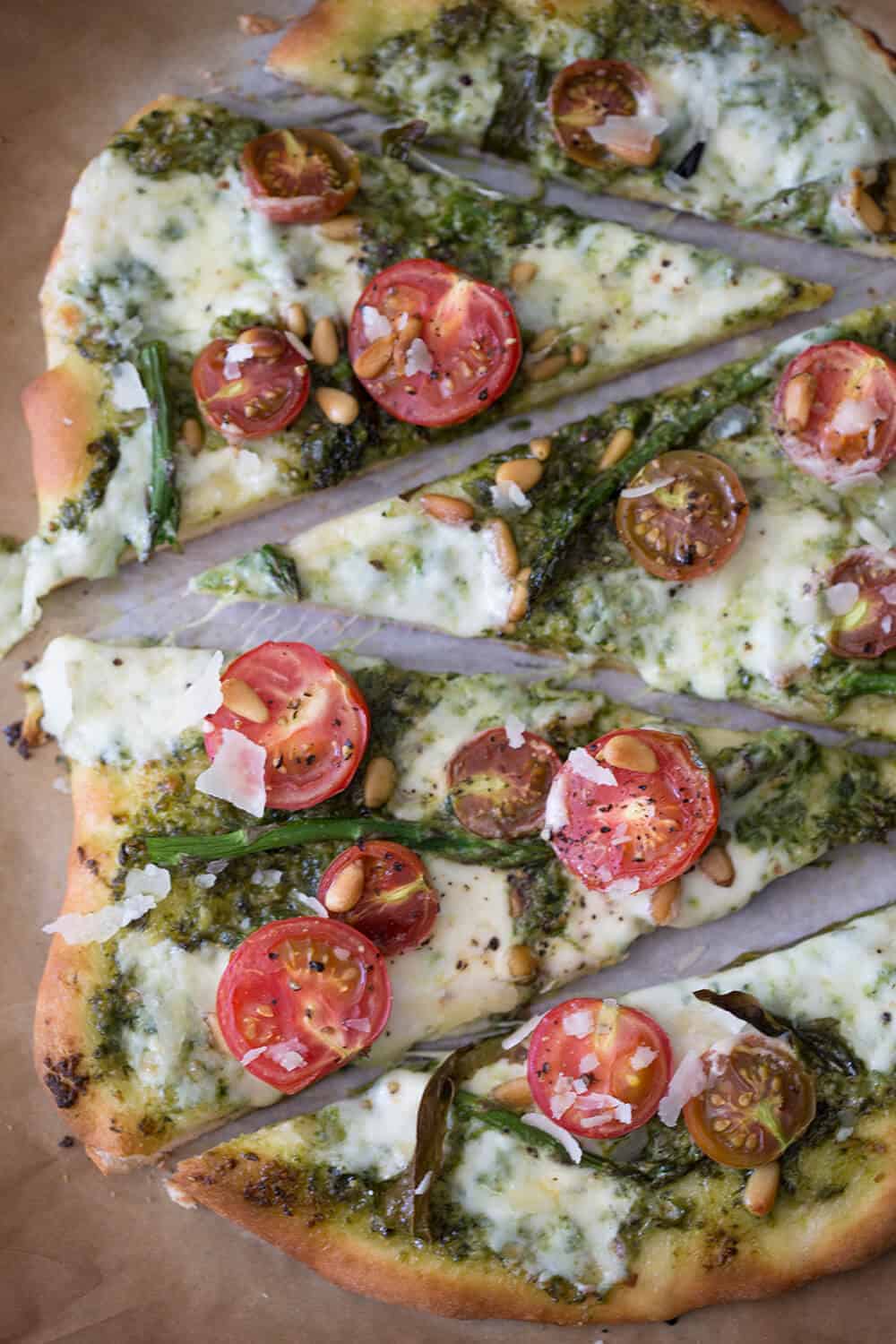 It you look closely you will see a few charred dandelion leaves on the pizza. I thought they would give a nice bite (my Greek grandfather loved them!) But as it turns out they had WAY too much bite for me so I picked them off ????.