Homemade pasta with fresh basil pesto, toasted pine nuts, sweet cherry tomatoes and shaved Parmesan make for an amazing summer dish! You can make a batch of pesto and keep it in the fridge for the week and it is SO GOOD ON EVERYTHING! Toasted pine nuts add a great texture and the cherry tomatoes are sweet as can be at this time of year providing a great balance to the savory pesto. Hope you enjoy!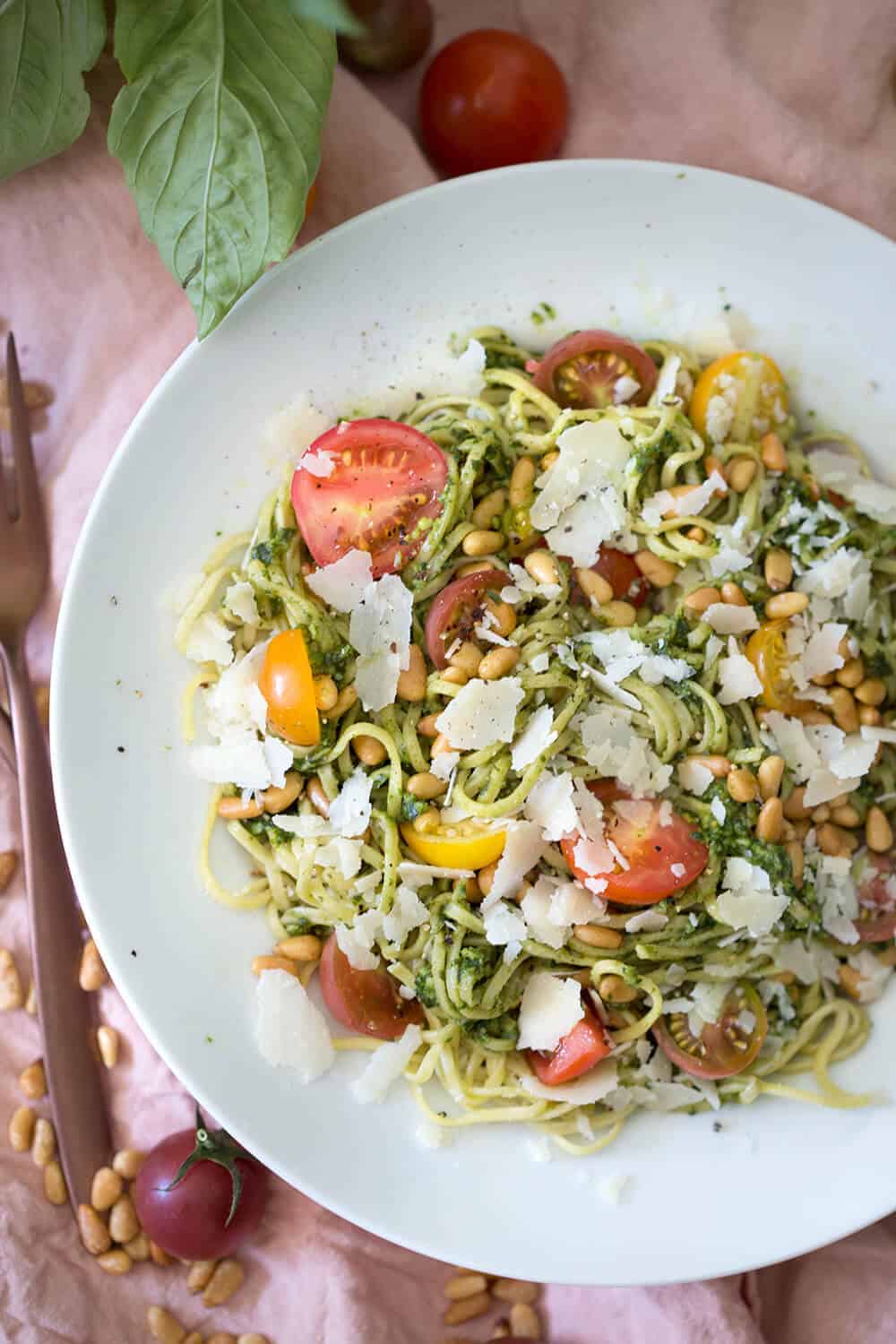 Homemade Pesto Pasta
A simple, and delicious dish.
Ingredients
For the Pesto:
3

cups

Basil

1/4

cup

Pine Nuts

1/2

cup

olive oil

1/3

cup

parmesan

1/2

tsp

salt

4

cloves

garlic
For the Pasta:
1 3/4

cups

8 ounces all-purpose flour

9

large

egg yolks

1

large

egg

1 1/2

teaspoons

olive oil

1

tablespoon

milk
For the Assembly:
1 1/2

cup

Cherry Tomatoes

Halved

1/2

cup

pinenuts

Toasted

1/4

cup

Parmesan

Shaved

1/2

tsp

Black Pepper

Ground
Instructions
For the Pesto:
Place basil, parmesan, salt, pine nuts and garlic into the blender.

Pour in olive oil as the blender begins to blend the original ingredients.
For the Pasta:
Mound the flour on a clean surface. Make a well-type opening. The walls of the mound should be sturdy.

Pour the oil, milk, 1 egg and the 9 egg yolks into the well.

Using your fingers, break up the egg yokes. Once broken, swirl the eggs (within the confines of "well" configuration).

The swirling will start to pull flour from the sides (slowly). It is important to limit the amount of flour entering the egg mixture. If you fail to pace yourself, the dough will be lumpy.

Gradually, push the sides of the well in, while mixing.

Once the dough has thickened, use a pastry scraper to place the flour over the dough. Cut in the flour using this tool.

You can now shift to using your hands. Knead the dough into a ball but DO NOT fold it over like one does with bread. Repeat several times.

When the dough is moist -- and not sticky -- allow it a short period to rest.

Does your surface with flour. Knead the dough, in the same manner, you had before. Continue until the dough is silky smooth. This will take about 15-20 minutes.

Double-wrap the dough in plastic wrap. This will prevent the dough from drying out. Allow at least 30 min - 1 hr for the dough to rest, again.

Roll out the dough so you can place it in the pasta machine. You may make the dough one day in advance (if wrapped and refrigerated).
For the Assembly:
Cook pasta, (if fresh) for about 3 minutes until tender. Drain water.

Toss pasta with toasted pinenuts, halved cherry tomatoes. Sprinkle with shaved parmesan and black pepper.
SaveSave
SaveSave