This was my first trip to KBIS in Las Vegas and it was a total blast. Samsung's exhibition was really vibrant and I loved seeing all the beautiful demo kitchens with different styles of appliances. It was quite a bustling convention but I was lucky enough to get a private tour with some other media outlets.
Connected Living
Samsung has been focused on facilitating connected living through products that communicate with each other and us and allow us to get things done efficiently and enjoyably. Watch tv in the kitchen with your fridge, use your phone to preheat your oven on your way home so dinner can be ready ASAP, you can even have the fridge send you a grocery list. I loved all of these features but I especially appreciated the attention to aesthetics! Everything was so visually pleasing, and you know I like a pretty kitchen.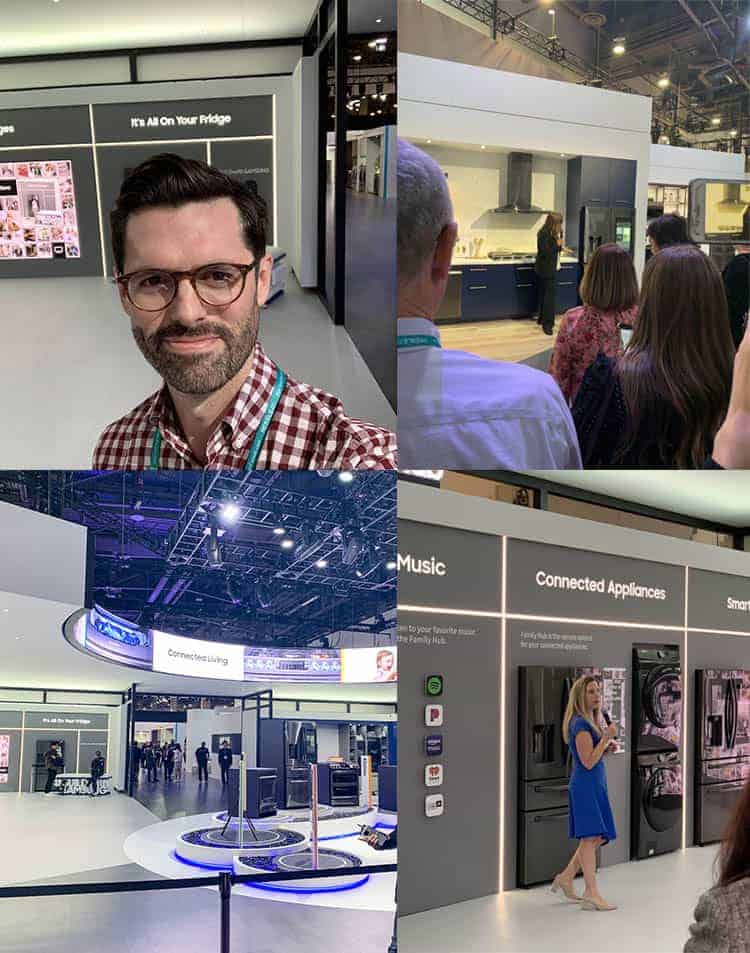 Family Hub
Samsung's newest iterations of their Family Hub refrigerators have a ton of cool features that not only help out busy parents trying to get a meal on that table, they make being in the kitchen way more fun.
There are a few things that I have trouble within the kitchen; I can't stand clutter on the counter and I CONSTANTLY forget what I have at home when I'm at the market. If you look in my refrigerator you'll often see doubles and triples of items all the while I've forgotten to buy that pint of sour cream I needed for a recipe.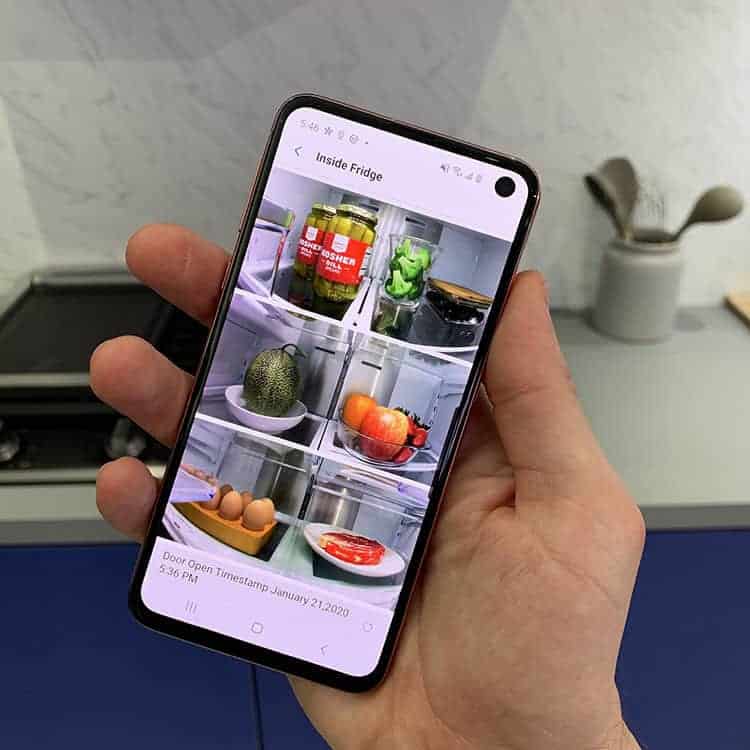 Above you can see my favorite Family Hub feature at work; viewing the inside of your fridge from your phone! I would totally use this when I'm at the market wondering if I need more eggs, etc.
I loved that you can stream music from the fridge or mirror a TV in another room. You never have to miss a scene if you're prepping a dish while everyone else is watching TV in the living room.


When I'm away on a trip I'll always Facetime with the boys but this refrigerator lets you send photos from your phone straight to its screen, like virtual postcards taped to your fridge door. Additionally you can write notes for reminders and the fridge can generate shopping lists and help your meal plan.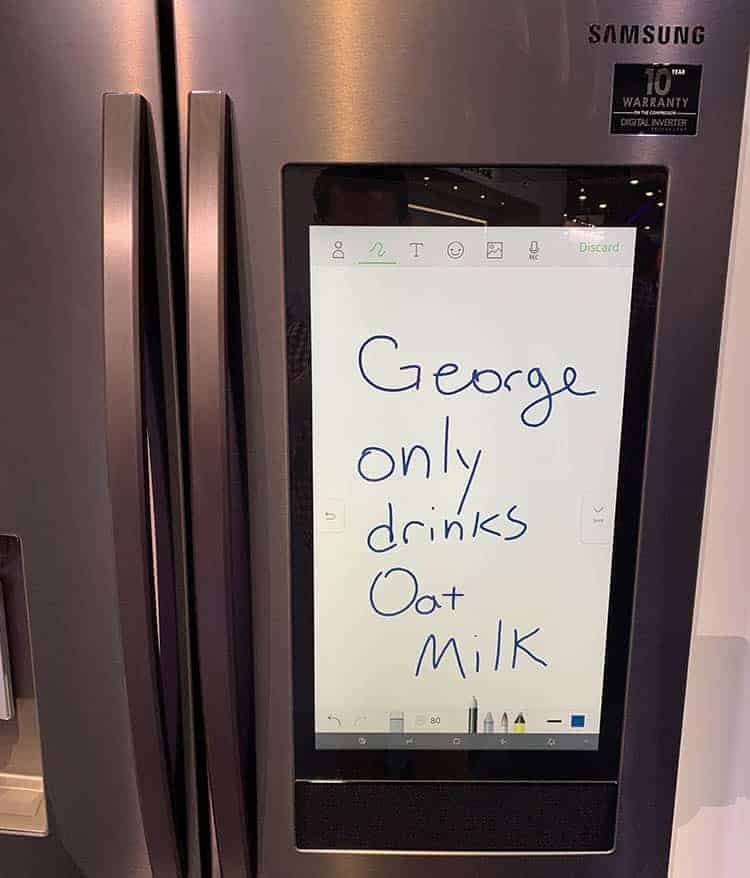 Just a quick note to make breakfast a bit easier, never try to give a certain toddler almond milk in the morning…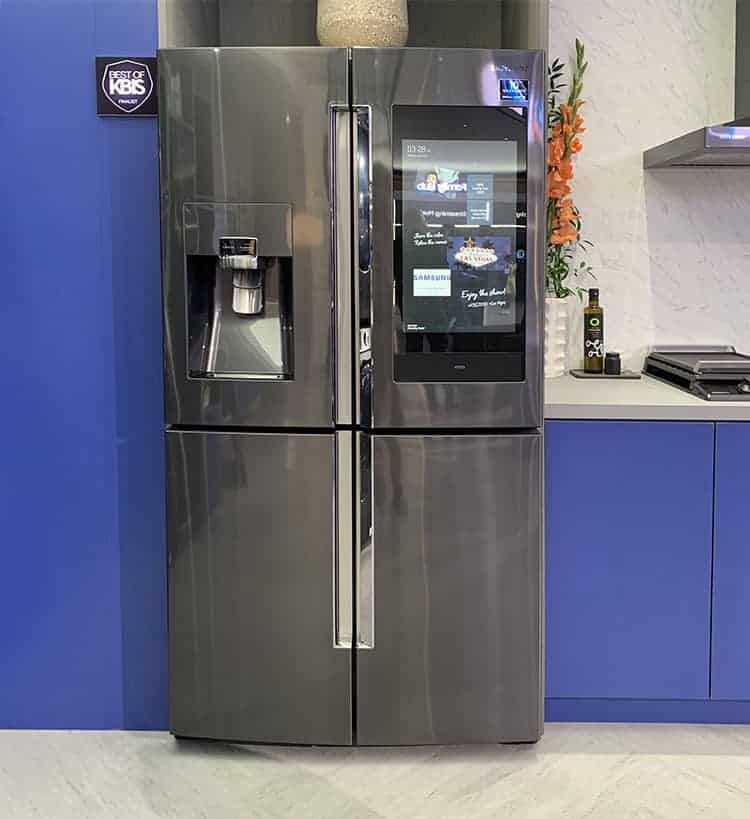 Very attractive and it comes in a variety of price points and finishes. My favorite was the matte dark grey finish they call Black Stainless.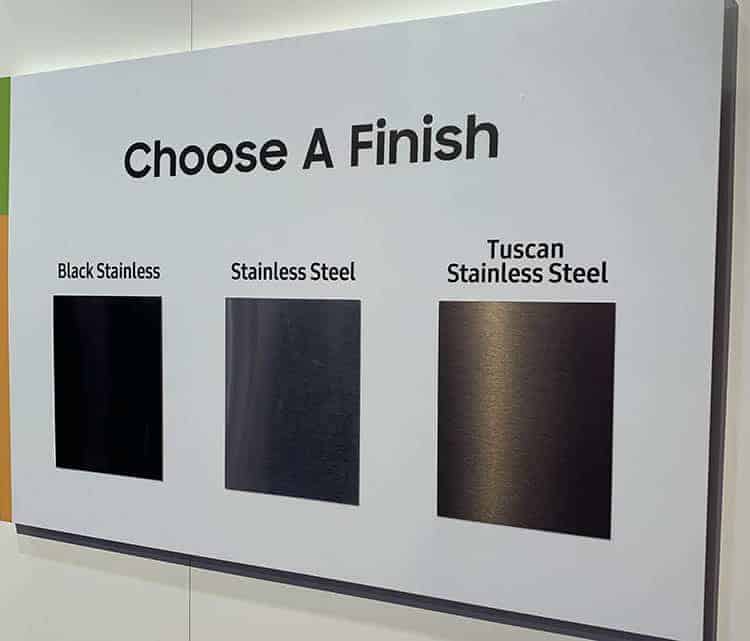 I'm totally anti-clutter in the kitchen but I do A LOT of cooking and baking so there are lots of tools I need and even more that I just want. I'm beyond excited that Samsung's new slide in ranges are super-multitaskers. They have an AIR FRYER setting and even come with that basket you need to get all around crispy fries, chicken, etc.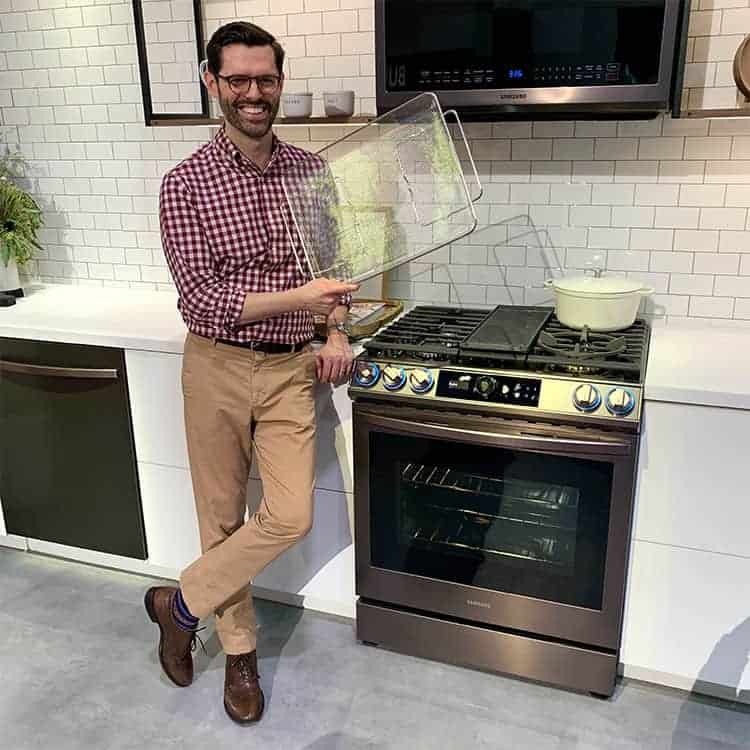 One of features Samsung included in this range to set it apart is the glass display with a click wheel control. The whole interface is streamlined and there are no buttons to collect dirt and make cleaning a chore.
Connectivity is a big push for Samsung so this range is also controllable through your phone. You can turn the oven on remotely with the app so it's all ready to go when you get home. Another neat thing you can do on the app is check to see if the burners are on. I've had that sneaking suspicion that I had left a burner on after leaving the house but with the app you can check and see what's actually going on.
Features I Liked:
You can use your phone to turn it on remotely.
Built in air fryer
Built in dehydrator
Remote Preheat
Communicates with hood to turn on automatically
Those glowing dials!
If a kitchen remodel is in your near future or if you're just looking to upgrade some appliances I highly recommend checking out the latest offerings from Samsung.