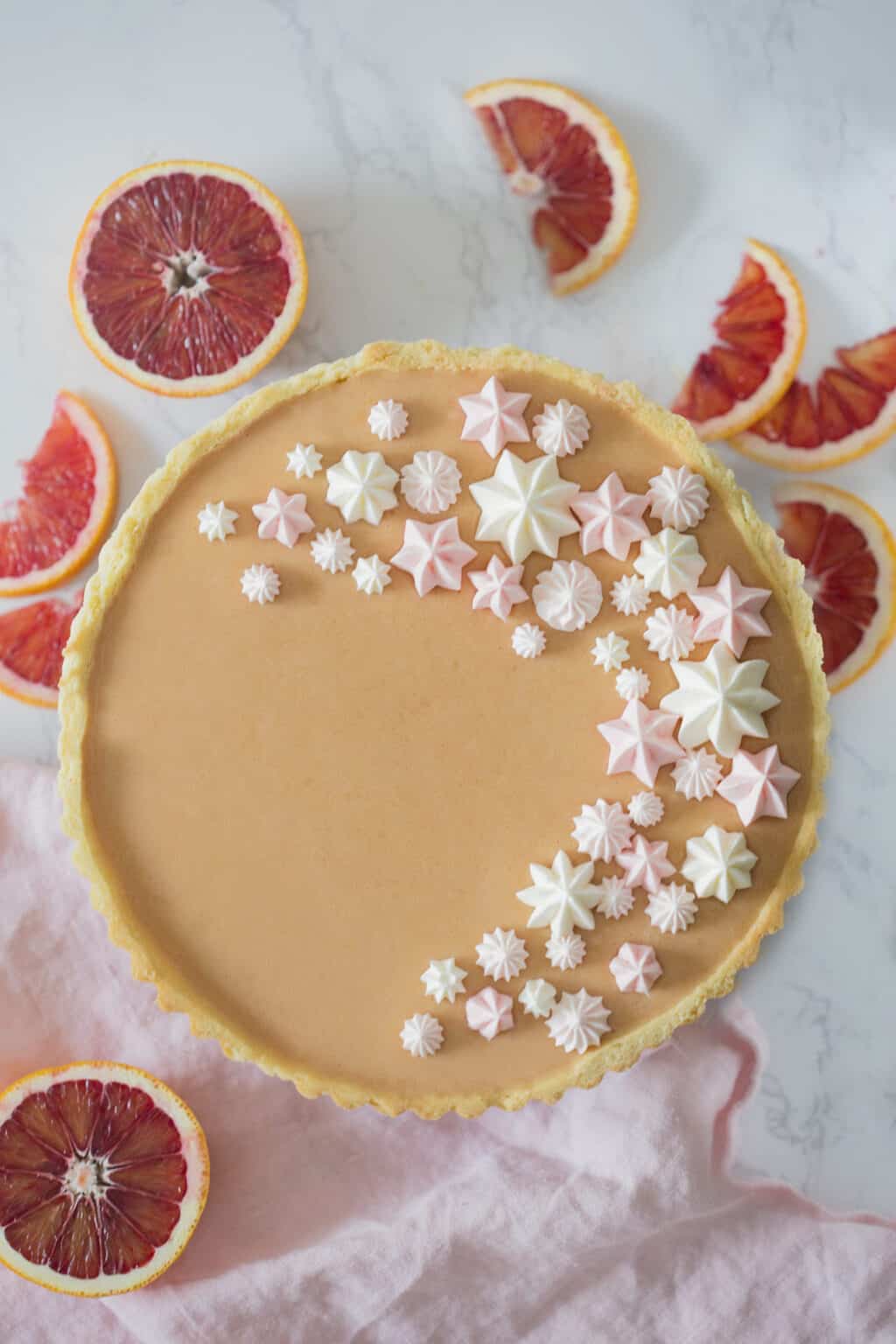 This tart is so refreshing and I just have to say, really cute! The zing from the blood oranges is really complemented by the creamy Swiss meringue dollops and the crust is so flaky and good; I love the texture it adds!! If you don't have any blood oranges handy just use whichever you can get your hands on! There's isn't the most notable difference in taste, I just love the color of blood oranges.
IF YOU LOVE THESE COOKIES TRY SOME OF THESE RECIPES OUT!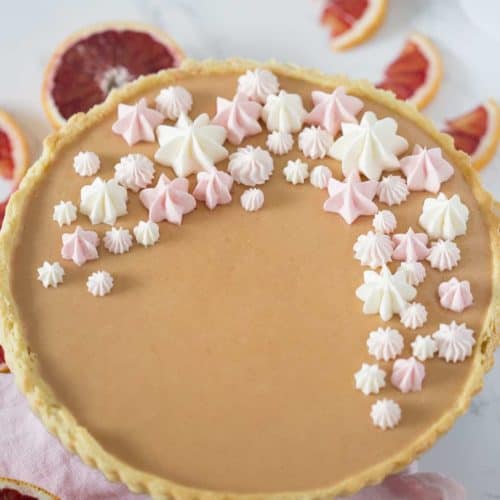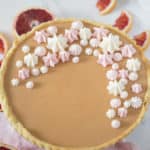 Print
Orange Tart
A beautiful blood orange curd tart topped with delicate Swiss buttercream dollops. And yes it's delicious!
Total Time
1
hour
20
minutes
Ingredients
For the Pâte Sucrée:
3

large egg yolks

1/4

cup

heavy cream

1

cup

unsalted butter

diced

2 3/4

cup

all-purpose flour

1/3

cup

sugar

1/4

tsp

salt
For the Curd:
6

egg yolks

room temperature

⅔

cup

blood orange juice

1

cup

sugar

zest from 1 lemon

1

tbsp

cornstarch

pinch

salt

¼

cup

butter

cold
For the Swiss Meringue Buttercream:
5

egg whites

room temp

1

cup

sugar

¼

tsp

salt

1

tsp

orange blossom water

1 ¾

cup

butter

unsalted, room temp
Instructions
For the Pâte Sucrée:
In a small bowl, whisk the cream and egg yolks together.

Preheat to 450 degrees F.

In a food processor pulse the flour, butter, sugar, and salt until it's in roughly pea-sized pieces.

While the machine is running drizzle in the cream just until the mixture comes together.

On a well-floured surface knead the dough together about 5 times. It will magically transform from a crumbly mess to a workable dough.

Form the dough into a disk, wrap with plastic and chill for a few hours or overnight.

Place disk into tart tin.

Pierce tart shell with a fork several times. Add paper and pie weights. Bake shell on a baking sheet for 10 minutes at 450 degrees F.

Pull the shell out of the oven and take out the pie weights.

Reduce oven to 350 degrees F and bake for another 5 minutes.

Let the shell cool.
For the Curd:
In a pan, add egg yolks and the sugar. Whisk until combined and lighter in color. Then add orange juice, cornstarch and mix together.

Transfer to a medium heat. Add salt and butter. Whisk constantly until the curd thickens. The temperature should be at about 170 degrees F.

Pour the curd into the room temperature shell.

Chill for about 2 hours before serving.
For the Swiss Meringue Buttercream:
Add egg whites, sugar and salt in a bowl.

Give the mixture a brief whisk.

Place the bowl over a pan of simmering water. Make sure the water does not touch the bowl.

Whisk the egg whites occasionally while it warms up. When the mixture has warmed, whisk it constantly. You will heat the mixture until it reaches an internal temperature of 160 degrees F.

Transfer the bowl to a stand mixer with a paddle attachment.

While the mixture is running on low, add tablespoon sized dollops of room temperature butter making sure to let the butter incorporate before you add the next piece. Mix in orange blossom water.

Transfer to 3 piping bags fitted with a small, medium and large open star piping tips. Add food coloring to each bag to create a gradient.
For the Assembly:
When the tart has set, pipe dollops in a crescent moon design around the right side of the tart.
Nutrition
SaveSave