Last week, I was lucky enough to receive an ADVANCE copy of Kale & Caramel's newest cookbook. SO MANY DELICIOUS THINGS!!! Not sure if you already know this but I LOVE galettes. They're basically pie but are way easier and faster to make. I love their rustic charm! Anyhow, this peach and pistachio galette immediately caught my eye as I was flipping through the cookbook. I knew I had to make it but wondered how long I'd have to wait for good peaches to come into season… Low and behold,  later that day I walked into the market and they were handing out samples of organic peaches! Fate. Thus, I was able to make my galettes. I ate every single one… No sharing! Did I even mentioned the rosewater cardamom cream sweetened with honey! ? Dead ? Do any of my fellow bakers have an all-time-favorite galette?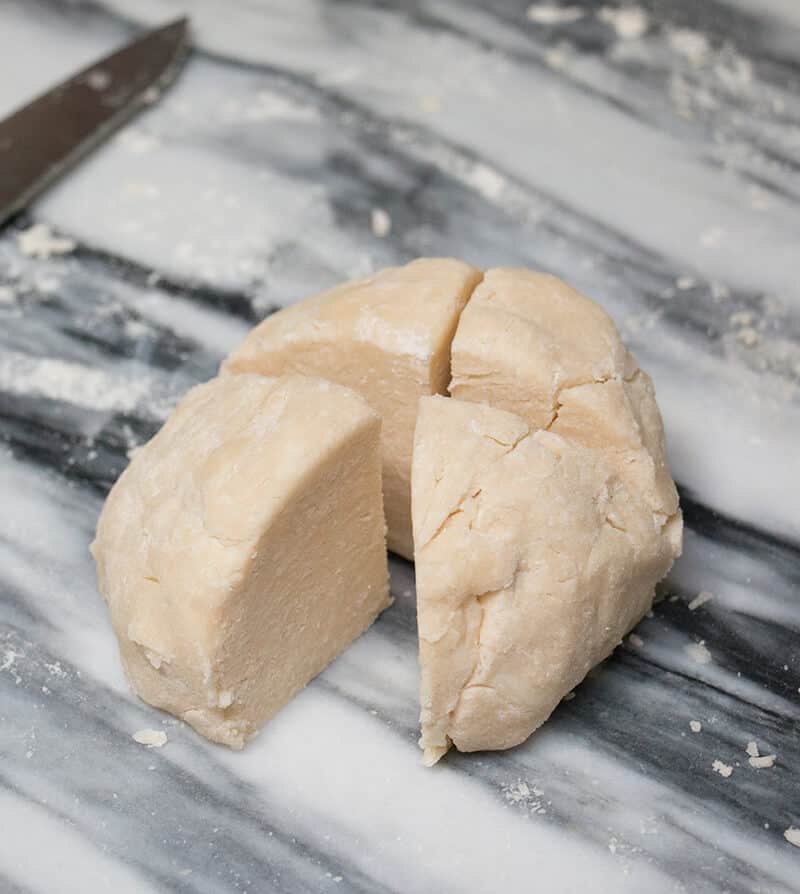 I have come to love making pastry dough by grating the butter and using a knife to mix, best crunch ever.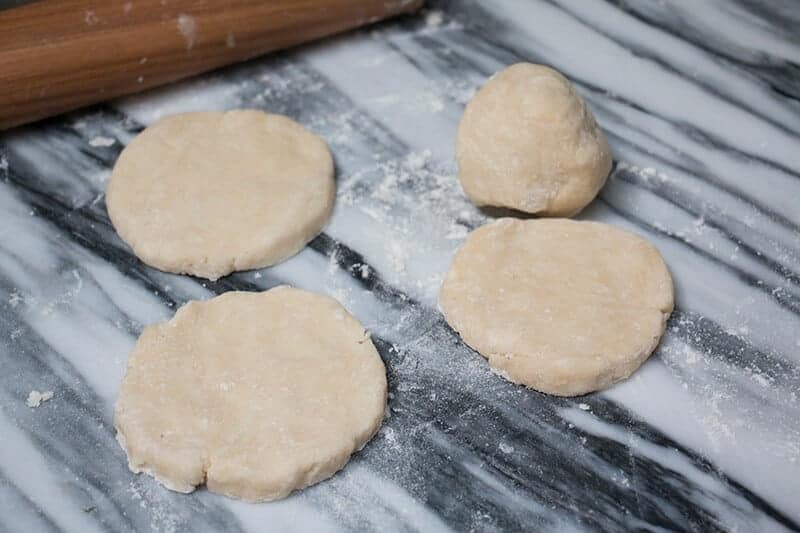 Flatten your dough into disks and chill.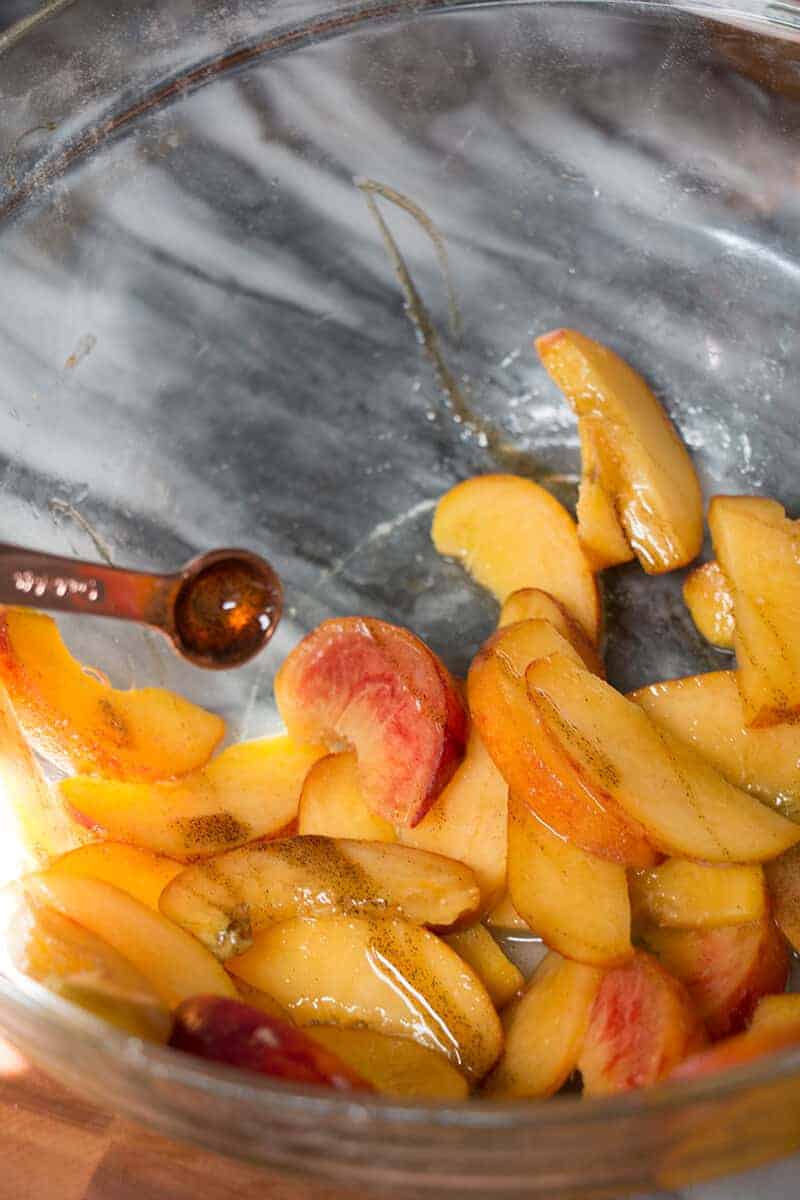 I used vanilla paste to flavor the peaches, I actually ran out of vanilla extract. Mind you I have lemon, peppermint, almond and every other kind in the pantry…?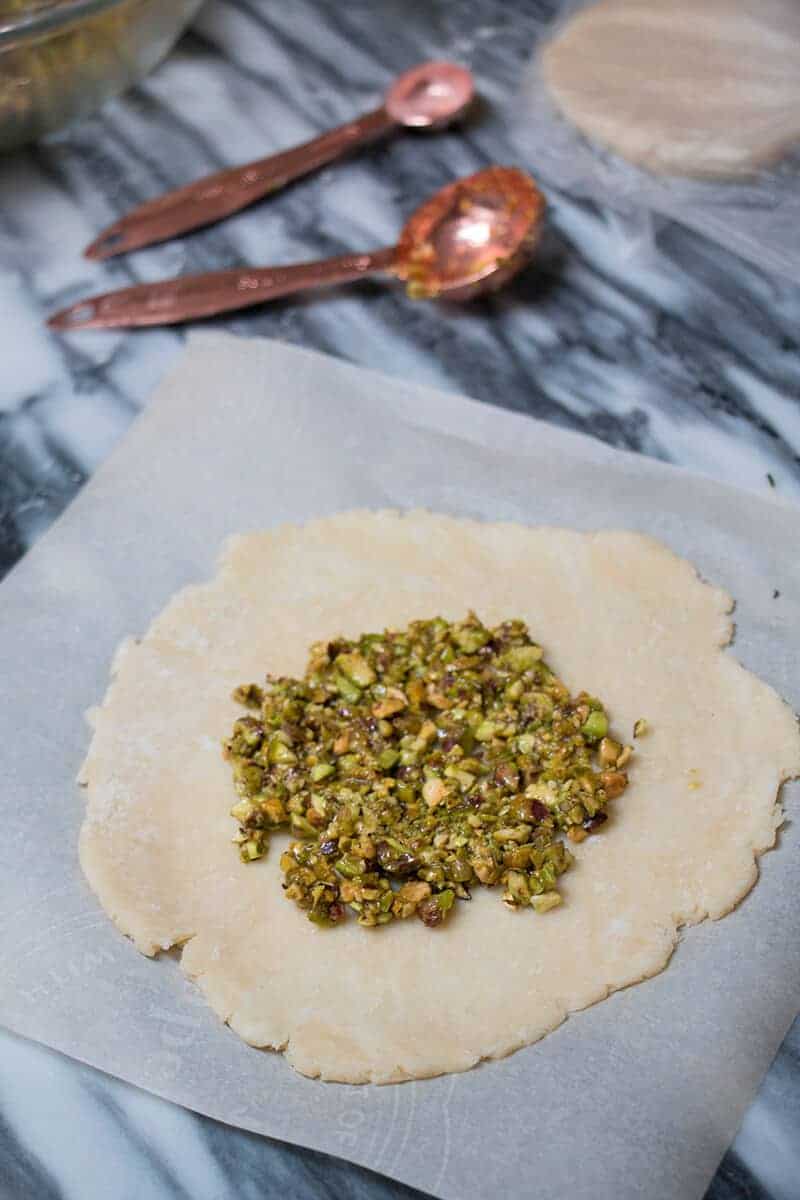 Spread the pistachio filling out leaving a nice margin for folding later.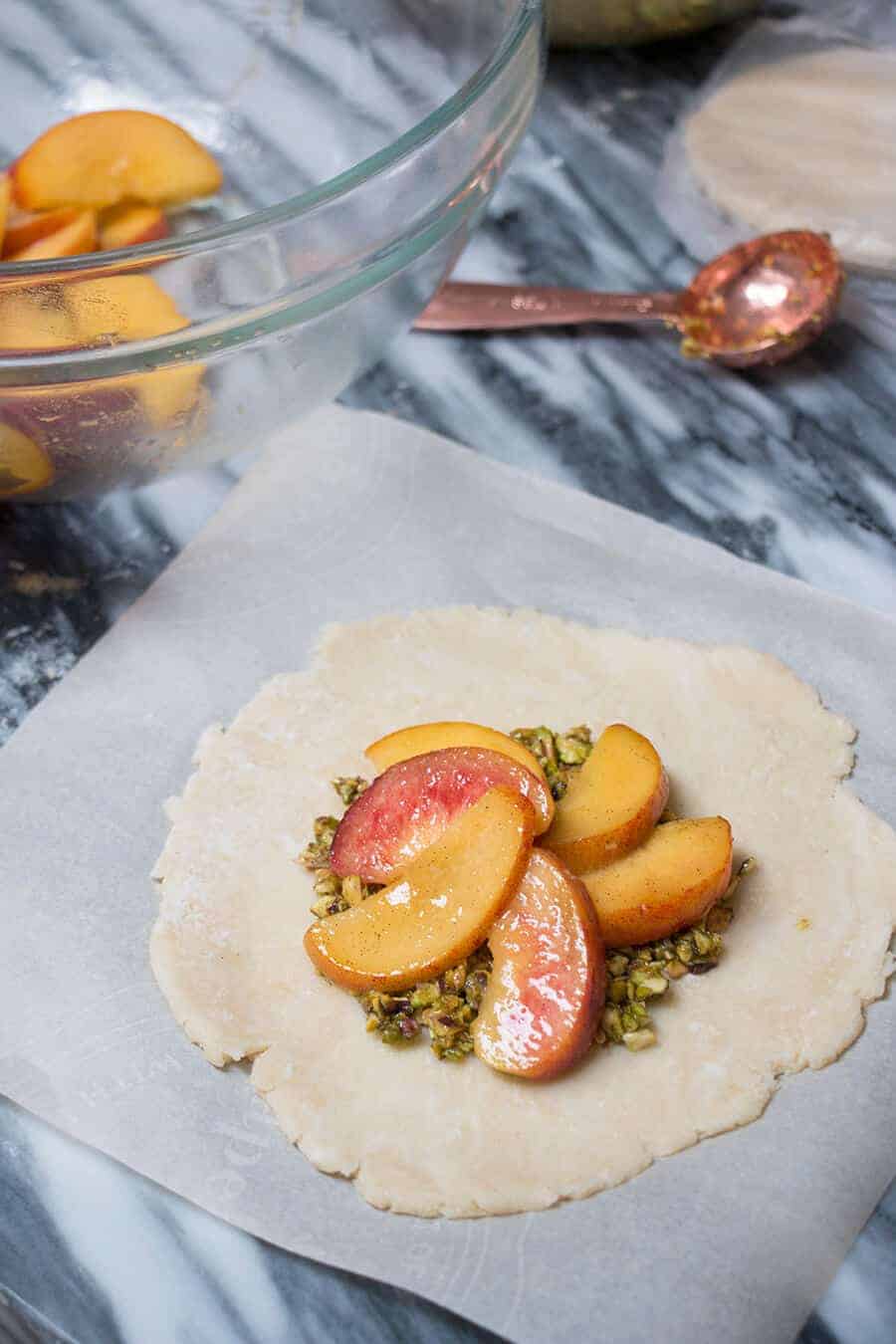 Arrange the peaches. I chose a sort of fan shape for mine but you can just pile them in!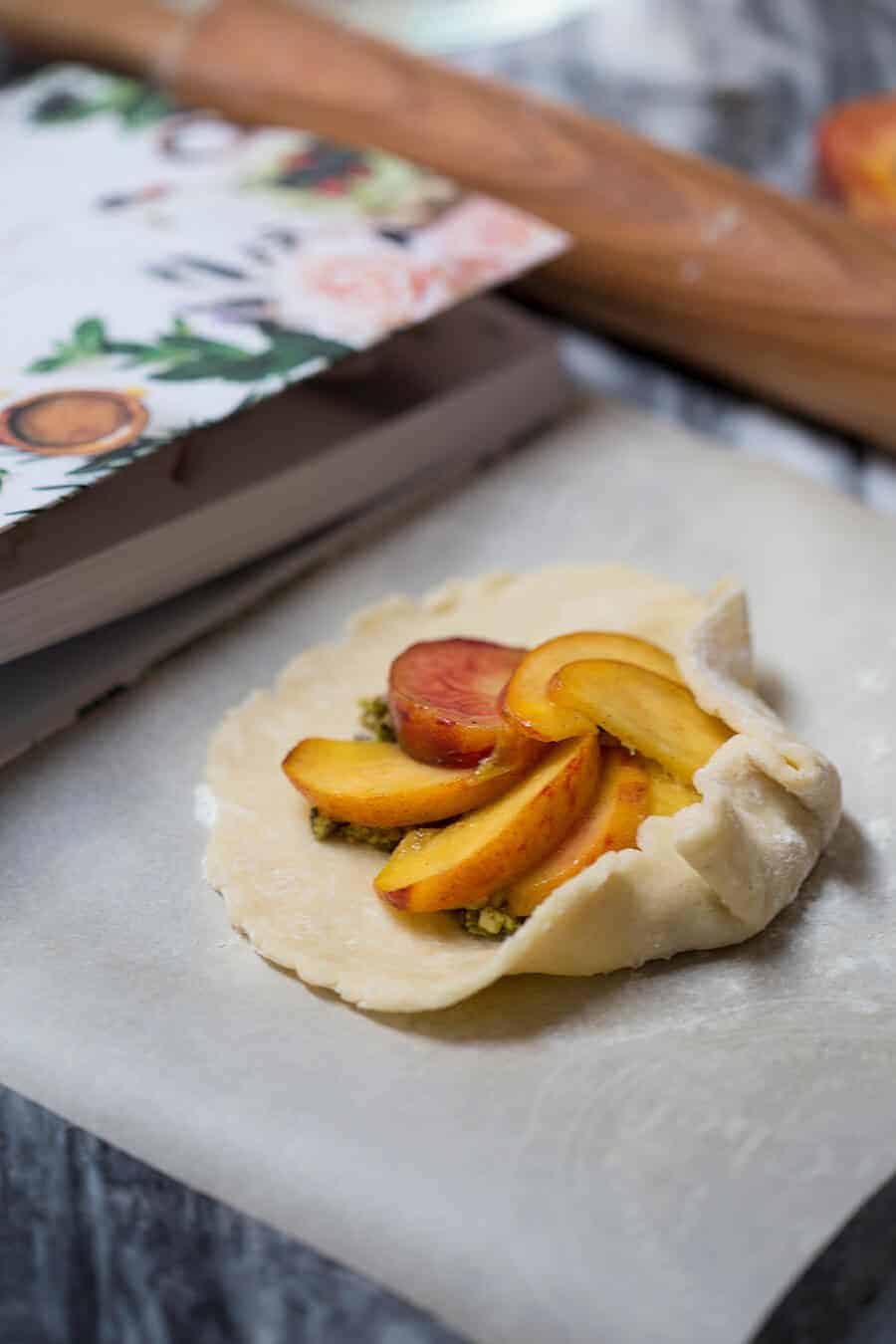 Fold the edges up.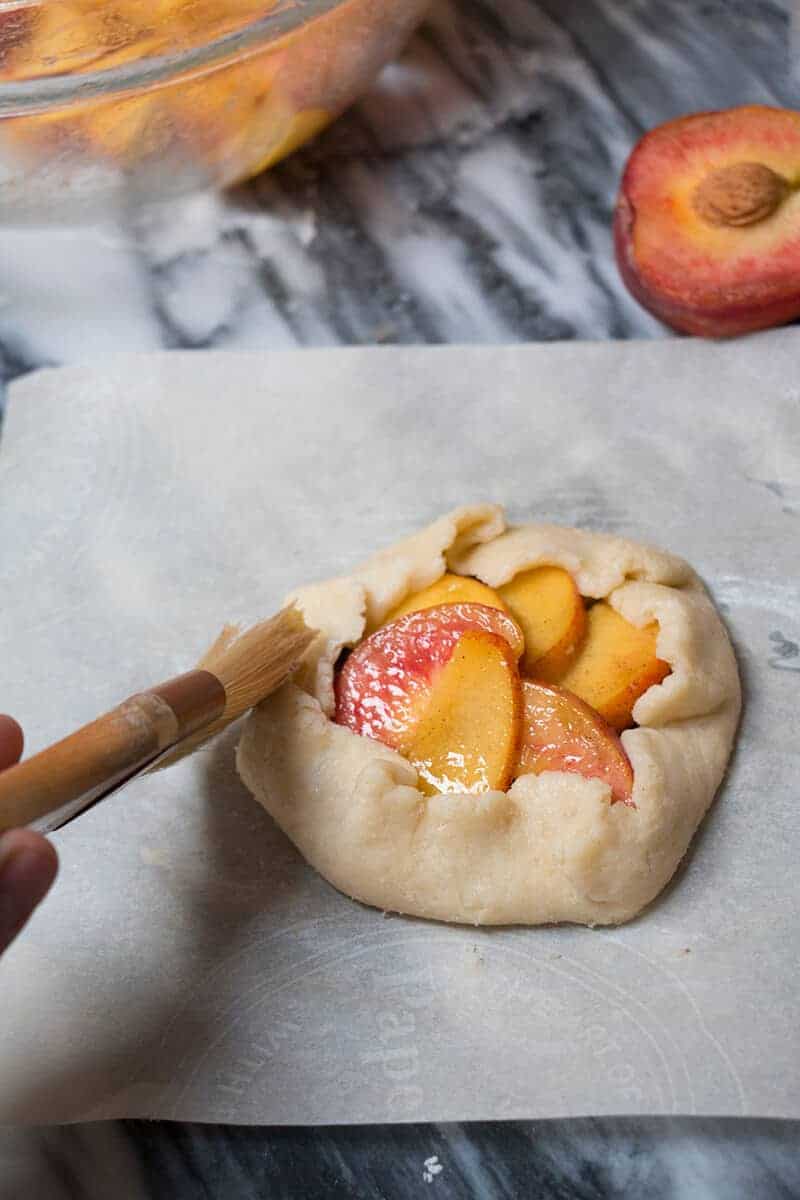 Brush with an egg wash to give a them nice golden hue.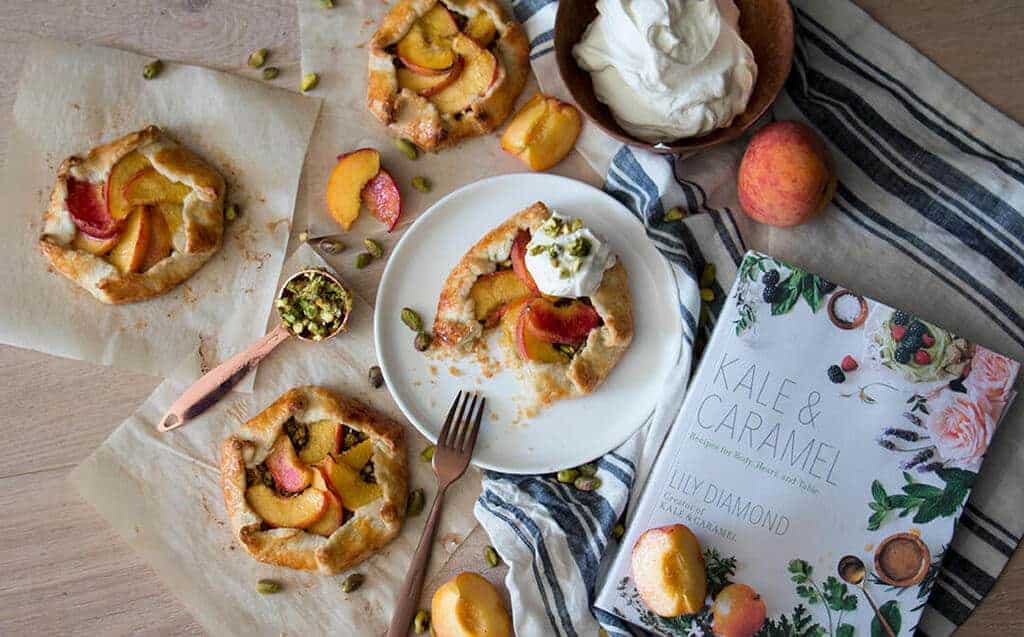 Print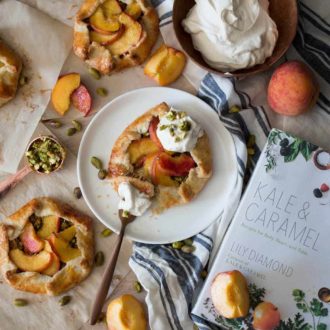 Peach and Pistachio Galettes
The most amazing peach and pistachio galettes with a dreamy rosewater cardamom cream. This incredible recipe is from the new cookbook by Kale & Caramel.
Ingredients
Pastry Crust:
1 1/4

cups

pastry flour

plus more for rolling

2

tbs

plus 1 tsp granulated sugar

1/4

tsp

sea salt

8

tbs

salted butter

1 stick, chilled

2-3

tbs

ice water

1

egg

for the egg wash
Pistachio Filling:
3/4

cup

shelled pistachio nuts

minced

2

tbs

honey

1/4

tsp

vanilla seeds scraped from the pod OR 1/2 tsp pure vanilla extract

2

pinches

flaky sea salt
Peach Filling:
1

large peach

or 2 small, sliced 1/4 inch thick

2

tsp

fresh lemon juice

1/4

tsp

ground cardamom

1/4

tsp

vanilla seeds scraped from the pod or 1/2 tsp pure vanilla extract

1

tsp

granulated sugar
Rose Whipped Cream
1

cup

chilled heavy cream

2 1/2

tsp

ground cardamom

1/4

tsp

rose water or more for taste
Instructions
For the Crust:
At least 30 minutes in advance, make the pastry crust.

Mix the 1 1/4 cups pastry flour, the sugar, and salt in a bowl.

Cut the butter into small pieces (or grate it) and use a pastry cutter or fork to work it into the flour mixture until it's almost fully incorporated.

Add 2 tbs of the ice water (you can add more later if need be) and work the dough together for just a few moments more until it is smooth and cohesive.

Add another 1/2 to 1 tbs ice water if it's too dry or crumbly.

Separate into 5 equal balls, gently flatten each into a 1/2-inch-thick disk, and cover in plastic wrap.

Place in the fridge.

In a small bowl, lightly beat the egg.

Set it aside in the fridge until ready to use.
For the Pistachio Filling:
Combine the pistachios, honey, vanilla and salt in a bowl and mix thoroughly. Set aside.
For the Peach Filling:
Place the peaches in a bowl, and douse with the lemon juice, cardamom, vanilla, and sugar.

Toss lightly just to coat, and set aside while you roll out your pastry.
For the Galette:
Preheat the oven to 400F.

Lightly dust two baking sheet-sized pieces of parchment paper with flour.

When the dough has chilled for at least 30 minutes, remove all 5 disks from the fridge and divide them between the sheets of parchment paper (the dough will stay n this parchment paper for baking).

Roll each disk about 1/4 inch thick, and transfer the parchment paper to the baking sheets.

Distribute the pistachio filling in a small circle at the center of each disk od dough, about 2 tbs each, leaving a 2- to 3-inch perimeter. Reserve extra for garnish.

Layer the peaches in a circle, about 5 slices per galette, laying them flat so that each one slightly overlaps the next.

Fold in the edges of the dough, layering and pinching sections together to seal any gaps (and prevent leaking).

Brush the exposed dough with the egg was. Repeat for each galette.

Place the baking sheets on middle racks, and bake for 30-35 minutes (rotating the baking sheet placement halfway through, and checking at 30 minutes to estimate the remaining baking time), until the peach tips are slightly brulêed, the pastry is golden brown, and the bottom is starting to caramelize.
For the Whipped Cream:
Just before serving, pour the heavy cream into a large bowl and add the honey, cardamom, and rose water.

Whip with an electric mixer just until soft peaks form.

Spoon some of the rose whipped cream atop each galette, and garnish with extra pistachio filling.
Recipe Notes
Makes 5 Mini Galettes Preparation time: about 1 hour 35 minutes. Courtesy of Kale & Caramel, Recipes for Body, Heart and Table by Lily Diamond
Nutrition Facts
Peach and Pistachio Galettes
Amount Per Serving (1 galette)
Calories 387
Calories from Fat 225
% Daily Value*
Total Fat 25g 38%
Cholesterol 101mg 34%
Sodium 365mg 15%
Potassium 165mg 5%
Total Carbohydrates 37g 12%
Protein 6g 12%
* Percent Daily Values are based on a 2000 calorie diet.