I made these rose apple tarts a while ago and I wanted to try them again but with a new spin on it! Instead of the usual super-flakey, pastry shell, I used a French cookie crust (or pâte sucrée). They're sturdier — but also — delicious! It has a similar consistency to a shortbread cookie but is less crumbly. I love the combination of sweet apples with the zing of lemon. These mini tarts are not difficult to make but visually makes a statement. Don't forget their amazing taste! ?
Print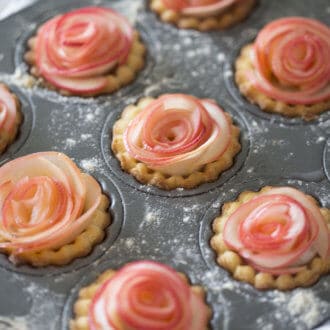 Rose Apple Tarts
Sweet apples with a zing of lemon in a french cookie shell make for a captivating treat. These mini tarts are not difficult to make but the technique really makes a great impression and the taste is amazing...
Ingredients
Pâte Sucrée
3

large

egg yolks

1/4

cup

heavy cream

1

cup

unsalted butter

cut into one inch cubes

2 3/4

cup

all-purpose flour

1/3

cup

sugar

1/4

tsp

salt
Filling
4

tbsp

melted unsalted butter

1/3

cup

sugar

1

tsp

vanilla

1/2

tsp

cinnamon
For the apples
2

large

apples

1

lemon

juiced

3

tbsp

unsalted butter

1/4

cup

sugar
Instructions
For the Pâte Sucrée (Makes two crusts)
In a small bowl, whisk the cream and egg yolks together.

In a food processor pulse the flour, butter, sugar, and salt until it's in roughly pea-sized pieces.

While the machine is running drizzle in the cream just until the mixture comes together.

On a well-floured surface knead the dough together about 5 times. It will magically transform from a crumbly mess to a workable dough.

Form the dough into a disk, wrap with plastic and chill for a few hours or overnight.

Divide the disk in two, roll out one half and cut out the crusts. The other half can be refrigerated, or frozen for later use.

Place disks in mini tart form and press into shape with the mini pie press (mine came as a set with the pan) or using your fingers.

Pierce each tart shell with a fork several times and bake for about 8-10 minutes at 425F. (Watch them carefully so they don't burn!)

Allow to cool in the pan.
For the Filling
Add 4 tablespoons of melted butter, 1/3 cup of sugar, 1 teaspoon vanilla extract and a 1/2 teaspoon of cinnamon together in a bowl and mix well.

Add about 1/2 tablespoon of the mixture to each tart.
For the apples
Add the juice of a lemon, 3 tablespoons melted butter and 1/4 cup of sugar to a medium-sized bowl and mix well.

Wash the apples, slice pieces away from the core and then slice very, very thinly. Ideally you could see through the slices, you want them to be very flexible and to look like petals when you're finished. Most of the time when this recipe goes wrong it's because people cut thick slices that they couldn't bend, or had to overcook to make flexible.

Toss the sliced apples in the prepared bowl and microwave for about a minute to 90 seconds to soften the apples. I would suggest tossing them half way though and microwaving an additional 30 seconds if some are not softened.

Roll the slices into a rose shape. Place on tart and arrange petals to your preference.

Bake at 350F for about 20 minutes
Recipe Notes
I've adapted the recipe for the pâte sucrée from Bon Appetite. 
Nutrition Facts
Rose Apple Tarts
Amount Per Serving
Calories 134
* Percent Daily Values are based on a 2000 calorie diet.
The sweet cookie-like pastry shell is more easily workable than a standard butter crust.
I love the promise of tarts in the making!
If you have a pastry stamp it's much easier to get a more uniform shell.
Ready to go in the oven as soon as I pierce with a fork.
Slice as thinly as possible. Several of these slices are too thick…
Toss the slices with the lemon butter sugar mixture.
I love that this pastry crust doesn't puff up in the oven!
Filled with sugar, cinnamon and butter both for taste and to help ancor the "petals."
Ready for the oven!
And ready to eat.
Not going to lie, they take a bit longer than a regular apple tart but well worth the effort!
How to Make Apple Rose Tarts
How to Make Apple Rose Tarts
Sweet apples with a zing of lemon in a french cookie shell make for a captivating treat. These mini tarts are not difficult to make but the technique really makes a great…