Print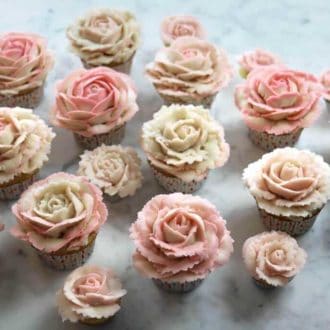 Rose Cupcakes
Almost too pretty to eat.
Instructions
To start the rose, make a cone of buttercream and place on your cupcake or flower nail, this will give the flower some height and add to the realism. Don't be afraid to adjust with your fingers if needed.
Nutrition Facts
Rose Cupcakes
Amount Per Serving
Calories 114
* Percent Daily Values are based on a 2000 calorie diet.
Here's a quick tutorial on how to pipe some pretty roses. I used a Wilton 125 tip and very thick buttercream. To ver a two-tone effect you just need to put a stripe of a different colored buttercream into the pastry bag.