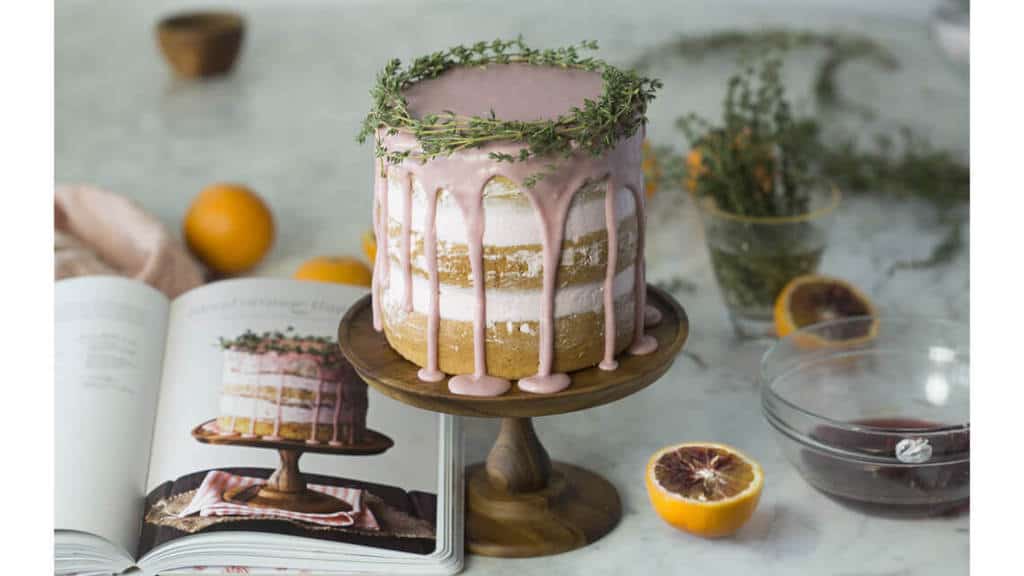 If you know me, you know my house consists of mountain-high piles of cookie cutters, cake pans, muffin tins, and AMAZING cook books! So many inspiring creations for me to drool over when I have a moment… Wait, what downtime? I'm too busy baking, editing videos, and writing copy to just sit around. Boo! It would be great to make a new series of posts where I tried out recipes from some of these beautiful books on my shelves. First on the list: "Layered: Baking, Building and Styling Spectacular Cakes," by Tessa Huff. Right up my alley! I loved this book. You've never seen so many beautiful cakes. The blood orange thyme cake really stood out, for some reason. Maybe it was that beautiful crown of fresh thyme on top? Maybe I'm just a sucker for blood oranges? Which of the two sound tastiest to you?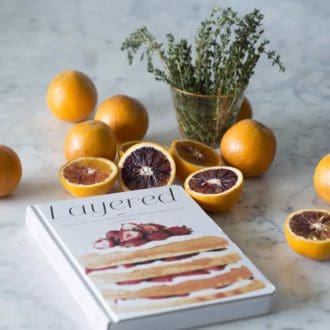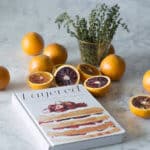 Print
Blood Orange Thyme Cake
This amazing blood orange thyme cake is one of the recipes in Tessa Huff's new book Layered. A beautiful orange cake is enriches with a blood orange thyme syrup, coated in a raspberry swiss meringue and then crowned with an orange glaze and sprigs of decorative thyme.
Total Time
1
hour
25
minutes
Ingredients
For the Cake
2 1/4

cups

All Purpose Flour

1 1/2

tsp

baking powder

1/2

tsp

salt

1/4

tsp

baking soda

3/4

cup

unsalted butter

room temp

3/4

cup

packed brown sugar

plus 2 tbsp

1/2

cup

granulated sugar

1 1/2

tbsp

finely grated blood orange zest

1

tsp

vanilla extract

3

eggs

large

1

egg yolk

3/4

cup

buttermilk

plus 2 tbsp
For the Raspberry Buttercream
1/2

cup

fresh raspberries

2

tsp

granulated sugar

2

cups

vanilla swiss buttercream
For the Blood Orange Thyme Syrup
1/2

cup

fresh blood orange juice

1/2

cup

granulated sugar

6

thyme sprigs
For the Blood Orange Glaze
1 1/4

cup

confectioners' sugar

2

tbsp

blood orange juice

plus 1 tsp
Instructions
For the Cake
Preheat oven to 350F. Butter and flour the three six inch pans.

Sift together the flour, baking powder, baking soda and salt then set aside.

Use a stand mixer with a paddle attachment at medium speed to beat the butter until smooth. Add the sugars and orange zest and beat on medium high until the mixture is light and fluffy.

Turn the mixer to medium low and add the the vanilla then add the eggs and yolk one at a time. Stop the mixer and scrape down the bowl.

Turn the mixer to low and add the flour mixture alternating with the buttermilk in three batches, beginning and ending with flour.

Evenly divide the batter into the three 6" pans. Bake for 23-25 minutes or until a toothpic inserted in teh center comes out clean. Allow the cakes to cool in their pans for about 10 minutes before transferring to a wire rack.
For the Raspberry Buttercream.
Blend the raspberries and sugar together in a food precessor until combined. You can strain the puree through a sieve if you'd like to remove the seeds.


In the bowl of a stand mixer fitted with a paddle attachment, mix the buttercream until it is silky smooth. Add 1/4 cup of the raspberry puree and mix until combined. (You could also use an Italian buttercream for this recipe. I have a how to video and recipe for it on preppykitchen.com).
For the Blood Orange Thyme Syrup
Place the blood orange juice and sugar in a saucepan and bring to a boil over medium-high heat. Reduce heat to maintain a simmer and add the thyme. Simmer for about 8 minutes. Remove from heat and let steep until cool. Strain the syrup before use and discard the thyme.
For the Glaze
Whisk together the confectioners' sugar and blood orange juice.
Assemble the Cake
Brush each layer genereously with the syrup. Place the bottom layer on a cake stand or plate. Spread the buttercream on top then apply the next later and repeat. You can apply a thin coat of buttercream to the top and sides of the cake or leave naked. Pour the glaze on top of the cake an allow to drizzle down the side. You can finish the cake with a crown of fresh thyme.
Nutrition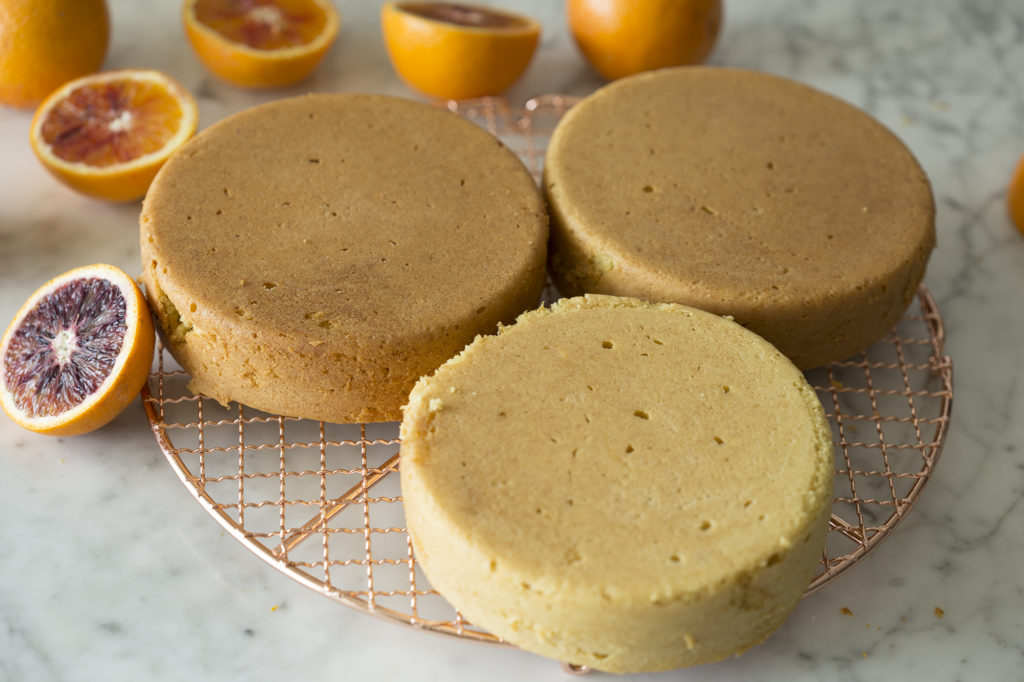 Here are my cake layers fresh out of the oven. As per usual, I used cake strips to get a more even bake.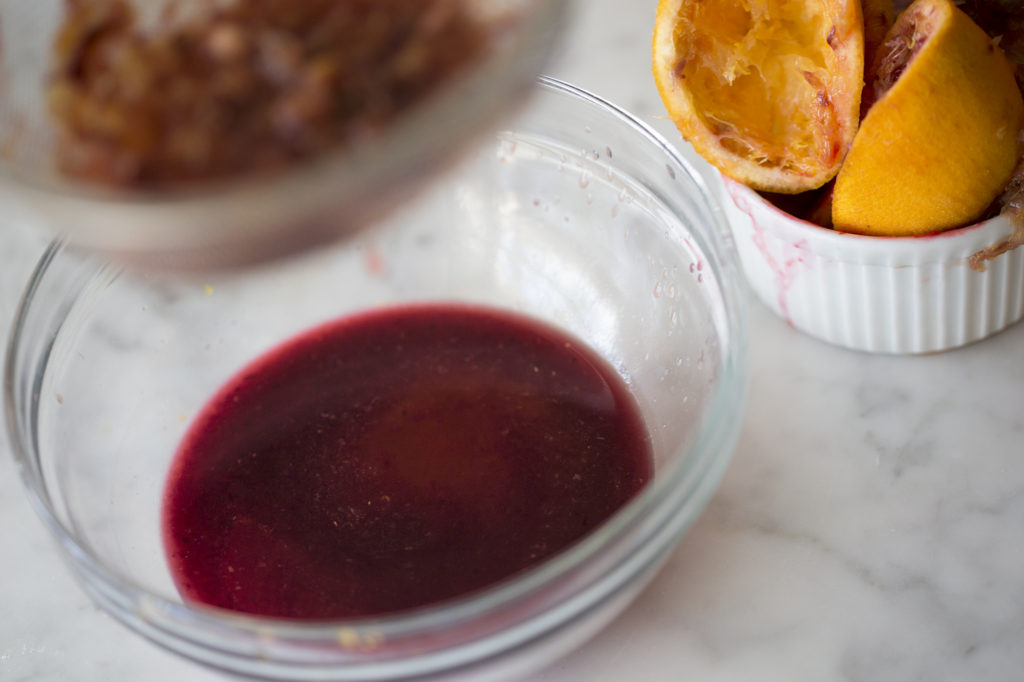 What is it about blood oranges? Do they taste that different from regular oranges or is the color totally throwing me off??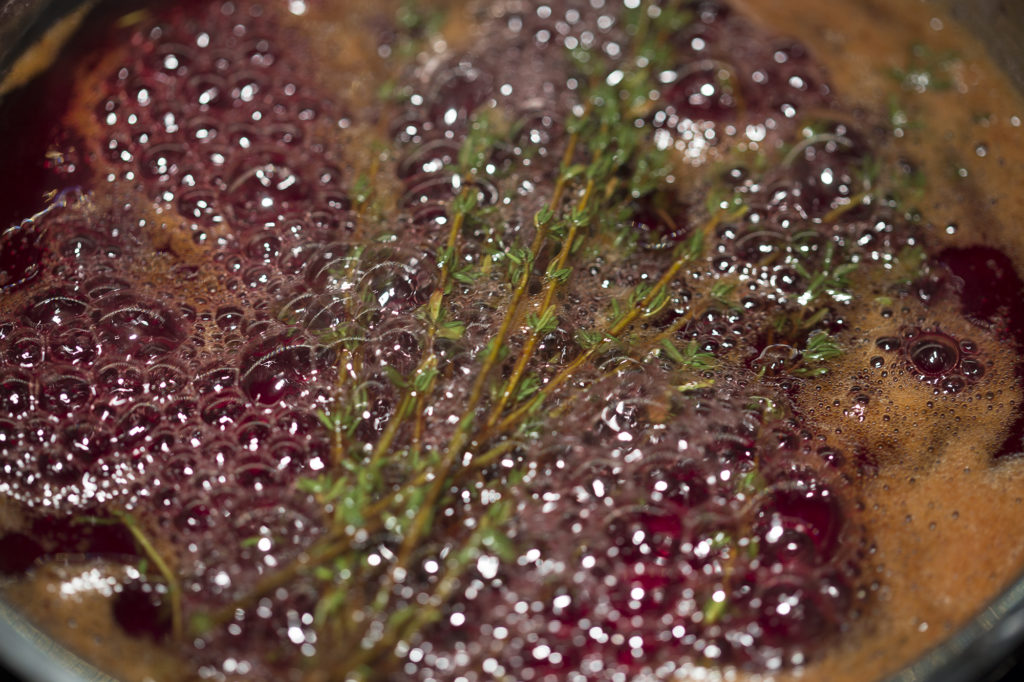 Loved the color combinitions of teh thyme and blood orange juice simmering in the pan.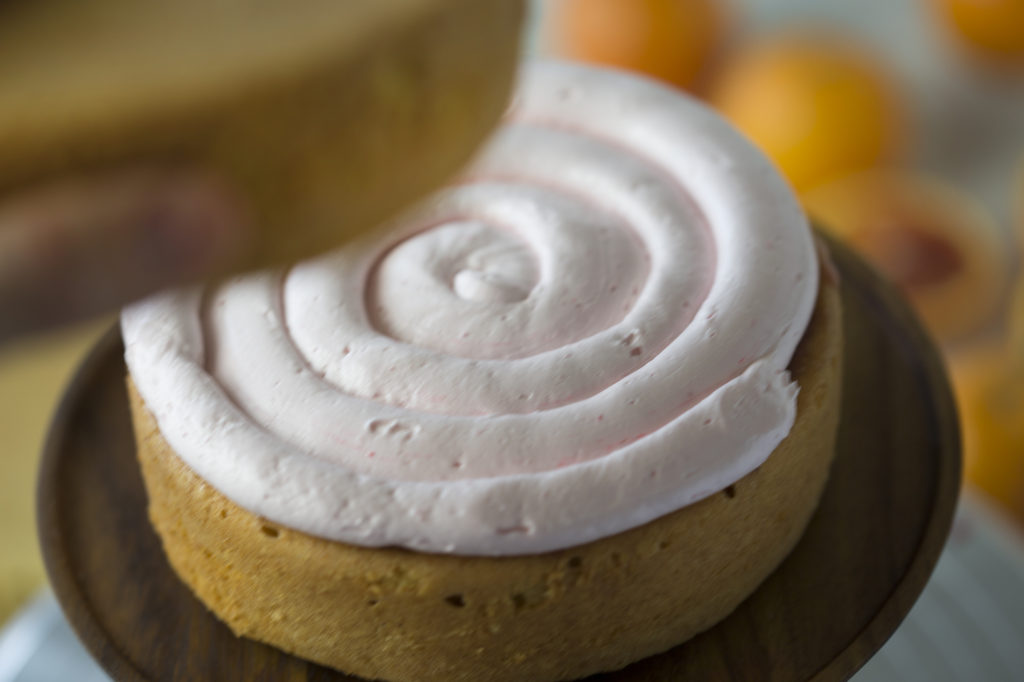 Just a casual swirl of raspberry buttercream between my layers, no big deal 🙂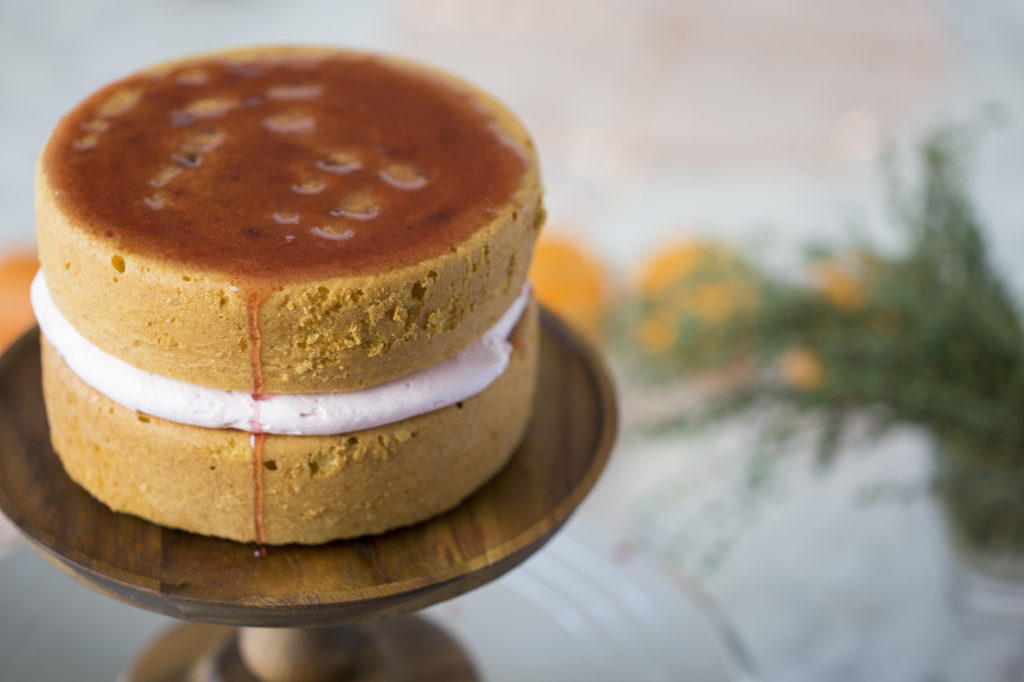 I made sure to let that syrup soak into the cake layer before adding the buttercream.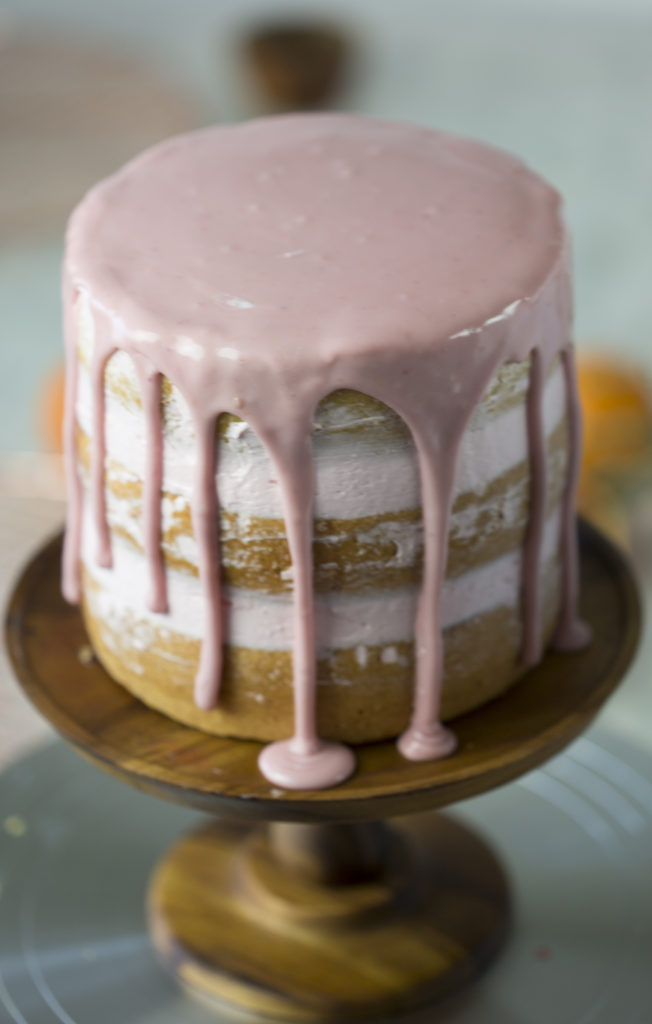 I think the cake definitelly needed the crown of thyme to bring it all together.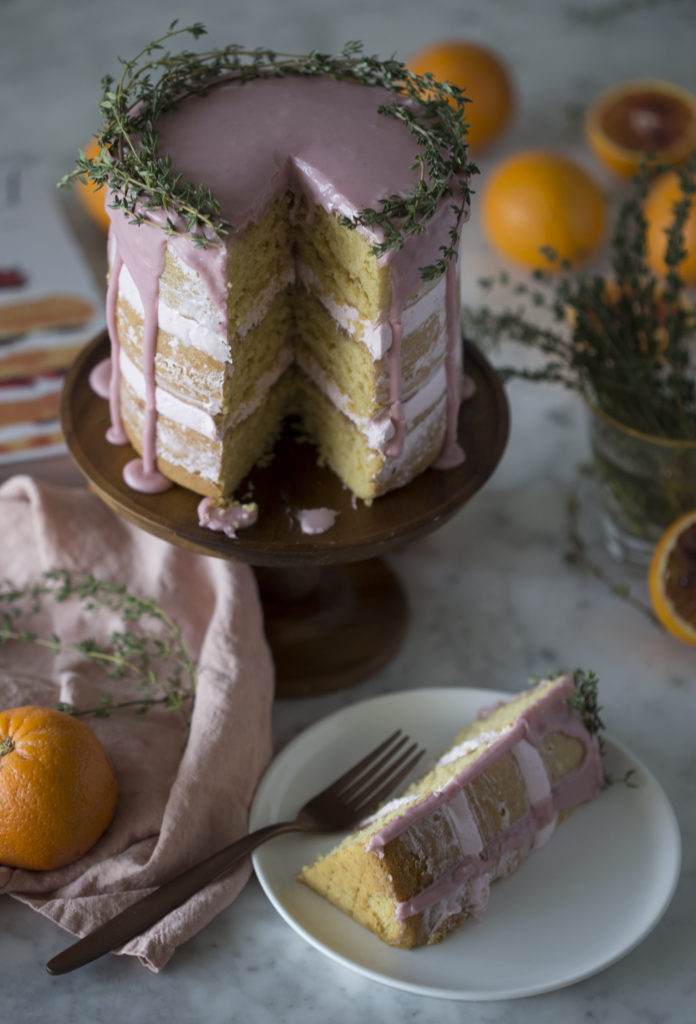 So Beautiful! Was really fun making making someone else's creation and seeing how close I could get. I might have thinned out the glaze just a hare more to get closer to the book's photo but either way the taste was great!
That's my piece in case you were wondering. 🙂