When it comes to takeout favorites I can't resist Kung Pao Chicken with its juicy chicken, crunchy peanuts, and umami rich sauce. My version of this classic Chinese Sichuan dish has been adapted with ingredients that are a little easier to find but still delivers on flavor! If you would like something more truly authentic than my Americanized version, then perhaps try something from Woks of Life.
What you need to make this recipe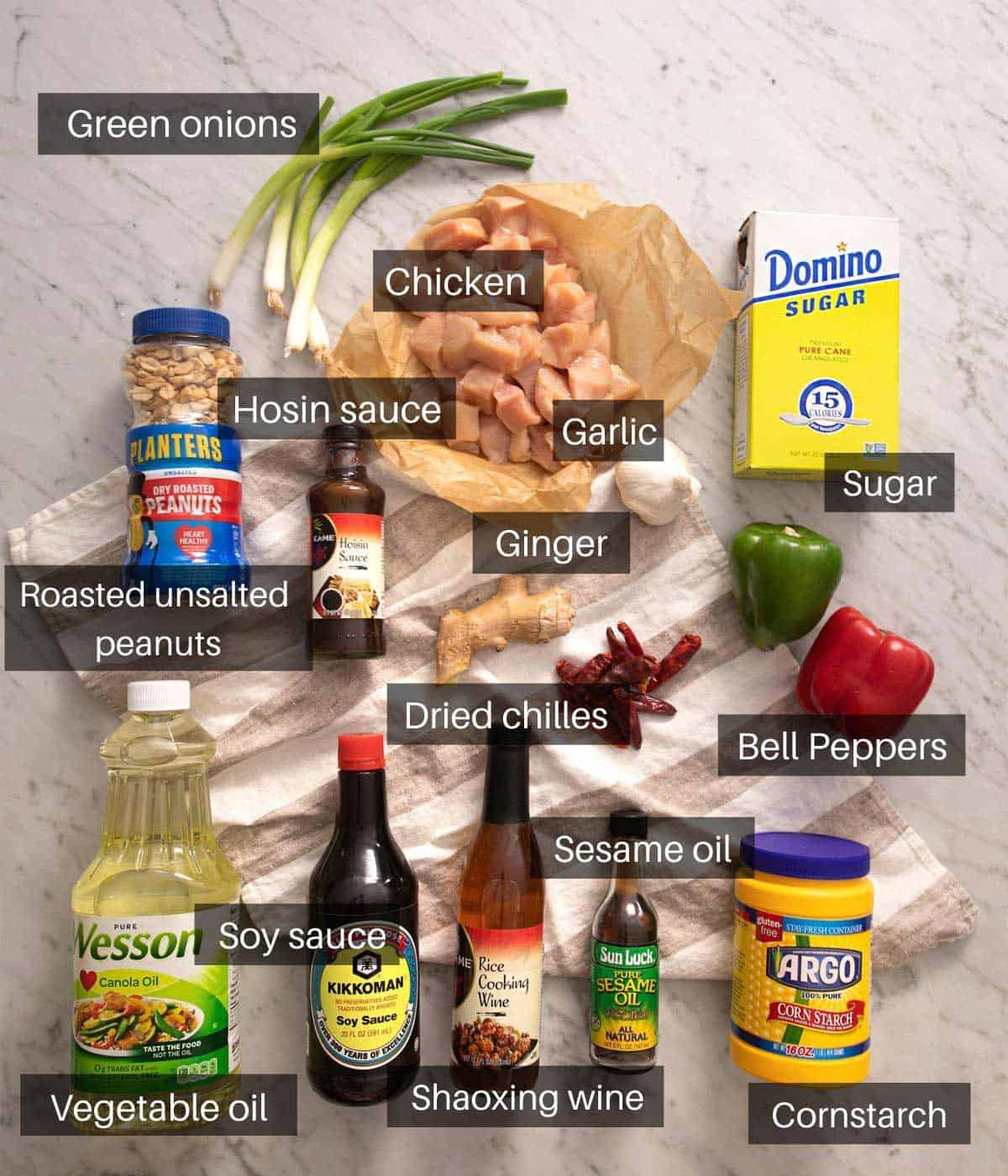 Chicken – I use boneless and skinless chicken breasts for this recipe but you can also use chicken thighs just make sure they are skinless and boneless.
Dried chilies – you can easily adjust the amount of chilies to taste. Traditionally Sichuan peppercorns are also added so can also add in a few for extra heat.
Shaoxing wine – this is a Chinese wine made from fermented rice and is used in a lot of Chinese cooking and even drinks. If you can't find it, rice wine, dry sherry or Mirin will also work.
Peanuts – peanuts give a nice crunchy texture to this stir fry that I just love, if you don't have them cashews will also work.
Cornstarch – this is used to thicken the sauce for a nice thick but silky texture.
How to Make Kung Pao Chicken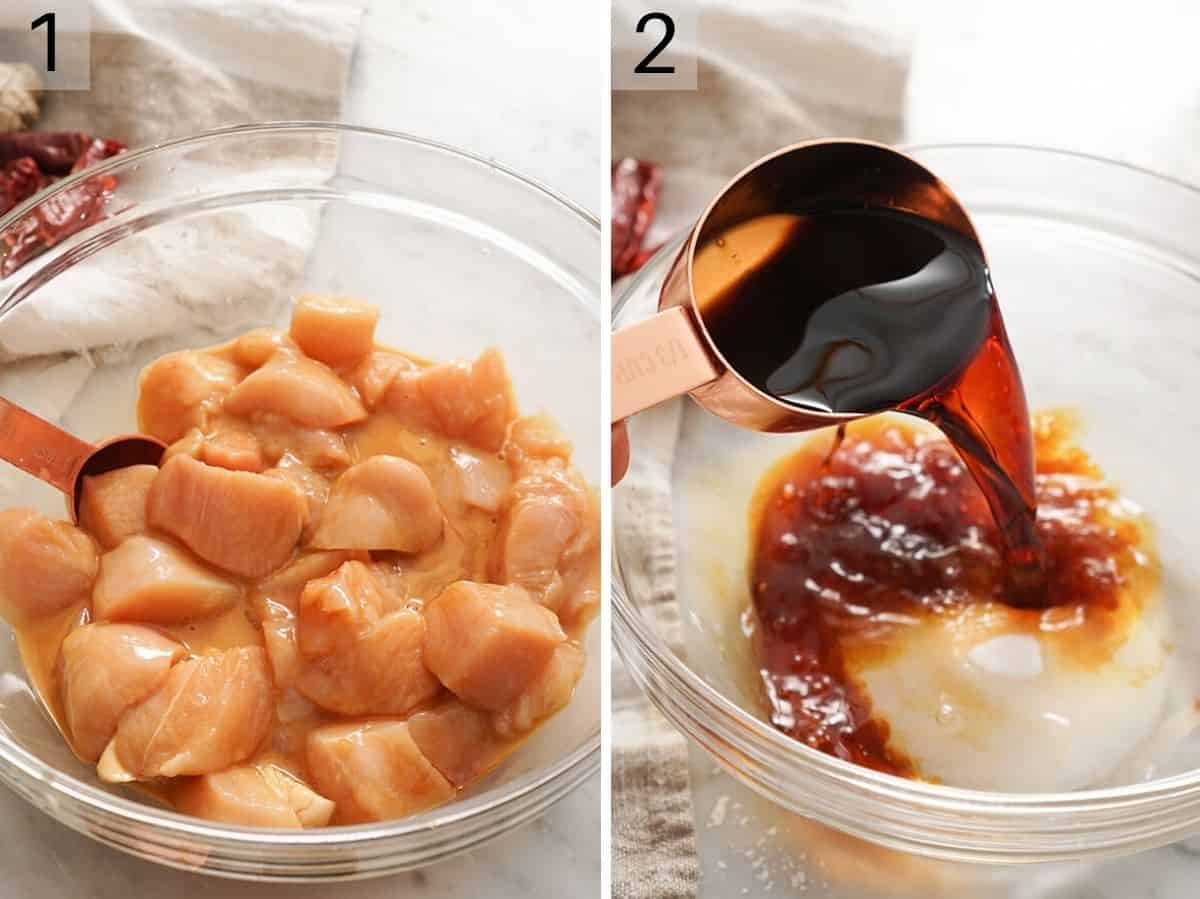 1. Marinade the chicken in cornstarch, soy sauce and wine, set aside.
2. Mix all the sauce ingredients in a separate bowl and set aside.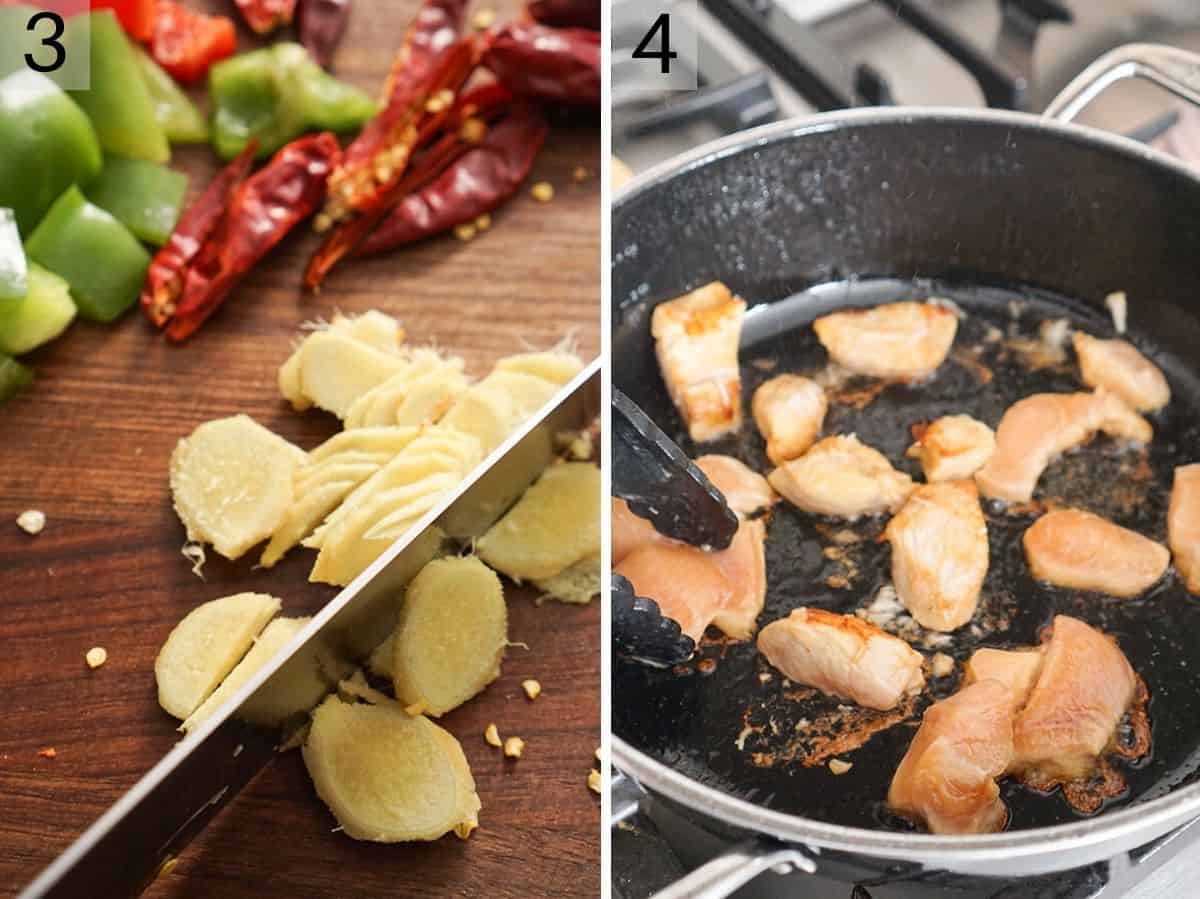 3. Mince the ginger, garlic and cut up the veggies.
4. Brown the chicken in batches in a hot skillet, set aside.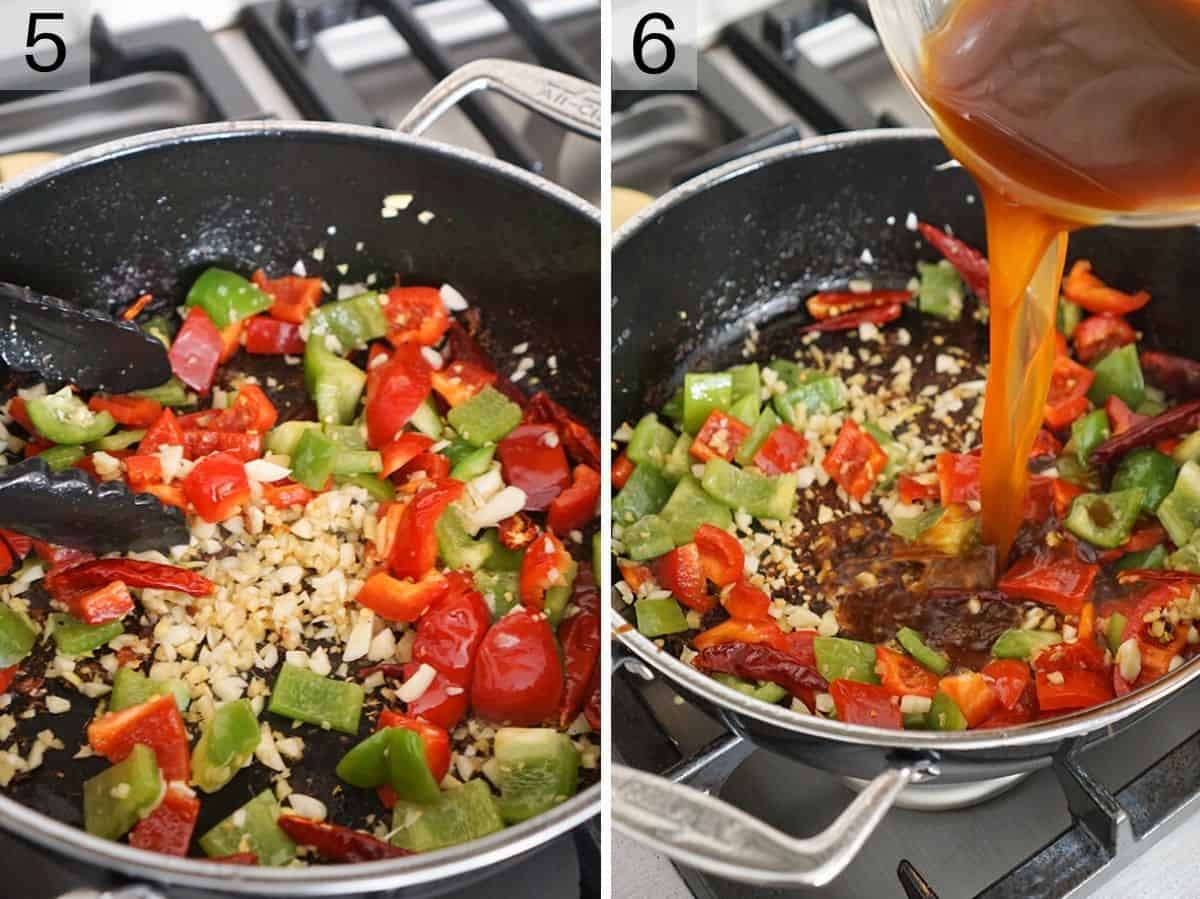 5. Fry the peppers and chilies in a hot skillet until soft then add the ginger and garlic.
6. Add the peanuts and sauce and bring to a boil, reduce the heat and add the chicken and green onions, stir until warmed.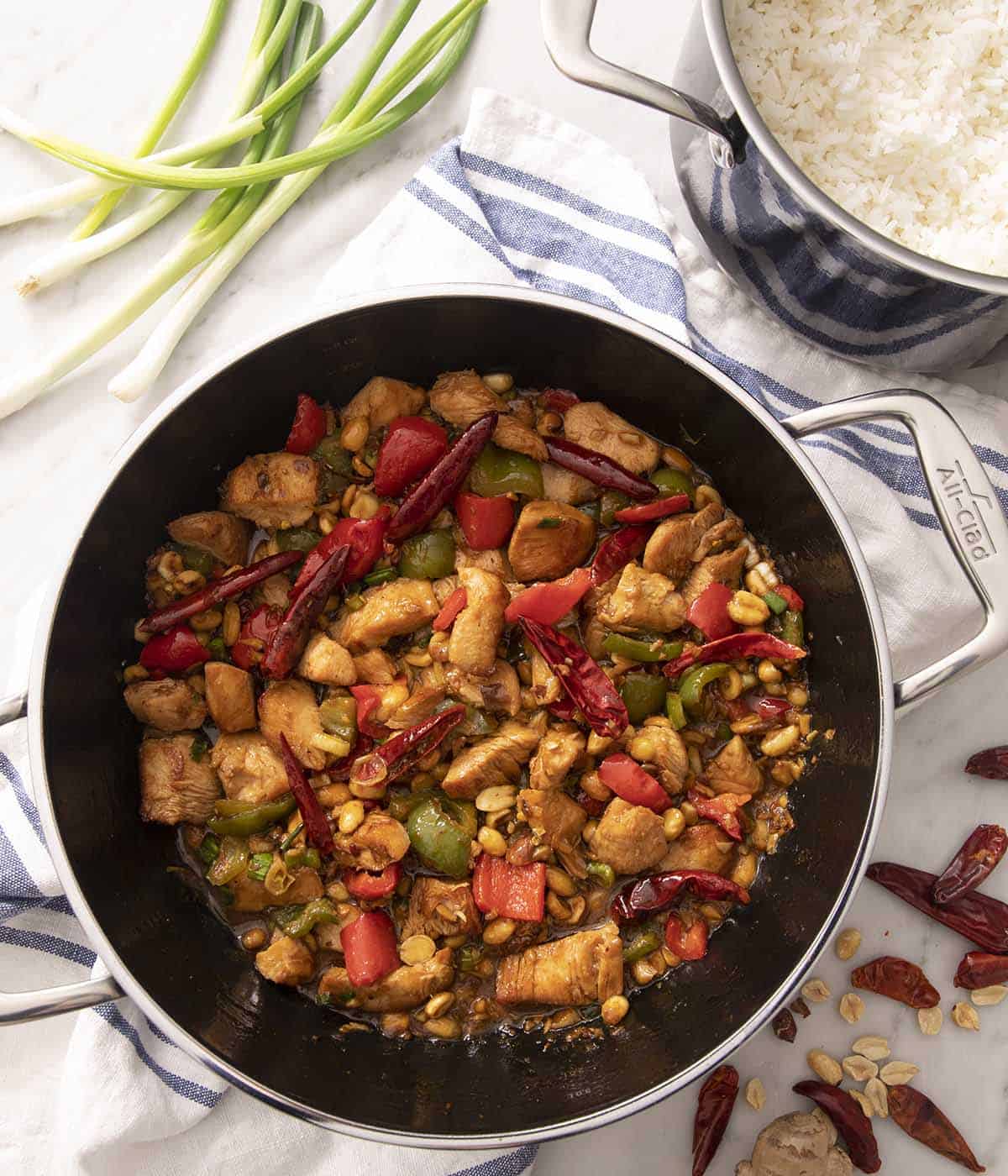 Pro tips for making this recipe
Water chestnuts and bamboo shoots are great additions to this dish.
You can add 2 tablespoons Chinese black vinegar or a nice balsamic vinegar to the sauce for added flavor.
To keep ginger fresh, place it in a resealable plastic bag and store in the crisper drawer of your refrigerator.
Other than white rice you could serve this dish with some noodles.
You can make this dish vegetarian by leaving out the meat completely and enjoy the kung pao sauce with vegetables, or why not add in some meaty mushrooms or tofu to replace the protein.
Leftovers will keep well in the fridge for 3-4 days and can be reheated.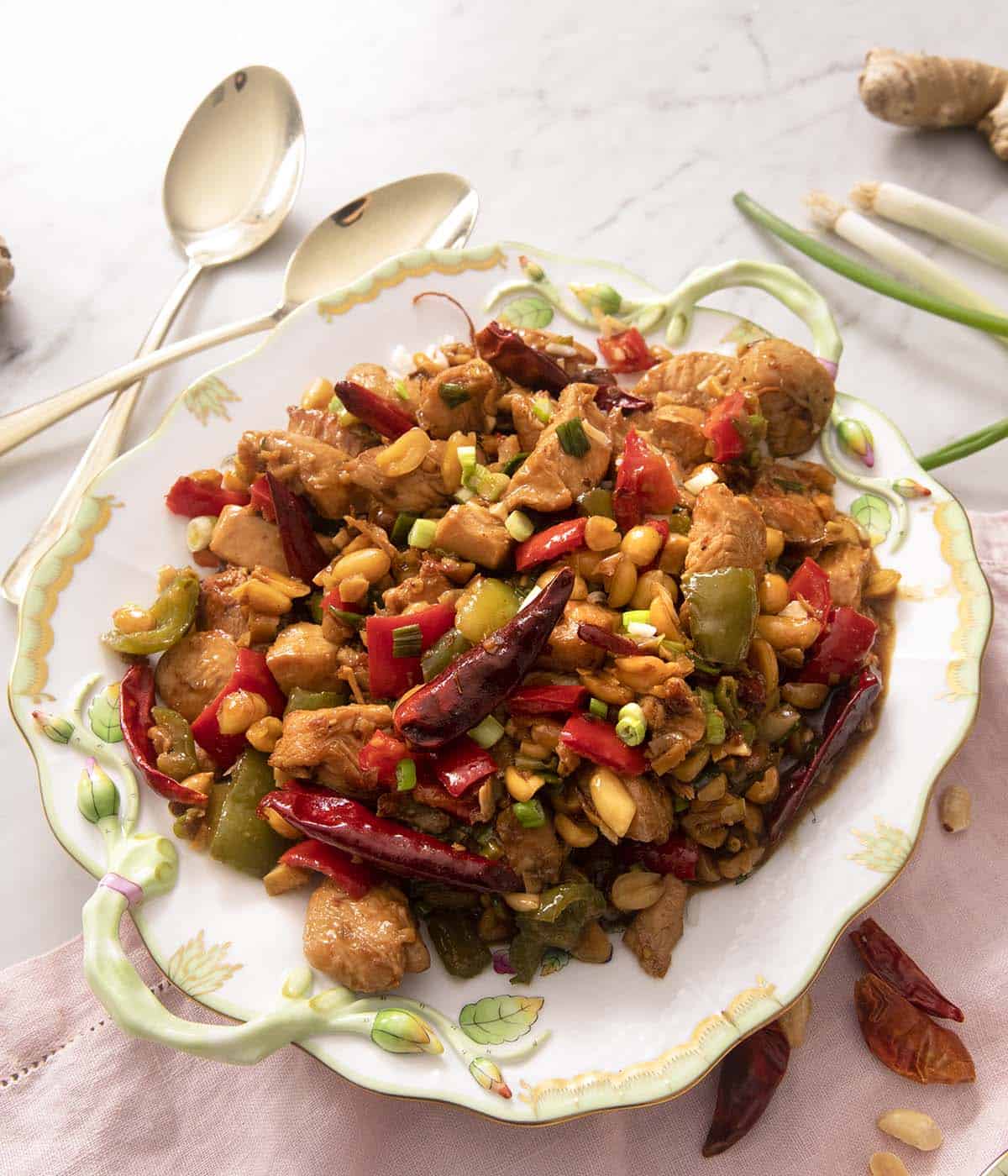 Frequently Asked Questions
What does Kung Pao Mean?
The dish is thought to be named after Ding Baozhen, a late Qing Dynasty official of Sichuan Province. It refers to a dish made with meat that's stir-fried and tossed with vegetables, chilies, and peanuts.
What's the difference between General Tso's Chicken and Kung Pao Chicken?
There's a big difference between these two dishes, General Tso's chicken is battered and deep fried and tossed in sticky sauce. Kung Pao chicken, on the other hand, is browned in a skillet or a wok which is more traditional, and is then tossed in a delicious soy sauce-based sauce and lots of crunchy veg.
What does it taste like?
It has a delicious sweet, salty, and sour flavor that's completely addictive. There are fresh flavors from fresh garlic and ginger, spiciness from the chilies, sweetness from the bell peppers, and rich umami flavors from the soy sauce, hoisin, and vinegar.
Is it healthy?
It's not super healthy but it's not extremely bad for us either, there's no deep frying involved and there are delicious and nutritious vegetables in this dish. To make it healthier you can opt for low sodium soy sauce and reduce the sugar.
Can you make it in advance?
I don't recommend making the whole dish in advance as it's best served immediately but you can definitely prepare a lot of this dish in advance to speed things up. Here's what I recommend;
Prepare the sauce in advance and keep it in a bowl in the fridge (make sure to stir it before cooking)
Marinate the chicken in advance and store that in the fridge (bring it out of the fridge 10-15 minutes before cooking)
Slice all the vegetables and keep them in the fridge to cut out a lot of prep time!
Can it be frozen?
Yes, leftovers can be frozen in suitable containers then thawed and reheated. Make sure everything is piping hot before serving.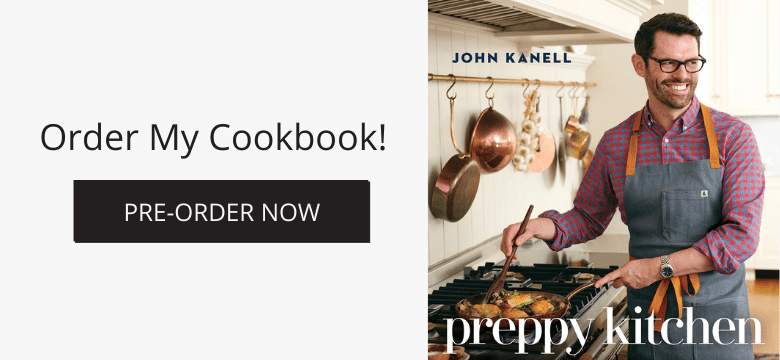 If you've tried this Kung Pao Chicken Recipe then don't forget to rate the recipe and let me know how you got on in the comments below, I love hearing from you!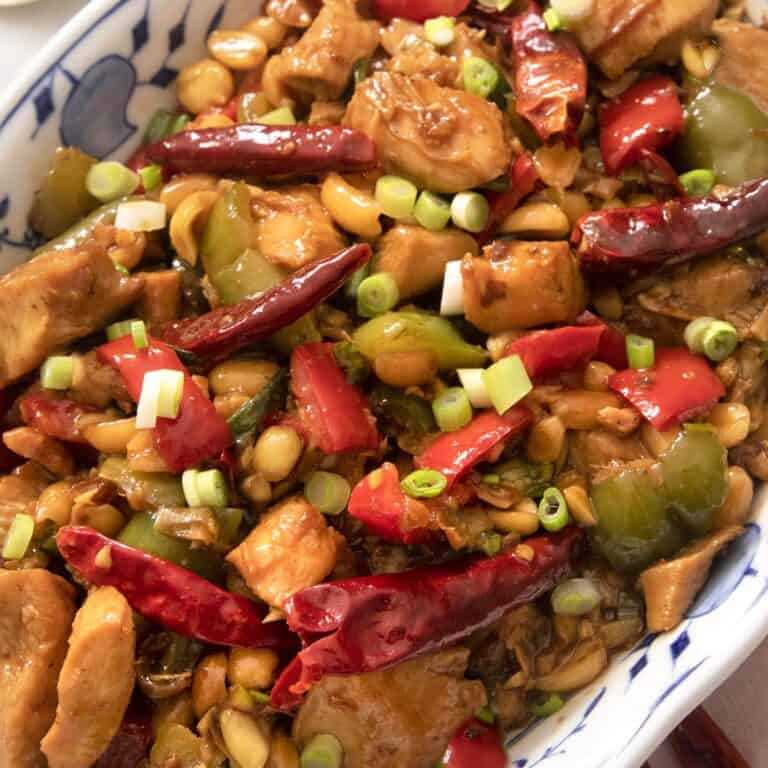 Print
Kung Pao Chicken
How to make your favorite Kung Pao Chicken at home! Don't forget to check out my step by step photos and tips above!
Ingredients
Chicken:
2

boneless/skinless chicken breasts

cut into 1 inch cubes

1

tablespoon

shaoxing wine

or rice wine

1 1/2

tablespoon

soy sauce

1

tbsp

cornstarch

(cornflour)
Sauce:
1/3

cup

water

2

tablespoon

Chinese Shaoxing wine

or dry sherry

⅓

cup

soy sauce

2

teaspoons

hoisin sauce

3

tablespoons

sugar

1

teaspoon

cornstarch

(cornflour)
Stir Fry:
3

tablespoons

cooking oil

divided

6

cloves

garlic

2

tablespoons

minced ginger

or 2 tsp ground ginger

1

red bell pepper

diced

1

green bell pepper

diced

8

dried chilies

halved

4

green onions

chopped

3/4

cup

roasted/unsalted peanuts

2

teaspoons

sesame oil

optional
Instructions
Mix the soy sauce, wine and cornstarch in a bowl then add the chicken and mix to coat. Allow to marinade at room temp for 15-20 minutes mixing occasionally.

For the sauce mix all the ingredients in a bowl and set aside. (list the ingredients in instructions)

Add 2 tablespoons of oil to a large skillet over medium-high heat and cook the chicken in batches, browning each side and cooking through. Transfer to a plate once cooked, and set aside.

Add 1 more tablespoon of oil to the pan then add peppers and chilis. Cook while stirring until the peppers have softened slightly, about 2 minutes. Dump in the ginger and garlic and cook another minute while stirring constantly. Add the peanuts and mix in then pour in the sauce and bring to a boil.

Reduce to medium-low and add the chicken and chopped scallions. Stir to coat and heat until warmed through. Serve over rice.
Notes
Water chestnuts and bamboo shoots are great additions to this dish.
You can add 2 tablespoons Chinese black vinegar or a nice balsamic vinegar to the sauce for added flavor.
Adjust chilis to match the heat you are comfortable with.
To keep ginger fresh, place it in a resealable plastic bag and store in the crisper drawer of your refrigerator.
Other than white rice you could serve this dish with some noodles.
You can make this dish vegetarian by leaving out the meat completely and enjoy the kung pao sauce with vegetables, or why not add in some meaty mushrooms or tofu to replace the protein.
Leftovers will keep well in the fridge for 3-4 days and can be reheated
Nutrition
Calories:
515
kcal
|
Carbohydrates:
27
g
|
Protein:
35
g
|
Fat:
30
g
|
Saturated Fat:
4
g
|
Cholesterol:
72
mg
|
Sodium:
1819
mg
|
Potassium:
858
mg
|
Fiber:
4
g
|
Sugar:
14
g
|
Vitamin A:
1460
IU
|
Vitamin C:
67
mg
|
Calcium:
44
mg
|
Iron:
2
mg
*
Nutrition Disclaimer