This simple and delicious vanilla buttercream frosting is perfect for frosting cakes and cupcakes. It's so creamy and dreamy, you might just want to eat it plain!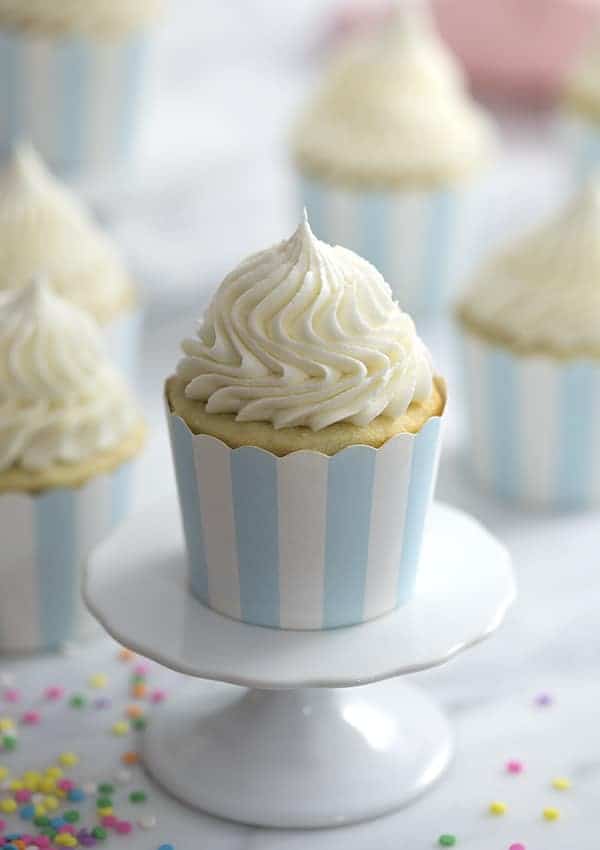 Vanilla Buttercream may seem beyond simple but I get a surprising number of questions from home bakers everywhere. So let's set the record straight with perhaps the most ubiquitous and variable frosting there is! Let me know how you enjoy this recipe; historically, I have found it to be a crowd pleaser.
Frequently Asked Questions
Is buttercream or whipped frosting better?
The main difference between buttercream and whipped frosting is butter. Whipped frosting does not contain butter and is a lighter and fluffier icing. Buttercream contains a good amount of butter and has more of a rich flavor; so you be the judge! 🙂
Will buttercream melt at room temperature?
When buttercream is left out at room temperature, it will form sort of a crust on the outer layer while the inside will stay fairly smooth. If it is very warm or humid, the buttercream can loose structure. This will affect decorations you've pipes and may even destabilize layer cakes, causing them to sag or collapse.
How long can you leave out buttercream frosting?
You can leave out buttercream frosting for overnight if covered. If the buttercream contains cream cheese, then it should always be refrigerated for it to remain safe to eat. Buttercream that contains dairy will spoil more quickly so should be refrigerated after a few hours.
How do I thin out buttercream frosting?
If you want to thin out buttercream frosting, you'll want to add in some extra cream or milk. I recommend mixing in a tablespoon at a time until the desired consistency is reached.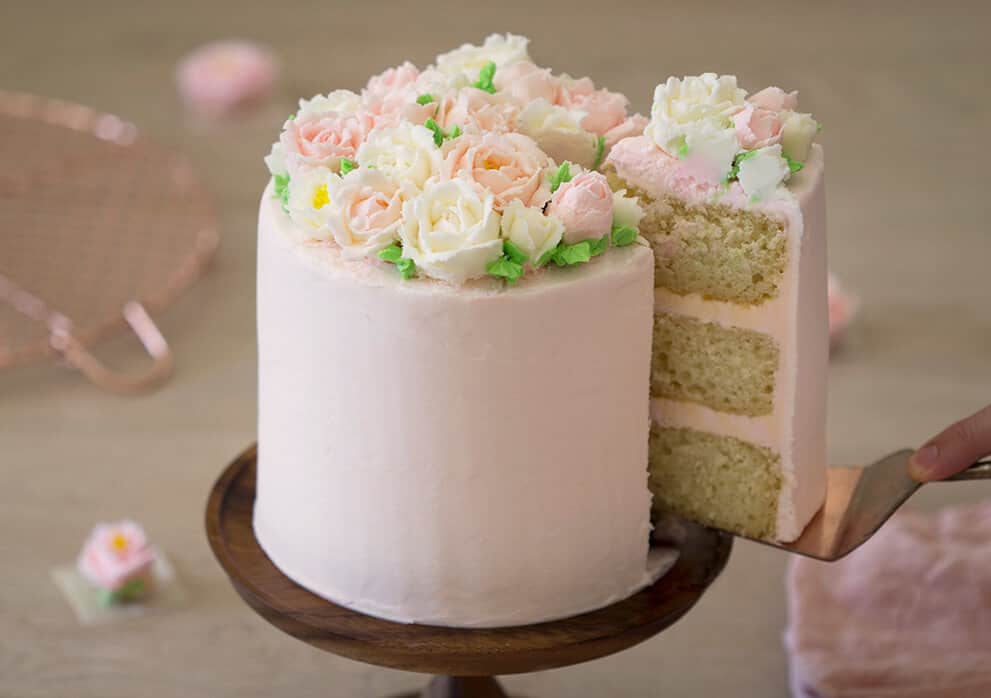 Using room temperature butter is the most important thing to do when whipping up a batch of "buttercream." If you're looking for a very spreadable and very smooth icing, you can add the full amount of cream in (and maybe even a bit more).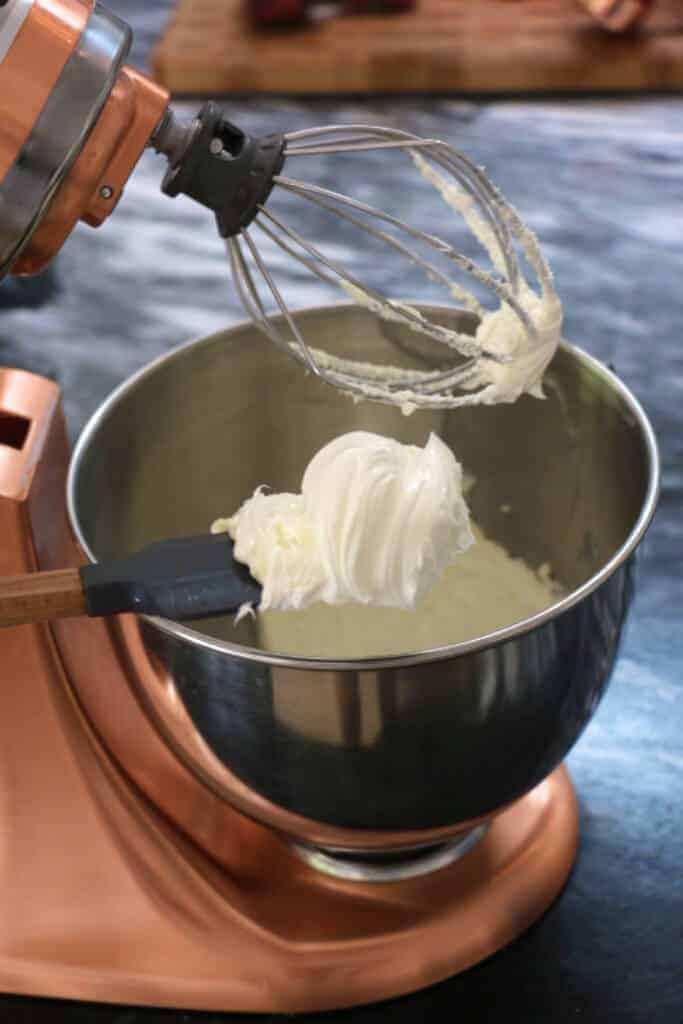 You can always substitute a fruit puree, reduction or liqueur if you wanted to spice things up, by the way. If you are doing some detailed work — like piping roses, for example — you'll be using MUCH LESS cream.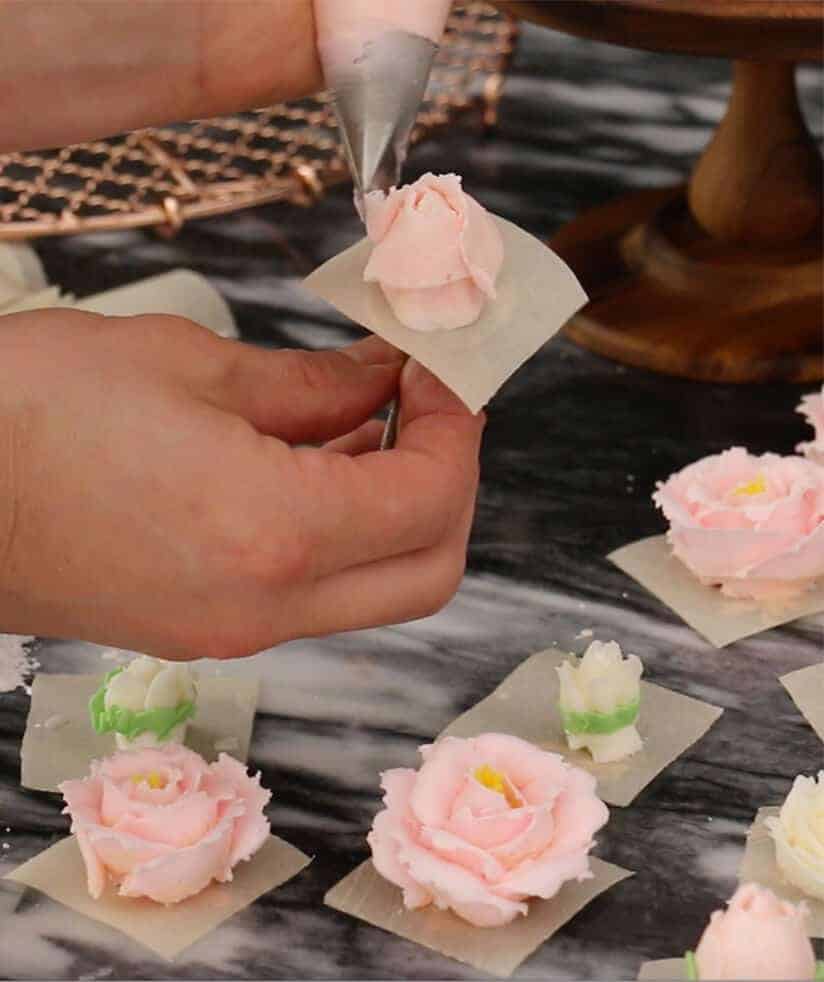 Some people prefer the all-white buttercream that uses vanilla extract. Some people love seeing little vanilla seeds scattered throughout. If you do want to use a vanilla bean, simply split along the middle — scrape out the seeds with a knife — and allow to defuse in the cream that you're using (or you could even add some bourbon).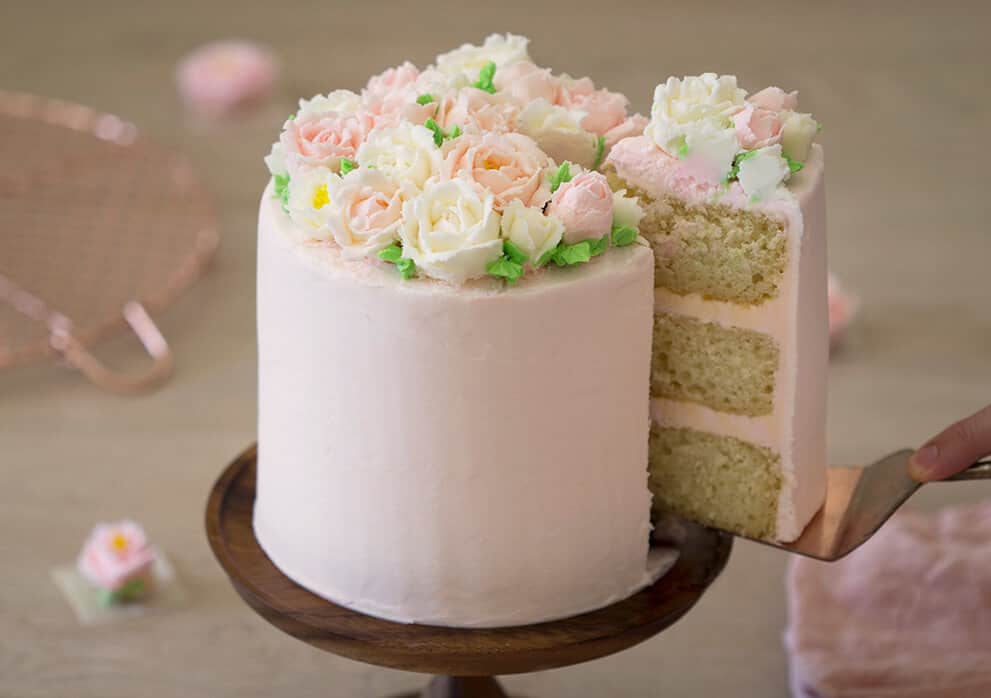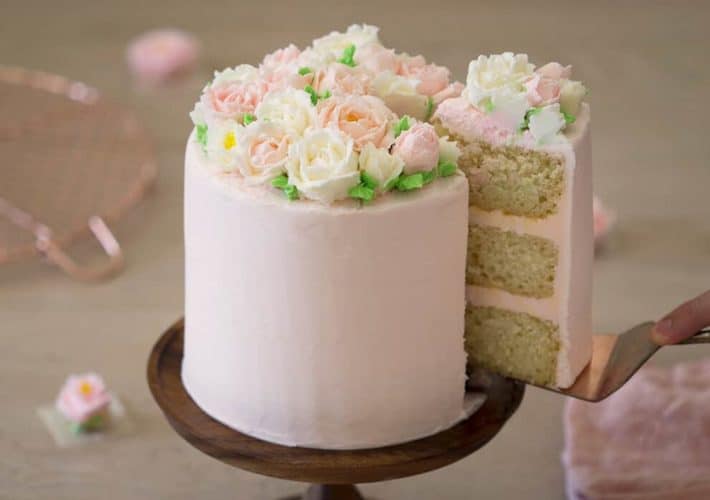 For people who live in very warm climates, substituting in some vegetable shortening for the butter will help keep your confections stable. As a final note, I would always remember to sift your powdered sugar as you will never know when a clump will come back to haunt you.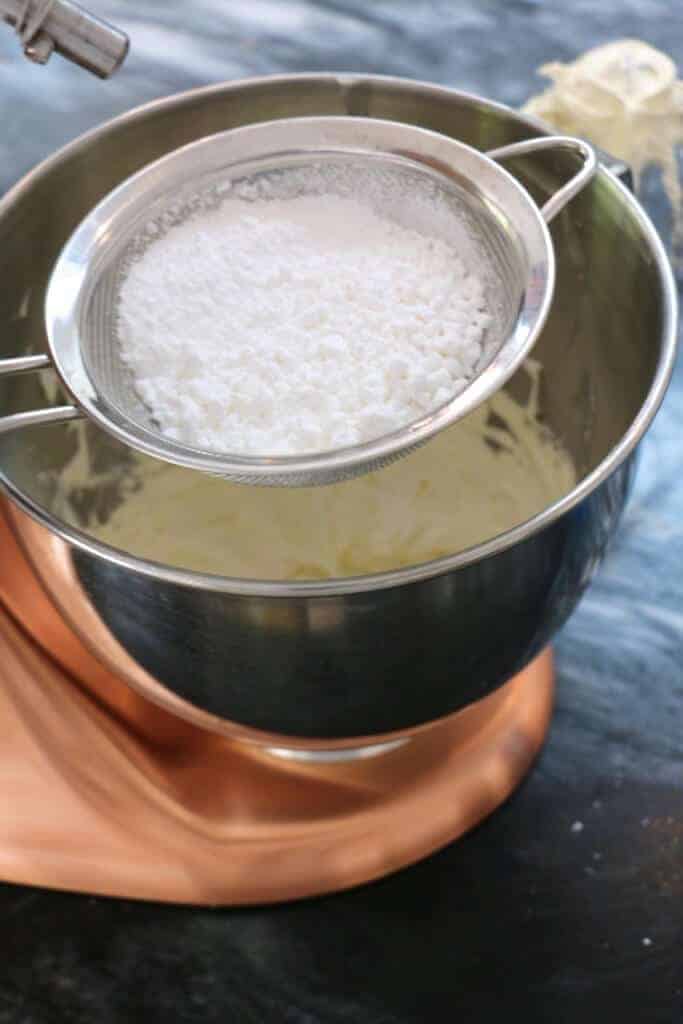 Make sure to sift your powdered sugar, especially if you're going to be using any piping tips. Those clumps will cause clogs that make decorating nearly impossible!
How To Make Buttercream Frosting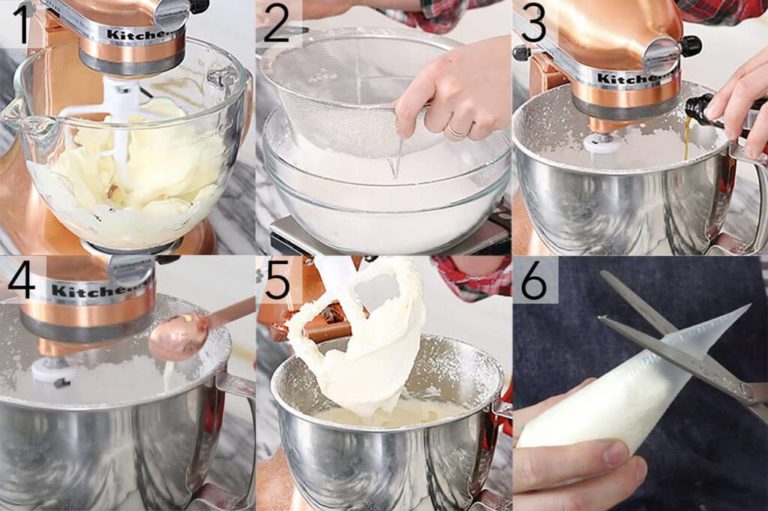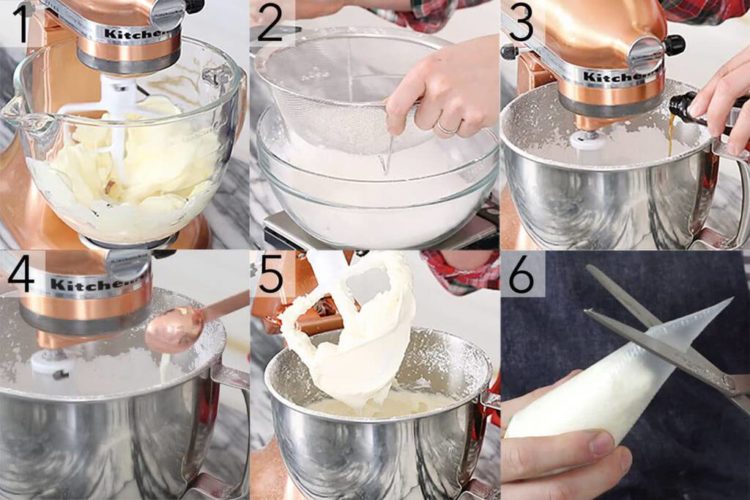 Cream the butter in a standing mixer for about 5 minutes using a paddle attachment.
Sift the confectioners sugar and slowly beat it in, in multiple batches.
Once incorporated, with the mixer running on low, you can go ahead and add the vanilla extract.
While the mixer is running on low, add in the three tablespoons of heavy whipping cream.
When your buttercream is finished, you should have a nice even and fluffy consistency.
You can place it in a piping bag, snip the tip off, and you're ready to go!
IF YOU LOVE THIS RECIPE TRY THESE OUT!
Chocolate Buttercream Frosting
How To Make Buttercream Flowers
If you've tried this buttercream frosting then don't forget to rate the recipe and let me know how you got on in the comments below, I love hearing from you!
Print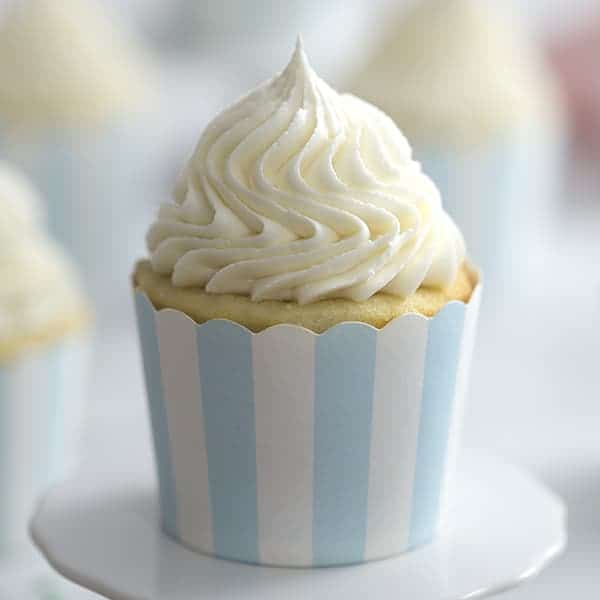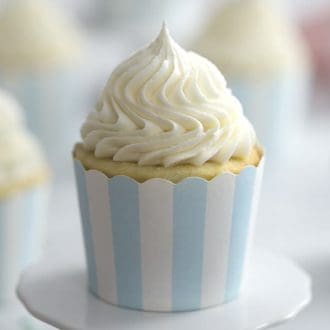 Buttercream Frosting
This simple and delicious vanilla buttercream is perfect for frosting cakes and cupcakes.
Ingredients
INGREDIENTS
1

tbsp

vanilla

15mL

1

lb

confectioner's sugar

454g

1

cup

unsalted butter

225g, room temperature

3

tbsp

heavy whipping cream

45mL
Instructions
INSTRUCTIONS
Whip the butter for about 5 minutes using a paddle attachment (stand-up mixer).

Beat in the confectioner's sugar slowly.

Add the cream and vanilla. Beat until you have an even, fluffy consistency. Vualá!
Recipe Video
Nutrition Facts
Buttercream Frosting
Amount Per Serving (1 batch)
Calories 3583
Calories from Fat 1800
% Daily Value*
Fat 200g308%
Cholesterol 549mg183%
Sodium 52mg2%
Potassium 54mg2%
Carbohydrates 455g152%
Protein 2g4%
Vitamin A 6335IU127%
Calcium 84mg8%
Iron 0.3mg2%
* Percent Daily Values are based on a 2000 calorie diet.