When you want a creamy smooth buttercream there are two choices, Swiss or Italian buttercream. I love both but have to admit there is less less chance of burning myself when making the swiss variety as you're gently heating the meringue over a double boiler. The other benefit of these buttercreams is the color; you can get a very bright white with them and not have to resort to covering your cake in fondant.
Lets talk about a couple potential problems. I think the most common issue is related to adding the butter when the meringue is still too warm. If you don't wait long enough then the mixture will be soupy, which is a bummer. Luckily you can pop the bowl into the freezer for a few minutes, then give it a whip and it should be right as rain. If your start using the buttercream and it has lots of little bubbles and isn't silky and pliable then it's been sitting for a bit too long. All you need to do is give it a 5 second whisk and it will wake back up and regain it's consistency.
Some things to avoid:
Don't get fat in your bowl, make sure it's clean (I actually give mine a quick rub with a lemon then wipe with a paper towel)
Don't let any yolks get into your whites when you separate the eggs. The easiest avoid yolks is to separate the eggs one at a time into separate bowls and then pour the white in as you go along.
Don't get scared when you add the butter in! if it's a soup or if it's looking wonky just chill is a few minutes then get back to mixing.
If your idea of warm is tepid then go ahead and use a thermometer to see when your egg white mixture has reached 160F.
Print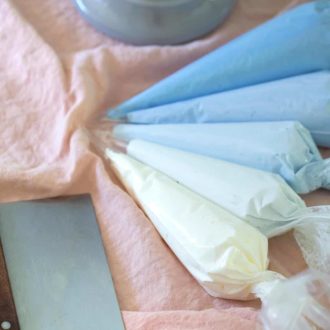 How to make Swiss Buttercream
A step-by-step guide to making silky Swiss buttercream.
Ingredients
INGREDIENTS
5

egg whites

at room temperature

2

cups

unsalted butter

452g, at room temperature

1 ½

cups

granulated sugar

300g

1

pinch

kosher salt

1

tsp

vanilla extract
Instructions
INSTRUCTIONS
Add egg whites, sugar and salt in a bowl.

Give the mixture a brief whisk.

Place the bowl over a pan of simmering water. Make sure the water does not touch the bowl.

Whisk the egg whites occasionally while it warms up. When the mixture has warmed, whisk it constantly. You will heat the mixture until it reaches an internal temperature of 160ºF or until it's not grainy between your fingers.

Transfer the bowl to a stand mixer, mix with a whisk attachment until you get room temperature glossy peaks.

Switch to a paddle attachment and while the mixture is running on low, add tablespoon sized dollops of room temperature butter making sure to let the butter incorporate before you add the next piece. Once all the butter is incorporated, go ahead and add the vanilla extract. You can transfer it to a piping bag or to a ziplock bag to store in the freezer.
Recipe Notes
*To reactivate the buttercream after it has been frozen, allow it to come to room temperature then whip it.
Nutrition Facts
How to make Swiss Buttercream
Amount Per Serving
Calories 180
* Percent Daily Values are based on a 2000 calorie diet.