Believe it or not, out of all of the many desserts I make these simple vanilla cupcakes are the most requested treat among my circle of friends. Being friends with me does mean I will be taking cake and cupcake requests for birthday parties.
I've made this recipe for years and was SHOCKED when I realized it wasn't on the blog, so I'm fixing that now and sharing this Super-easy and really delicious recipe with you. I made them for a friend's birthday recently and the next day she texted me "How are they so moist on day two?!?" -That's how good they are.
Pro Tips for Moist, Amazing Vanilla Cupcakes
Measure your flour correctly! Adding too much flour to the recipe is the most common mistake. The best, and easiest way to measure flour is by using a scale. If you don't have one then fluff your flour with a spoon, sprinkle it into your measuring cup, and use a knife to level it off.

A bit of advice on the ingredients. You can get the cheapest flour, sour cream, milk and even butter but you have to get good vanilla for this recipe! It's the main flavor and you want it to shine so go find a good real vanilla extract and it you want to get points for being fancy use some vanilla bean paste too while you're at it. People love seeing the little specks of vanilla in the cupcakes.
Feel free to modify this recipe! I especially love to make these cupcakes with a dollop of Italian meringue buttercream on top as it's less sweet and lighter (Tasting not calories) than American buttercream or other frosting options.
You can definitely add sprinkles to this, 1/3 of a cup should do, to make this an amazing funfetti cupcake!
Cupcakes liners come in different sizes and everyone's oven is slightly different. I like to turn my pan halfway through baking and toward the end of the baking time I keep a close eye on the oven.
Once the centers are springy and a toothpick comes out clean the cupcakes are ready. Being watchful at the end lessens the chances of having caramelized dark edges on your cupcake, ensuring it's light, soft, and moist!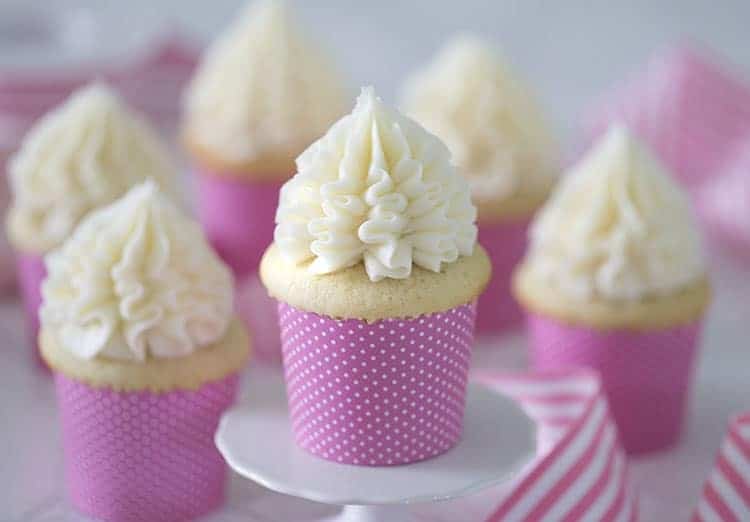 Frequently Asked Questions
How long will these cupcakes keep for?
These cupcakes are fine overnight, if left covered. You can refrigerate them for three days but they should come to room temperature before eating. Butter-based cake needs to warm up a bit.
If unfrosted you can wrap and freeze the cupcakes for up to two months.
Can you make this cupcake recipe with whole eggs?
YES! I skip the yolks for a whiter cake but you can use the whole egg, just reduce the sour cream by 1/4 a cup.
Butter vs. Oil
I LOVE the taste of butter, which is why I've used it in this recipe but if you're making cupcakes in advance and will be chilling them then you may want to sub in some vegetable oil or replace the butter all together. An oil based cake will stay softer when cold.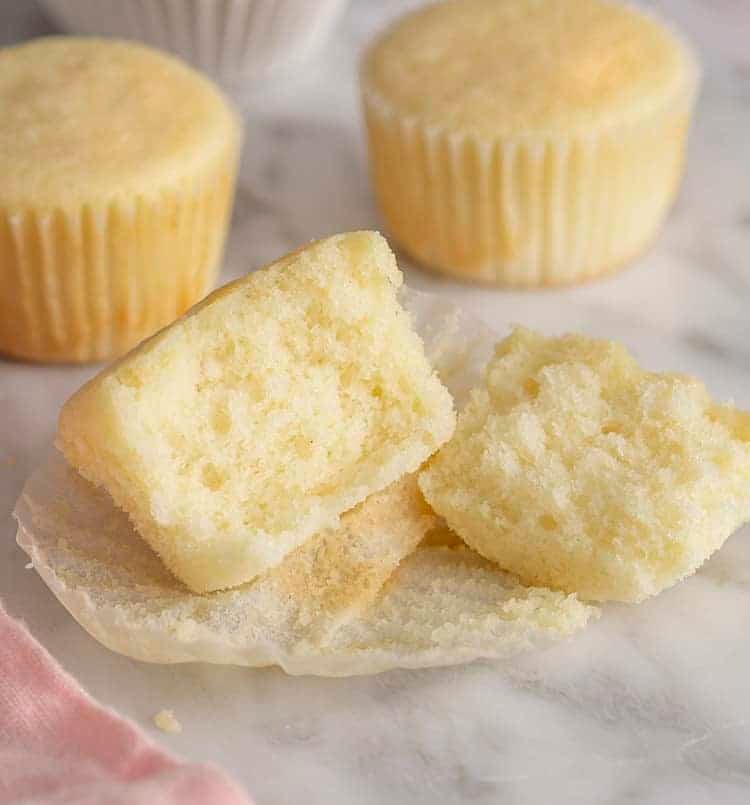 Which Type of Frosting is best for Vanilla Cupcakes?
American buttercream: Sweet and Easy
Beat the room temperature butter with powdered sugar, a pinch of salt and some vanilla extract. Super fast and a total crowd pleaser. Check out my vanilla buttercream post for all the tips and tricks as well as a full how to video!
Swiss and Italian Meringue Buttercream: Silky, light and not too sweet
Swiss and Italian buttercream are both meringue-based so you'll be adding butter to a meringue made with egg whites and sugar. The result is light as air, smooth as silk and totally delicious. Not very sweet but really they let the cake shine though. I've got a very popular recipes with videos for both, click here for Swiss and here for Italian!
French Buttercream: Pipe-able custard
French buttercream is made with egg yolks, sugar and butter so it naturally has a beautiful pale yellow color. It tastes like a custard and has enough structure to pipe easily. Very underrated and you can use the extra egg yolks from this recipe to make it! Click over to my French buttercream post for the full recipe and how to video.
How to Make Vanilla Cupcakes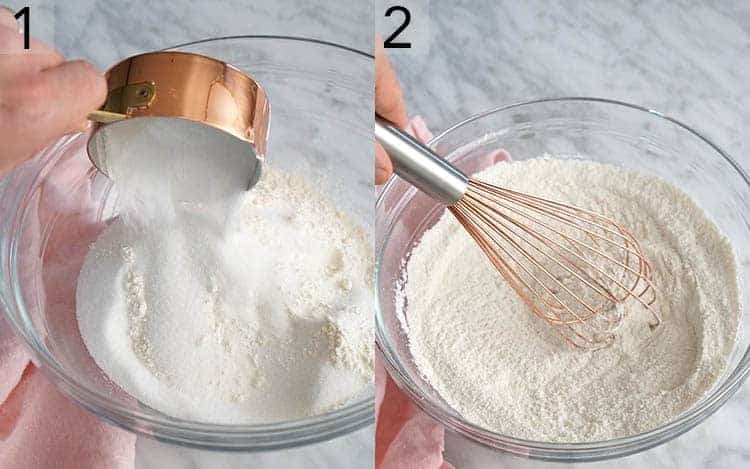 1. Preheat oven to 350 degrees F. Place cupcake papers in a cupcake tin. In a large bowl add the flour, leavening agents, salt and sugar.
2. Whisk the dry ingredients together until well combined then set aside.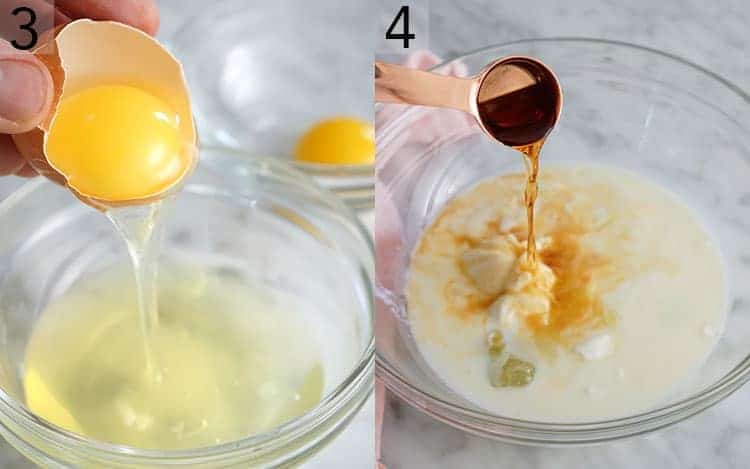 3. Separate the room temperature eggs. Reserve the yolks for a custard or use them to make a batch of French Buttercream!
4. Add the sour cream, milk, vanilla, melted butter and egg whites to a bowl and whisk together. The mixture will probably not be completely smooth as the butter might clump up a bit but it will be fine so don't fret!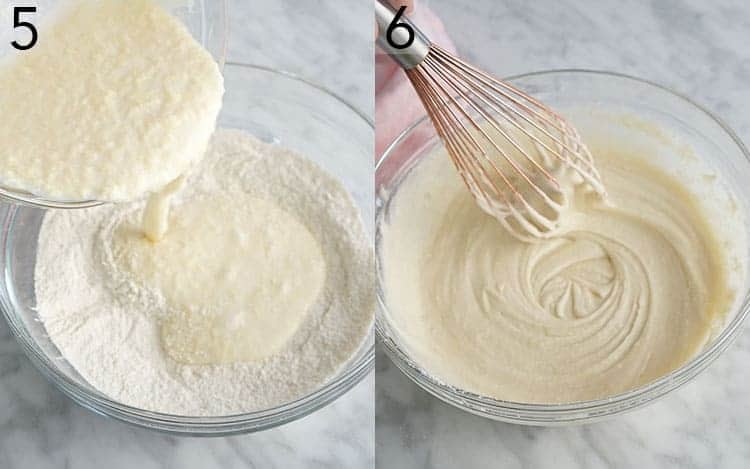 5. Add the wet mixture to the dry.
6. Whisk batter together until smooth. Don't over beat it though, you're really just mixing until combined.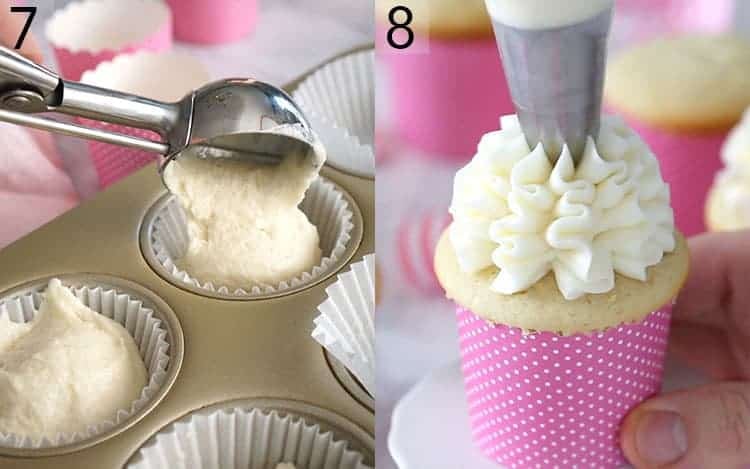 7. Scoop the batter into the cupcake papers and fill about 2/3 the way up and bake at 350F for about 18 minutes or until the centers JUST spring to the touch.
8. Allow cupcakes to cool completely in the muffin tin then top with a dollop of vanilla buttercream and enjoy. I'm using an 849 tip in the photo above but any star tip will do nicely.
IF YOU LOVE THIS RECIPE TRY THESE OUT!
If you've tried this homemade vanilla cupcake recipe then don't forget to leave a rating and let me know how you got on in the comments below, I love hearing from you!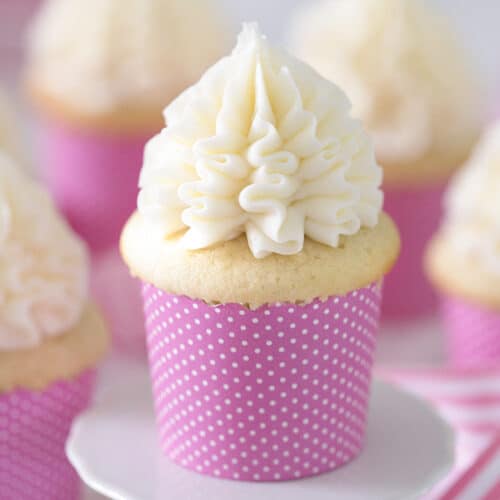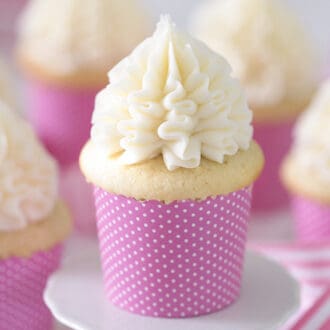 Print
Moist Vanilla Cupcakes
A simple vanilla cupcake for any occasion! So moist, fluffy, and delicious you'll make them every week!
Ingredients
For the Cupcakes:
1 2/3

cup

all-purpose flour

213g

1

cup

granulated sugar

200g

1/4

tsp

baking soda

1 1/2

tsp

baking powder

1/4

tsp

kosher salt

3/4

cup

unsalted butter

170g, melted

3

egg whites

room temperature

1

tbsp

vanilla extract

15mL

1/2

cup

sour cream

120mL, room temperature

1/2

cup

whole milk

120mL, warm
For the Vanilla Buttercream:
2

lb

confectioners sugar

900g, sifted

1

lb

unsalted butter

450g, room temperature

1

tsp

vanilla extract

1

tbsp

heavy cream

1

pinch

kosher salt

1

tsp

whole milk
Instructions
For the Cupcakes:
Preheat oven to 350 degrees F. Place cupcake papers in a cupcake pan.

Sift the flour, sugar salt, baking soda and powder into a large bowl, and whisk together.

Separate the eggs. You can use the yolks for a custard or a batch French buttercream.

In another bowl, whisk together the wet ingredients until combined. (The batter may be clumpy, do not worry!)

Add the wet ingredients to the dry ingredients. Mix until combined.

Distribute the batter evenly into cupcake papers, filling each paper with about 2/3 the way up.

Bake for about 18 minutes or until centers are springy to the touch.
For the Buttercream:
In a stand mixer fitted with a paddle attachment, cream the room temperature butter. Add in the confectioners sugar in two batches. Add salt, milk, cream and vanilla. Mix until fluffy.

Transfer to a piping bag.

Pipe a large dollop of buttercream on each cupcake.
Notes
When mixing the wet ingredients don't worry if you see little lumps of butter. When added to the dry mixture things will become more homogeneous and everything will be golden after the bake.
Try to use a good vanilla to flavor these cupcakes, it's really the main thing you taste. Vanilla bean paste is a favorite of mine; it tastes great and you get to see all the little beans throughout your cupcake.
Nutrition
Serving:
1
Cupcake
|
Calories:
270
kcal
|
Carbohydrates:
29
g
|
Fat:
7
g
|
Saturated Fat:
6
g
|
Monounsaturated Fat:
1
g
|
Cholesterol:
55
mg
|
Sodium:
98
mg
|
Sugar:
15
g
|
Calcium:
10
mg
|
Iron:
0.2
mg
*
Nutrition Disclaimer