I've been making a lot of cakes and desserts using fresh fruit. There has been quite a bounty at the market! I love a seasonal treat. That being said, I heard the siren's song of chocolate calling my name. At first, it was a whisper, then it became more of a drum beat; urging me to make the most decadent dessert possible!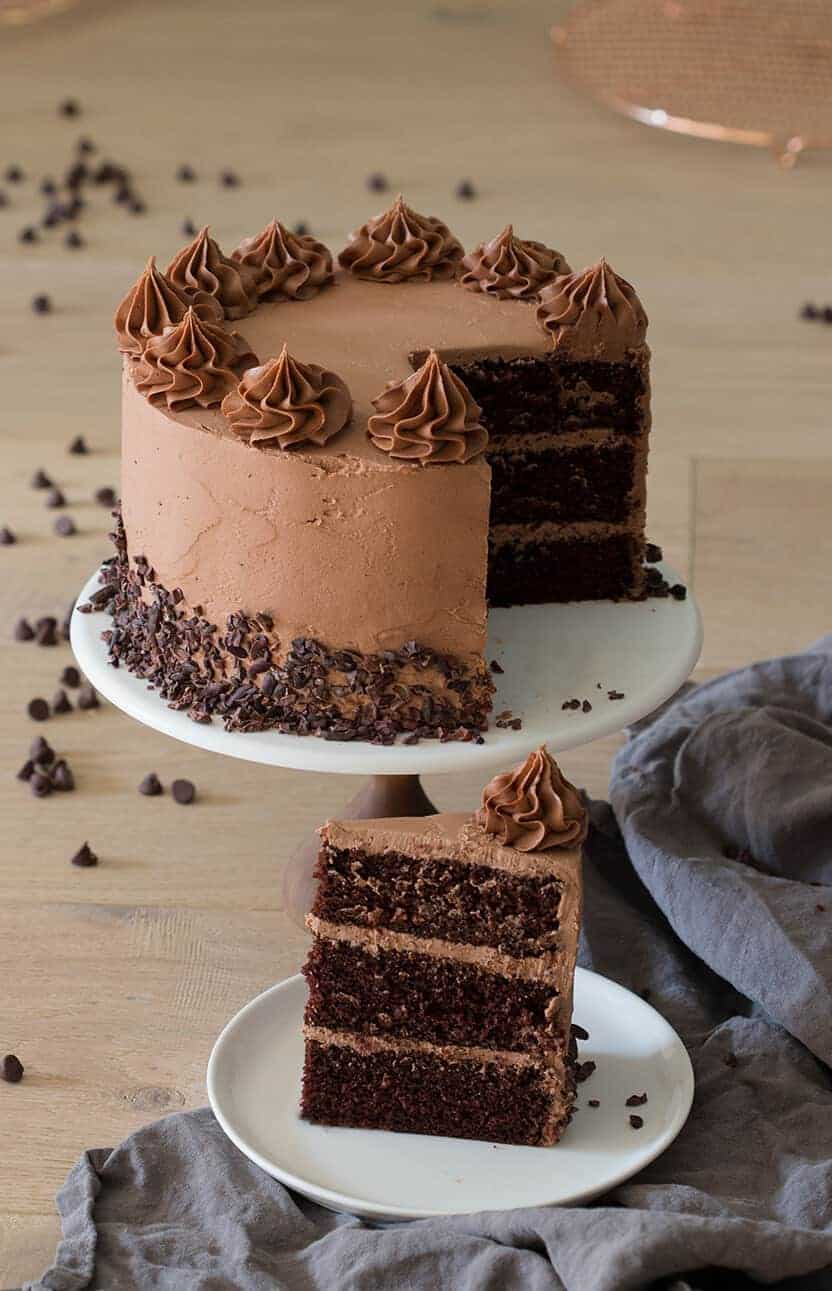 Thus, my "Ultimate Chocolate Cake" was created. The cake — itself — is beyond moist. You could LITERALLY leave out it on the counter for several days and it would still be luscious. For the chocolate buttercream, I was sure to use a high-quality cocoa and a healthy dash of sea salt for contrast. The surprise favorite for me  on this cake were the cacao nibs.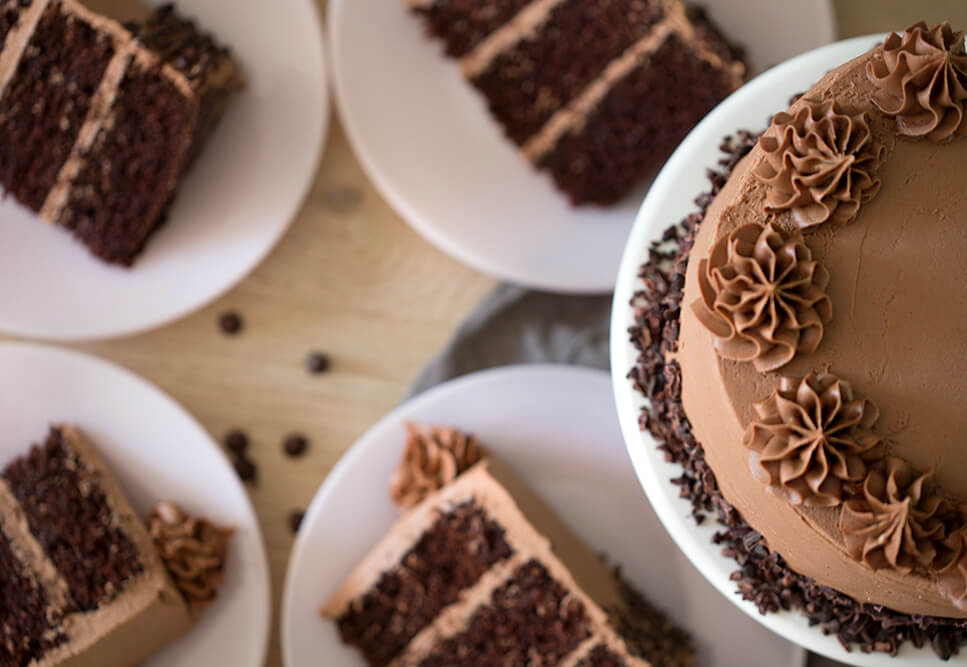 For those of you who have not been exposed to these little delights, they're pure, unprocessed chocolate aka they're very crunchy and chocolatey (vaguely bitter). They contrast the buttercream nicely and prevent the cake from cloying.
On a personal note — I have to share that my husband and I ate EVERY PIECE OF THIS CAKE and have NO REGRETS! Let me know if you have as much difficulty keeping your hands off this cake as we did!
Ultimate Chocolate Cake
Simply the best chocolate cake I've ever made.
Ingredients
For the Cake
1/2

cup

sour cream

1

cup

buttermilk

3

large eggs

1 1/2

cup

strong hot coffee

(Use a Moka pot so it's basically espresso)

3/4

cup

vegetable oil

1

tbs

vanilla extract

3

cup

all-purpose flour

2 2/3

cup

granulated sugar

1/2

cup

cocoa powder

1 1/2

tsp

baking powder

1

tbs

baking soda

1

tsp

kosher salt
For the Chocolate Buttercream:
1 1/2

lb

confectioner's sugar

1 1/2

cup

unsalted butter

room temperature

1/4

cup

heavy whipping cream

1/4

cup

Cocoa powder

1

tsp

vanilla

optional

1

tsp

espresso

optional

1/4

tsp

salt

1/4

cup

semi-sweet chocolate
Instructions
For the Cake:
Butter and flour 3 nine inch cake pans. I highly recommend using cake strips for a more even bake.

Sift together the dry ingredients (including the sugar) into the bowl of a stand mixer and whisk to combine.

Add the wet ingredients into a large bowl and whisk together.

Add the wet ingredients the dry ingredients.

Whisk to combine then mix on level 2 for two minutes.

Distribute batter evenly to the three pans and bake for about 35-40 minutes at 350F or until a toothpick inserted in the center comes out clean. I recommend rotating the pans halfway through the bake.

Allow time to cool for 10 minutes then invert onto wire racks to cool fully.
For the Chocolate Buttercream:
In a small bowl combine the semi-sweet chocolate with 2 tbs of cream then microwave for 40 secs on half power. Stir to combine then set aside.

Whip the butter for about 5 minutes using a paddle attachment (in a stand-up mixer).

Beat in the confectioner's sugar slowly.

Slowly mix in the ¼ cup of cocoa powder. Add the salt, as well.

You may add the optional vanilla and espresso at this step.

Mix until you have a fluffy, even consistency.

Beat in the melted and cooled chocolate ganache.
For the Assembly:
Spread chocolate buttercream between each layer.

Spread the buttercream on the outside of the cake. Smooth it.

Add a smooth coat of chocolate buttercream to the surface of the cake.

Use an 869 tip to pipe dollops on top.

Press cocao nibs to the bottom of the cake (or the entire side, if desired).
Recipe Notes
The batter is very liquidy so while it will be AMAZINGLY MOIST the cook time will be longer than your average chocolate cake. 
How to Make Chocolate Cake
How to Make Chocolate Cake
This is my "Ultimate Chocolate Cake!" The cake — itself — is beyond moist. You could LITERALLY leave out it on the counter for several days and it would still be luscious…