Few things frustrate me more than domed cake layers with burnt edges. I make cakes QUITE often so you can imagine I like things to go smoothly especially since I'm usually filming and sharing the results.
When I first started out my cakes had a very "home made" look about them, the corners were rounded and they often sagged at the edge or even drifted off to one side!
Click HERE To Buy A Set of Cake Strips!
The taste was good but appearances matter so I would have to trim the top off of my domed layers to make it flat, but then you end up with extra cake and lots of crumbs! Eventually I realized the problem wasn't with the recipe but the bake itself.
If you find cake decorating to be a bit intimidating then check out my How to Decorate a Cake post, it has lots of helpful tips and a full how to video.
How to Get Flat Cake Layers
Watch the video above for a full how-to!
Why Do Cake Layers Dome???
When you bake cake layers the outside heats up and baked more quickly than the center, which is insulated by the rest of the batter surrounding it. So basically the outside of the cake layer bakes first; the inside of the cake layer has more time to rise and by the time the inside is set and baked through the outside is starting to dry out and burn. This is why you see so many cakes with dark edges which are not pillowy soft.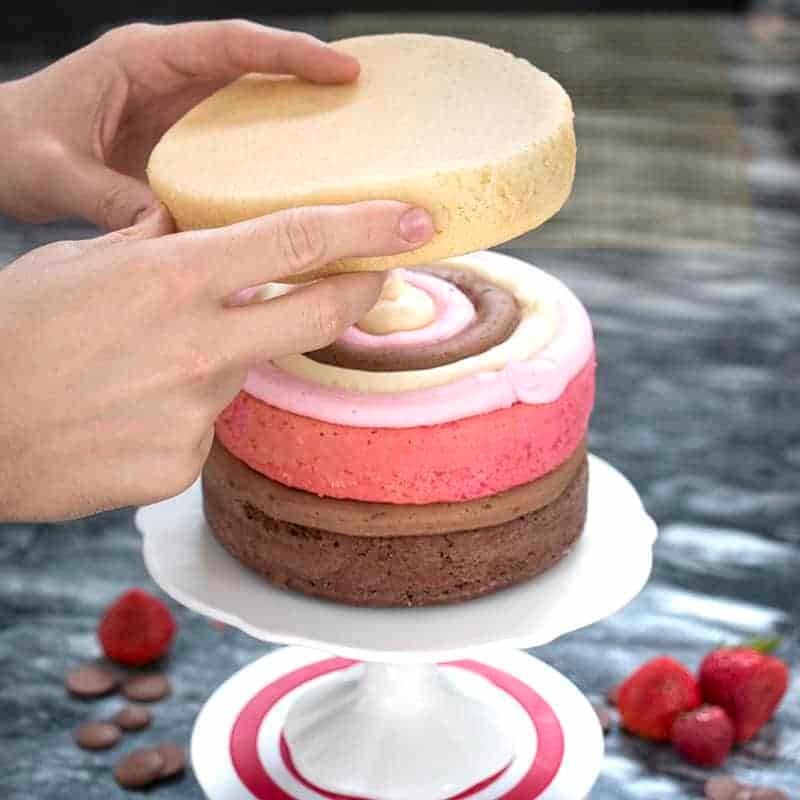 What Can You do to Achieve a More Even Bake??
The solution to this problem is to cool and insulate the outside of the pan a bit with some water. You can do this by applying wet strips of cloth called cake strips to the vertical edge of the pans. You just soak them in water, wring them out a bit and slide onto the pans. You can totally make your own fabric versions if you're crafty but they're pretty inexpensive and last forever so I just bought a set.
You can also decrease the baking temperature by 10 or so degrees and increase the baking time. Just like when you bake a pumpkin pie and go low and slow for an uncracked surface, baking cakes at a lower temperature gives a more even rise.
DIY Version
If you want to give the cake strip thing a try before investing in them or if you just need them right now and can't wait for shipping then you can make your own using some tin foil and paper towels. Really easy and you can reuse them five or so times before the tin foil started getting holes.
All you do is measure out how much paper you need for your pan size, wet the towels then wring them out so they aren't soaking wet. Measure out tin foil that's about an inch or so longer on each side than the paper and place the paper towel folded to a height of about two inches on the tin foil. Fold the foil around the towel then attach to the side of the pan and crimp the edges together.
How to Use Them
When using cake strips you'll often have to lengthen the baking time a bit as the water slows the baking. You'll know when the cake is done as the centers will spring back the the touch and the edge will pull away from the pan. Keep a close eye on your layers a toward the end of the bake and don't forget to move the pans around in the oven halfway through if your oven has hot spots like mine does.
Another tip for baking great layers is to weigh each pan after the batter is transferred. Move the batter around between the pans until they all weigh about the same. You want the same amount of batter in each pan for nice even cake layers and I'll tell you it's not easy to do by eye! Kitchen scales are a great gadget to have; it's so much easier to weigh dry ingredients out than fluffing up your flour scooping it with a measuring cup and leveling it off.
How to Use Fabric Cake Strips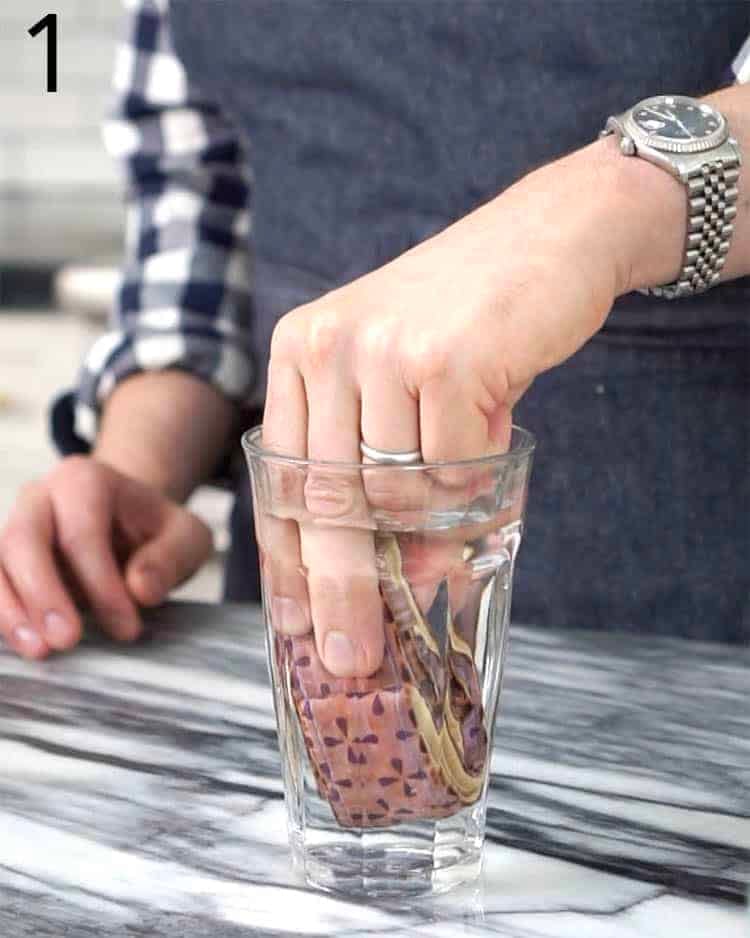 1. Soak a fabric baking strip in a glass or bowl of water. It's best to leave the strips to soak for a while as they are not very absorbent. I always squeeze them a few times when submerged to really soak the inside.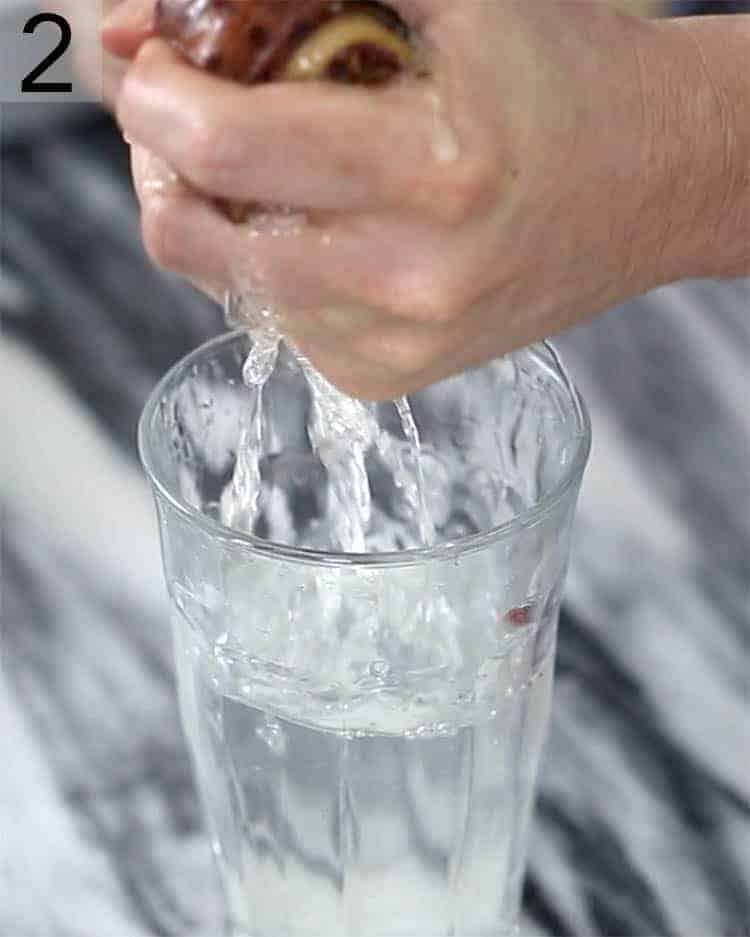 2. Wring the strips out before applying so they're not dripping wet but still quite damp.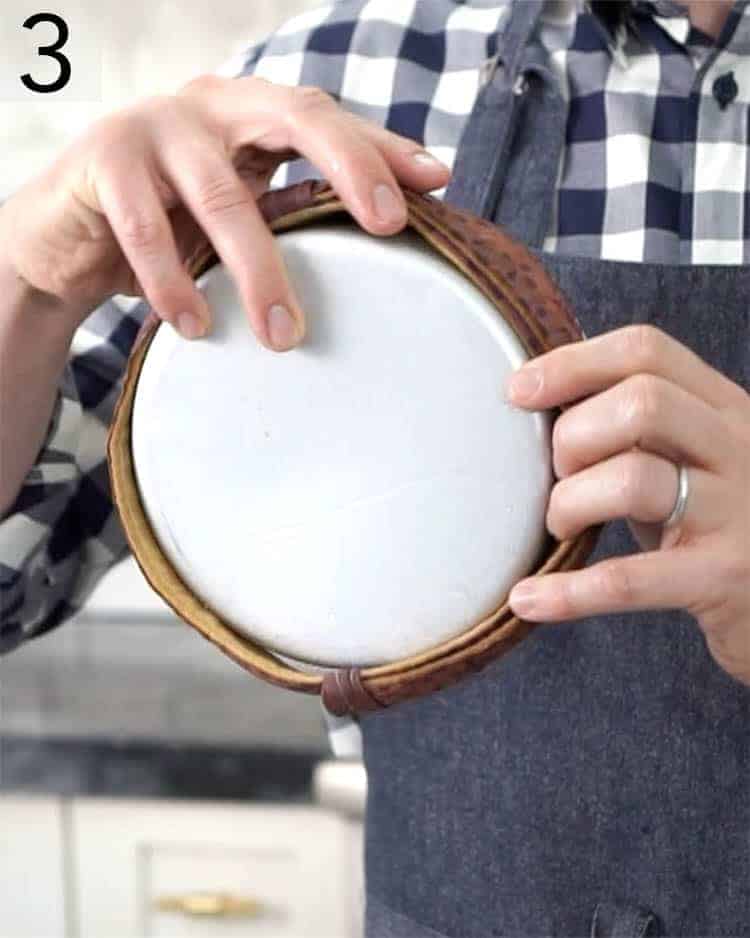 3. Adjust the strips to fit snugly around the cake pans. Most cake strips come in sets of different sizes so if you're using a scale to measure out the cake batter in each pan make sure to zero each pan out first.
How to Make Homemade Cake Strips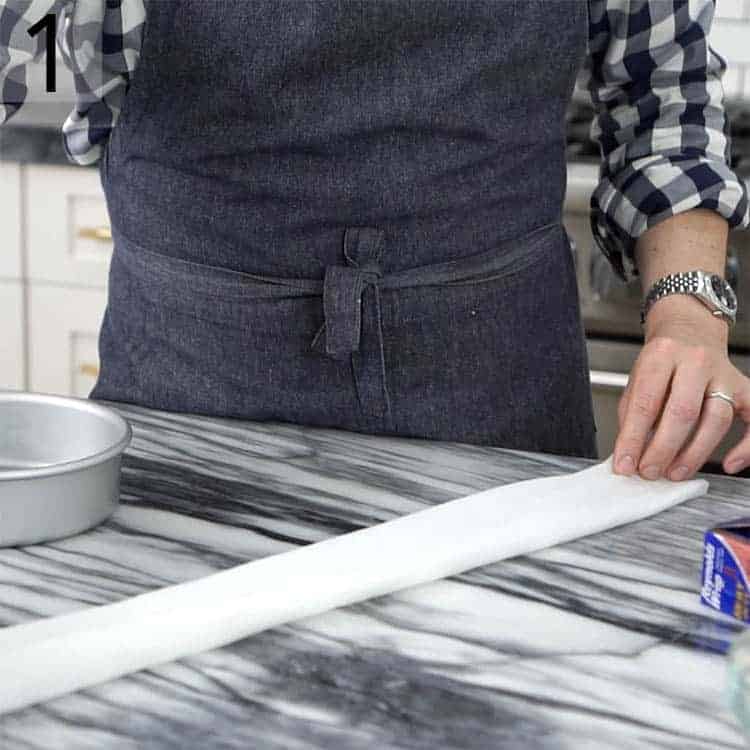 1. Wrap a paper towel around a cake pan to find the circumference (It doesn't have to be exact), then fold lengthwise to about 2-inches.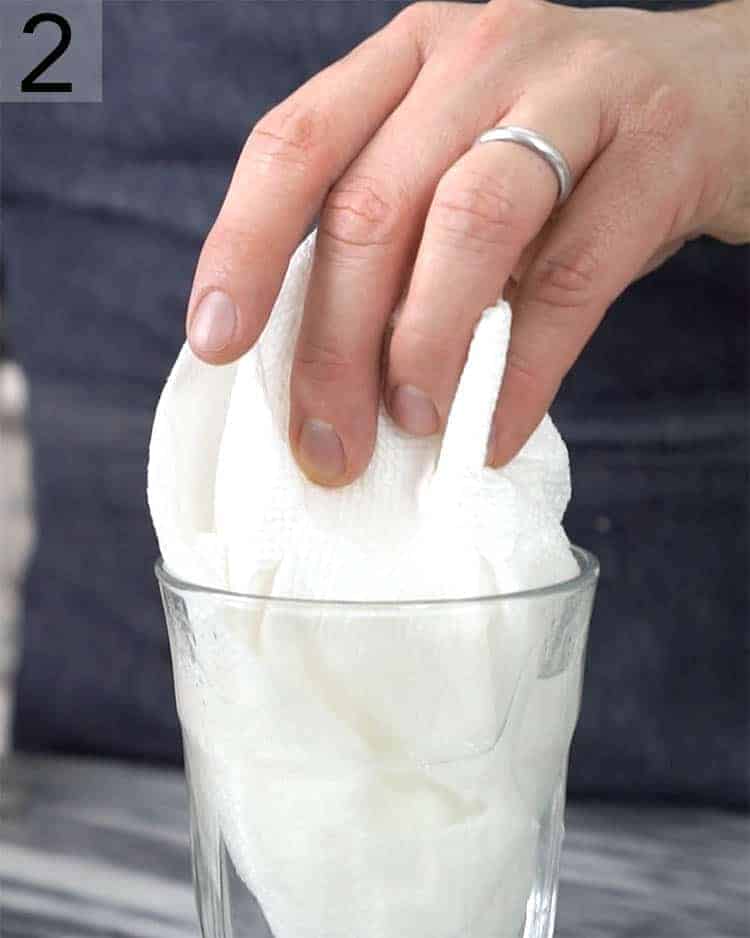 2. Wet the paper towel and wring out the excess water. You want the towel to be very damp but not dripping wet.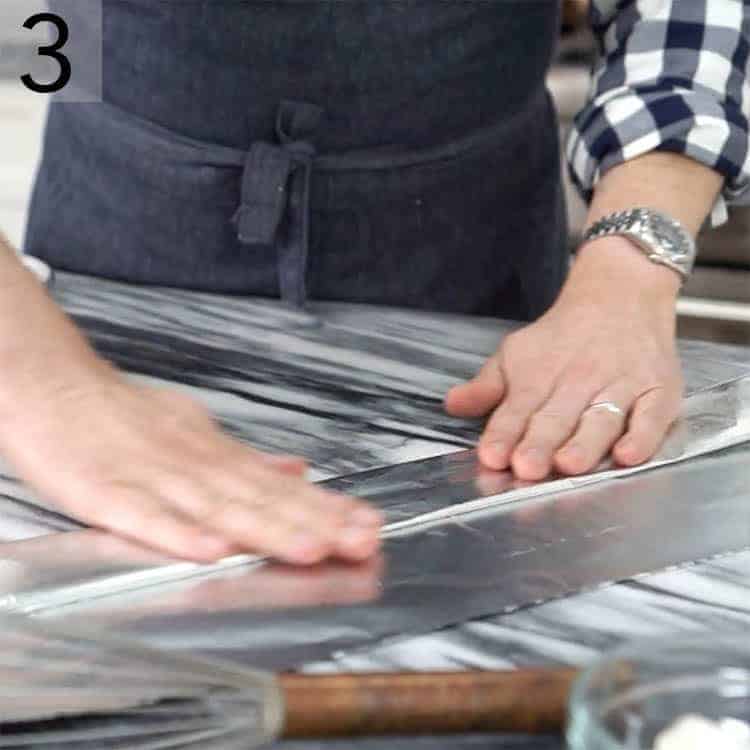 Cut a length of foil that's about 2-inches longer than the paper towel. Place the paper towel on the tin foil sheet and wrap. This will hold in the moisture of the paper towel in during baking.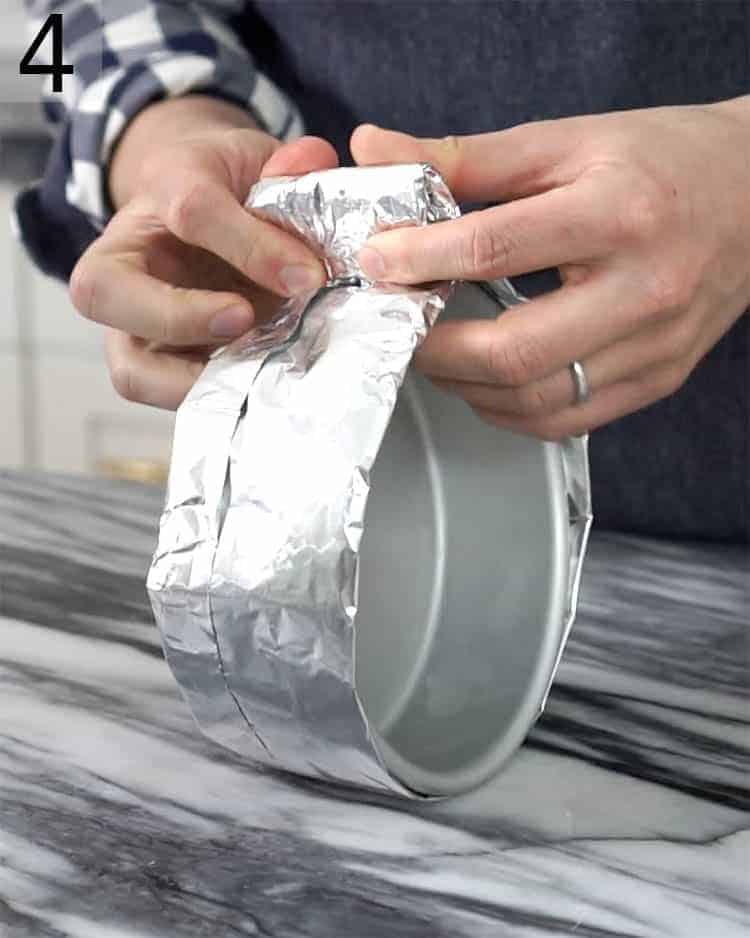 4. Place your pan sideways, wrap the tin foil around it, crimp the edge a few times so that it holds in place. Fold the edge underneath so that it's in place and won't slip off.
Click here for my moist vanilla cake that was featured in the YouTube video!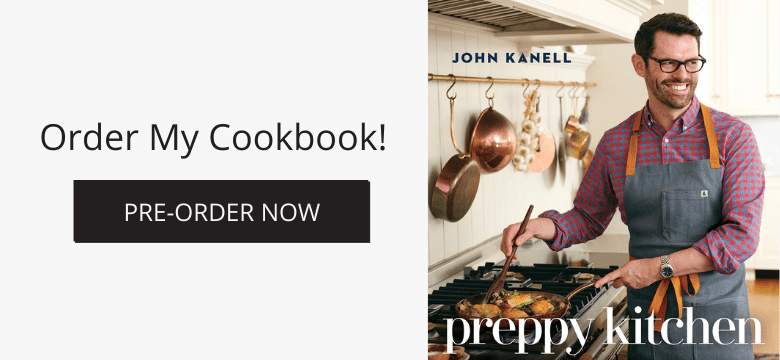 I've included my FAVORITE ultra moist vanilla cake recipe below! It's styled with Easter eggs in a toasted coconut nest but you can adapt it for any decoration scheme!
If you've tried this technique then don't forget to leave a rating and let me know how you got on in the comments below, I love hearing from you!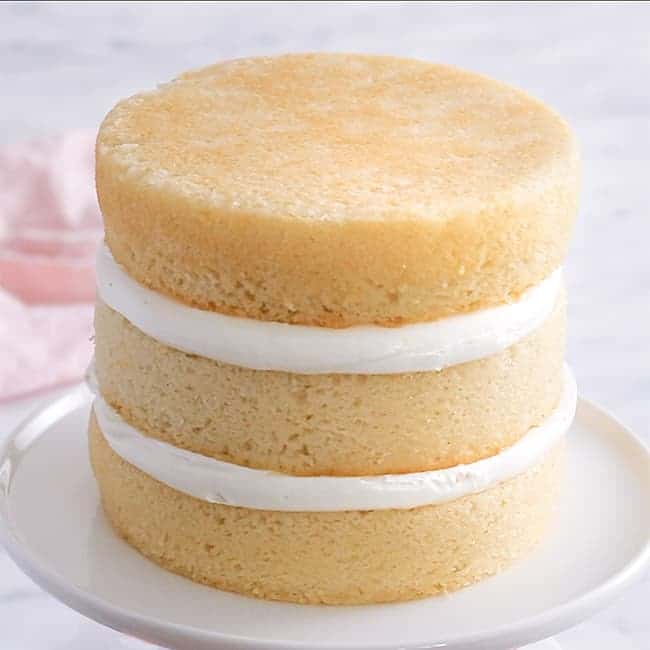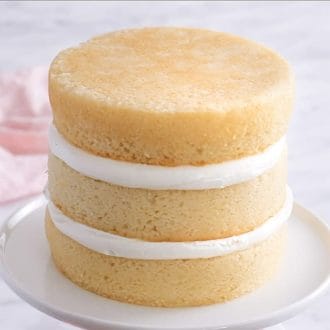 Print
How to Get Flat Cake layers
A moist, fluffy vanilla cake covered in a perfectly sweet vanilla buttercream. Nice and flat layers with no doming!
Ingredients
For the Cake:
1 2/3

cup

all-purpose flour 213g

1

cup

sugar 228g

1/4

tsp

baking soda 2g

1

tsp

baking powder 4g

3/4

cup

unsalted butter 176g

room temperature

3

egg whites

3

tsp

vanilla extract

1/2

cup

sour cream 133g

1/2

cup

whole milk 113g
For the Vanilla Buttercream:
2

lbs

confectioners sugar 907g

1

lb

butter 456g

unsalted, room temperature

3

tsp

vanilla

1

tbsp

milk

1/4

tsp

kosher salt

Blue food coloring

optional
For the Assembly:
½

cup

coconut 40g

toasted, sweetened

2

tsp

cocoa powder nice quality

4

tsp

vanilla extract

6

chocolate eggs mini

Instructions
Instructions
For the Cake:
Preheat oven to 325 degrees F.

Spread coconut flakes out on a baking sheet. Cook for about 5-10 minutes. They will toast quickly. Let cool.

Increase temp to 340 degrees F. Butter and flour three 6-inch pans. I use cake strips on my pans for more even baking as well.

Sift the dry ingredients (including sugar) together in a large bowl.

Beat the wet ingredients together in a medium bowl.

Add the wet to the dry and mix until just combined.

Divide the mixture evenly into the cake pans. Place wet cake strips around pans.

Bake at for about 25-30 minutes or until the centers are springy to the touch.
For the Vanilla Buttercream:
Beat the butter until light and fluffy. Add the confectioners' sugar, 1 tsp vanilla, 1/4 tsp salt, and milk. Mix.

Transfer to a piping bag. Snip off the tip.
For the Assembly:
Pipe buttercream between each cake layer.

Pipe an outer layer and smooth out with a scraper.

Mix cocoa powder and vanilla or alcohol. Using a paint brush, splatter the cake and chocolate eggs to create a speckled look.

Chill for about 10-15 minutes.

Pipe a ring of buttercream on the cake. Press toasted coconut flakes onto ring. Create a nest shape.

Add eggs to the inside of the nest.
Notes
This cake is Easter-themed but you can skip the blue food coloring, coconut nest and chocolate eggs to make any style vanilla cake you'd like!

If you're not using 6-inch pans, double the recipe for 8-inch pans or triple the recipe for 9-inch pans.

If you see little clumps of butter after you mix the wet ingredients don't panic, it all works out by the time you mix in the dry ingredients. You can even use melted butter and warm the milk and sour cream up a bit if you like.

You can substitute whole milk yogurt for the sour cream if desired, I do it all the time and can't really tell the difference.

To get FLAT layers that are moist inside and out try using cake strips! You can buy a set online

or make your own from foil and paper towels at home. I made a whole

blog post on it

so check it out if you're interested!

Think American buttercream is too sweet??? Whip up a batch of Italian meringue buttercream instead! It's super-smooth and not too sweet.
Nutrition
Serving:
1
g
|
Calories:
260
kcal
|
Carbohydrates:
32
g
|
Protein:
2
g
|
Fat:
14
g
|
Cholesterol:
15
mg
|
Sodium:
210
mg
|
Sugar:
22
g
|
Calcium:
200
mg
|
Iron:
0.1
mg
*
Nutrition Disclaimer