These soft and chewy chocolate chip cookie bars are beyond easy to make and full of chocolatey goodness with nice notes of brown sugar, vanilla, and salt.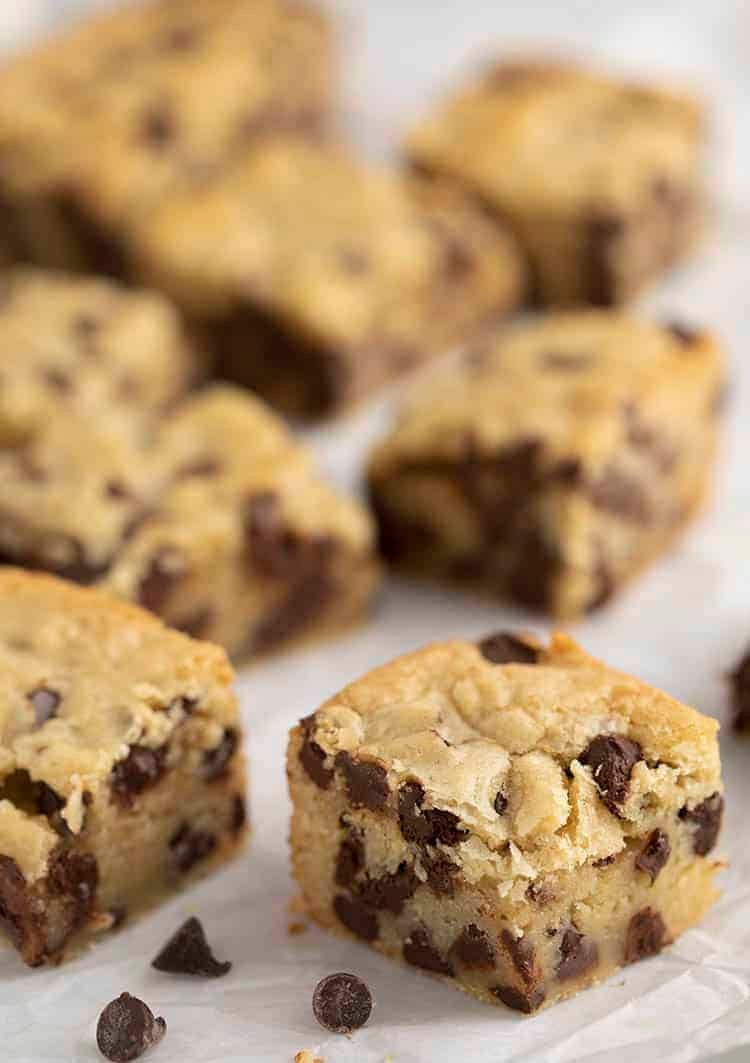 Chocolate chip cookie bars are here to save the day! This recipe comes together in a snap and makes a perfect batch of soft, chewy cookie bars. You can easily scale the recipe up for a crowd or make this ahead for an amazing on demand treat.

Frequently Asked Questions
How do you know when cookie bars are done?
The edges of the cookie will be set; you'll see a rise and they'll be a golden color. The center will not be completely set but a skewer or tooth pick will come out clean in inserted.
What is an example of a bar cookie?
Chocolate chip bar cookies are the most popular but depending on where you are and who you ask brownies can actually be considered cookie bars too! Lemon cookie bars and caramel cookie bars are popular varieties as well.
How long do cookie bars last?
Stored in an airtight container these cookie bars will keep for about 3 days at room temp. You can wrap the baked but uncut bars and freeze for up to 3 months.
How do you keep cookies soft?
Don't let them loose all their moisture. As soon as they're cool I would transfer them to an airtight container and store at room temperature.
How to Make Chocolate Chip Cookie Bars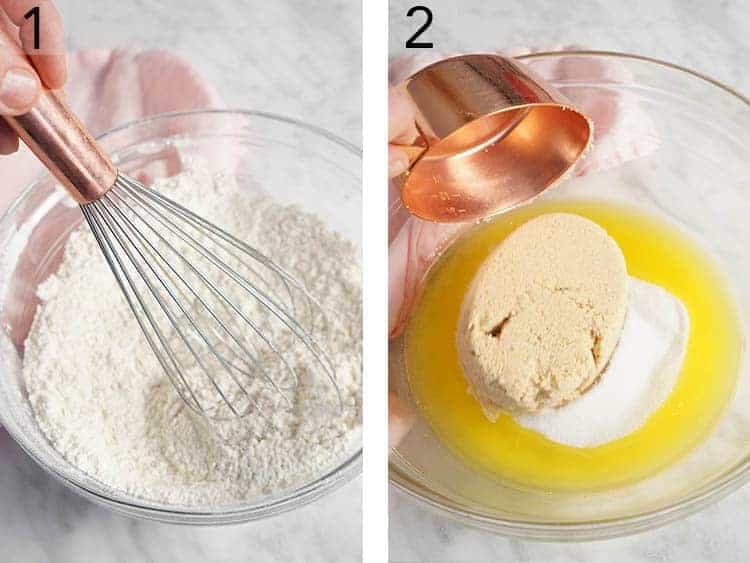 1. Set oven to 350F and line your pan with parchment paper. Whisk the flour, corn starch, salt, and baking soda in a bowl and set aside.
2. Add the melted butter and sugars into a large bowl then whisk together.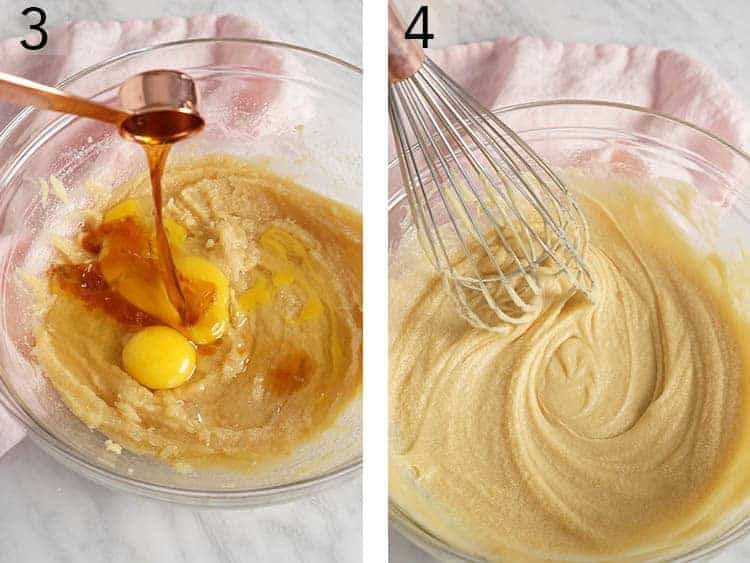 3. Add the eggs and vanilla extract.
4. Whisk together until well combined.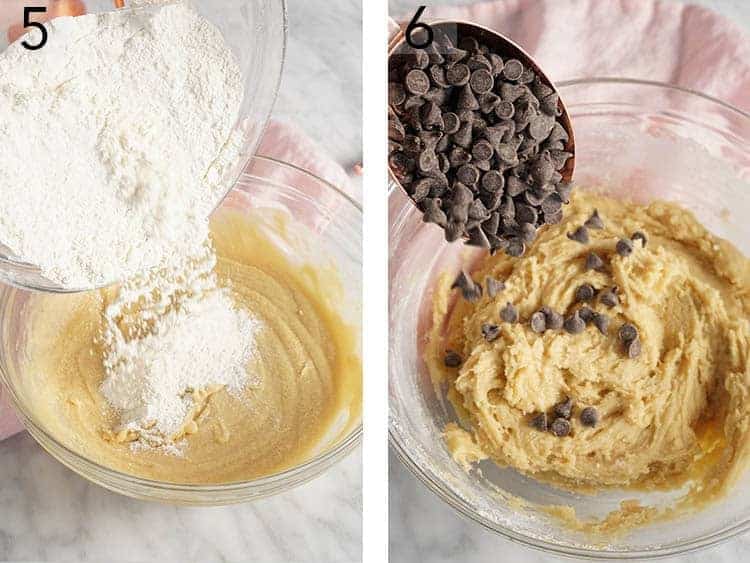 5. Add the wet to the dry and mix until just combined.
6. Now it's time to add all the fun stuff. I'm sticking with chocolate chips but you can ad toasted nuts, sweetened coconut, or even dried fruits.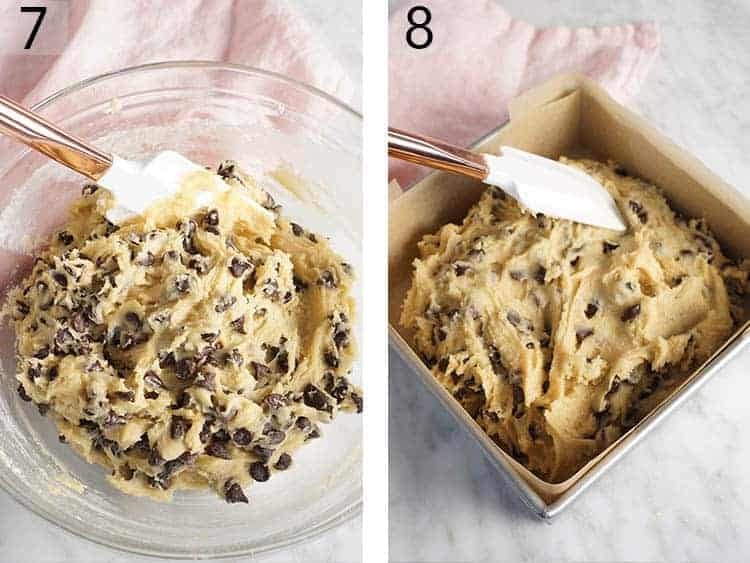 7. Mix until evenly distributed.
8. Transfer dough to your prepared dish and bake smooth toward the edges. Pop into the oven and bake at 350F for around 35 minutes. The edges will be set and golden but the center will be a bit soft. A skewer should come out clean if inserted in the enter though.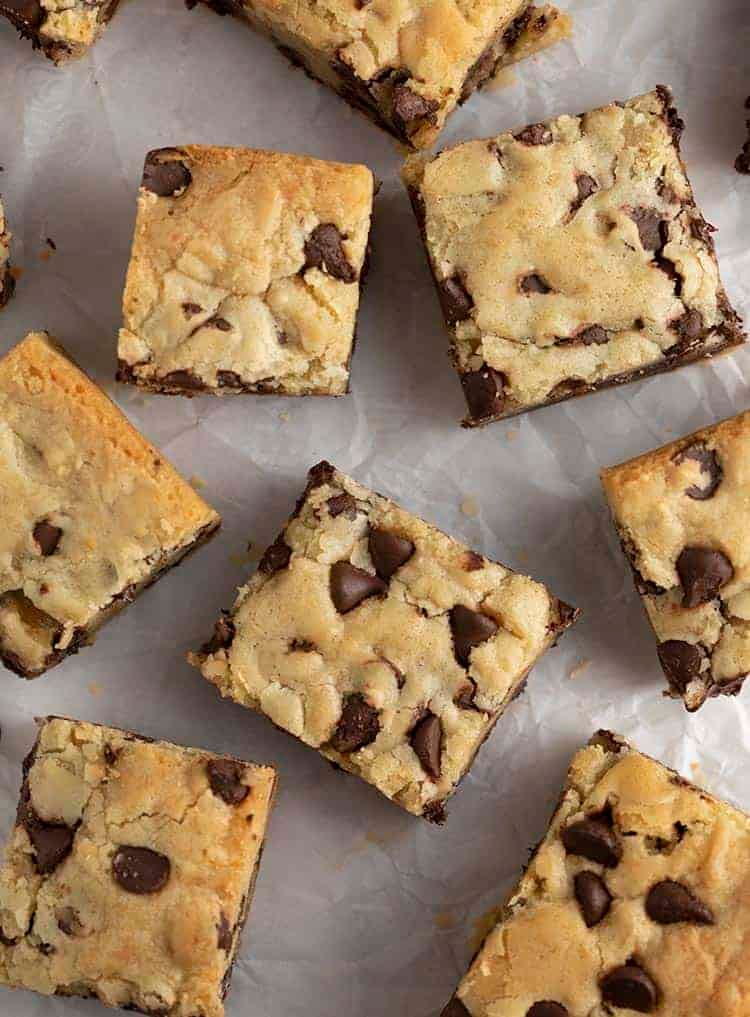 Pro Tips for the BEST Chocolate Chip Cookie Bars
Measure your flour correctly! Adding too much flour to the recipe is the most common mistake. The best, and easiest way to measure flour is by using a scale. If you don't have one then fluff your flour with a spoon, sprinkle it into your measuring cup, and use a knife to level it off.

It is COMPLETELY essential to line your baking dish. If you don't have parchment paper you can use foil instead but don't try to skip this or get away with butter and flouring the pan.
Double this recipe for a 9×13 baking dish.
A sprinkle of flaked sea salt on top just after baking provides a nice bit of contrast.
Love that gooey brownie texture? Try under-baking this a bit and enjoy!
If you've tried this Chocolate Chip Cookie Bar Recipe then don't forget to leave a rating and let me know how you got on in the comments below, I love hearing from you!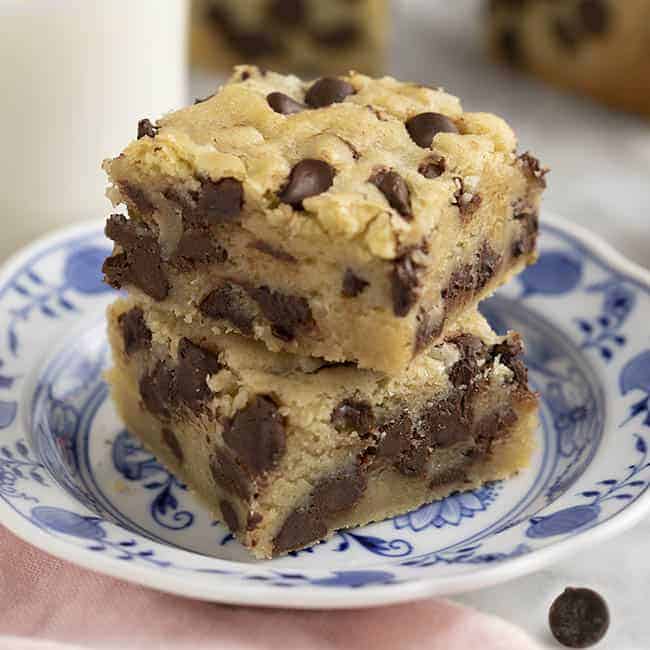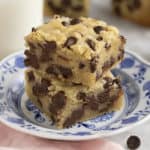 Print
Chocolate Chip Cookie Bars
These soft and chewy chocolate chip cookie bars are beyond easy to make and full of chocolatey goodness with notes of brown sugar, vanilla, and salt.
Ingredients
2 1/4

cups

all-purpose flour

270g

1

tsp

baking soda

1

tbsp

corn starch

1

tsp

salt

3/4

cup

unsalted butter, melted and slightly cooled

170g

1 

cup

packed light brown sugar

200g

2/3

cup

granulated sugar

133g

2

eggs

large, room temperature

1

tbsp

pure vanilla extract

15mL

2

cups

semi-sweet chocolate chips

200g
Instructions
Set oven to 350F. Line an 8x8 inch baking sheet with parchment paper and melt the butter you'll need for the recipe iIn a small bowl.

Add the flour, salt, baking soda, and corn starch to a medium bowl then whisk together and set aside.

Pour the melted butter into a large bowl. Add the white and brown sugars and whisk together, they'll form a somewhat thick slurry.

Add the eggs and vanilla to the butter mixture and whisk together.

Dump the dry mixture into the wet and mix until just combined then stir in the chocolate chips, mixing so they're well distributed.

Transfer the dough to an 8x8 inch baking dish lined with parchment paper and spread toward the edges giving it a rough smooth.

Bake for about 30 minutes at 350. The cookie bars are done when the edges are set and golden brown and a toothpick or skewer inserted into the center comes out clean. Let the cookie bars cool in the pan for about an hour before removing and cutting.