I almost gave up on this peacock cake when the "feathers" started giving me all sorts of trouble but I persisted! What do you think?? You know I'm not usually so bright with my colors but it's not a peahen cake now is it? The cake is vanilla but the buttercreams are flavored with a hint of orange blossom water! I Love it, so aromatic and unexpected.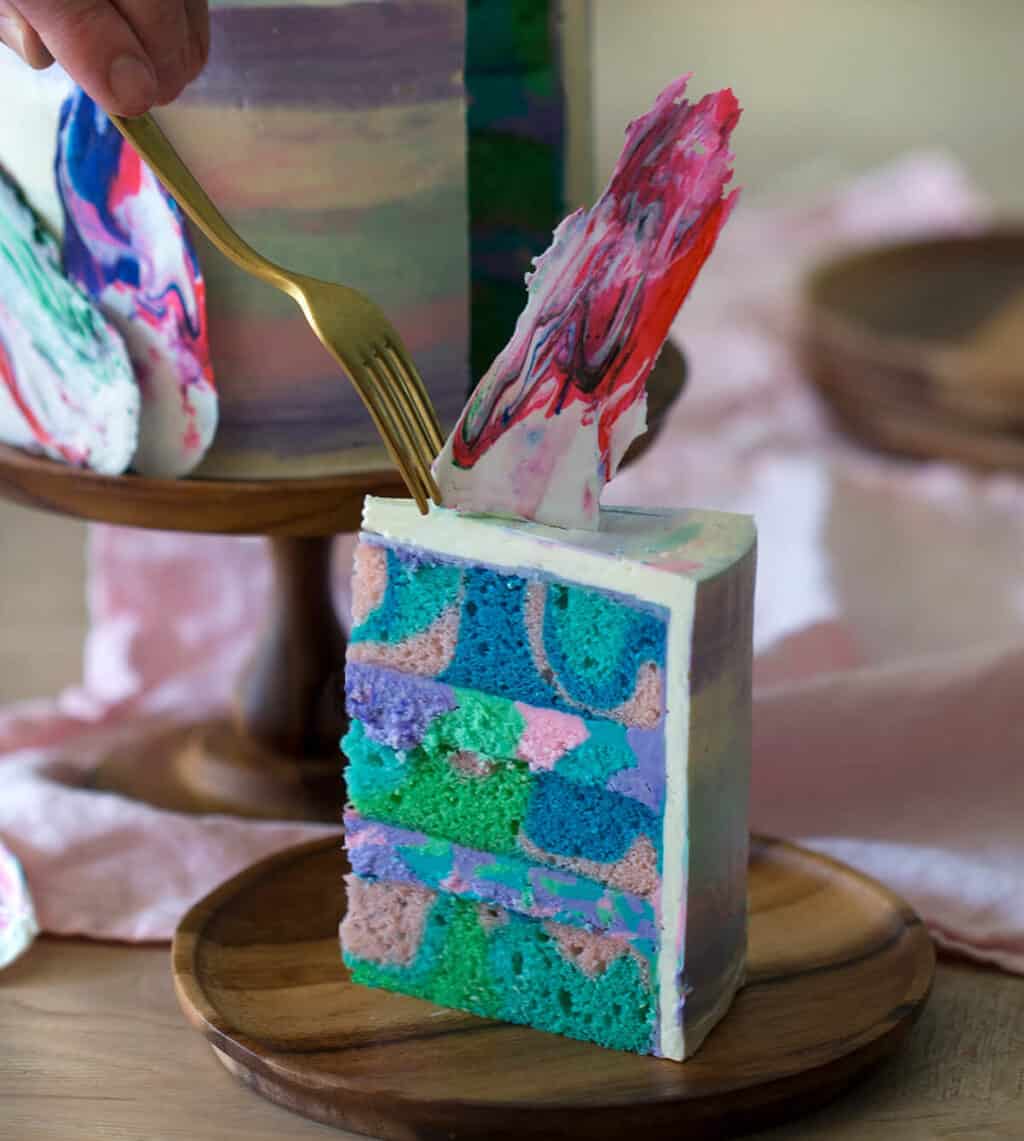 This cake uses two batches of buttercream by the way an American variety for the filling and crumb-coat and Italian for the exterior. You don't have to follow my lead on that as it is a bit of extra work, regular buttercream will work just fine for the whole cake.
Print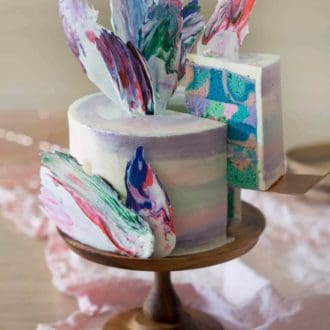 Peacock Cake
A vibrant show-stopping cake that's delicious and surprisingly easy to make!
Ingredients
For the Cake:
1 2/3

cup

all-purpose flour

1

cup

sugar

1/4

tsp

baking soda

1

tsp

baking powder

3/4

cup

unsalted butter room temperature

3

egg whites

3

tsp

vanilla extract

1/2

cup

sour cream

1/2

cup

whole milk

food coloring
For the Vanilla Buttercream:
1

cup

butter

5

cup

confectioners' sugar

1/4

cup

heavy whipping cream

2

tsp

orange blossom water

food coloring
For the Italian Buttercream:
4

egg whites

1 1/3

cups

sugar

pinch

kosher salt

16

ounces

unsalted butter

room temperature

1

tsp

vanilla extract

1/4

tsp

cream tartar
For the Feathers:
1/2

cup

candy melt

white, melted
Instructions
For the Cake:
Preheat oven to 350 degrees.

Sift the dry ingredients together in a large bowl. Beat the wet ingredients together in a medium bowl. Add the wet to the dry and mix until just combined.

Evenly divide batter into 6 different batches. Color each with drops of food coloring until desired color is reached.

Transfer batter to piping bags. Use 3 buttered and flowered 6-inch cake pans.

Pipe in dollops of the batter, alternating the colors. You can swirl with a skewer around batter as desired.

Bake for 30 minutes. Let cool for 5 minutes.
For the Vanilla Buttercream:
Beat the butter until light and fluffy. Add the confectioners' sugar and cream and mix.

Divide evenly into batches and dye with food coloring.
For the Italian Buttercream:
Beat the egg whites, salt and cream of tartar, slowly add in 1/3 cup of sugar and continue beating until soft peaks form. In a medium saucepan add the remaining sugar and 1/3 cup water then place on medium-low heat.


Stir until sugar melts and becomes clear. Maintain at medium-high heat until temperature reads 235-240F.


Run mixer until meringue is cool/tepid. Add room temperature butter into running mixer one tablespoon piece at a time. Add the salt and vanilla.

Beat until butter is combined and mixture has reached a silky consistency.

Reserve about 1/3 cup. Add food coloring for watercolor piping step later.
For the Feathers:
Add dollops of candy melt to parchment paper. Color with a few drops of food coloring. Using a spoon, spread to achieve a feather like shape.
For the Assembly:
Pipe vanilla buttercream between the cake layers, alternating colors.

Once the cake has chilled, pipe Italian buttercream on the outside of the cake. With a steady hand, work your way around the cake until it is completely covered.

Tint with 5 different colors. Dollop on colors with a spoon. Smooth out for a watercolor effect.

Add feathers to the cake.
Nutrition Facts
Peacock Cake
Amount Per Serving
Calories 210
* Percent Daily Values are based on a 2000 calorie diet.