A raspberry vanilla cake filled with white chocolate buttercream and then covered in a creamy Italian buttercream. Did I mention the pink ombré and all of the delicate candy melt hearts?? So this cake was inspired by my Winter Wonderland Cake. I've changed the flavors around a bit, altered the color scheme and of course made a cascade of hearts! If you're a master chocolatier you can try making them with white chocolate but candy melts are SO much easier to work with, trust me. If you wanted to simplify things you could totally make just one type of buttercream for the decoration scheme, you might just have to make a batch and a half. I added orange zest to the batter and loved the aroma and subtle taste it added. You can TOTALLY use fresh raspberries in this recipe, just cut them into quarters and toss with two tablespoons of flour so you don't end up with liquid raspberry puddles in the your cake.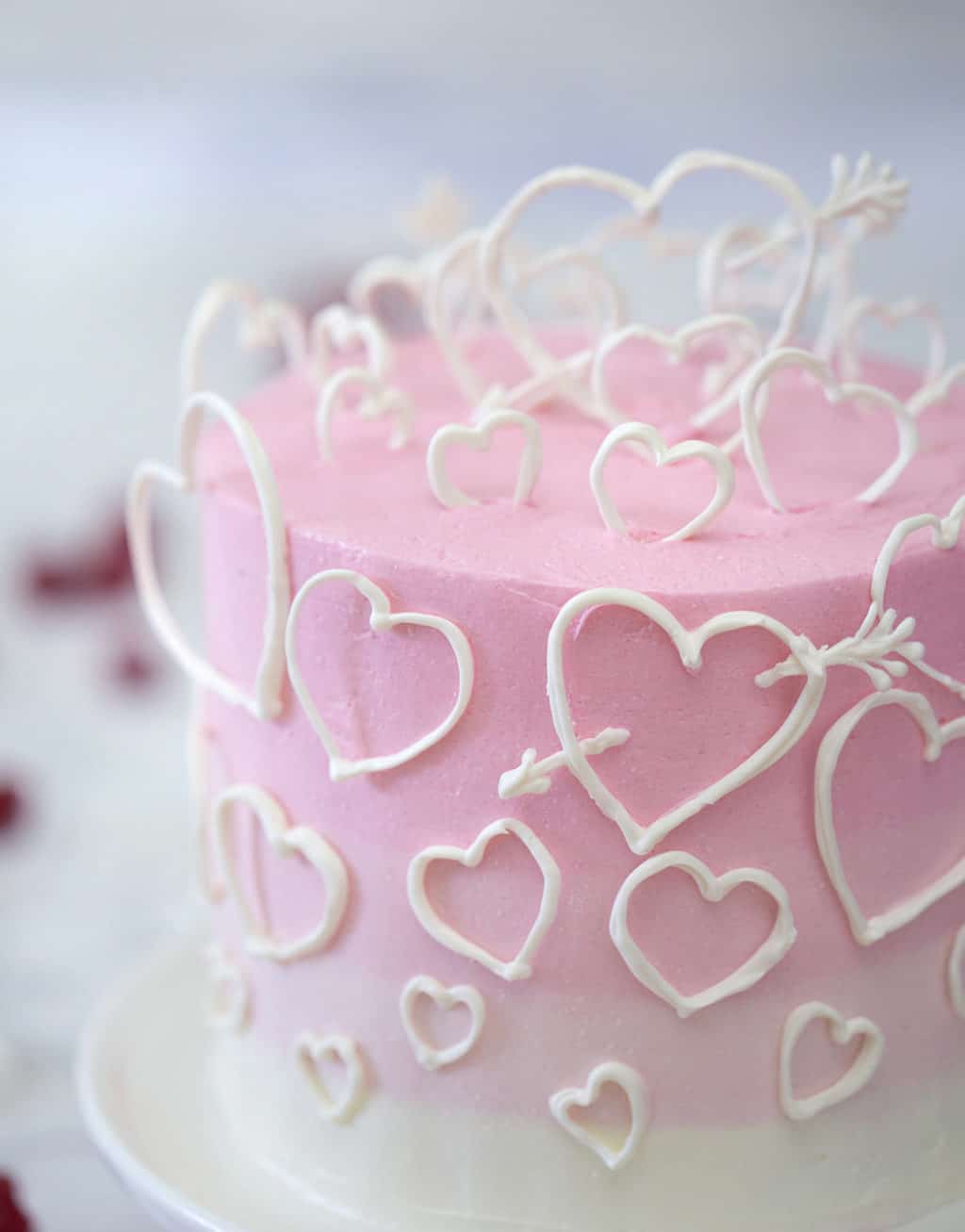 Valentine's Raspberry Cake
White Chocolate raspberry cake covered in an ombré pink Italian buttercream and delicate hearts.
Ingredients
For the Cake
1 2/3

cup

all-purpose flour

230g

1

cup

sugar

136g

1/4

tsp

baking soda

1

tsp

baking powder

1/4

tsp

kosher salt

3/4

cup

unsalted butter

room temperature, 170g

3

egg whites

1

tbsp

vanilla extract

1/2

cup

sour cream

120g

1/2

cup

whole milk

105g

6

oz

raspberries

fresh or freeze dried

2

tbsp

lemon juice

fresh

1

tbsp

lemon zest
For the White Chocolate Buttercream:
1 ½

cup

unsalted butter

room temp, 315g

4 ½

cups

confectioners sugar

648g

1

cup

white chocolate chips

melted and cooled, 168g

1

tbsp

sugar

1

cup

raspberries

1

tbsp

lemon juice

1

tbsp

vanilla

1/4

tsp

salt

1

tbso

lemon zest
For the Hearts:
3

sheets

printable hearts

Or pipe them free-hand

1 1/2

feet

parchment paper

½

cup

candy melts

84g
For the Italian Buttercream:
4

large egg whites

1 1/3

cups

sugar

divided

1

Pinch

kosher salt optional

16

ounces

unsalted butter

room temperature, cut into 1-inch pieces

1

tsp

pure vanilla extract optional

1/4

tsp

cream of tartar

1/3

cup

water

70g
Instructions
For the Cake:
Preheat oven to 340 degrees F. Butter and flour three 6-inch pans. I use cake strips on my pans for more even baking as well.

Sift the dry ingredients together in a large bowl.

Beat the wet ingredients together in a medium bowl. Add lemon zest.

Don't worry if your still have small chunks of butter, it will all work out!

Add the wet to the dry and mix until just combined. Fold in dried raspberries at the very end and mix until just combined.

Divide the mixture evenly into the cake pans.

Bake at for about 25-30 minutes or until the centers are springy to the touch.
For the White Chocolate Buttercream:
In a small saucepan over medium low heat combine raspberries, lemon juice, lemon zest and sugar. Mash and heat for a minute. Bring to a simmer. Simmer until reduced by half, or about three minutes. Strain and transfer to a small bowl and chill.

In a stand mixer fitted with a paddle attachment, cream the butter.

Add confectioners sugar and salt. Beat until creamy.

Add in melted and cooled white chocolate. Mix until incorporated and smooth.

Add vanilla to one batch.

Add 2 1/2 tbsp of the reduction to the other batch of buttercream. If the consistency become runny, mix in confectioners sugar 2 tbsp at a time until thickened.

Transfer both batches to separate piping bags with the tips snipped off. Add the 2 piping bags to another piping bag fitted with a large round tip or with the tip snipped off.
For the Italian Buttercream:
Beat the egg whites, salt and cream of tartar, slowly add in 1/3 cup of sugar and continue beating until soft peaks form.

In a medium saucepan add the remaining sugar and 1/3 cup water then place on medium-low heat.

Stir until sugar melts and becomes clear.

Maintain at medium-high heat until temperature reads 235-240F.

Drizzle the sugar into the mixer immediately.

Run mixer until meringue is cool/tepid.

Add room temperature butter into running mixer one tablespoon piece at a time.

Add the salt and vanilla if using

Beat until butter is combined and mixture has reached a silky consistency.

Divide into 5 bowls. Keep one bowl white. Add food coloring to each batch to achieve a gradient look.

Transfer colors to separate piping bags.
For the Hearts:
Line up 3 printable heart sheets to use as a guideline or stencil. Add a layer of parchment paper over the sheets.

Microwave candy melts. Transfer to a piping bag and snip off the tip.

Pipe hearts according to the stencil.

Let the hearts cool and harden.
For the Assembly:
Pipe the pink/white chocolate buttercream combo between each cake layer.

Cover the cake with a thin crumb coat and chill for about 10-15 minutes.

Once the cake has chilled, start the Italian buttercream gradient with the white, then work your way up from bottom to top.

Carefully smooth with an offset spatula.

Add hearts to the cake.
Recipe Notes
You can sub in fresh raspberries for the freeze dried ones. Just cut them into smaller pieces so they don't turn into puddles in your cake and destabilize things.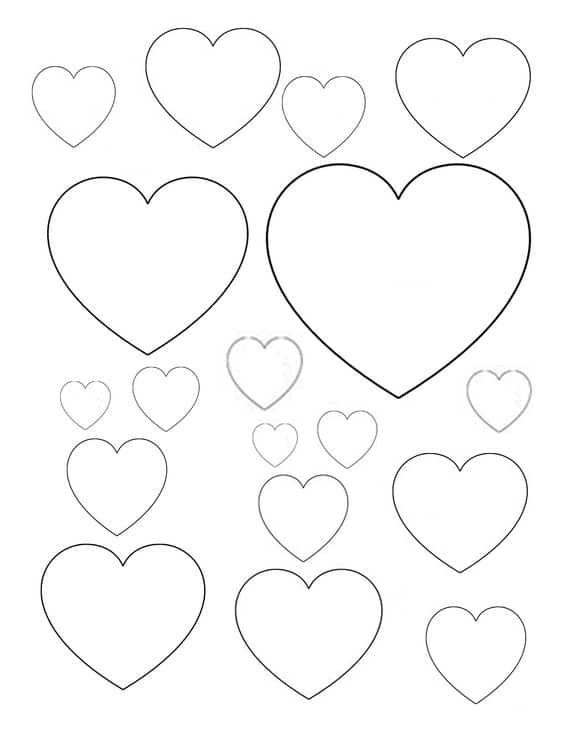 You can print this template out to use as a guide for your candy melt hearts.
SaveSave
SaveSave
How to Make a Valentine's Day Cake
How to Make a Valentine's Day Cake
Full recipe: https://preppykitchen.com/raspberry-valentines-cake/
A raspberry vanilla cake filled with white chocolate buttercream and then covered in a creamy Ita…
SaveSave
SaveSave
SaveSave
SaveSave