Making marshmallows is so easy and they're delicious!! To be honest, I don't even like packaged marshmallows but then I made my first batch and was blown away!
I used these amazing homemade marshmallows for the quintessential summer treat, S'mores! Gooey marshmallows, melted chocolate and crispy graham crackers. You don't have to torch them but…..
Pro Tips for Making Homemade S'mores
You can make the marshmallow ahead of time and store in an airtight container for up to three weeks.
Try using your favorite extract to flavor the marshmallows: Replace the vanilla extract with a different flavor extract (ex: peppermint/almond/strawberry).
If you don't have a candy thermometer use the drop test for see when the sugar reaches the "softball stage". Once the sugar is really bubbling and JUST starting the thicken up use a spoon to drop a bit into a glass of cold water. If it forms a soft ball like a piece of sap then it's ready. If it dissolved in the water it's not hot enough and if it forms a hard ball its TOO hot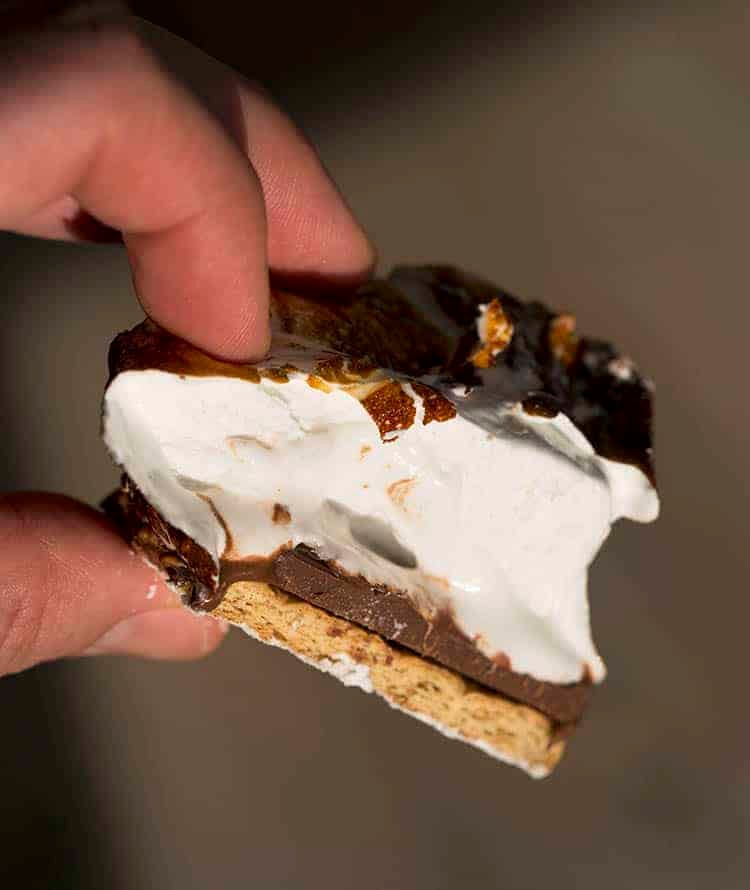 They're sooo good and totally worth the gooey mess when you eat them.
Frequently Asked Questions
How can you make these without a kitchen torch?
If you don't have a kitchen torch stick the marshmallows with a skewer and toast them over an open flame then place over the chocolate and Graham cracker and enjoy!
How Long Will homemade marshmallows keep?
Homemade marshmallows will keep up to three weeks in an airtight container at room temperature. Sprinkle some extra powdered sugar in the container, and remember that humidity will melt them while being exposed to lots of dry air will desiccate them.
How do you cut homemade marshmallows?
Marshmallows are STICKY! Dust your knife in powdered sugar to help cut through the marshmallow cleanly.
Overview of steps to make homemade S'mores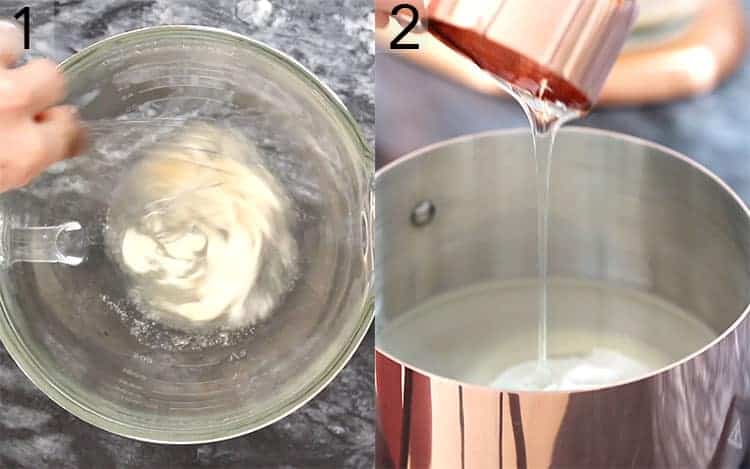 1. Add water and gelatin into the bowl of your stand mixer then whisk together.
2. Add water, sugar, corn syrup and salt to a medium heavy-bottomed pot.
3. Heat the sugar solution to 240F then remove from heat immediately.
4. Turn mixer on to start breaking up the gelatin then carefully pour in the hot sugar solution. Mix on high until the consistency becomes very thick then beat in the vanilla.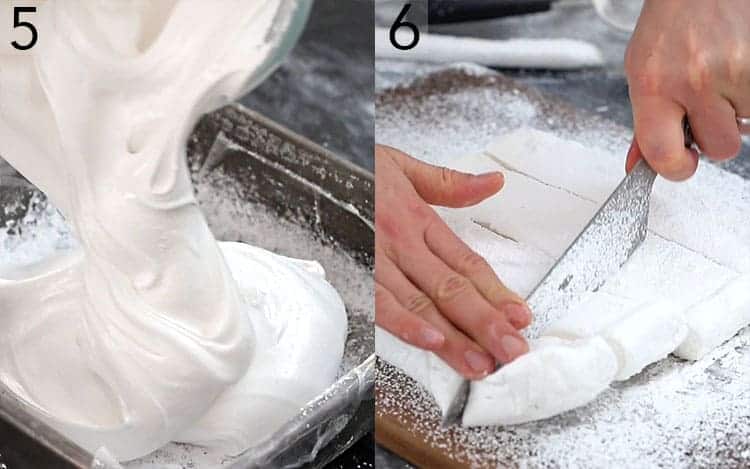 5. Transfer your marshmallow to the prepared dish and smooth out with a spatula. Set aside for at least 4 hours, you can also make them a night ahead.
6. Remove marshmallow from pan and place on a surface covered with powdered sugar. dust the top and your knife with powdered sugar then cut into pieces.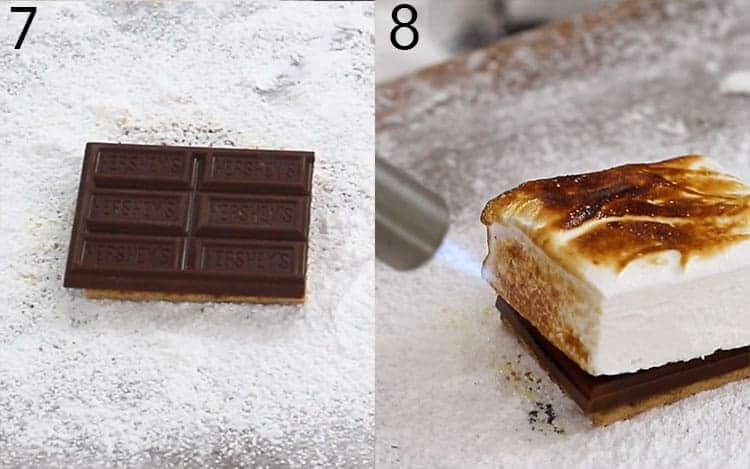 7. Assemble your S'mores: Graham Cracker, chocolate, marshmallow in that order.
8. Torch the marshmallow with a kitchen torch or skewer the marshmallow and toast it over an open flame then place on chocolate.
IF YOU LOVE THIS RECIPE TRY THESE OUT!
Oatmeal Chocolate Chip Cookies
If you've tried this s'mores recipe then don't forget to leave a rating and let me know how you got on in the comments below, I love hearing from you!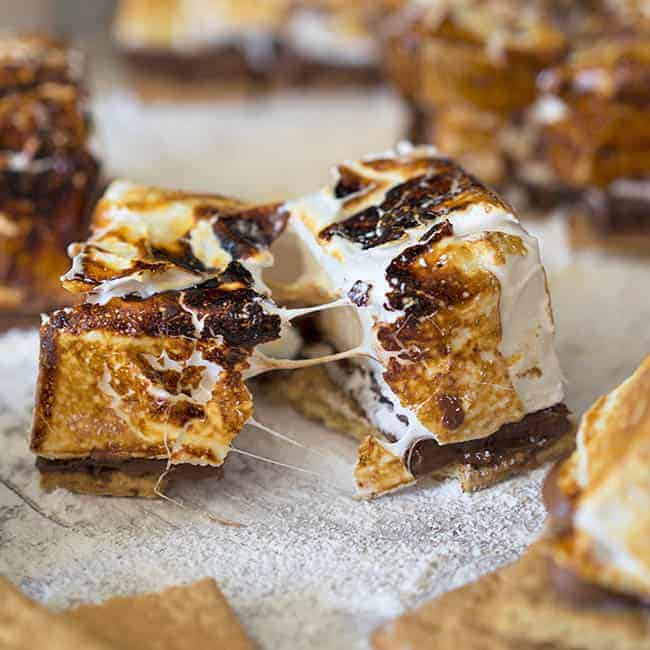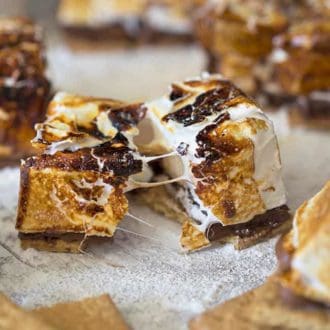 Print
Smores
These s'mores are the perfect treat made all the better with amazing homemade marshmallows toasted to perfection on a bed of chocolate and Graham crackers.
Ingredients
For the Marshmallows
2

tbsp

vegetable oil

for brushing pan

1

cup

confectioners' sugar

100g, for coating pan and marshmallows

3/4

oz

gelatin

envelopes powdered unflavored

1 1/2

cups

granulated sugar

300g

1

cup

light corn syrup

240mL

1/4

tsp

salt

2

tsp

vanilla extract

10mL

1

cup

water

240mL divided. 1/2c for gelatine and 1/2c for sugar
For the Assembly
8

Graham Crackers

12.4

oz

Chocolate

about 8 chocolate bars
Instructions
INSTRUCTIONS
Using vegetable oil, brush the bottom of a 9-inch baking pan. I recommend a square pan. After, dust your pan using confectioner's sugar.

In the bowl of a standing mixer add 1/2 cup of water and 2 gelatin packages. Mix and set aside.

In a large saucepan, combine the corn syrup, salt, 1/2 cup water and granulated sugar. Place over medium heat. Bring to a boil. Stir the sugar until it has dissolved. Place the candy thermometer into the syrupy liquid -- without stirring -- until it is at 240

°

F

. Still, allow it to boil. If it begins to foam up DO NOT WORRY! Just turn the heat down and/or remove saucepan from heat until it has cooled slightly.

Put the mixer on a low speed. Pour the sugary-syrup liquid into the gelatin. Gradually increase mixer speed to high. Beat until the marshmallow has a very thick consistency. You will know it's ready when it forms a thick ribbon once the whisk has been removed. Wait 5 minutes then beat in the vanilla.

Transfer the marshmallow to the pan. WARNING: It will be sticky. Wet your fingers. Spread the marshmallow evenly. Smooth the top. Allow it to sit, uncovered. Keep it at room temperature. When the surface is no longer sticky, pull the marshmallow from the sides of the pan. Give the Marshmallow a minimum of 4 hours to sit. Do not wait longer than 12 hours.

Dust the cutting board using confectioner's sugar. Using a rubber kitchen tool (perhaps a spatula) pull the marshmallow from the pan's sides and bottom. Place the marshmallow on the cutting board. Again, dust it with confectioner's sugar. Dust the knife between each cut. Cut the marshmallow lengthwise.

Cut around 5 strips. Square them into fourths. It should come to about 20 squares. Again, coat marshmallows with the confectioner's sugar. If you are making these marshmallows in advance, they can be stored between layered sheets of parchment/wax paper within a dry container. If stored in a cool room, they can last for around 1 month.
For Assembly:
Place chocolate onto the graham cracker. Place the marshmallow atop that. Torch the marshmallow until you achieve an even brown.
Notes
You can make the marshmallow ahead of time and store in an airtight container for up to three weeks.
Try using your favorite extract to flavor the marshmallows: Replace the vanilla extract with a different flavor extract (ex: peppermint/almond/strawberry).
If you don't have a candy thermometer use the drop test for see when the sugar reaches the "softball stage". Once the sugar is really bubbling and JUST starting the thicken up use a spoon to drop a bit into a glass of cold water. If it forms a soft ball like a piece of sap then it's ready. If it dissolved in the water it's not hot enough and if it forms a hard ball its TOO hot
Nutrition
Serving:
1
g
|
Calories:
288
kcal
|
Carbohydrates:
54
g
|
Protein:
2
g
|
Fat:
9
g
|
Saturated Fat:
5
g
|
Sodium:
92
mg
|
Potassium:
68
mg
|
Fiber:
1
g
|
Sugar:
49
g
|
Calcium:
13
mg
|
Iron:
1
mg
*
Nutrition Disclaimer