These cupcakes might just be the perfect treat for Easter. The grass is super-easy to pipe and the little butts are easier than you might think! If you want to have both ends of the bunny, or just use less fondant you can make these bunny ear cupcakes too! Aren't they cute?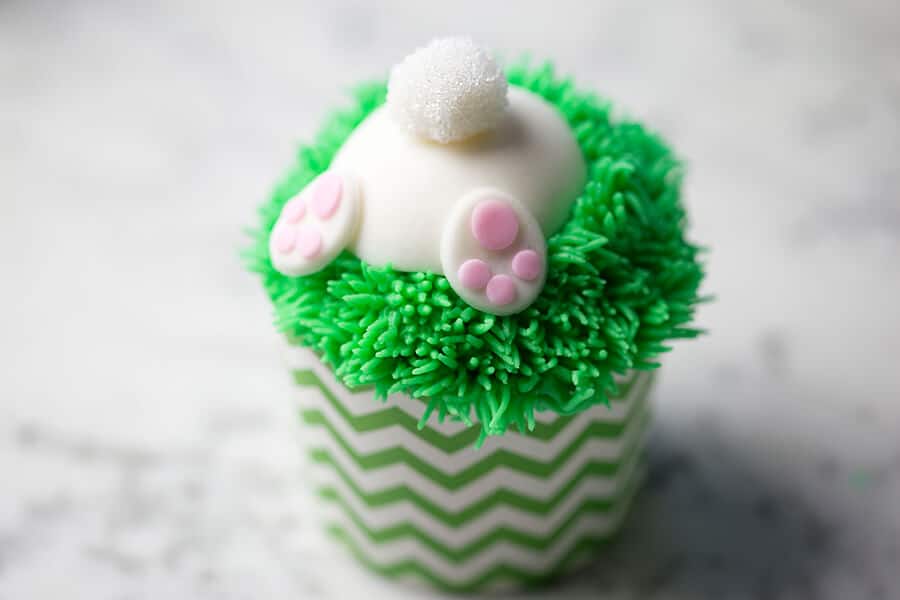 Bunny Butt Cupcakes
The perfect Easter treat!
Ingredients
For the Cake:
1 2/3

cups

all-purpose flour

1

cup

sugar

1/4

tsp

baking soda

1

tsp

baking powder

3/4

cup

salted butter room temperature

3

eggs

3

tsps

vanilla extract

1/2

cup

sour cream

1/2

cup

milk
For the Buttercream
1

pound

unsalted butter room temperature

8

cups

confectioners' sugar

1/2

cup

cream

1/4

tsp

green food coloring
For the decoration
3

cups

fondant

approximately

1/4

cup

sanding sugar

1

drop

pink food coloring
Instructions
For the Cake:
Sift the dry ingredients together in a large bowl.

Mix the wet ingredients together in a medium bowl.

Add the wet to the dry and mix until just combined. Fold in the sprinkles at the very end and mix at little as possible.

Divide the mixture into cupcake papers

Bake at 340 for about 20 minutes or until the centers are springy to the touch. Baking time depends on the size of your cupcakes
For the buttercream
Beat the butter until light and fluffy, add the sugar a cup at a time and beat well. Add green food coloring. Mix in cream until desired consistency is reached.
To Decorate
Ice the cupcakes with the green buttercream using a 133 tip for the grass.

Roll fondant into small balls. Wet and roll in sanding sugar.

Press some fondant into a rounded glass or small bowl to form the body.

Roll some fondant out to a thin sheet. Use the back of a piping tip to cut circles for the feet. Roll the circles out a bit to form ovals. Mix the pink food coloring with a small amount of fondant. Roll out and use 2 small round piping tips to create the pads for the feet.

Assemble by brushing a small amount of water where the fondant needs to be joined.

Place bunny in grass and serve!
As you