Last year I made bunny butt cupcakes for an Easter treat and I LITERALLY could not stop staring at them. They were SO CUTE (not to toot my own horn or anything ? ). This year I thought I would give some attention to the bunny's other end hehe and make bunny ear cupcakes. The first couple were a bit scary. I tried using candy eyes and the little bunnies looked demented ? and the buttercream kept getting messed up when I attached the eyes and nose. They were demented bunnies with odd expressions! Not cute BUT — through trial and error — I was able to make something worth sharing!!!  In the end, I added some coconut for fluffy fur and mini chocolate chips for eyes! Looked way better. BTW: I'm still a bit foggy on why exactly there's an Easter Bunny, at all. Any ideas?? ?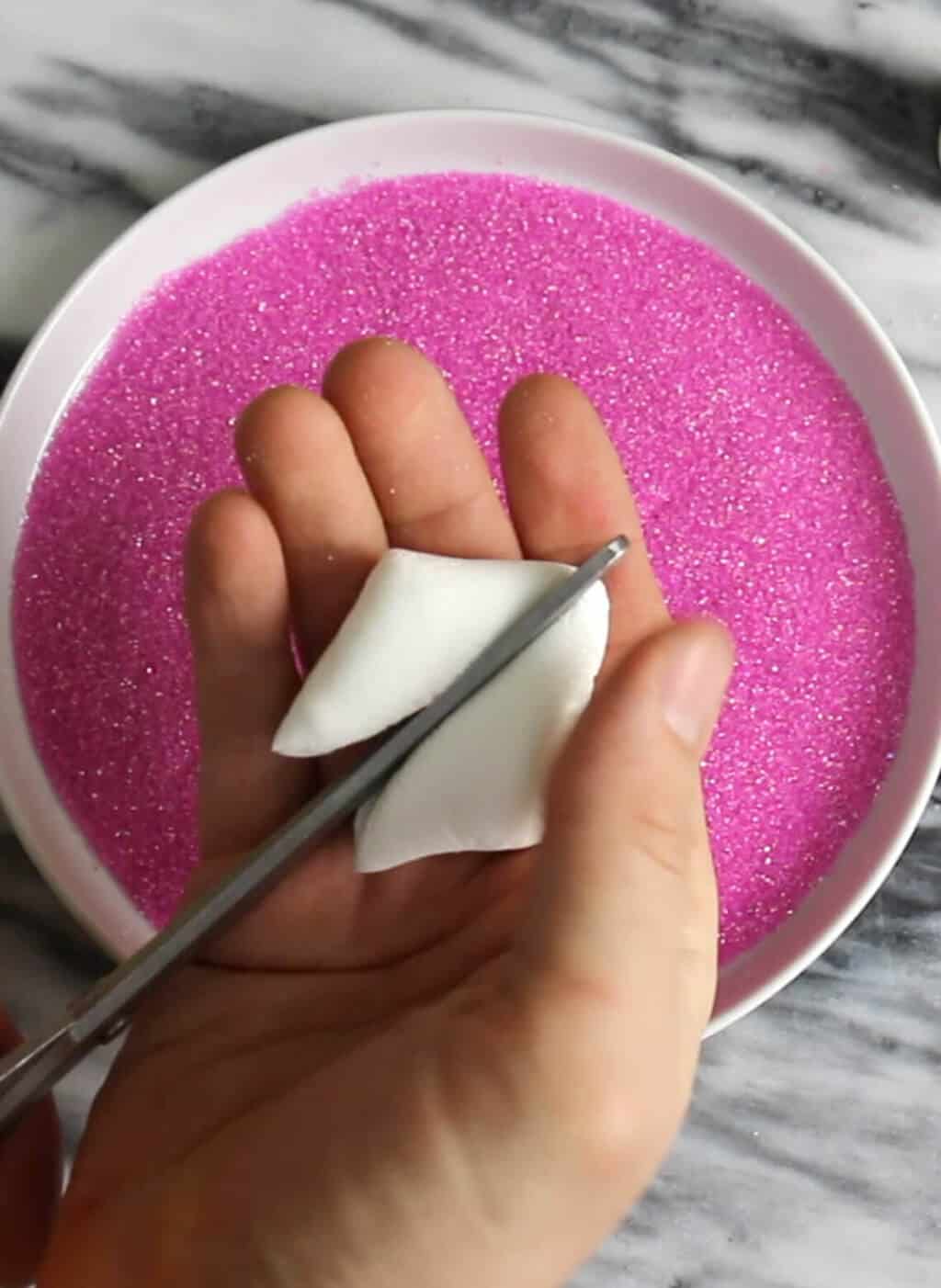 Cut your marshmallow diagonally with a clean pair of scissors.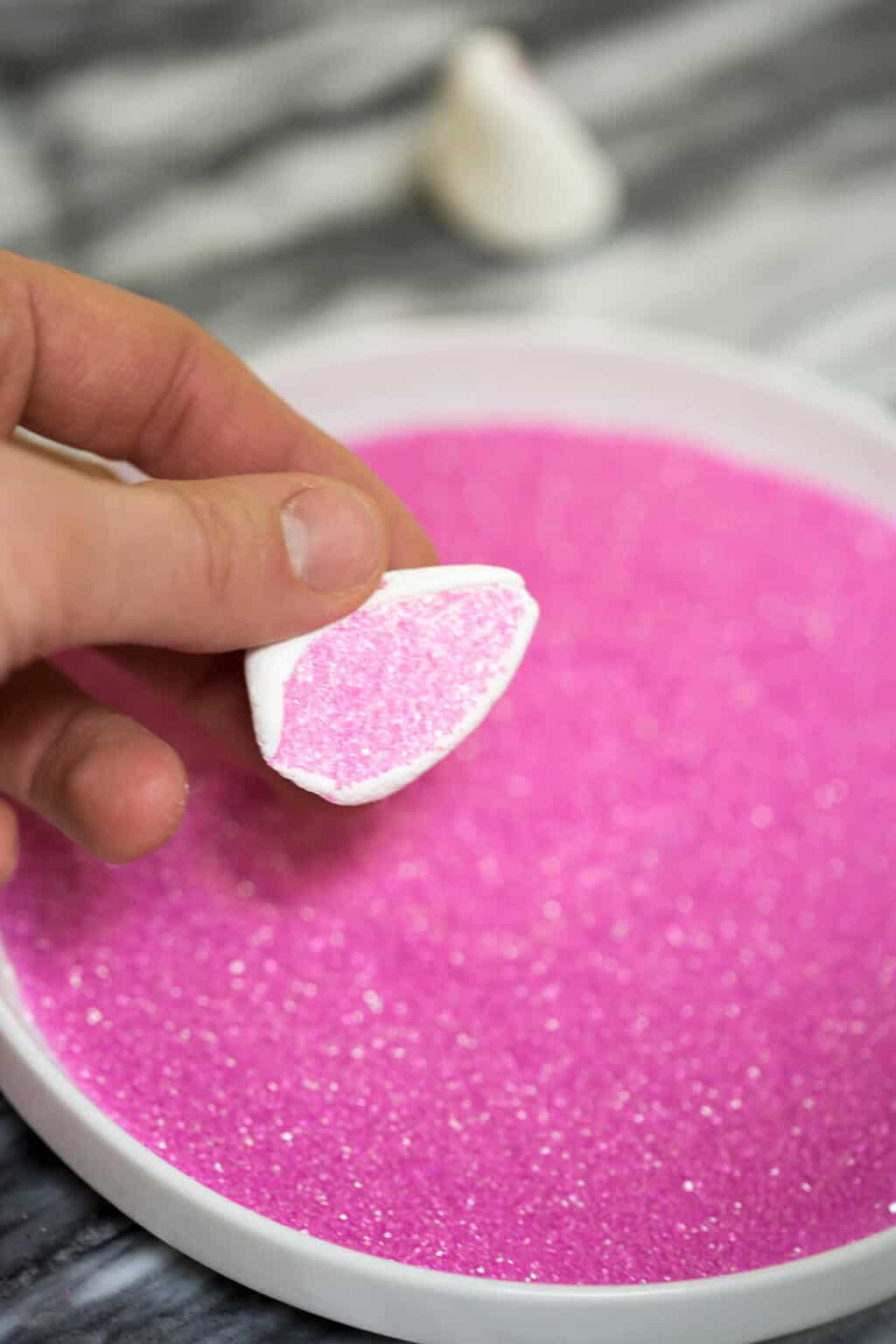 Dip the cut side in pink sanding sugar.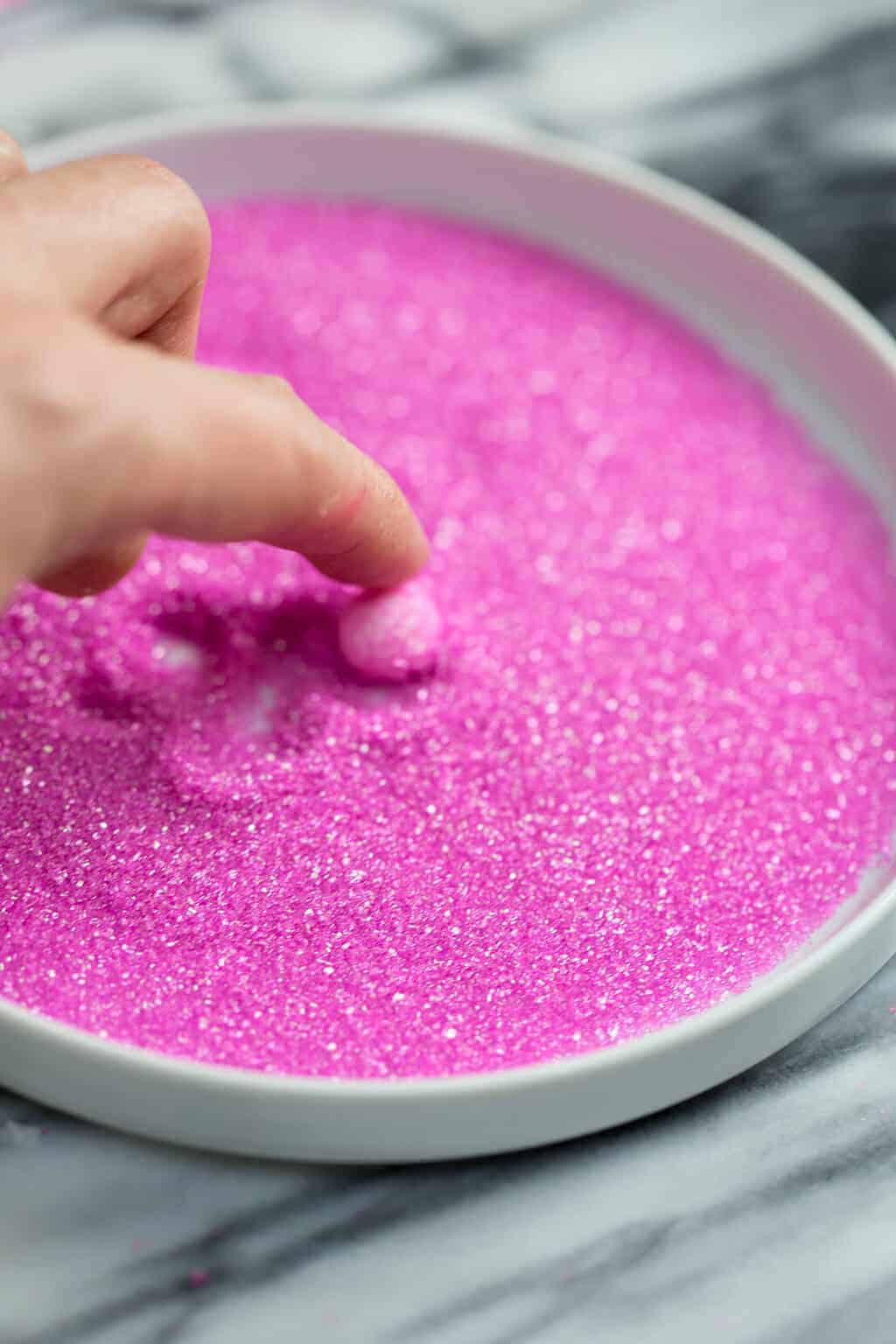 Roll a small ball of fondant in the sanding sugar. This will work best if you brush the fondant with water first.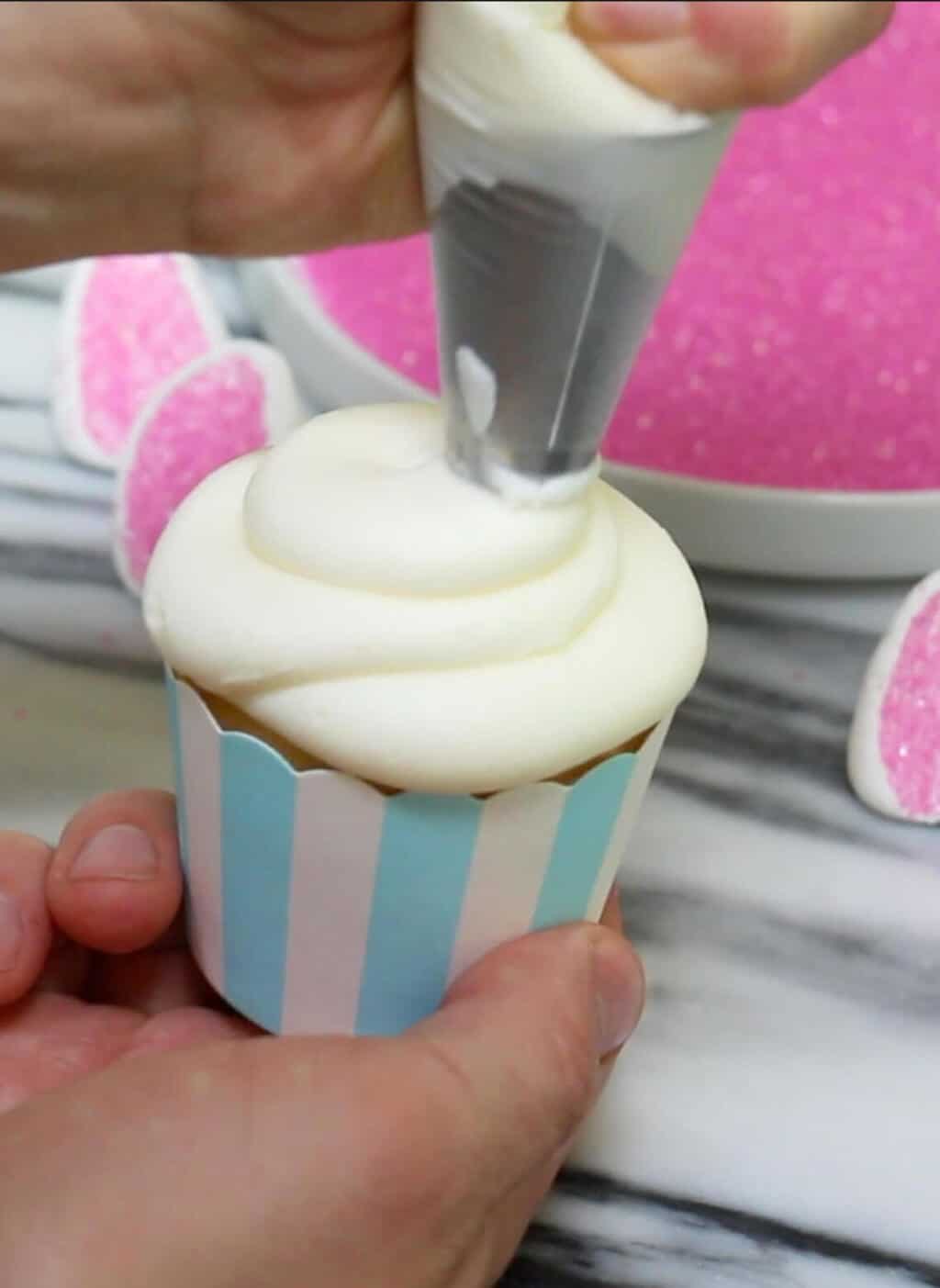 Ice your cupcake with buttercream. You don't have to be too neat sinch this will all get covered anyways.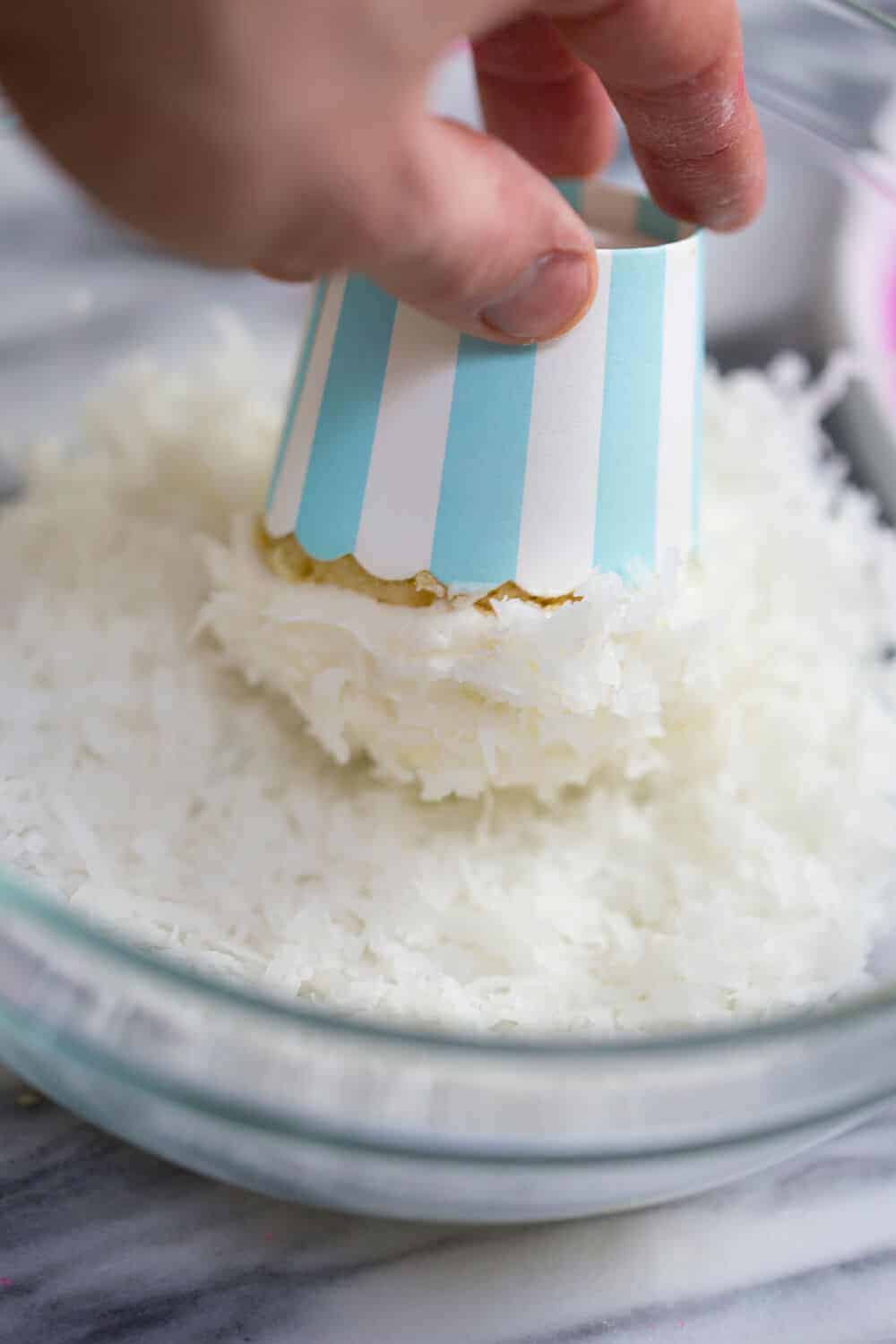 Cover the buttercream with sweetened shredded coconut.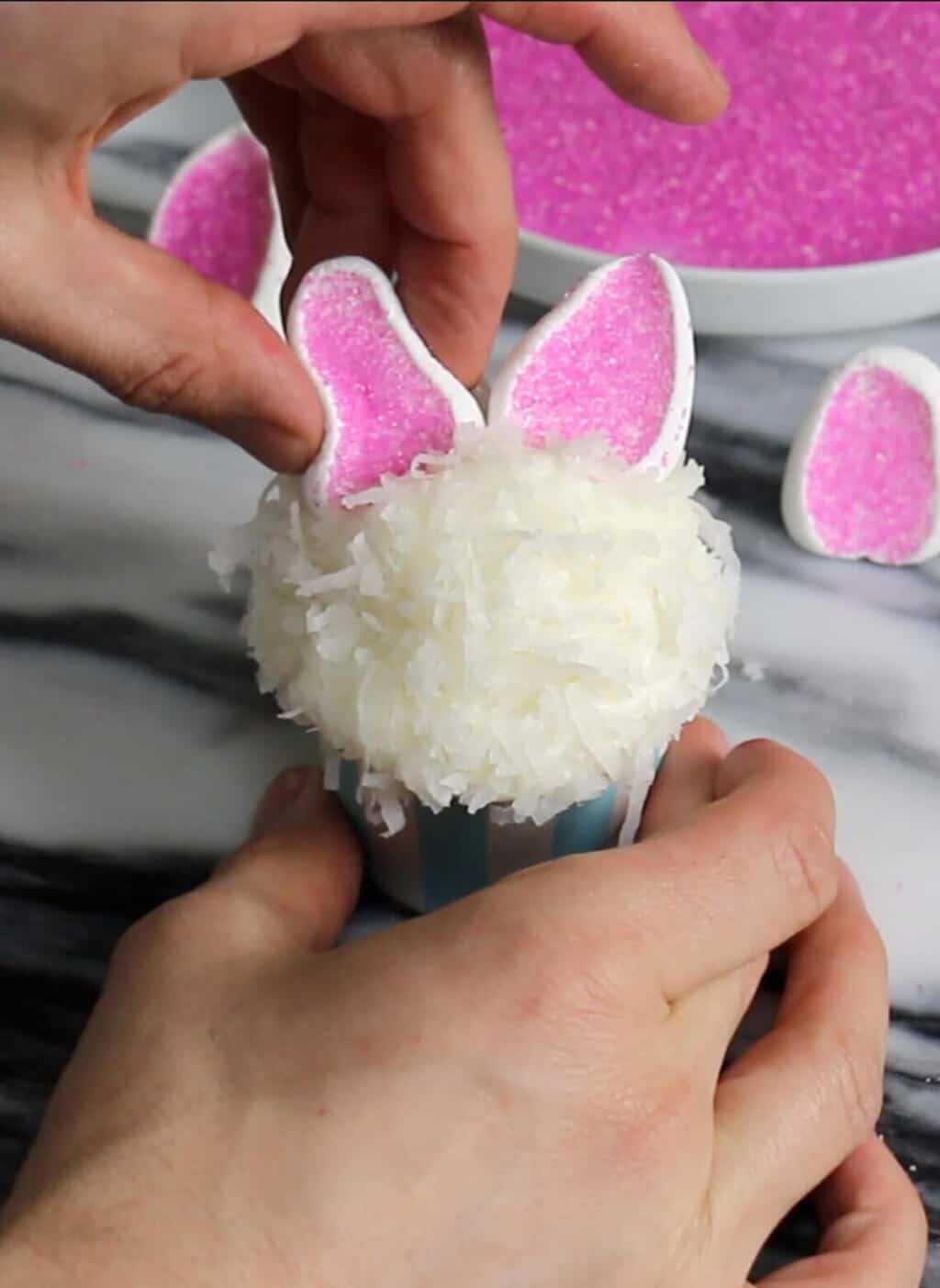 Add the eats and nose to the cupcake. You'll need to push aside some coconut so they stick. Use two small chocolate chips for the eyes.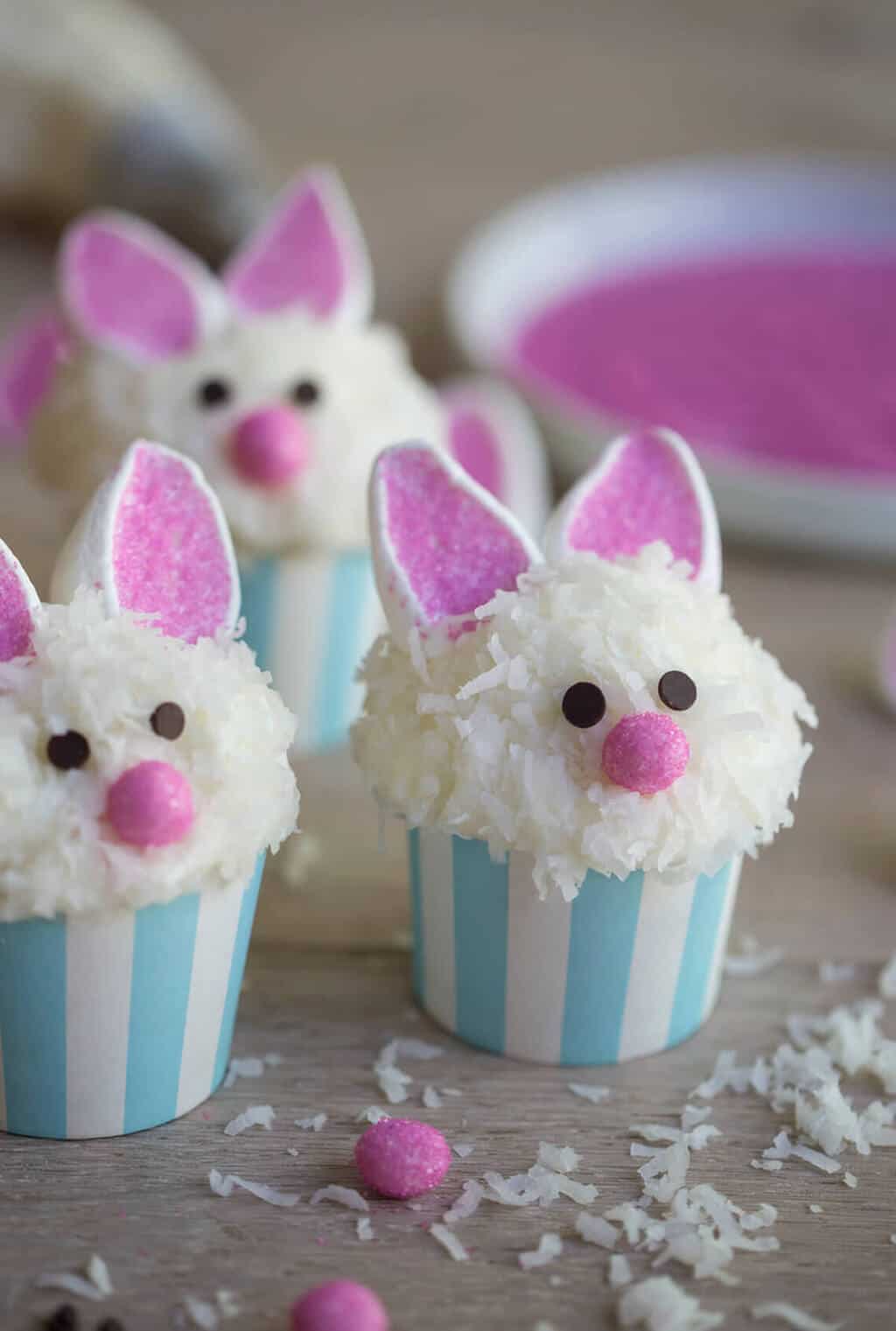 Ready to hop into your mouth!
Print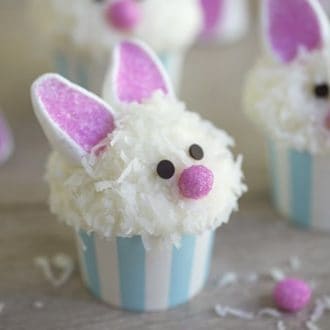 Easter Bunny Cupcakes
Easy to make and delicious Easter bunny cupcakes with marshmallow ears and coconut fur!
Ingredients
For the Cake:
1 2/3

cups

all-purpose flour

1

cup

sugar

1/4

tsp

baking soda

1

tsp

baking powder

3/4

cup

salted butter

room temperature

3

eggs

3

tsps

vanilla extract

1/2

cup

sour cream

1/2

cup

milk

1/3-1/2

cup

sprinkles
For the Buttercream
1

pound

unsalted butter

room temperature

8

cups

confectioners' sugar

1/2

cup

cream
For the decoration
1

tbsp

fondant

1/2

cup

pink sanding sugar

12

marshmallows

24

chocolate chipps

small

2

cups

sweetened shredded coconut

approximately
Instructions
For the Cake:
Sift the dry ingredients together in a large bowl.

Mix the wet ingredients together in a medium bowl.

Add the wet to the dry and mix until just combined. Fold in the sprinkles at the very end and mix at little as possible.

Divide the mixture into cupcake papers

Bake at 340 for about 20 minutes or until the centers are springy to the touch. Baking time depends on the size of your cupcakes
For the buttercream
Beat the butter until light and fluffy, add the sugar a cup at a time and beat well. Mix in cream until desired consistency is reached.
To Decorate
Cut marshmallows in half diagonally. Dip cut sides in the sanding sugar.

Roll fondant into small balls. Wet and roll in sanding sugar.

Place ears, noses and eyes on the cupcakes and serve!
Recipe Video
Nutrition Facts
Easter Bunny Cupcakes
Amount Per Serving
Calories 190
* Percent Daily Values are based on a 2000 calorie diet.
DIY Bunny Ear Cupcakes
DIY Bunny Ear Cupcakes
Super-cute bunny cupcakes for easter that will hippity-hip right into into your mouth!