I always loved the idea of Peeps but they just aren't that tasty. I mean seriously, what are they anyway? Super stale marshmallows? Yuck. Anyway, I actually got the idea for this cupcake on Pinterest. The caption was something like "super-cute, does anyone know how to make these?" Well, I am up for the challenge! I got my fondant out and went to work. Luckily I just happen to have two 133 piping tips! What do you think?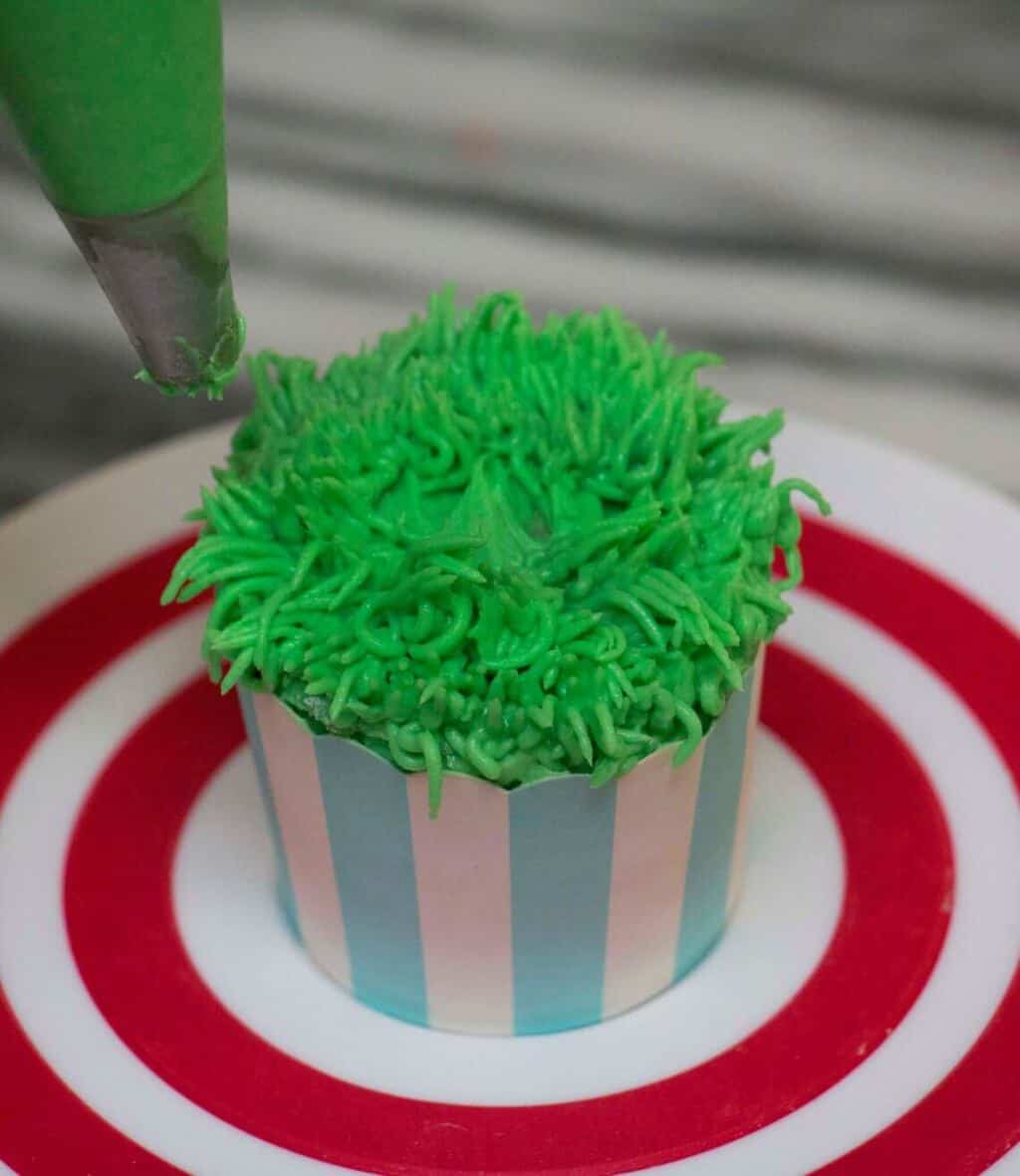 Pipe the grass using a 133 tip. Don't worry if it looks messy, the chicks are the star of this cupcake.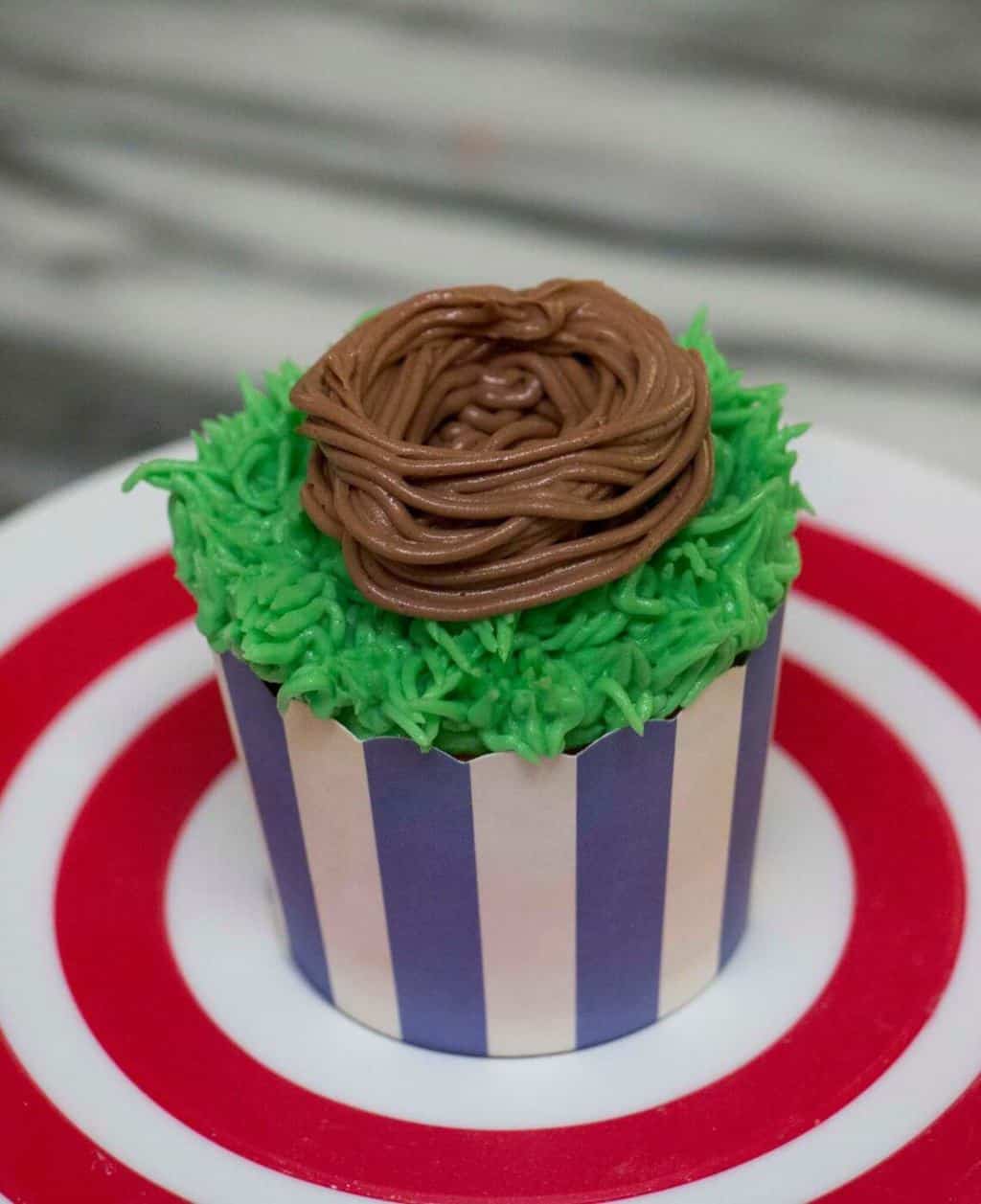 OK, at this stage the "nest" looks HORRIBLE! Don't worry though, the color will darken and the become less shiny.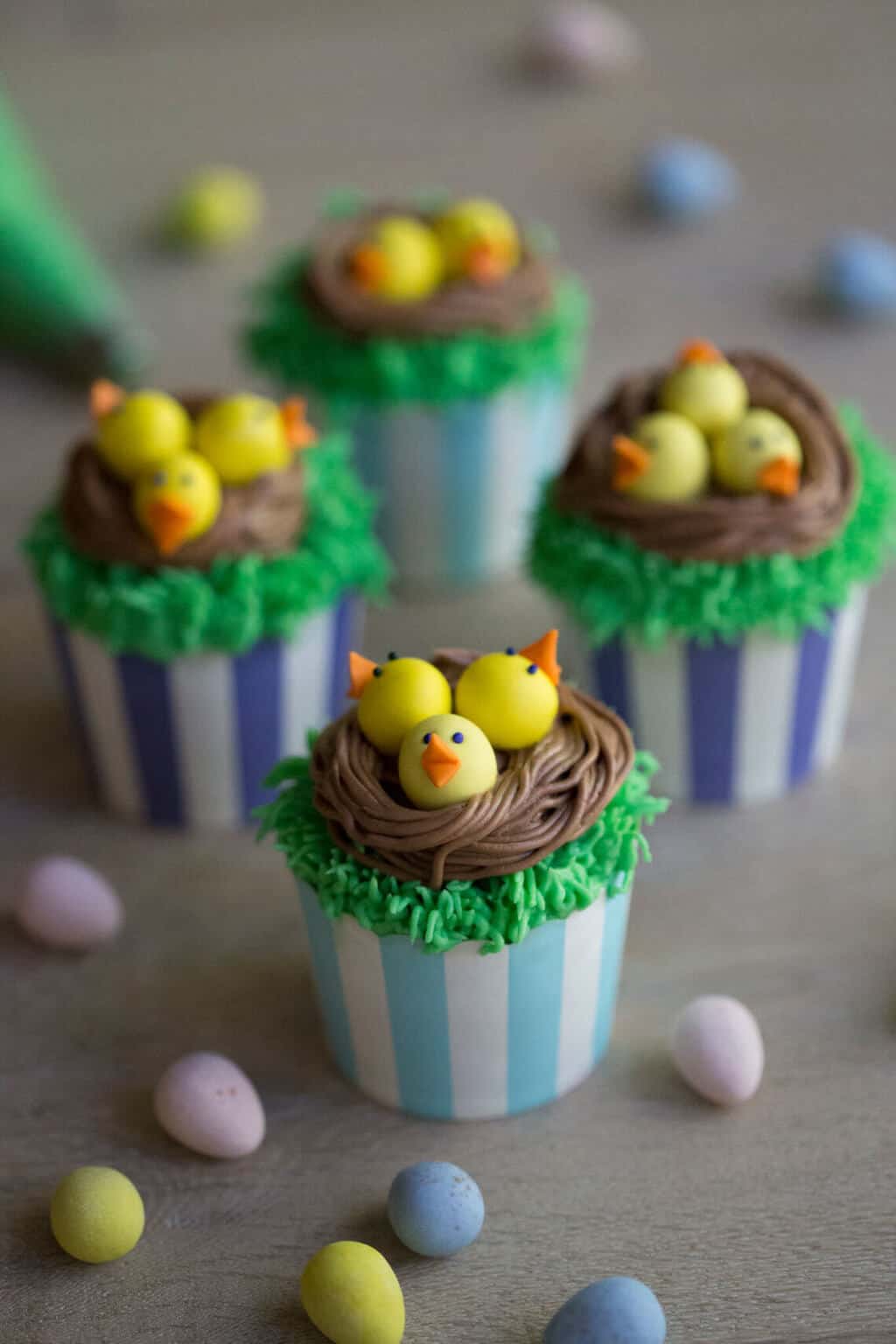 Once the chicks are placed everything looks just fine!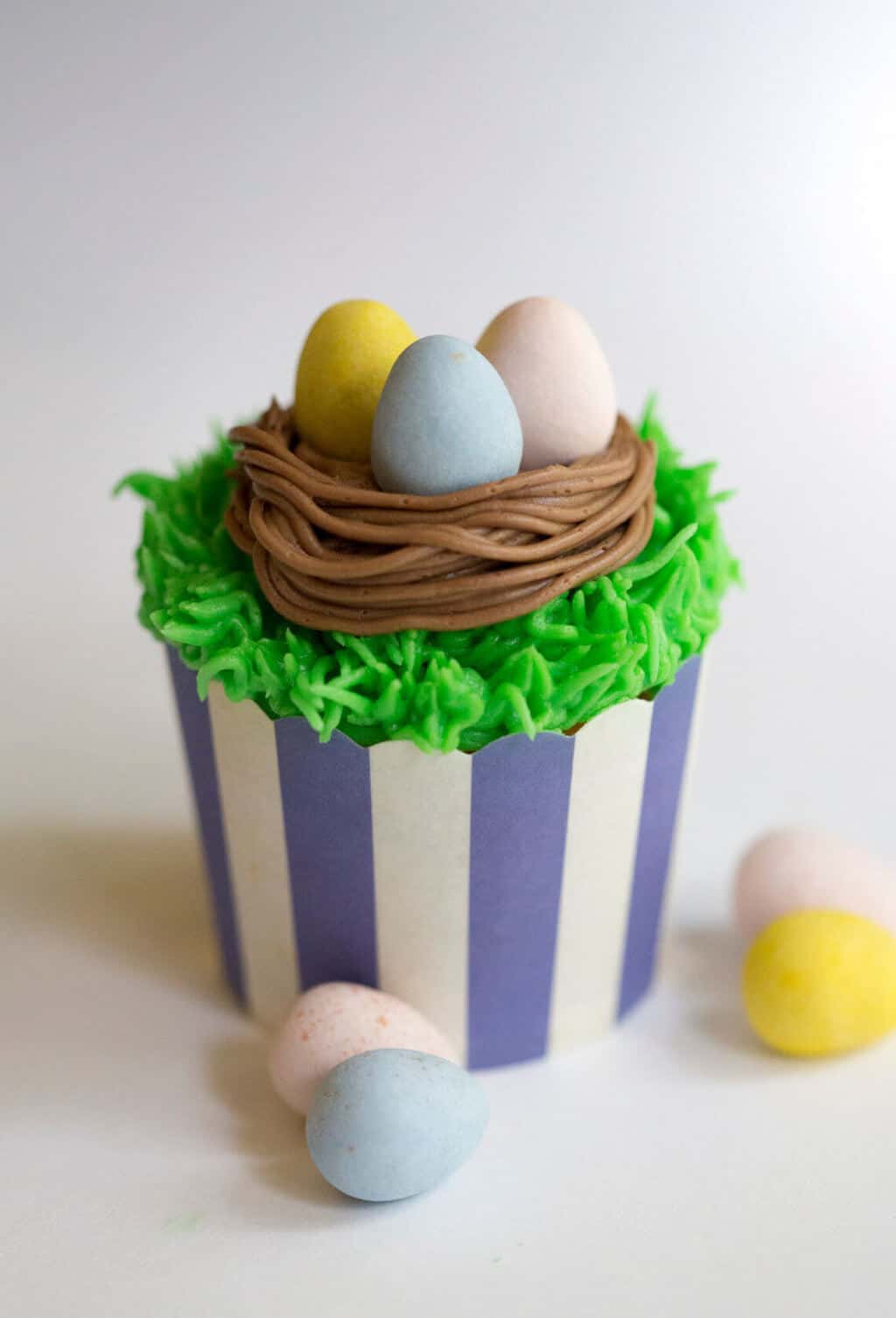 If you don't feel like dealing with fondant you can just place some chocolate eggs inside the nest! Super east and still pretty darn cute! Also I totally prefer chocolate to fondant ?
Print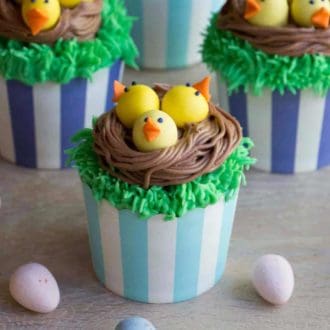 Easter Chick Cupcakes
Maybe the cutest easter cupcakes ever and it doesn't hurt that they're delicious1
Ingredients
For the Cupcakes:
1 2/3

cups

all purpose flour

240g

1

cup

sugar

200g

1/4

tsp

baking soda

1

tsp

baking powder

3/4

cup

salted butter

170g

3

egg whites

3

tsp

vanilla extract

1/2

cup

sour cream

120ml

1/2

cup

milk

120ml
For the Buttercream:
6

cups

confectioner's sugar

1

cup

softened butter

1/4

cup

cream

1

teaspoon

vanilla extract

1

pinch salt

1

cup

semisweet chocolate chips

1/3

cup

cream
For the Chicks
2

cups

fondant

8

drops

yellow food coloring

2

drops

orange food coloring

1

tsp

dark sprinkles
Instructions
To Make the Cake:
Cream the butter and sugar.

Mix in all of the wet ingredients.

Whisk the dry ingredients together in a large bowl.

Using a stand mixer slowly add in the dry mixture to the wet mixture and mix until combined.

Pour into papered cupcake pan, add a heaping tablespoon of the raspberry flavored batter.

Bake at 350F for about 15 minutes.
For the Buttercream
In a small bowl melt the cream and chocolate then set aside to cool.

Cream the butter until light and fluffy

Add the confectioners' sugar in while mixing and an then add the cream in. Mix until smooth.

Separate about a 1/4 of the buttercream into a bowl and beat with the room temperature melted chocolate. Add to a piping bag fitted with a 133 tip.

Color the remaining mixture with green food coloring and add to a piping bag fitted with a 133 tip.
For the Chicks
Add orange food coloring to about 2 tbsp of the fondant and fold until mixed in. Roll out to an 1/8 inch thickness and cut into small diamonds. lightly impress a line across the short end of the diamond and fold to a right angle.

Add yellow food coloring to about 1 3/4 cups of the fondant and fold until mixed in. Take about a teaspoon of the yellow fondant and roll into a sphere.

Add two dark sprinkles to the head for the eyes then add the beak. You can brush a small amount of water onto any area that is not sticking.

Pipe the grass using the green buttercream and a 133 tip. Pipe a nest on top using the chocolate buttercream and a 133 tip. Place two to three chicks in each nest and enjoy!
DIY Easter Chick Cupcakes
DIY Easter Chick Cupcakes
DIY Easter Chick Cupcakes
I always loved the idea of Peeps but in practice they just weren't that tasty, I mean seriously, what are they? Super stale marshmallows? Anyways, I actually got the idea fo…