This cake is a must make if you love vanilla. It is so moist and easy to make that I have a feeling it will become your new go to cake recipe. You're just sifting the dry ingredients and giving them a whisk then mixing all the wet ingredients and finally combining the two, mixing for a minute or two until combined. Just make sure to use room temp ingredients and although not necessary I often warm the milk and sour cream slightly. If you're wondering how I get the perfect bake with no burn edges the answer is cake strips. They're really just wet fabric strips you wrap around the cake pans, they cool the edges and give an even bake the the layers. You can make your own or buy a set, I have a link on the Shop Page of the blog.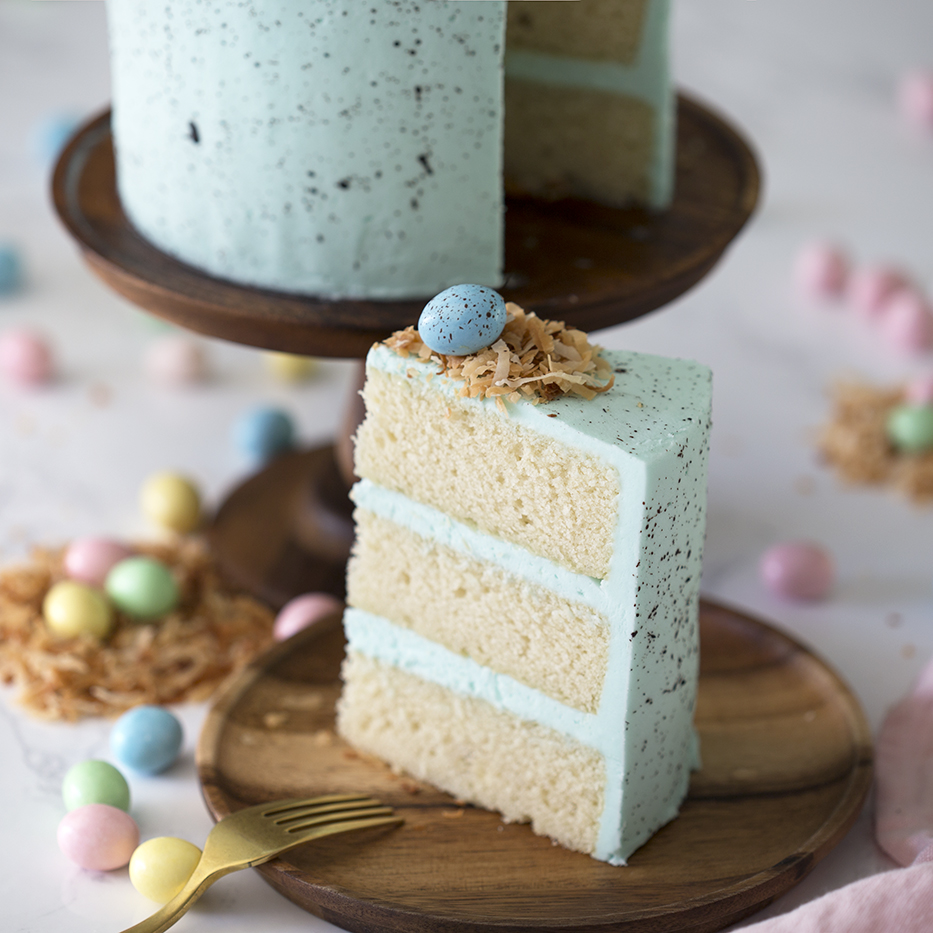 I wish you could reach through the screen and grab this piece now. So moist and the vanilla was just right. I chose blue for the buttercream but you can leave it white or dye it any color you'd like! This recipe makes three six inch layers. If you're making an eight inch cake double the batter and if you're making nine inch layers triple the batter recipe.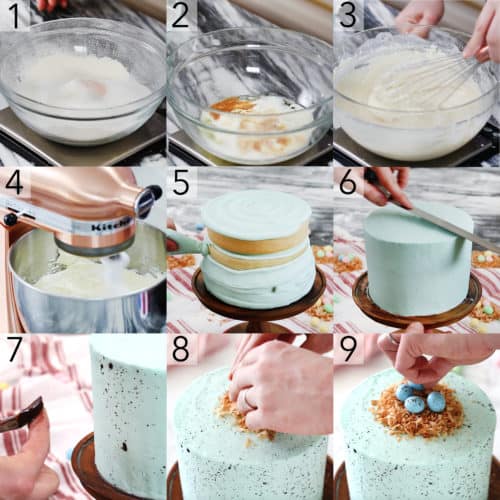 1. Sift dry ingredients
2. Whisk together wet ingredients.
3. Add wet to dry. Pour batter into your three six inch pans, which you've butttered and floured.
4. Beat the butter until light and fluffy. Add the confectioners' sugar, vanilla and cream. Mix. Add food coloring.
5. Pipe buttercream between each cake layer. Pipe an outer layer.
6. Smooth the edge with an offset spatula.
7. Flick chocolate paint on cake.
8. Pipe buttercream and add coconut nest.
9. Add eggs to the nest.
Easter Egg Cake:
A classic robin's egg cake perfect for easter featuring the most moist vanilla cake covered in a perfectly sweet vanilla buttercream.
Ingredients
For the Cake:
1 2/3

cup

all-purpose flour

213g

1

cup

sugar

228g

1/4

tsp

baking soda

2g

1

tsp

baking powder

4g

3/4

cup

unsalted butter

176g, room temperature

3

egg whites

3

tsp

vanilla extract

1/2

cup

sour cream

133g

1/2

cup

whole milk

113g
For the Vanilla Buttercream:
2

lbs

confectioners sugar

907g

1

lb

butter

456g, unsalted, room temperature

3

tsp

vanilla

1

tbsp

milk

1/4

tsp

kosher salt

Blue food coloring
For the Assembly:
½

cup

coconut

40g, toasted, sweetened

2

tsp

cocoa powder

nice quality

4

tsp

vanilla extract

6

chocolate eggs

mini
Instructions
For the Cake:
Preheat oven to 325 degrees F.

Spread coconut flakes out on a baking sheet. Cook for about 5-10 minutes. They will toast quickly. Let cool.

Increase temp to 340 degrees F. Butter and flour three 6-inch pans. I use cake strips on my pans for more even baking as well.

Sift the dry ingredients (including sugar) together in a large bowl.

Beat the wet ingredients together in a medium bowl.

Add the wet to the dry and mix until just combined.

Divide the mixture evenly into the cake pans.

Bake at for about 25-30 minutes or until the centers are springy to the touch.
For the Vanilla Buttercream:
Beat the butter until light and fluffy. Add the confectioners' sugar, 1 tsp vanilla, 1/4 tsp salt, and milk. Mix.

Add blue food coloring until you get robins egg blue.

Transfer to a piping bag. Snip off the tip.
For the Assembly:
Pipe buttercream between each cake layer.

Pipe an outer layer and smooth out with a scraper.

Mix cocoa powder and vanilla or alcohol. Using a paint brush, splatter the cake and chocolate eggs to create a speckled look.

Chill for about 10-15 minutes.

Pipe a ring of buttercream on the cake. Press toasted coconut flakes onto ring. Create a nest shape.

Add eggs to the inside of the nest.
You can assemble and decorate most of the cake ahead of time and chill it then add the nest on closer to the serving time. If you're concerned about the eggs and coconut shifting around you can "glue" it all together using some caramel or buttercream.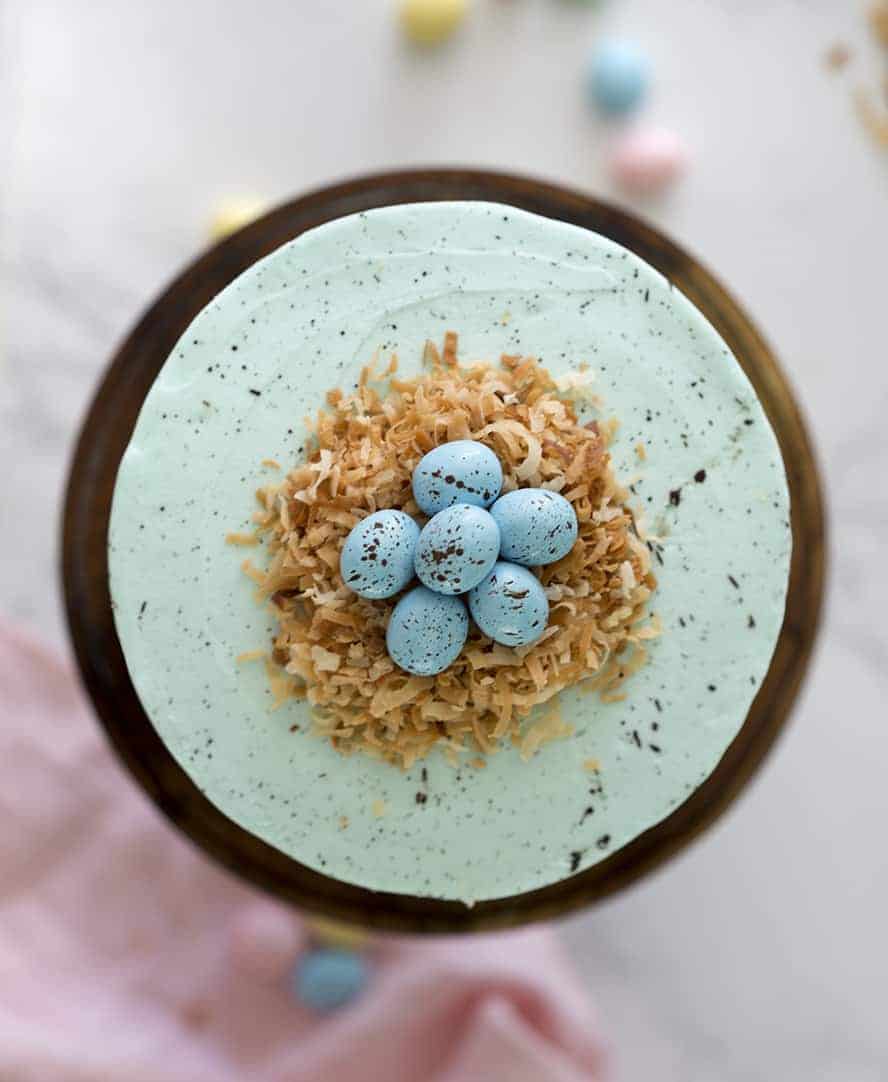 These also make great cupcakes if you want a smaller set of treats. Just top with buttercream and then roll in the toasted coconut to create the nest then place the eggs.
Easter Egg Cake
Easter Egg Cake
I LOVE this simple robin's egg cake. It really reminds me of spring and is perfect for Easter! This cake is a must make if you …
SaveSave
SaveSave