Pumpkin pie is one of my all-time favorite desserts. It should have a crisp crust, SMOOTH, creamy filling with lots of flavor and my piece always has a mountain of whipped cream. Store-bought pie can never compete…
How to Avoid Burnt Pie Crust
I don't know if you're in this habit but tenting your crusts with tin foil for most of the bake drastically cuts down on singed edges. Just fold a long piece of foil in half lengthwise and gently wrap around the crust before baking. You can remove halfway through or so and allow the crust to get golden brown just as the center sets.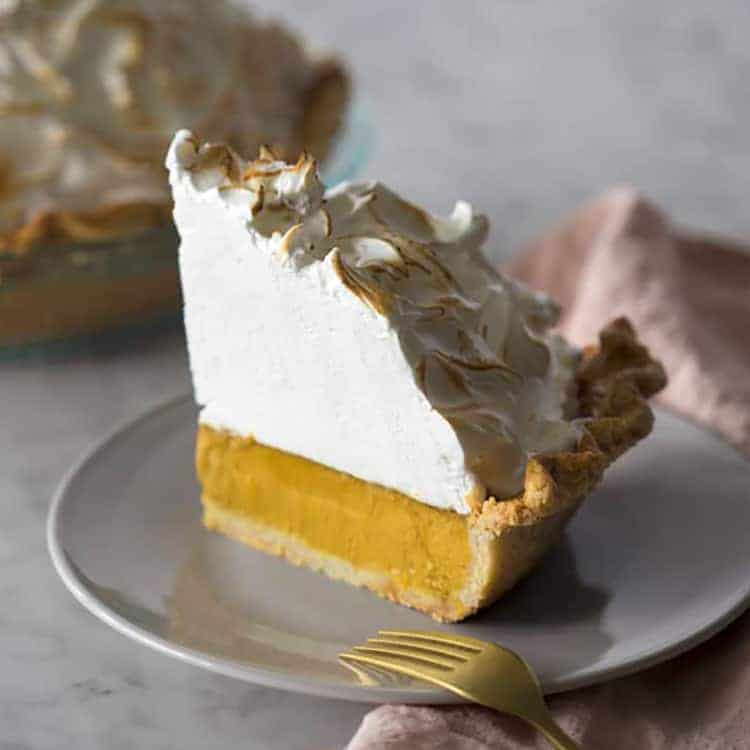 I Love pumpkin pie with a MASSIVE dollop of whipped cream, but for an all out stunner that's really easy to make try topping your pie with a giant pile of meringue! If you want to know the secret to cutting this the key is buttering your knife. The fat cuts right through the meringue.
Frequently Asked Questions
Should I pre-bake pie crust for pumpkin pie?
Pre baking your pie crust is the key to a crust that's crisp throughout.
Blind bake with pie weights at 425F for about 10 minutes.
Remove weights, dock the crust and bake another 10 minutes.
Adding an egg wash creates an additional barrier between the crust and filling.
Can you substitute almond milk for evaporated milk in pumpkin pie?
You can substitute almond milk for evaporated milk or cream, just add a tablespoon of cornstarch to the sugar as a thickening agent.
Can I make pumpkin pie the day before?
Pumpkin pie can be made a day ahead and tastes great cold. If desired you can warm up before serving. The crust is of course best the day of as the filling will dampen things up over time.
Steps to make Pie Dough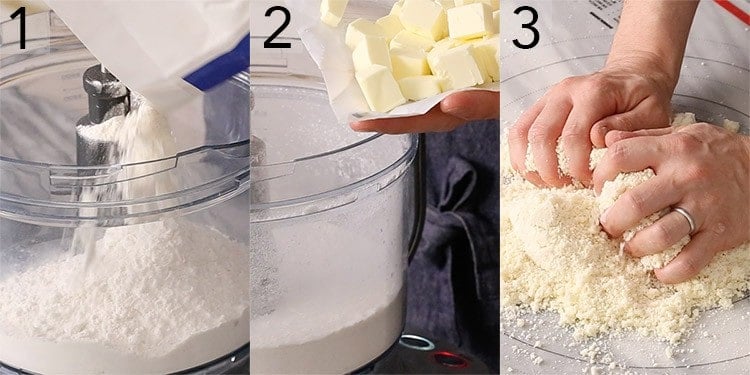 Start off by adding the all-purpose flour, sugar and salt in a food processor. Give it a few pulses before adding the butter.
Cut the COLD butter up into tablespoon sized pieces and add it to the flour mixture. Pulse a few times until the butter is in pea-sized clumps. In a small bowl mix together the ice water and vodka. Drizzle the mixture into the processor while pulsing. If you can squeeze the dough into a clump that stays together it's done. If not, add in another tablespoon of ice water. P.S. The vodka will bake off so don't worry about adding it in!
Transfer the dough onto a pastry mat or another floured surface and knead 2 to 3 times just to help it come together a bit. Gently flatten the dough into a one-inch thick disk and cover it in plastic wrap or a ziplock bag, then place it in the fridge to chill for about 30 minutes to an hour.
No Food Processor?
Making pie dough by hand without a food processor is really easy though!
Freeze your butter.
Mix the dry ingredients in a large bowl.
Grate the frozen butter into the dry ingredients, tossing as you go to avoid a big clump.
Drizzle in the ice water and mix with a set of knifes, forks, or a biscuit cutter.
Knead together a few times, wrap up and chill at least 30 minutes.
Just a heads up, you will want to make this pastry crust at least 30 minutes in advance. If you're a pie making novice, OR want to know how to make it without a food processor head over to my Pie Crust Recipe post. It has a full how to video on making the PERFECT pie crust every time.
How to Make a Pumpkin Pie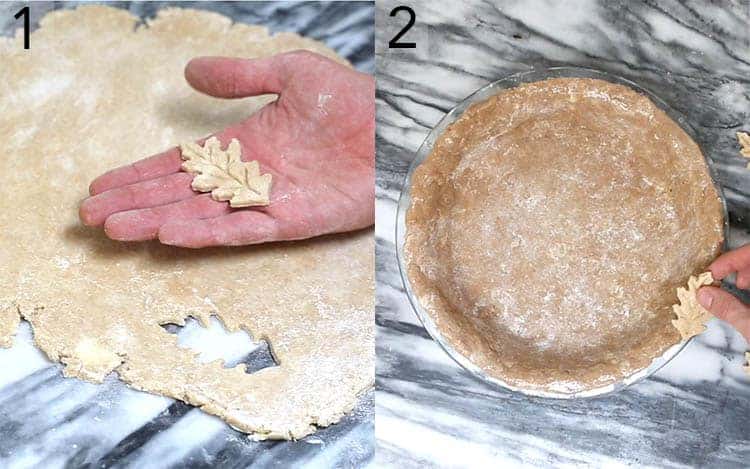 1. Roll out your prepared pie dough to about a quarter of an inch. Transfer dough to pie dish and trim the edge. Leave an inch of overhang if you're making a traditional pinched edge. If you're making a decorative edge cut the components out and set aside. I used a leaf stamp, which you can purchase here.
2. Brush the edge with an egg wash and place the leaves in an overlapping circle. If you're doing a traditional pinched edge then fold the edge under itself and create a crimped look with your fingers.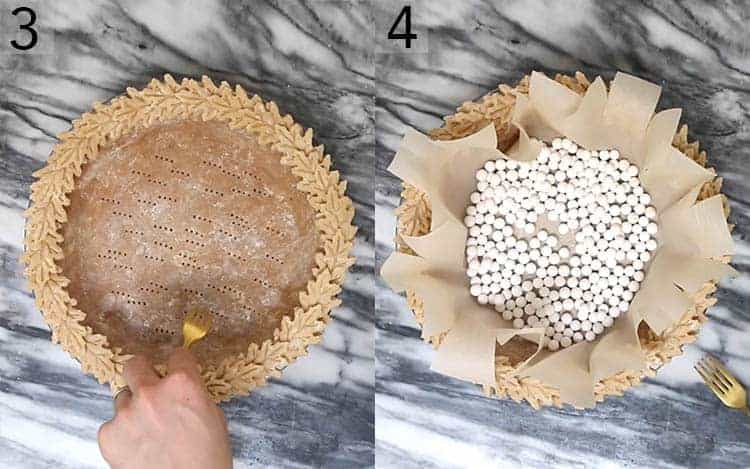 3. Use a fork to dock your prepared crust. The wholes will help steam escape.
4. Cut a circle of parchment paper and cut the edge to create frills. Place paper in pie shell and fill with pie weights of dried beans. Adding a layer of foil between the weights and paper like I do in the recipe video helps support the crust and keep it from sagging during the blind bake.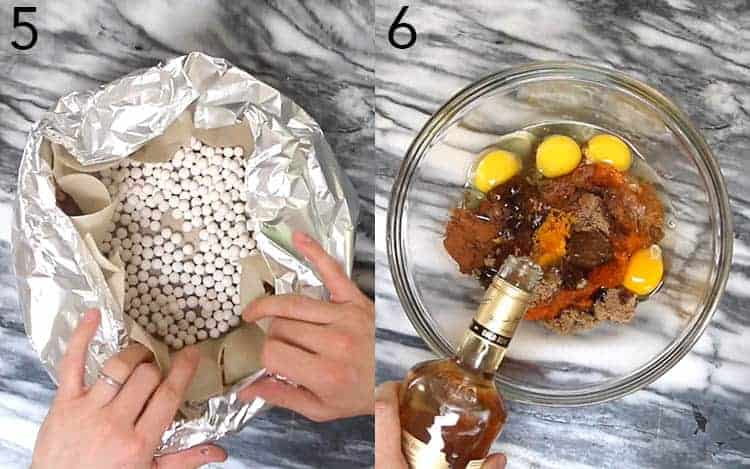 6. Fold a length of foil slightly longer than the circumference of your pie in half. Carefully wrap around the edge of the pie and fold in a bit to protect the pie from burning. Bake at 425F for about 10 minutes then remove the paper and weights, re dock if needed and bake another 5-10 minutes.
6. Add all the ingredients for the filling in a big bowl.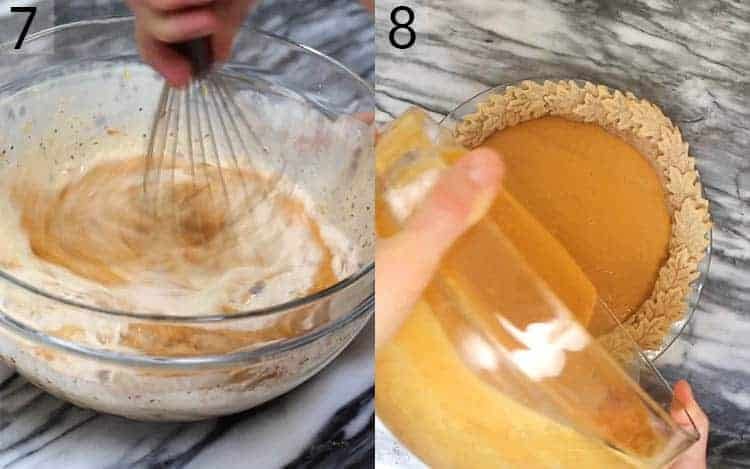 7. Whisk the filling together then transfer to a pot on medium low. Stir constantly and heat until warmed.
8. Pour warmed filling into pie dish. Brush edge with an egg wash and tent the edge with foil again. Place on a baking sheet and bake at 350F until center is set. Remove foil after 30 minutes so crust browns.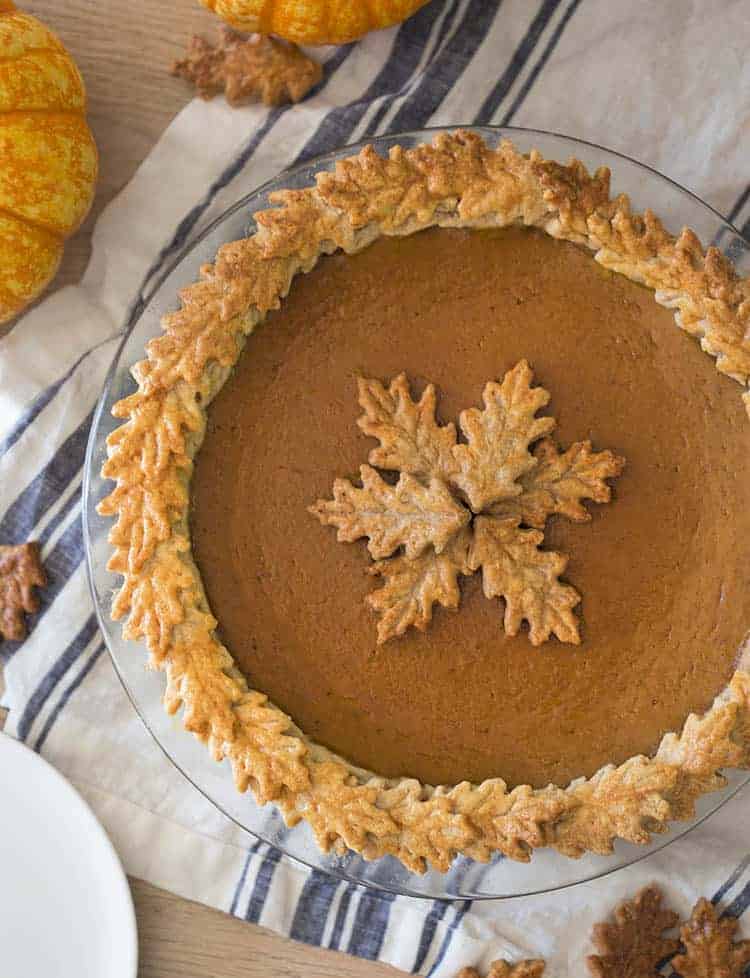 Pro Tips for the BEST Pumpkin Pie
An egg wash is KEY to a crisp crust, it creates a barrier between the crust and filling, which prevents it from getting soggy.
Try warming the pie filling in a pot over medium low heat before adding to the pie shell. Make sure to stir constantly. Doing this will help the pie bake faster and more evenly.
Feel free to adjust the spice profile and alcohol type/level to your liking.
If you've tried this pumpkin pie recipe then don't forget to rate the recipe and let me know how you got on in the comments below, I love hearing from you!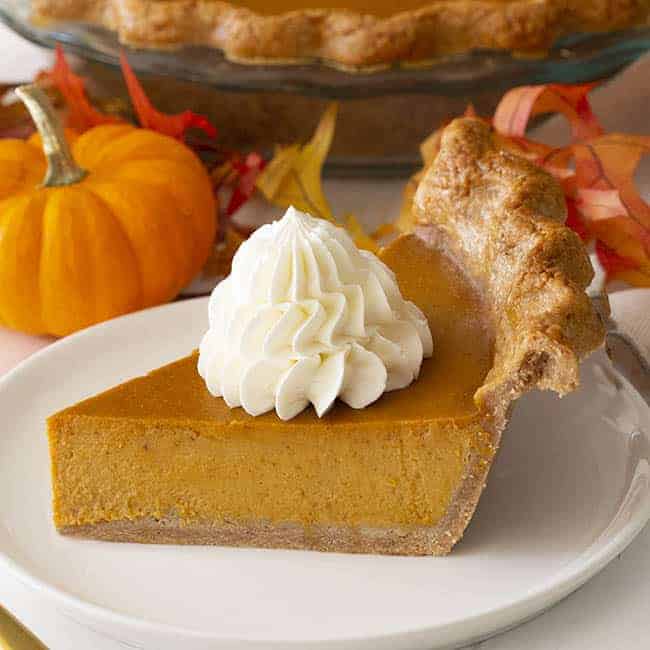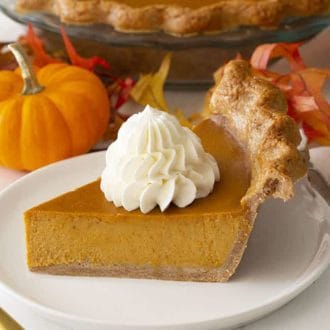 Print
Pumpkin Pie Recipe
A delicious and smooth pumpkin pie with a touch of rum, a hint of orange and all the Fall spices.
Ingredients
For the Pie Crust:
2 1/2

cups

flour

plus more for rolling

4

tbs

granulated sugar

1/2

tsp

sea salt

16

tbs

unsalted butter

chilled

4

tbs

ice water

2

tsp

cinnamon

1

tsp

all-spice

1/2

tsp

ginger

1

egg

for the egg wash
For the Filling:
1

can

pumpkin puree

not pie filling

½

cup

brown sugar

Light, packed

¼

cup

granulated sugar

½

tsp

ground cinnamon

¼

tsp

ground ginger

¼

tsp

ground nutmeg

½

tsp

kosher salt

2

tsp

grated orange zest

3

extra-large eggs lightly beaten

1

cup

heavy cream

1/2

cup

whole milk

2

tbs

dark rum such as Mount Gay
Instructions
For the Pie Crust:
Preheat the oven to 425 degrees.

In a large bowl, combine flour, sugar and salt. Add in spices. Whisk together. Grate in chilled butter and drizzle in ice cold water. Mix using a fork.

Roll into a ball. Wrap in plastic and refrigerate for 30 minutes.

Cut the dough in half, set one half to the side. With a rolling pin, flatten out on a well-floured board, into a circle at least 1 inch larger than the pie pan, rolling from the center to the edge, turning and flouring the dough so it doesn't stick to the board. (You should see bits of butter in the dough.) Fold the dough in half, ease it into the pie pan without stretching at all and unfold to fit the pan.

With a small sharp paring knife, cut the dough 1 inch larger around than the pan. Fold the edge under and crimp the edge with either your fingers or the tines of a fork.
For the Leaves:
Roll out the remaining dough to a thickness of approximately 1/4 an inch onto a well-floured board. Press leaf cookie cutter into dough to create cut outs. You can also use a small knife to cut leaf shapes out or make a stencil of card paper to use as a guide if you would like a more uniform set of leaves. Cut 6-8 extra leaves and bake separately so you can arrange them on the center of the pie after baking.

Using an egg wash (one egg beaten with tbsp water), attach leaves to the perimeter of the crust, overlapping to create a wreath look.

Line pie pan with the unbaked pie crust and place it on a sheet pan. Line the crust with parchment paper. Fill the paper three-quarters full with the beans and bake the crust for 10 minutes. Remove the beans and paper (save the beans for another time), prick the crust all over, including the sides, with the tines of a fork, and bake for another 5 minutes and remove from oven.

Reduce the oven temperature to 350 degrees.
For the Filling:
In a large bowl, whisk together the pumpkin, brown sugar, granulated sugar, cinnamon, ginger, nutmeg, salt, orange zest, eggs, cream, milk, and rum.

Pour the filling into the baked pie shell.

Bake for 55 to 65 minutes, until the filling is just set in the middle and knife inserted in the center comes out clean.

Set aside to cool completely.

Place extra leaves on the center of the pie and serve with whipped cream.
Video
Notes
You can easily make the pie dough in a food processor with a few pulses but making it the old fashioned way is pretty fun, just a little messy.
Try warming the pie filling in a saucepan before adding to the pie shell.
Feel free to adjust the spice profile and alcohol type/level to your liking. 
Nutrition
Serving:
1
slice
|
Calories:
285
kcal
|
Carbohydrates:
42
g
|
Protein:
5
g
|
Fat:
13
g
|
Saturated Fat:
3
g
|
Cholesterol:
35
mg
|
Sodium:
280
mg
|
Potassium:
222
mg
|
Fiber:
2
g
|
Sugar:
24
g
|
Vitamin A:
4550
IU
|
Calcium:
80
mg
|
Iron:
1.1
mg
*
Nutrition Disclaimer
SaveSave