What could be better than a fresh — out of the oven — apple pie? Almost nothing. I've always wanted to make a fancier crust and I finally did! I ordered a few neat pastry stamps and was ready to give it a go. How do you think it came out?
Print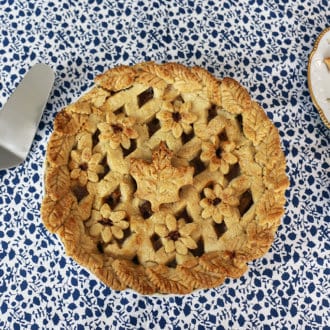 Apple Pie
A creative take on a classic.
Ingredients
For the Filling:
2

tbs

freshly squeezed lemon juice

3

lb

baking apples like Golden Delicious

Cortland, or Mutsu

2/3

cup

sugar

plus more for sprinkling on the pie

1/4

cup

unsalted butter

1/4

tsp

ground cinnamon

Generous pinch of ground nutmeg

1

large egg

lightly beaten
For the Pie Crust:
12

tbs

Very cold, unsalted butter

1 1/2 sticks

3

cups

all-purpose flour

1

tbs

sugar

1

tsp

kosher salt

1/3

cup

very cold vegetable shortening

such as Crisco

1/2

cup

ice water: you will use less.
Instructions
INSTRUCTIONS:
Preheat oven to 350 F.

Peel, core and slice your apples, then toss with the lemon juice.

Add the sugar and toss to combine evenly.

In a large skillet, melt the butter over medium-high heat. Add the apples, and cook, stirring, until the sugar dissolves and the mixture begins to simmer, about 2 minutes. Cover, reduce heat to medium-low, and cook until the apples soften and release most of their juices, about 7 minutes.

In a medium bowl, toss the apples with the reduced juice and spices. Set aside to cool completely.

Roll your chilled pastry dough out onto a mat then transfer to some plastic wrap. You don't want it to stick and all of that butter melts fast!

This is the cool pie crust stamp I bought to get a perfect but easy lattice top.

Press the stamp firmly onto your pastry round.

Flip it upside-down to make sure all of the diamonds are cut through.

Now add your filling to the dish. I chilled mine so it wouldn't melt the pastry dough.

Now align the stamp over your dish, release and trim the edges.

This looks OK but we can definitely do better.

Good thing I have these leave stamps 🙂

A few flowers and I'm done.

There are a lot of thin details on the edge of this crust so you need to protect it with some foil before it goes into the oven. If you don't they will burn to a crisp...I added an egg wash and some cinnamon to the center of each folder to get some contrast.

Bake at 350 for approximately 45 minute or until crust is golden brown.
Nutrition Facts
Apple Pie
Amount Per Serving
Calories 183
* Percent Daily Values are based on a 2000 calorie diet.
Not bad for a first attempt… Serve with some ice cream and enjoy!