A well-made butter crust is one of my favorite things. It's just perfect with some lightly sweetened summer fruit or a decadent pecan filling. You can always add some spices like cinnamon, allspice and nutmeg to lend a holiday feeling or you can remove the sugar and add 1/4 teaspoon more of salt for a savory pie crust! Adding an egg yolk will harden the crust making it more durable but the tradeoff is the crispiness.
Print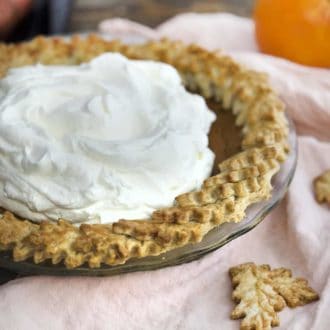 Classic Pastry Crust
My go to recipe of a classic flakey butter crust.
Ingredients
1 1/4

cups

pastry flour plus more for rolling

2

tbs

plus 1 tsp granulated sugar

1/4

tsp

sea salt

8

tbs

unsalted butter 1 stick

frozen

3-4

tbs

ice water

1

egg for the egg wash
Instructions
At least 30 minutes in advance, make the pastry crust.

Mix the 1 1/4 cups pastry flour, the sugar, and salt in a bowl.

Grate the butter into the flour mixture. As you go toss the flour and butter so large clumps don't form.

Add 4 tbs of the ice water (you can add more later if need be) and work the dough together for just a few moments more until it is smooth and cohesive.

Add another 1/2 to 1 tbs ice water if it's too dry or crumbly.

transfer dough onto a sheet of plastic wrap and knead 2-3 times just to help it come together a bit. Gently flatten into a one inch-thick disk, and cover in plastic wrap.

Place in the fridge to chill for about 30 minutes to an hour.

In a small bowl, lightly beat the egg.

Set it aside in the fridge until ready to use.

Roll our pie crust to about 1/4 of an inch and transfer to pie pan or baking sheet if making a galette. Bake time will depend on form and filling.
Nutrition Facts
Classic Pastry Crust
Amount Per Serving
Calories 480
* Percent Daily Values are based on a 2000 calorie diet.