A touch of bourbon and brown sugar never hurt anyone, especially when added to this tasty peach pie! All the amazing summer produce has me in a BAKING FRENZY (anyone else??)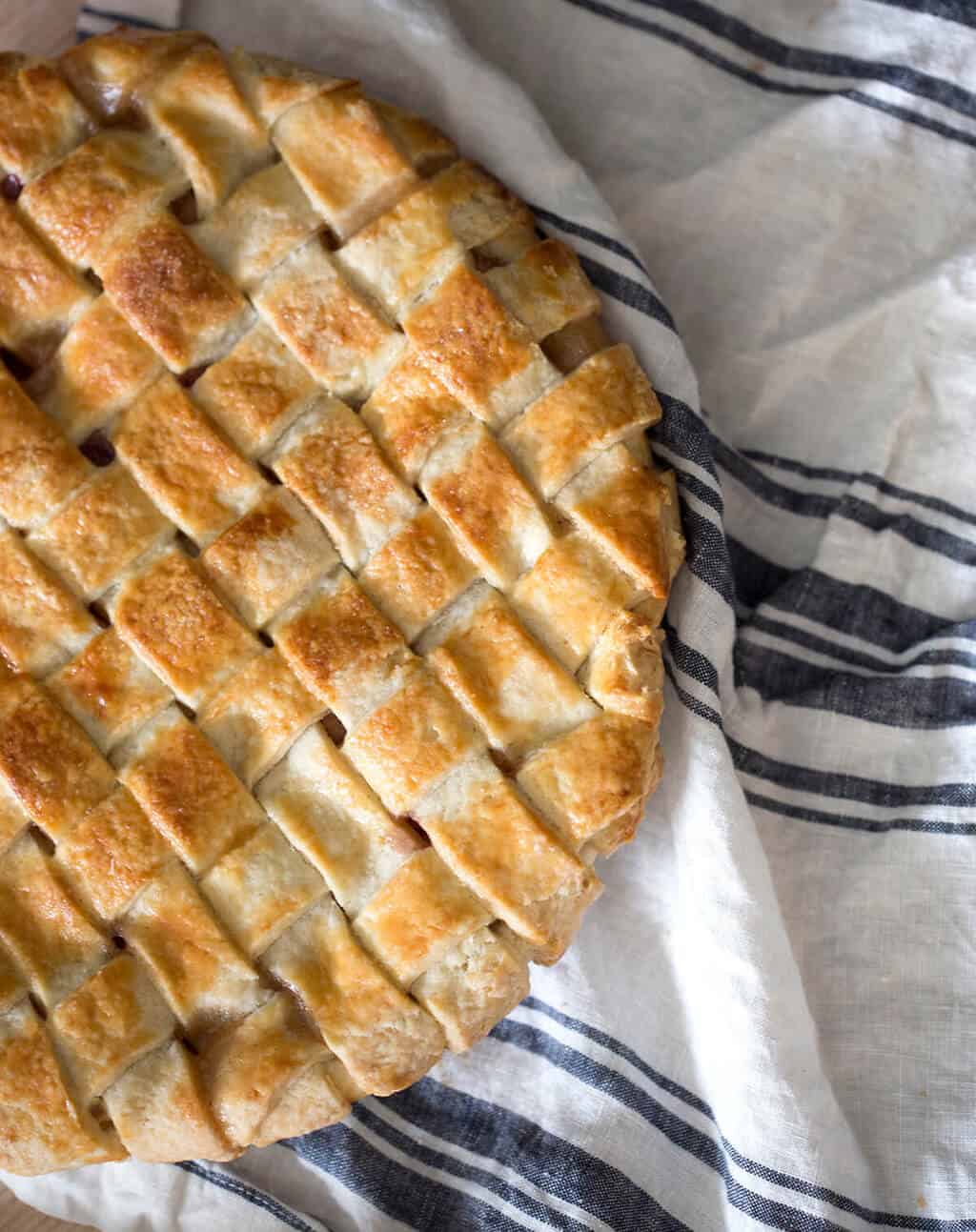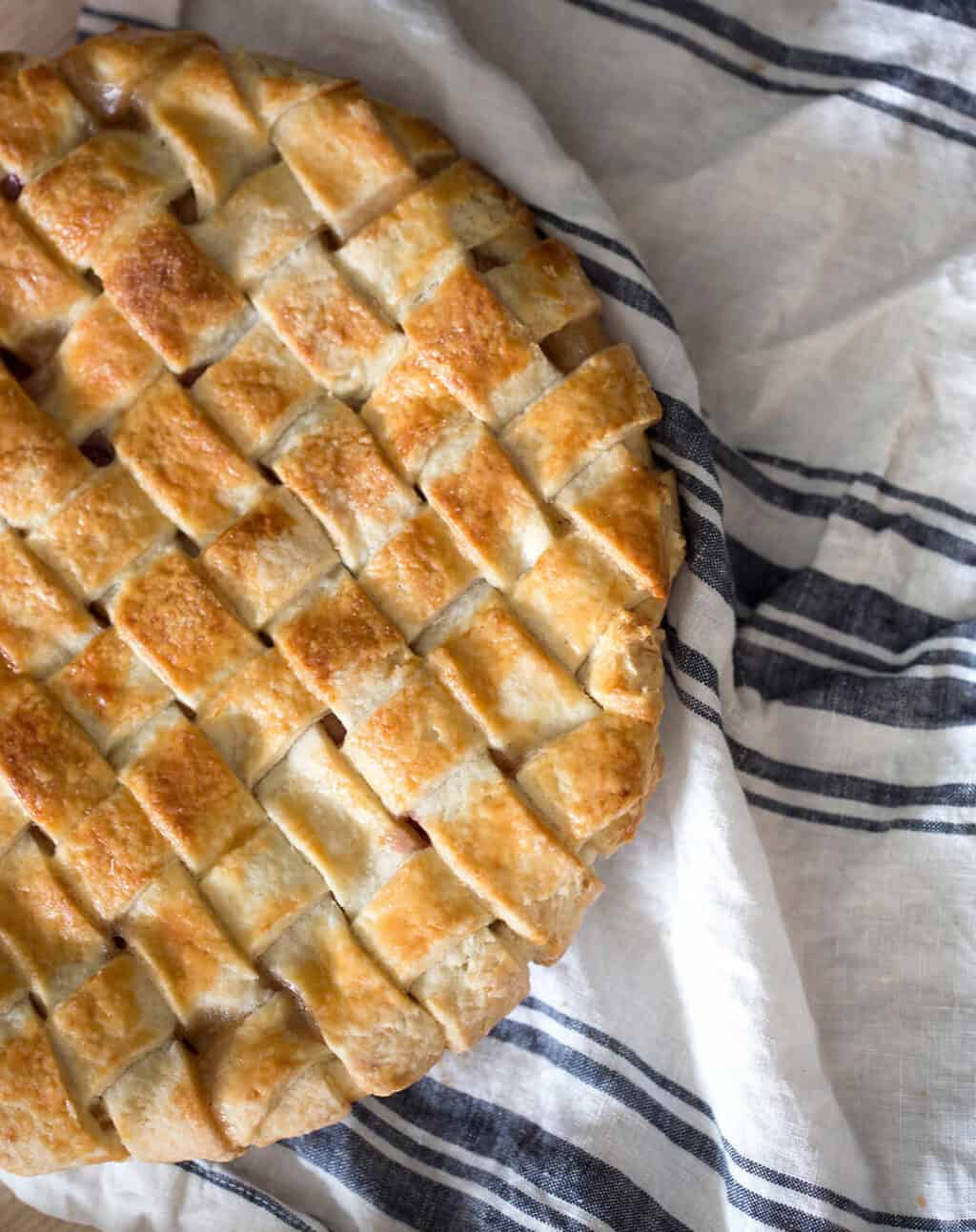 Real talk… I tried making a chevron pattern and then halfway through realized I have no idea how to do one! I ended up sticking with my trusty lattice top. Wait did I mention that I was making this pie on Facebook live when I totally failed? It was a bit embarrassing but it all worked out in the end!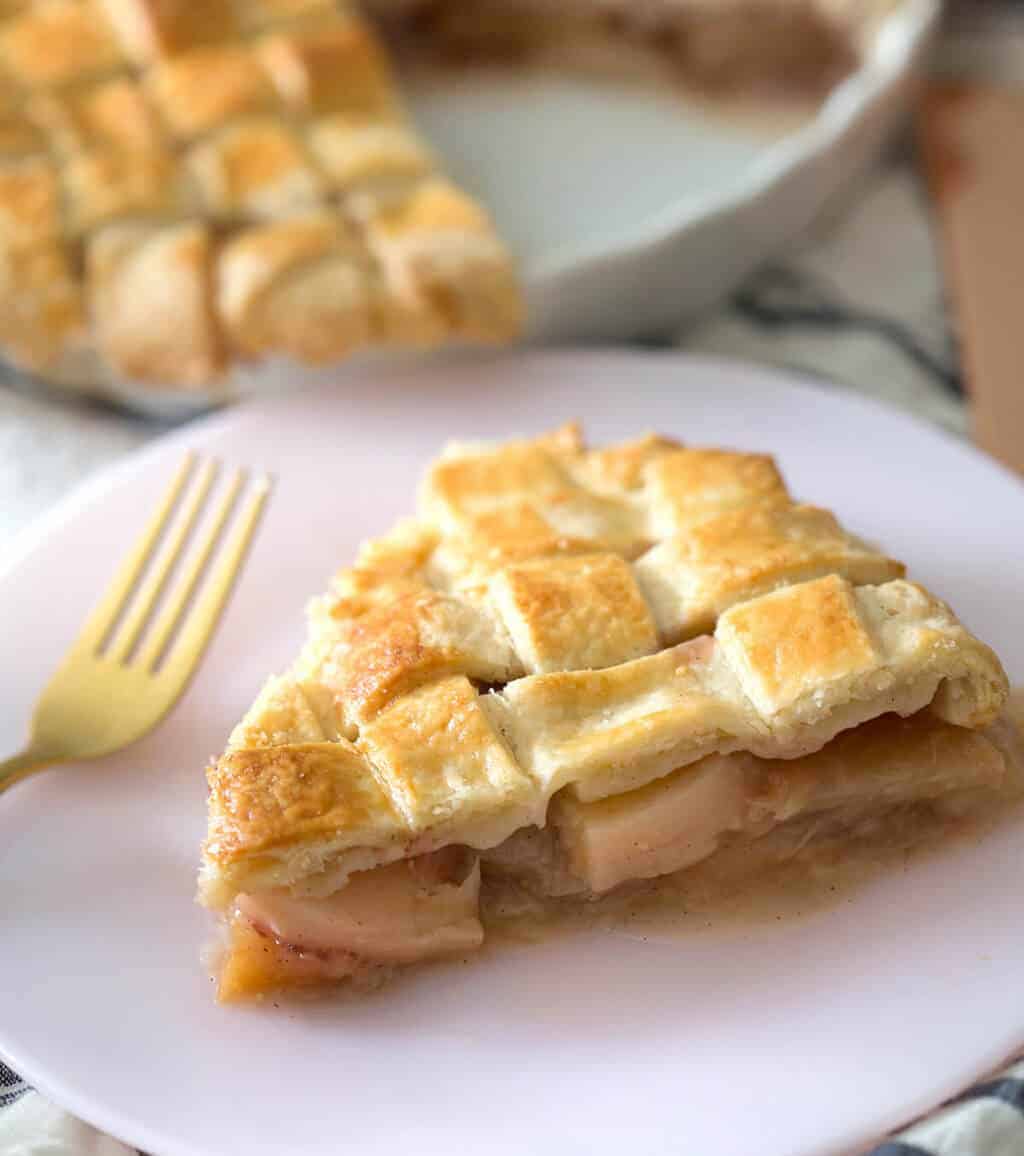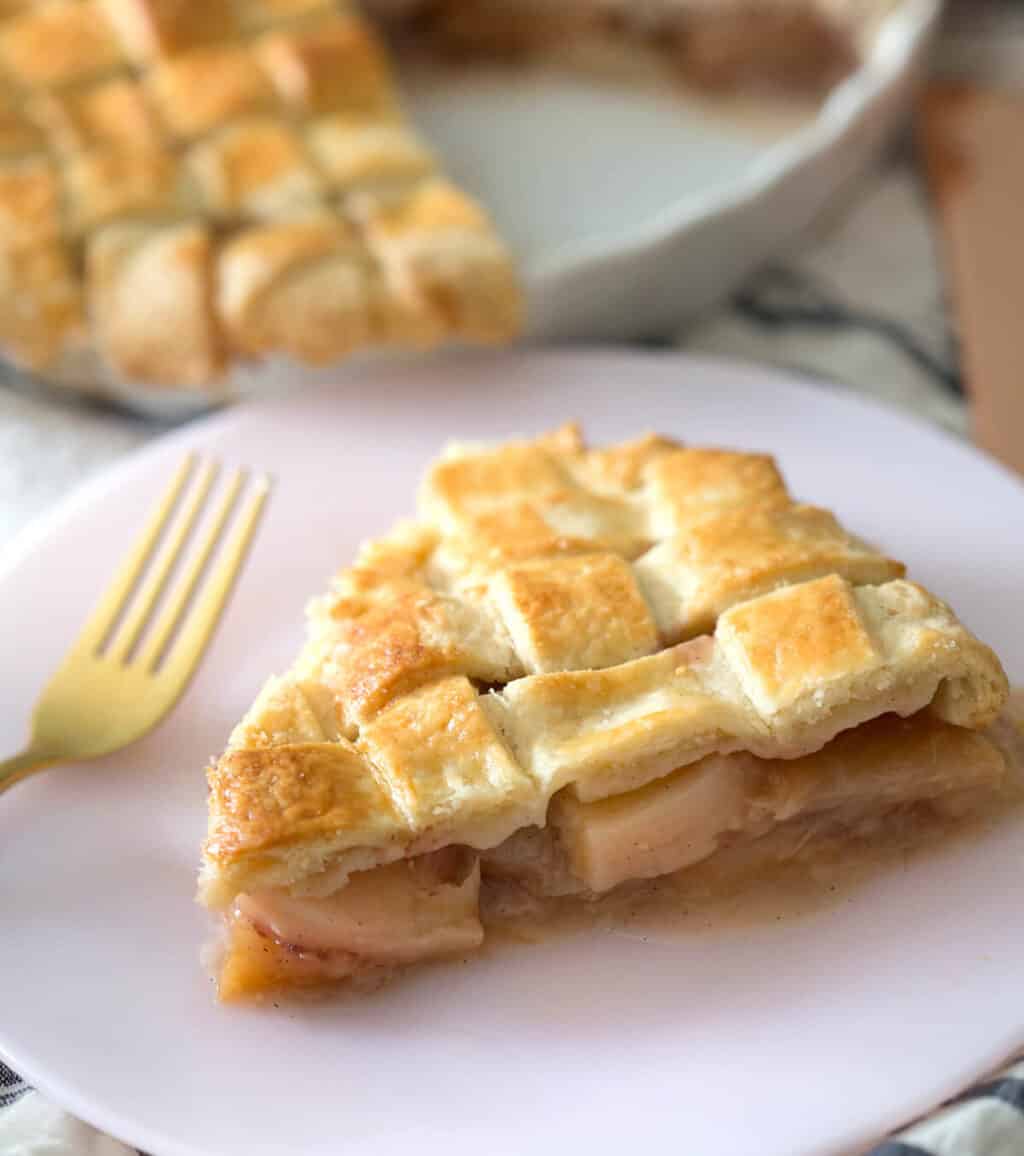 Important note! You HAVE to use really nice sweet peaches in this pie. It you get a bum batch of cardboard peached from the supermarket then your pie just won't be great no matter how much sugar you add to compensate.
Print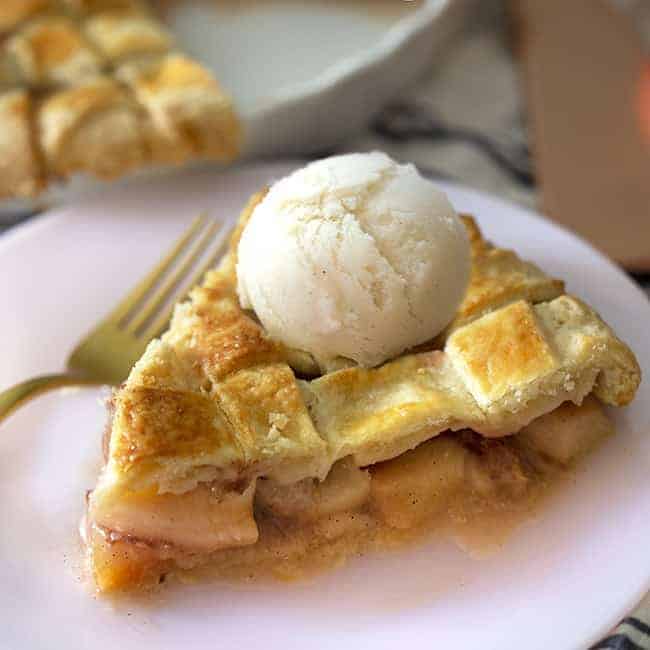 Peach Pie
Fresh summer peaches with a touch of bourbon in a flakey butter crust makes for a perfect pie.
Ingredients
Pastry Crust:
5

cups

All-purpose flour

plus more for rolling 600g

1/2

cup

granulated sugar

1

tsp

sea salt

2

cups

unsalted butter

chilled 452g

1/4

cup

vodka

6

tbsp

water

ice cold

1

egg

for the egg wash

1

tbsp

milk

for the egg wash
Filling:
4

lbs

peaches

1/4

cup

bourbon

1/3

cup

light brown sugar

1/2

tsp

cinnamon

1/4

tsp

cardamom

3

tsp

unsalted butter

room temperature

2

tbsp

lemon juice

3

tbsp

corn starch
Instructions
To Make the Crust:
At least 30 minutes in advance, make the pastry crust. You'll want to make two batches, one for the bottom and one for the lattice. Divide the ingredients in half or head over to my perfect pie crust post.

Add the 2 1/2 cups pastry flour, 1/4 cup sugar, and 1/4 tsp salt into a food processor. Give it a few pulses.

Cut 1 cup of COLD butter into tbsp size pieces. Transfer to food processor and pulse until the butter is cut into small lentil-sized clumps.

Mix 3 tbsp ice water and 2 tbsp vodka together in a small cup and slowly drizzle into processor while pulsing. If the mixture doesn't hold together when you squeezer a clump in your hand then add a bit more water and pulse. 

Transfer dough onto a pastry mat or sheet of plastic wrap and knead 2-3 times just to help it come together a bit. Gently flatten into a one inch-thick disk, and cover in plastic wrap. Place in the fridge to chill for about 30 minutes to an hour.

Repeat above steps for second batch.

In a small bowl, lightly beat the egg with an optional tablespoon of milk or cream

Set it aside in the fridge until ready to use.
For the Filling:
Boil the peaches for one minute to loosen the skins.

Allow time to cool. Cut into quarters. Remove pit and skin.

Place in a large bowl and toss with sugar, cornstarch, bourbon, lemon juice, spices and vanilla.

Break room temperature butter into teaspoon sized dollops and add to bowl.

Mix well to distribute ingredients.
For the Assembly
Roll out 1 disk of pie dough to about 2 inches larger in diameter than your pie pan. Press dough into pie pan and brush with egg wash.

Place fruit inside pie crust and trim edge of pie crust.

Roll the other disk out to about 1/4 inch thickness. Use a ruler to cut 1 inch strips. Arrange in a lattice pattern over the fruit filling. Brush with egg wash and sprinkle with sugar. I recommend tenting your piecrust to prevent your edges from burning. (Tenting is covering the edge of your pie in tin foil)

Bake for about 45 minutes at about 400 degrees.
Recipe Notes
You HAVE to use really nice sweet peaches in this pie. If you get a bum batch of cardboard peaches from the supermarket then your pie just won't be great no matter how much sugar you add to compensate.
Adding vodka to your ice water will help bring the dough together but won't toughen your crust by activating the gluten. The alchohol baked off so there's no need to worry about taste being impacted.
Try adding a teaspoon or two of cinnamon to the dry ingredients of your crust. You'll end up with a nice depth or flavor and beautiful color.
Give the egg wash a thorough mix for a nice even golden crust. Globs of egg whites will mar the look and texture.
TENT that crust during baking. You need to cover the edge with foil so it doesn't burn while you wait for the center to get nice and golden.
You can make this pie without a pastry bottom for all those people that only like the flakiest of pastry dough crusts. It will be difficult to keep that base crisp although I welcome your suggestions!
Nutrition Facts
Peach Pie
Amount Per Serving (1 piece)
Calories 250
Calories from Fat 99
% Daily Value*
Total Fat 11g 17%
Sodium 315mg 13%
Potassium 146mg 4%
Total Carbohydrates 38g 13%
Protein 2.2g 4%
* Percent Daily Values are based on a 2000 calorie diet.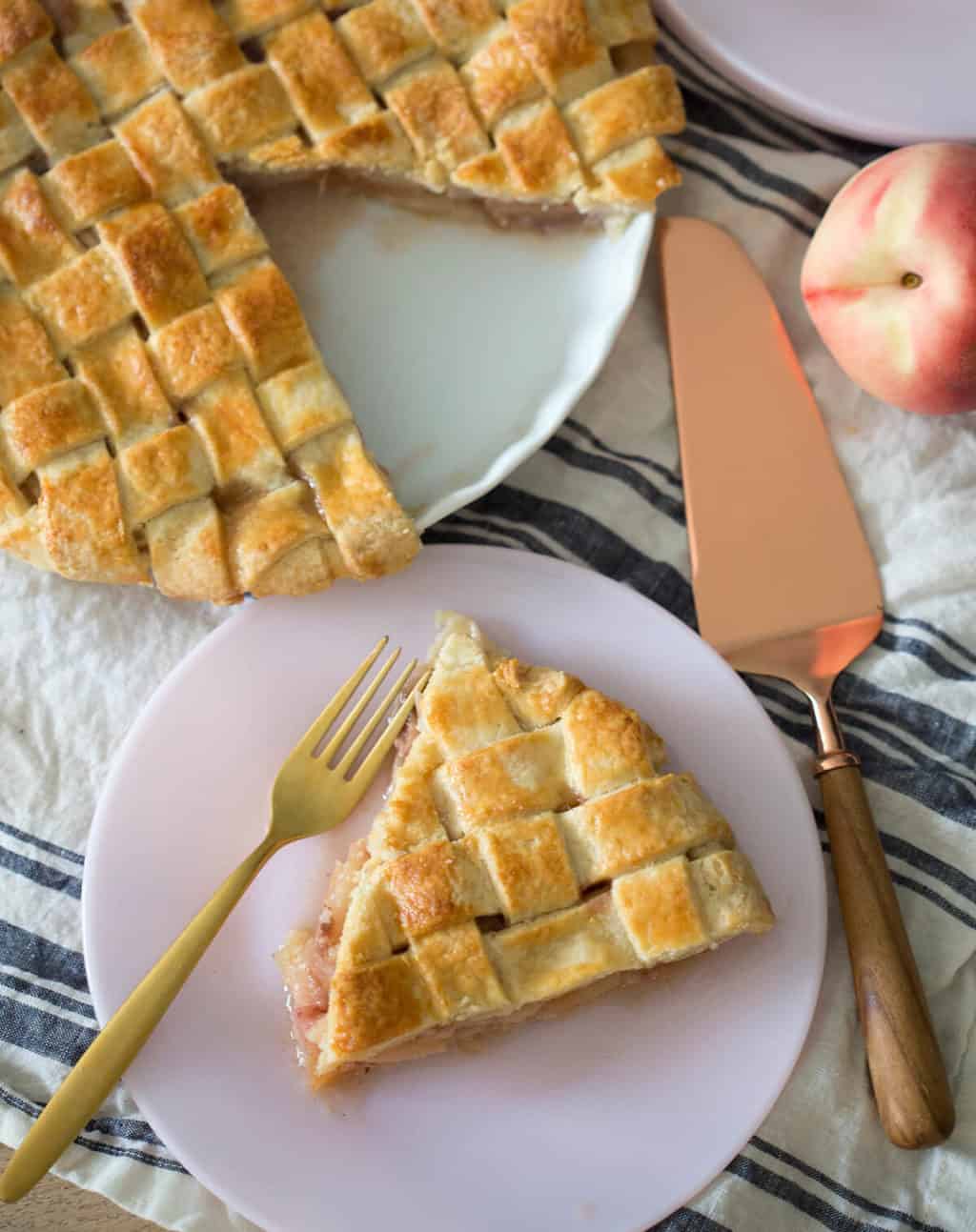 Hope you enjoy!