OK so sometimes I'm in a rush and decide that yes there's time to make a cake but it's going to be a naked cake decorated with beautiful fruit like my strawberry chocolate cake from a week or two ago. And sometimes you have the afternoon to yourself and you can really go all out with the cake decorating! I was lucky enough to have that time so I made this blush buttercream rose cake. I wanted to practice my rose piping since it had been so long and I don't want to get too rusty and I also wanted to experiment with a vanilla alternative for the buttercream recipe. I used a combination of orange blossom extract and a nice orange liquor as flavoring and WOW, I loved it. It has a subtle but very aromatic quality that really added an extra dimension to the cake. By the way the cake is flavored with orange zest and juice but you could sub in a vanilla batter and be very happy!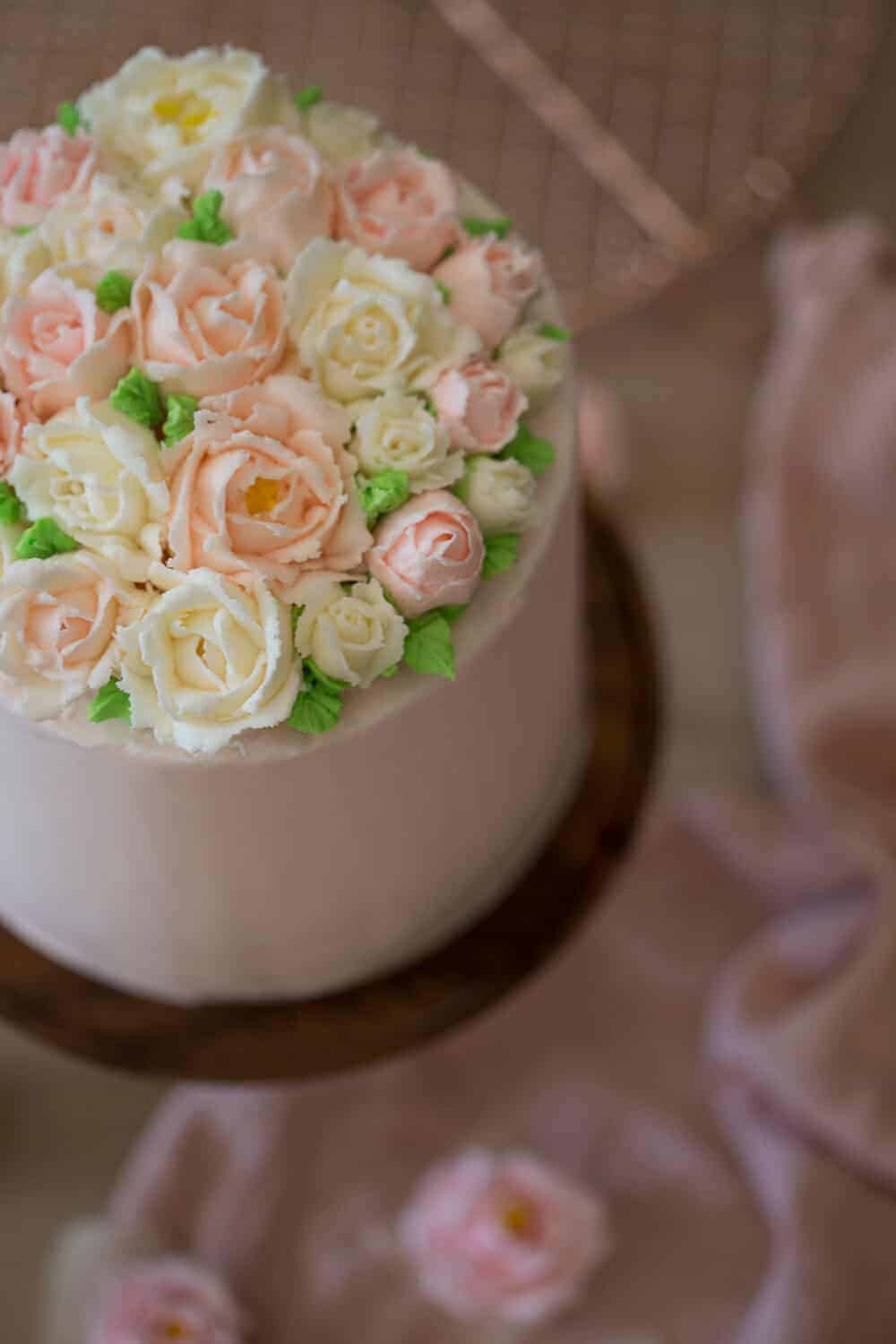 I want to give you some tips for piping roses. Fist off, don't be intimidated! If you mess up then just scoop the mistake back into the piping bag and keep at it! Don't add too much cream (or any) to your buttercream; you get the best results from a stiff mixture, no one wants a melty rose… Before you pipe a rose make a cone of very thick buttercream as a base for the flower, this gives you the height needed for a realistic rose. Materials needed are piping bags (strong ones!) Petal tips (127 or 125 work well for me), a leaf tip 68, small round tip for centers if more open flowers, parchment squares, pair of scissors and a piping nail or turntable to work on.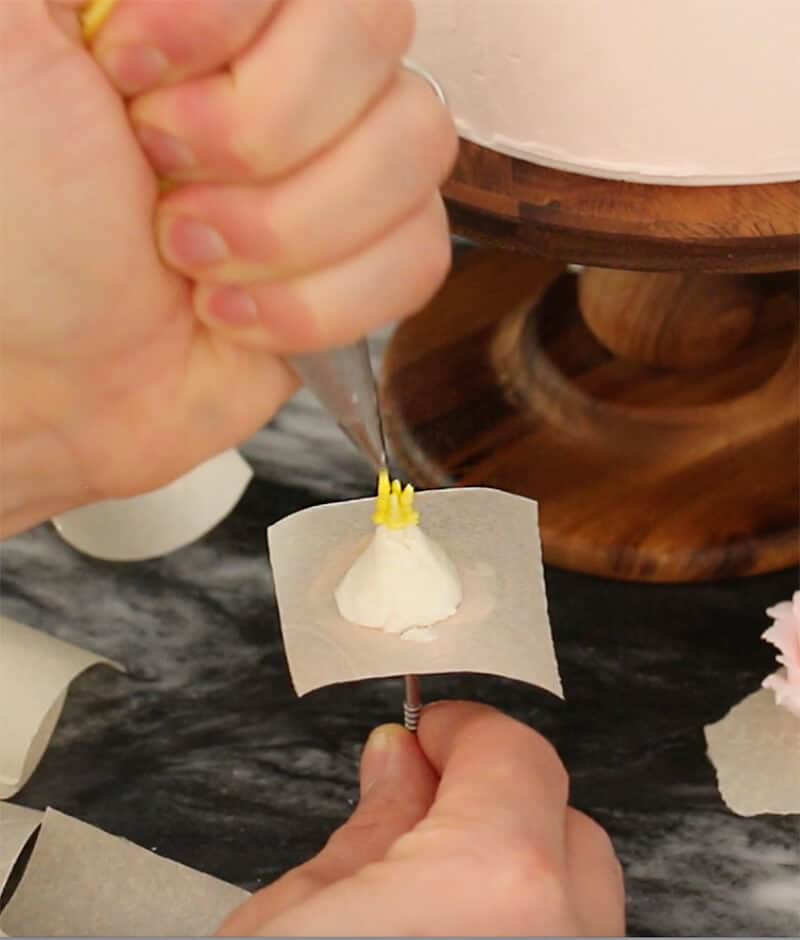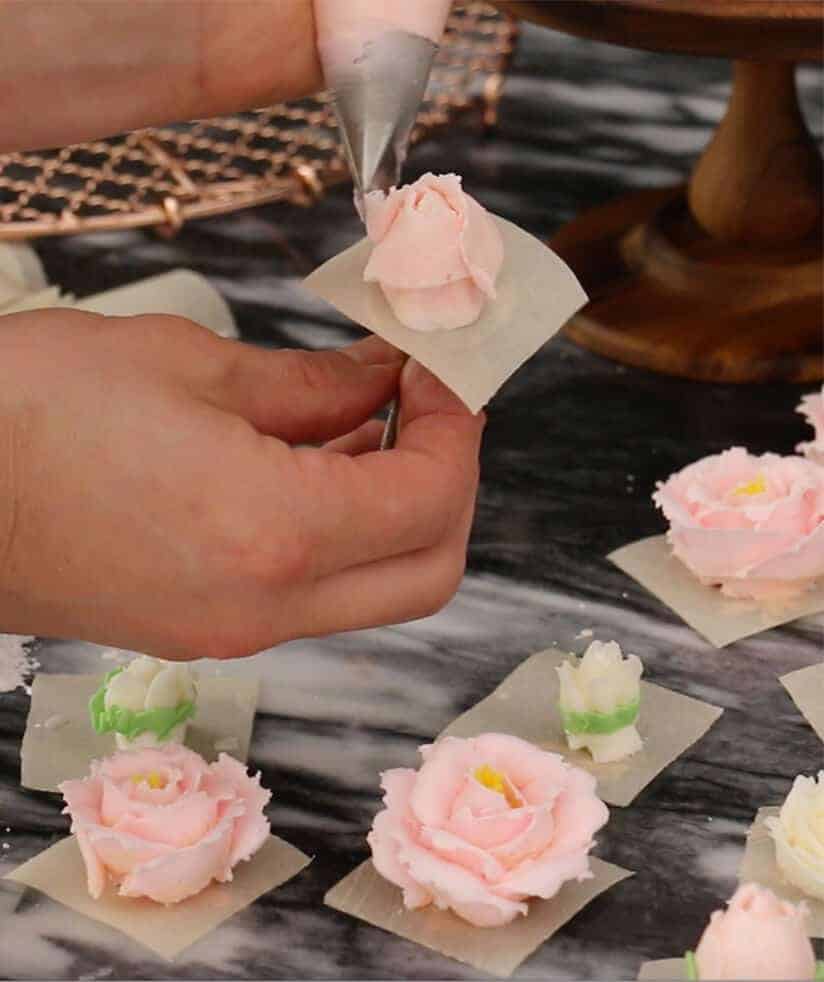 On the left you can see me piping some stamens onto the cone I've made as a base. If you don't use this cone your flowers will be very flat and not have the depth needed to look like a rose. If you're piping a chrysanthemum or daisy then you totally don't need a base FYI On the right you can see me piping a more closed rose bud. To place the flowers you just use a pair of clean scissors to cut the bottom from the parchment paper and place onto the cake.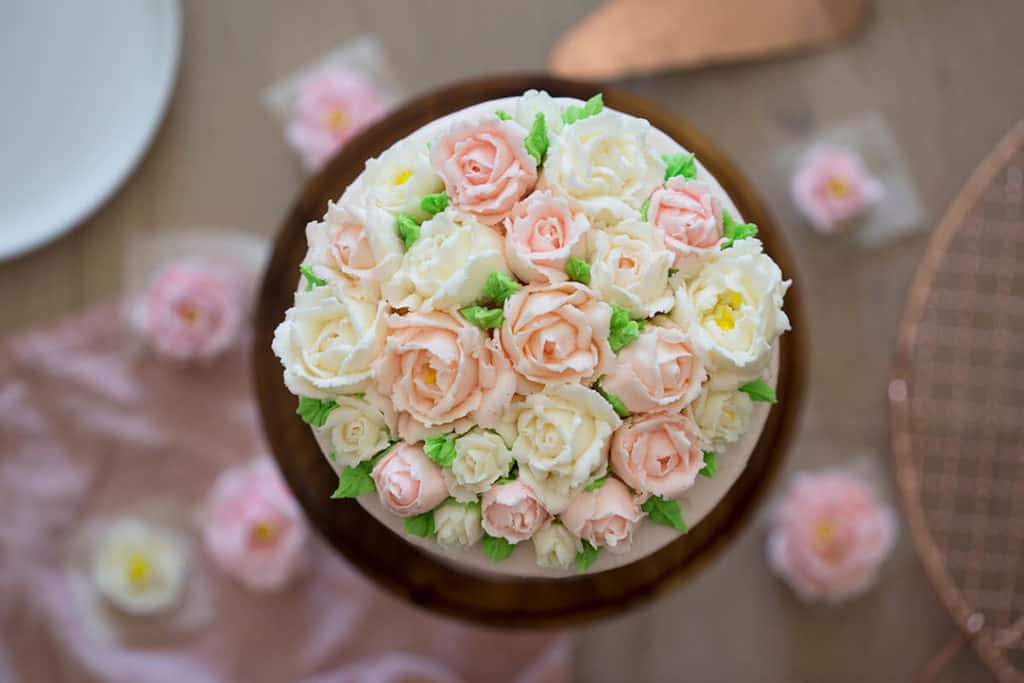 Using a few different colors of buttercream always adds to the realism and in this case less is more! Use just a tiny bit of color for each batch ro get a more natural pink. I literally just wipe the opening of my food coloring onto the buttercream, I don't squeeze a drop out.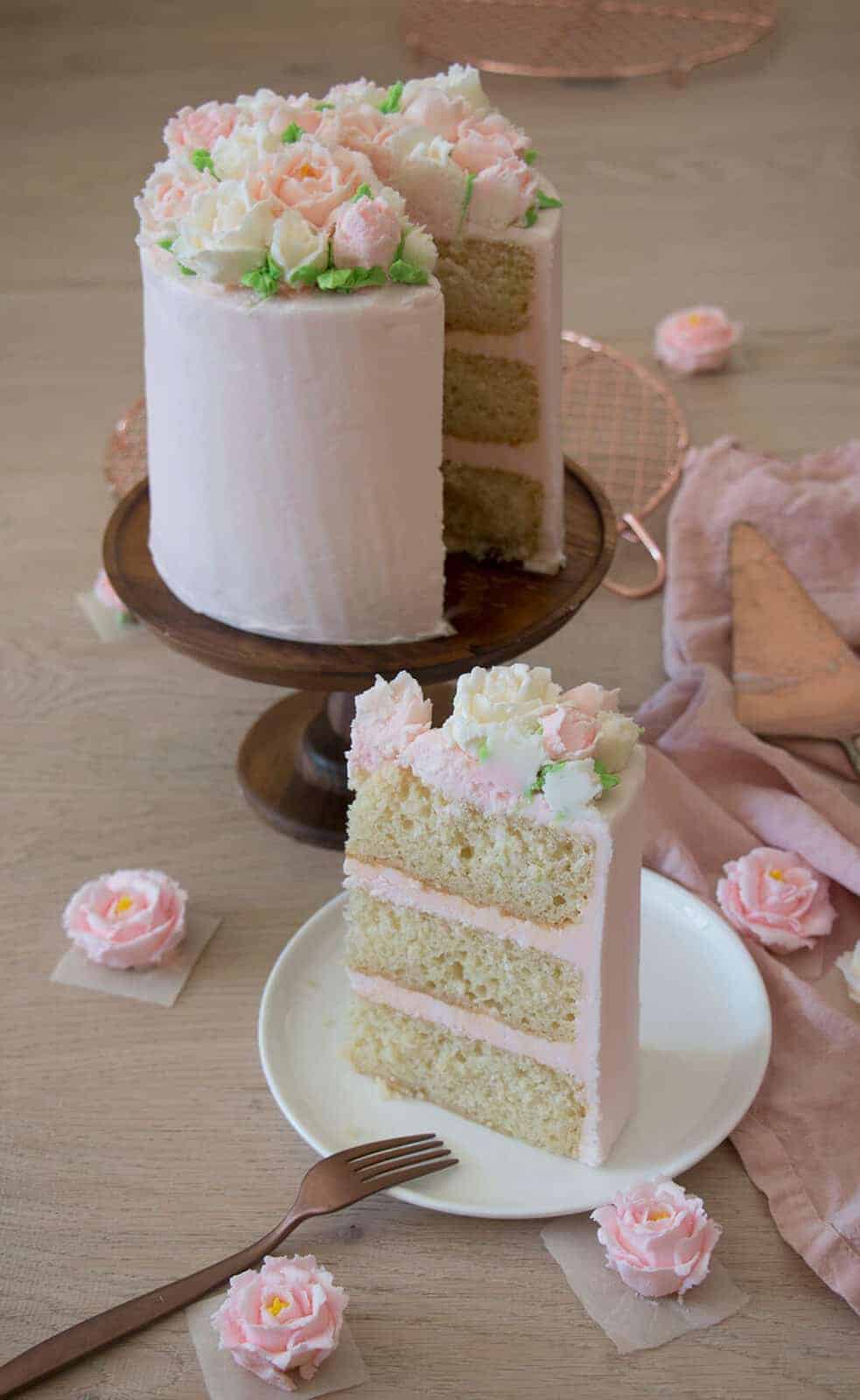 Hope you enjoy and if you have any questions ask away!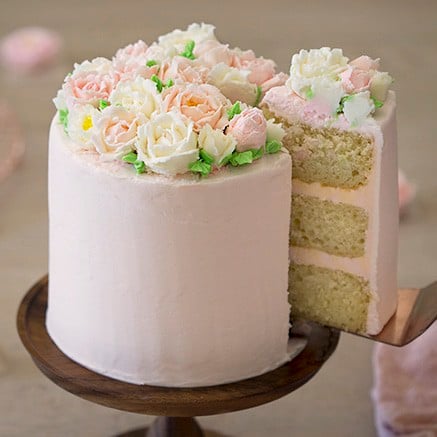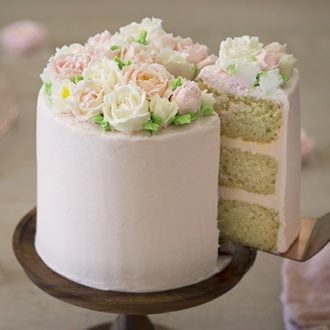 Print
Buttercream Rose cake
A moist layer cake with a hint of orange covered in a buttercream flavored with orange liqueur and orange blossom water. Buttercream roses elevate this cake visually making it appropriate for nearly any occasion!
Ingredients
For the Cake:
2 1/4

cup

all-purpose flour

101/8 oz.

2 1/2

tsp

baking powder

1

tsp

salt

1/3

cup

salted butter

1/3

cup

sour cream

4

tsp

grated orange zest

from about 2 large oranges

1 1/2

cup

sugar

3

large

eggs

1

cup

strained fresh orange juice

you can add the juice of a lemon if you'd like some more zing
For the Buttercream:
2

cup

unsalted butter room temperature

2

lb

sifted confectioner sugar

1

tbs

orange blossom extract

4

tbs

orange liqueur

2

pinch of salt

Food Coloring

Green, Pink, Orange
Instructions
For the Cake:
Preheat the oven to 350°F. Butter and flour three 6-inch cake pans.

Sift together the flour, baking powder, and salt.

Cream together the butter, sour cream, and orange zest.

Slowly add the sugar, mixing until the mixture is light and fluffy. Scrape down the sides of the bowl. Add the eggs, one at a time, mixing well between additions and scraping down the sides.

Add the sifted dry ingredients alternately with the orange juice to the creamed mixture, beating well on low speed after each addition. Pour equal amounts of the batter into the 3 prepared cake pans. (I also use cake strips on my pans for more even baking.) Bake until a toothpick inserted in the middle comes out clean, about 22 min. Cool the cake layers in the pans for 10 min. and then loosen the layers by running a knife between the cake and the edge of the pan. Remove the layers from the pans and put them on a rack to continue cooling.



For the Buttercream:
Beat the butter until light and fluffy, add the sugar a cup at a time and beat well. Add all other ingredients in. Beat.

Reserve 1/3 of the buttercream for the roses.

Color the remaining 2/3 light pink using less than a drop of soft, pink food coloring.

Divide the buttercream for the roses into several batches. One will be green for the leaves; one will be white; one will be yellow (for the stamens); and two different color pink batches.

Separate the buttercream into 3 equal batches and color two of the batches with pink food coloring in different shades.

For the Roses:
Attach a 126 tip to a piping bag and fill the bag with both colors of buttercream.

Use a spatula to create a cone of buttercream on the cupcake.

Pipe a cone onto the cupcake. (sharp side of tip facing up)

Create the rose by making small arcs with the tip, which gradually increase in size as you get toward the edge of the flower.

Pipe the leaves with a leaf tip.
Notes
ALWAYS sift your sugar. Any lumps will clog your tip.

Storing your flowers in the fridge will make them easier to handle when it's time to apply them to your cake/cupcake.

Add food coloring a little at a time with a toothpick for maximum control.
Nutrition
Serving:
79
g
|
Calories:
330
kcal
|
Carbohydrates:
39
g
|
Protein:
3
g
|
Fat:
17
g
|
Saturated Fat:
5
g
|
Trans Fat:
2.5
g
|
Cholesterol:
40
mg
|
Sodium:
250
mg
|
Sugar:
31
g
|
Vitamin A:
200
IU
|
Calcium:
40
mg
|
Iron:
0.7
mg
*
Nutrition Disclaimer
How to Make a Buttercream Rose Cake
How to Make a Buttercream Rose Cake
Making a buttercream rose cake is easier than you thing. Full recipe and how to on the blog!