So this cake is my first post-twins baking experience. Did I mention that my husband and I had twin boys in May?? For all the parents who have ever commented on a cake and said "I wish I had the time" I finally get it! I thought I was being slick by making a simply decorated cake but it still took me much longer than expected.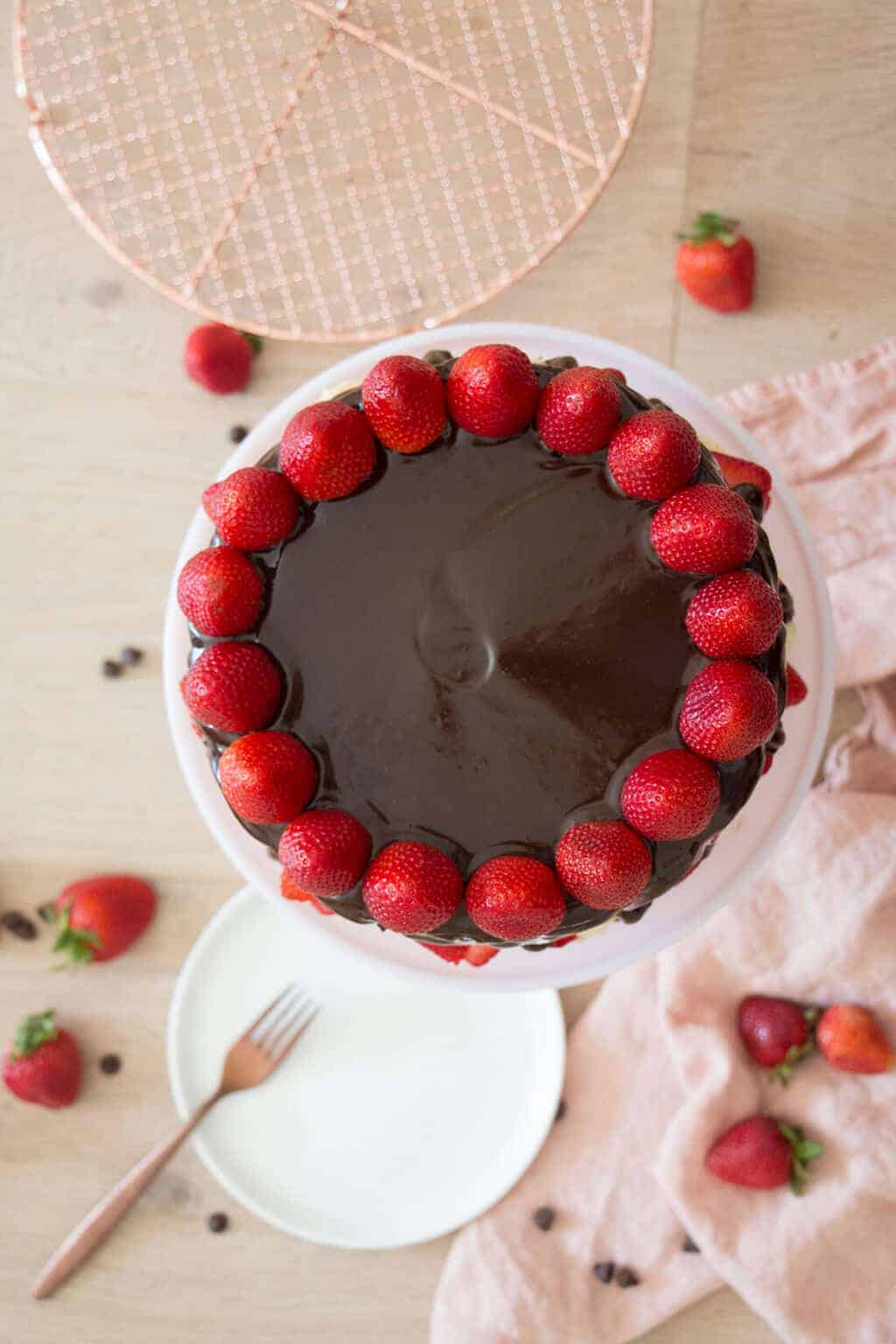 But back to business, this cake is a new recipe and it's probably my favorite chocolate cake ever! It's one of those batters where you wonder how it's going to magically become a cake after some time in the oven because it's so liquidy. So moist and tender, I can't even tell you with words how good it was. I paired the cake with lots of fresh strawberries suspended in a mascarpone buttercream and topped with a rich chocolate ganache. Heaven. You could make any kind of buttercream and it would still be amazing though, I'm not sure how many of you have mascarpone cheese at your local grocery store! If I was making a sheet cake version of this (for ultimate ease) I would pile with whipped cream, drizzle ganache and top with tons of strawberries. You can't use whipped cream for the filling of a layer cake though as it isn't sturdy enough to handle the weight, just FYI.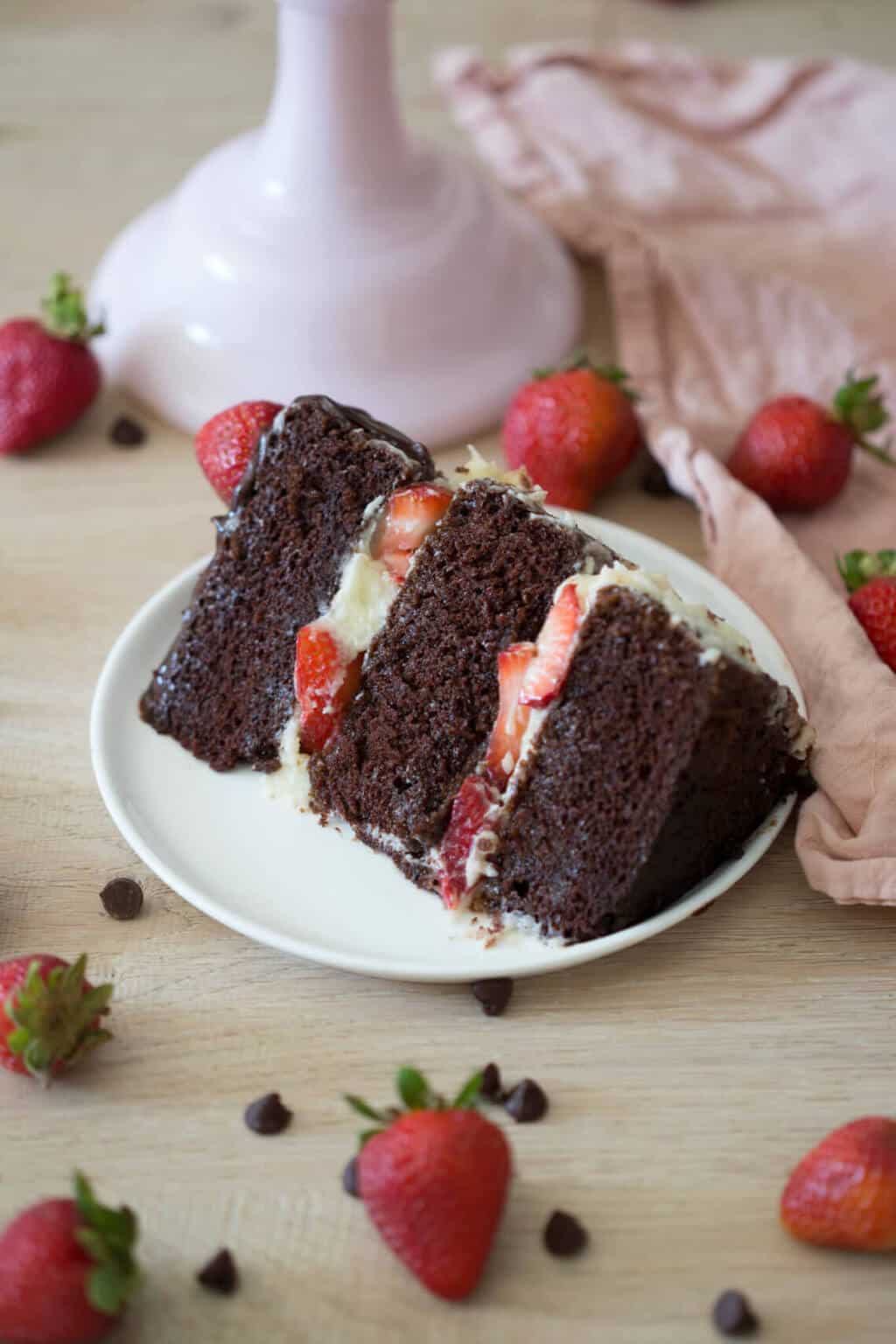 By the way; this cake was GROANING under the weight of three layers. I'd actually recommend using some internal support if you try making this at home as the strawberries are a bit slippery inside the cake. Or you could make a two layer cake and a batch of cupcakes!
Chocolate Strawberry Cake
The most tender chocolate cake imaginable with fresh strawberries and a light vanilla mascarpone buttercream.
Ingredients
For the Cake
1/2

cup

sour cream

1

cup

buttermilk

3

eggs

large

1 1/2

cups

strong hot coffee

I use a moka pot so it's basically espresso

3/4

cup

vegetable oil

1

tbsp

vanilla extract

3

cups

all-purpose flour

2 2/3

cups

granulated sugar

1/2

cup

cocoa powder

1 1/2

tsp

baking powder

1

tbsp

baking soda

1

tsp

kosher salt
For the Filling
3/4

cup

unsalted butter

room temperature

1

lb

confectioners' sugar

8

oz

mascarpone

room temperature

1

tbsp

heavy cream

plus more if needed
For the Ganache
1

cup

heavy cream

1

cup

semi-sweet chocolate
Strawberries!
4

cups

strawberries hulled and sliced

16

strawberries with leaves removed

approximately
Instructions
For the Cake
Butter and flour 3 nine inch cake pans. I highly recommend using cake strips for a more even bake.


Sift together the dry ingredients (including the sugar) into the bowl of a stand mixer and whisk to combine.

Add the wet ingredients into a large bowl and whisk together.

Add the wet ingredients the dry ingredients. Whisk to combine then mix on level 2 for two minutes.

Distribute batter evenly to the three pans and bake for about 35 minutes at 350F or until a toothpick inserted in the center comes out clean. I recommend rotating the pans half way through the bake.

Allow to cool for 10 minutes then invert onto wire racks to cool fully.
For the Filling
Cream the butter until it lightens and changes texture, at least 5 minutes. Beat in the confectioners' sugar and pour in a tablespoon of cream. Add the mascarpone cheese and beat JUST until combined. If you over-beat the texture will loose it's silkiness.

For the Ganache
Scald the cream and pour over the semi-sweet chocolate chips. Cover and let sit for two minutes, then whisk until smooth.
Chocolate Strawberry Cake
This is probably my favorite chocolate cake ever! It's one of those batters where you wonder how it's going to magically become a cake after some time in the oven because it's so liquidy. So moist and…