Craving an indulgent treat I decided to make a batch of my super-rich, chocolate cupcakes filled them with creamy, chocolate ganache. They're topped with a very healthy dollop of Italian buttercream and flavored with a fresh raspberry reduction. What more could you want?
What is Italian Meringue Buttercream?
Italian buttercream is a creamy, dreamy intoxicating affair made by whipping egg whites, pouring in a hot sugar syrup and then adding in some butter. It's much lighter than American buttercream and less sweet!

A Few Things to Keep in Mind
It's important to use room temperature egg whites and butter. Monitor the temperature of your sugar syrup — add your pieces of butter slowly — and let your buttercream sit. You'll need to give it a quick whip to bring it back to life. I know it's a bit finicky BUT this buttercream adds a silky, not too sweet, touch to your cakes. It also pipes beautifully!
Common Problems: If your buttercream is "soupy," just pop it into the fridge for a couple of minutes, then beat it. It should thicken up. I find consistency problems arise mostly from the meringue being too warm when the butter is added. Chilling it will help improve the consistency.
If you're adding flavorings (i.e. chocolate, fruit, etc). to your Italian buttercream, I suggest doing this as the very last step.
Storage: This recipe will make a bit more buttercream than you need but it can be packed in a plastic bag and refrigerated for two weeks. Just If you're not using your buttercream IMMEDIATELY — and it will be sitting for a few minutes — then just keep in mind that you will have to give it a short whip to "bring it back to life" as it loses its consistency quickly. If you want to make the buttercream ahead of time, it can be refrigerated for a few days. Once you're ready to use it, allow it come to room temperature and give it a short "whip."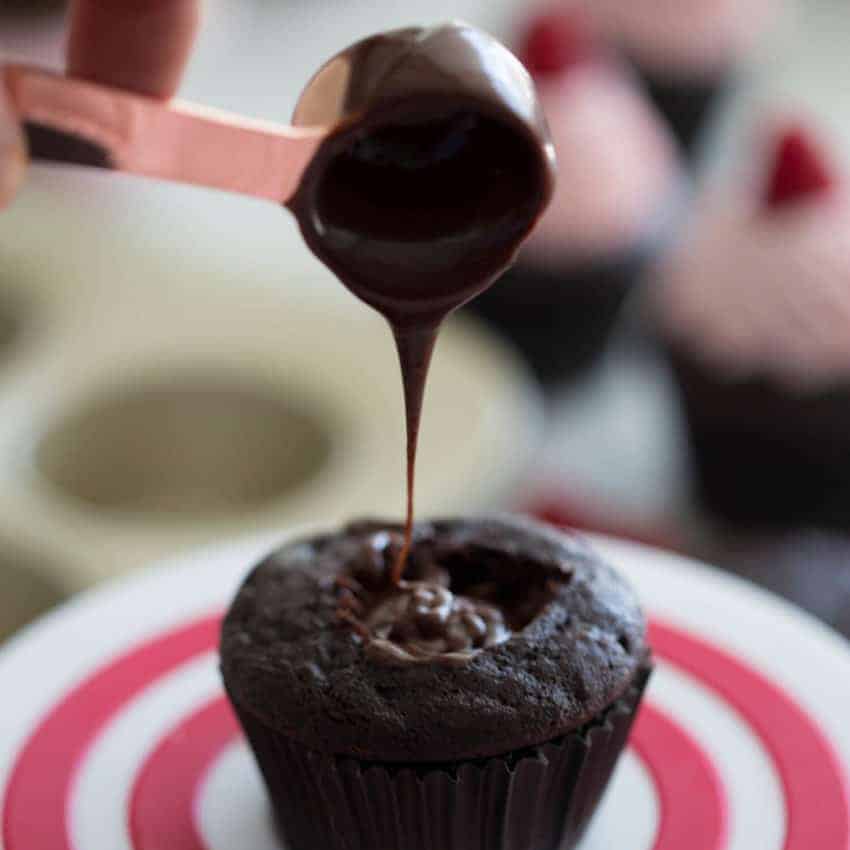 A tablespoon of ganache goes a LONG way. As an alternative you could also add some of the raspberry reduction or some home made vanilla pudding! And if the filling leaks out there's nothing wrong with a drizzle of chocolate poking out to let people know there's a molten center waiting to be eaten!
For the Decorating
I love using a large open star 869 tip for this type of decorating. The jumbo-sized opening really lets you pump out a lot of buttercream! To get the look of this cupcake just twist the cupcake in one direction then another while you pipe.
Top with a raspberry and you're done!
If you've tried these cupcakes then don't forget to rate the recipe and let me know how you got on in the comments below, I love hearing from you!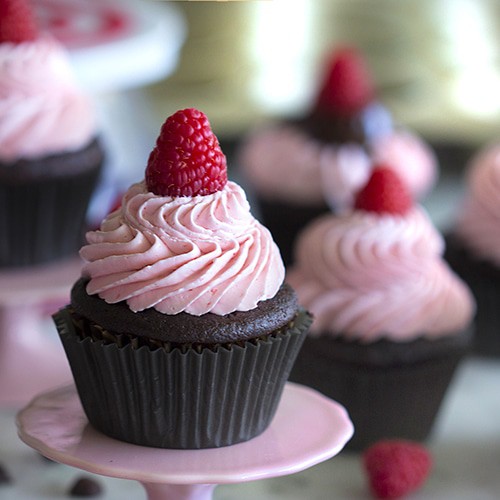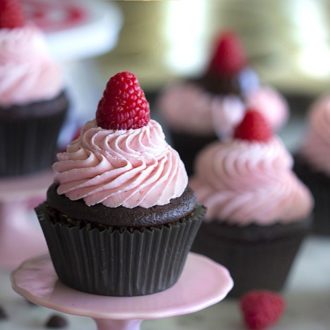 Print
Chocolate Raspberry Cupcakes
RIch chocolate cupcakes filled with an indulgent ganache and topped with Italian buttercream flavored with a raspberry reduction.
Ingredients
For the Cupcakes
1 1/3

cup

all-purpose flour

3/4

cup

unsweetened cocoa

1/8

tsp

salt

2

tsp

baking powder

1/4

tsp

baking soda

1 1/2

cup

sugar

8

tbsp

(1 stick) unsalted butter

room temperature

2

large eggs

1/3

cup

sour cream

1

cup

milk

3/4

tsp

vanilla extract
For the Chocolate Ganache
1

cup

semisweet chocolate

chopped finely

1 1/4

cup

cream
For the Raspberry Reduction
6

oz

raspberries

2

tbsp

sugar

juice of 1/2 lemon

1

tbsp

water
For the Buttercream
4

large egg whites

room temperature

1 1/2

cup

sugar

divided

1/3

cup

water

1/8

tsp

salt

16

oz

unsalted butter

room temperature
Instructions
In a large bowl whisk together the flour, cocoa, salt, baking powder and baking soda.

Cream the butter and sugar together in a medium bowl. Add the eggs one at a time making sure to mix thouroughly. Mix in the sour cream, vanilla and milk.

While mixing on low speed add the wet ingredients to teh dry and mix until just combined.

Scoop the batter into cupcake papers filling 2/3 the way up.

Bake at 350 for 20-25 minutes or until the centers are springy to the touch.
For the Reduction
Place the ingredients in a small sauce pan on medium low heat.

Mash the berries with the back of a spoon or muddler and stir occasionally.

You want to reduce the amount of liquid, intensify the flavor, and thicken the liquid so aim to cook until the mixture is reduced at least by half.

Strain the reduction and set aside to cool.
For the Buttercream
Beat the egg whites, salt, and 1/3 cup of sugar until soft peaks form. At the same time in a medium saucepan add the remaining sugar and 1/3 cup water and place on medium-high heat. Stir until sugar melts and becomes clear. Maintain a medium high heat until temperature reads 235-240F.

Drizzle the sugar into the mixer (remembering the egg whites should be at the soft peak stage). Run mixer until meringue is body temperature. 10-15 minutes.

Add room temperature butter into running mixer one tablespoon at a time. Beat until butter is combined and mixture has reached a silky consistency

Mix in the cooled berry reduction and pipe onto cupcakes using an 869 tip.

Top with a whole raspberry.
Nutrition
Serving:
1
cupcake
|
Calories:
250
kcal
|
Carbohydrates:
35
g
|
Protein:
1
g
|
Fat:
12
g
|
Saturated Fat:
5
g
|
Cholesterol:
10
mg
|
Sodium:
144
mg
|
Fiber:
1
g
|
Sugar:
29
g
|
Calcium:
20
mg
|
Iron:
0.4
mg
*
Nutrition Disclaimer
If You Like This Recipe Try These Out!
The Best Most Delicious Moist Vanilla Cupcakes