This dessert has a lot going for it. The cake itself is a super-fluffy and has a wonderful lemon flavor while the strawberry filling packs a ton of flavor into each bite. Surrounding it all like a beautiful dream is an every so dreamy Swiss buttercream! My husband and I ate WAY too much of this cake so try and find a couple people to share with if you give the recipe a go!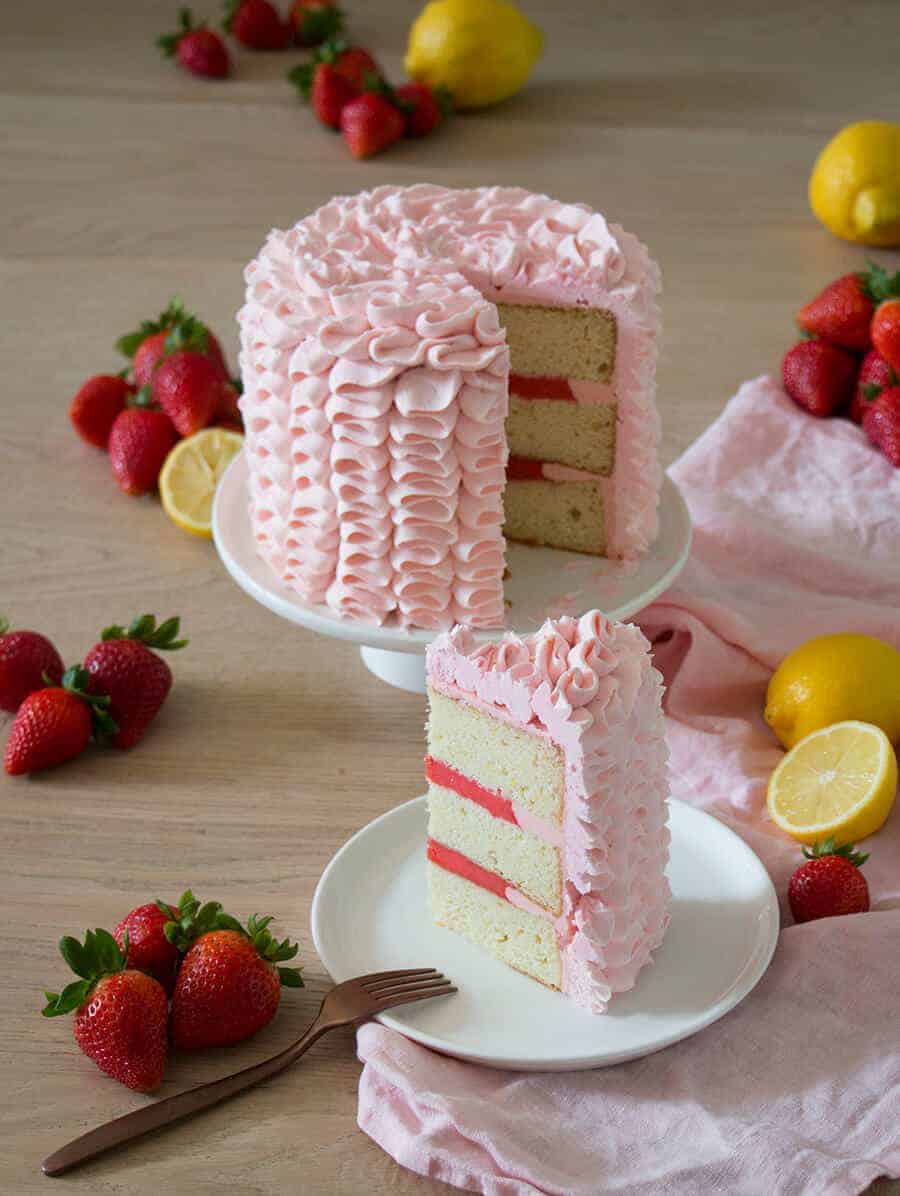 Strawberry Lemonade Cake
A sweet and tart cake that had wonderful notes of lemon and strawberry paired with an oh so creamy Swiss buttercream.
Ingredients
For the Cake
1

cup

butter

softened

1 3/4

cups

granulated sugar

4

large eggs

separated

3

cups

cake flour

1

tablespoon

baking powder

1/8

teaspoon

table salt

1

cup

milk

2

tablespoon

lemon zest

1/4

cup

fresh lemon juice
For the Filling
2

cups

coarsely chopped fresh strawberries

1/2

cup

sugar

1/4

cup

fresh lemon juice

2 1/2

tablespoons

cornstarch
For the Swiss Buttercream
5

egg whites at room temperature

1 ¾

cups

unsalted butter at room temperature

1 ½

cups

granulated sugar

1

pinch sea salt

1

tsp

vanilla extract
Instructions
For the Filling
Blend the strawberries to liquify then press juice through a strainer into a small pot and mix in the sugar. Reserve 3 tablespoons of the liquid to flavor the buttercream.

In a small bowl mix together the corn starch and lemon juice then add to the pot. Set to medium heat and bring to a boil while whisking constantly. Boil for one minute then remove from heat.

Transfer to a bowl, cover surface with plastic and refrigerate until cool.
For the Cake
Preheat oven to 350F. Butter and flour three 9" pans (I also use cake strips for the baking.)

Beat butter until creamed then add sugar and beat until light and fluffy. Add the egg yolks one at a time while beating.

Whisk the flour salt and baking powder together in a large bowl.

Add the flour mixture and milk to the butter in three alternating batches then stir in the lemon zest and juice.

In a separate bowl beat the egg whites until stiff peaks form. Carefully stir in a third of the egg whites into the batter then fold in the remaining egg whites.

Distribute the batter evenly to the pans then bake at 350F or until the centers are done.
For the buttercream
Add egg whites, sugar and salt in a bowl.

Give the mixture a brief whisk.

Place the bowl over a pan of simmering water. Make sure the water does not touch the bowl.

Whisk the egg whites occasionally while it warms up. When the mixture has warmed, whisk it constantly. You will heat the mixture until it reaches an internal temperature of 160ºF

Transfer the bowl to a stand mixer with a paddle attachment.

While the mixture is running on low, add tablespoon sized dollops of room temperature butter making sure to let the butter incorporate before you add the next piece. Add the strawberry reduction reserved from making the filling and beat to incorporate.
Recipe Notes
Recipe adapted from Southern Living
If you make this cake with a crumb coat as I did in the video try whipping up a batch of strawberry buttercream. It's more stable than Swiss buttercream and really easy to make.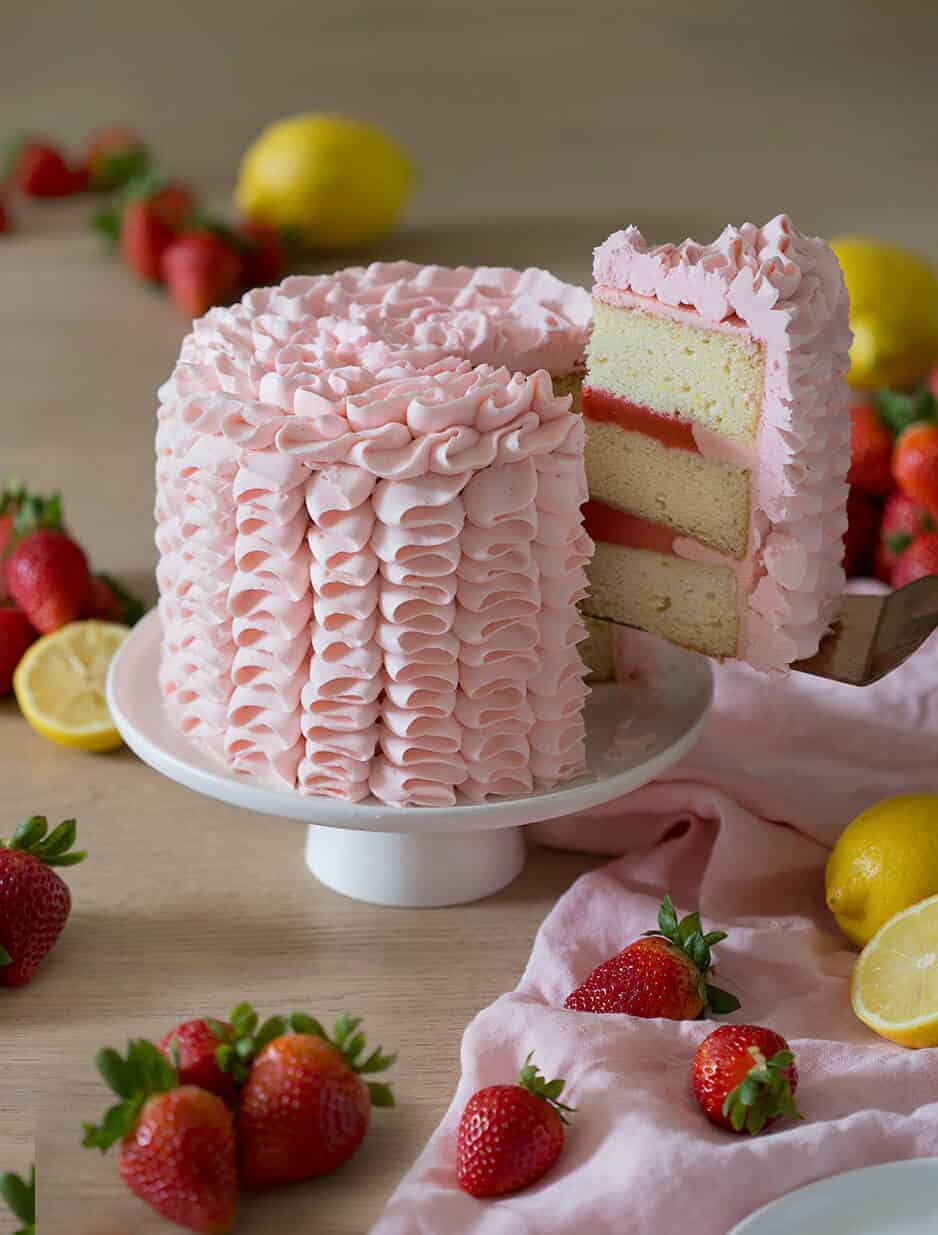 How to Make Strawberry Lemonade Cake
How to Make Strawberry Lemonade Cake
Strawberry Lemonade Cake!!! ???????????? This might be the perfect cake for a hot summer day, which we've been getting a lot of here in LA ☀️????
I tried piping ruffles for th…