When I was much, much, much younger, I would get to spend the day at my dad's business and help out during the Summer. Across the street, a French couple opened a cafe. If I had enough pocket money, I would get my lunch there. Their classic apple tart was my all time favorite dessert. I think I loved it because it had the perfect ratio of pastry to fruit. It was sweet but not cloying… At the time, I thought it was called a tarte tartin, but that's a completely different thing (more like an upside down apple pie). Got to start somewhere!
This might be the easiest tart I've ever made. I make my pastry from scratch but if you were to use store bought, frozen pastry you could whip this up in a few minutes… flat. My little twist on the classic? Mix Grand Marnier into your apricot preserves for the final glaze. I gives it a slight citrus finish. Is it odd that I consider this a breakfast food?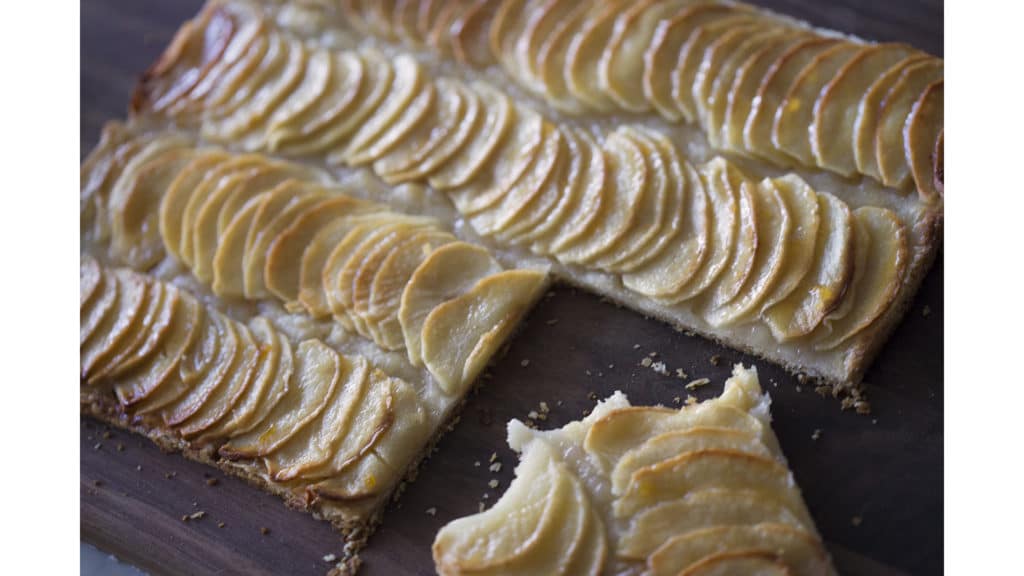 Little note for you; the apple will shrink when you bake them so arrange as closely as possible.
Print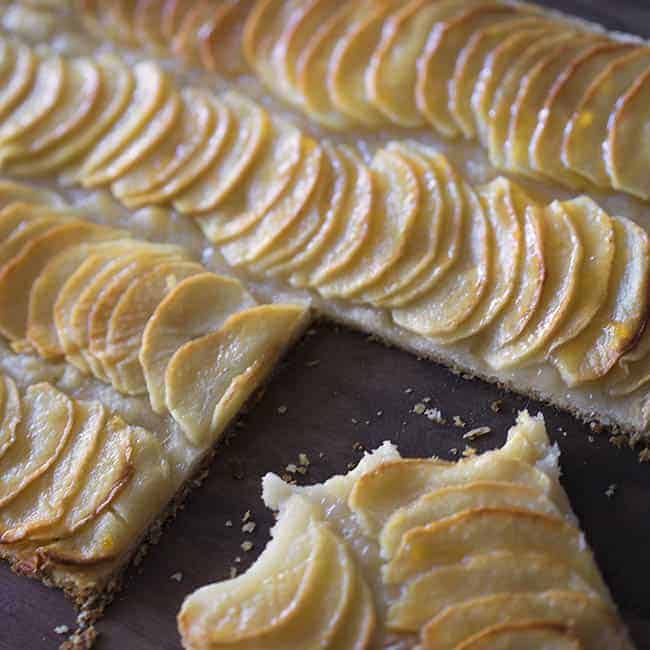 Classic French Apple Tart
A simple tart that highlights the natural sweetness of apples.
Ingredients
For the Pastry
2

cups

all purpose flour

1 1/2

sticks

unsalted butter

very cold

1

tbsp

sugar

1/2

tsp

salt

1/2

cup

water

very cold
For the Apples
5

whole

apples

large

1/3

cup

sugar

1/2

cup

apricot preserves

2

tbsp

orange liquor

2

tbsp

butter

melted
Instructions
In a food processor, combine the flour and salt and pulse briefly to mix (you can also do this by hand with two forks). Scatter the butter over the top and pulse just until the mixture forms coarse crumbs about the size of peas.

Drizzle the ice water over the flour mixture and pulse just until the dough starts to come together.

Shape the dough into a disk and wrap in plastic. Allow to rest in refrigerator for about an hour.

Roll the dough out on a well-floured surface to a thickness of about 1/4 an inch. Trim into a rectangle shape if desired. Mine was about 10 x 14 inches.

Peel, quarter and core the apples. Slice to a thickness of about 1/8th an inch.

Arrange the apple slices on the pastry. Brush with butter and sprinkle with sugar.

Bake for about 40 minutes or until apples are golden and tender.

Remove from oven and allow to cool. If your edges burn just trim them off.

Mix apricot preserves and orange liquor in a small bowl and brush onto apples.
Recipe Video
Recipe Notes
This tart toast have to be precious. You don't have to arrange the apples perfectly, it will still taste great. If your apples in the middle aren't as golden as you'd like you can give them a boost with a kitchen torch. Just be sure to hold at a good distance, if you get too close you'll burn the sugar and get hard spots on the apples. 
Nutrition Facts
Classic French Apple Tart
Amount Per Serving (1 slice)
Calories 220
Calories from Fat 117
% Daily Value*
Total Fat 13g 20%
Cholesterol 15mg 5%
Sodium 180mg 8%
Total Carbohydrates 30g 10%
Protein 3g 6%
* Percent Daily Values are based on a 2000 calorie diet.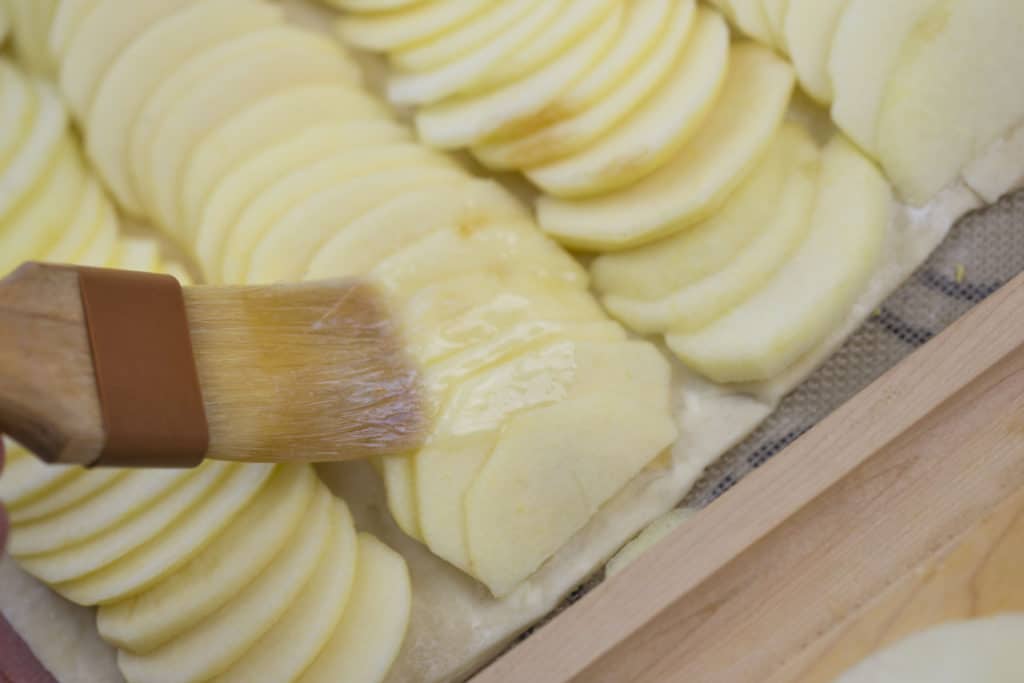 Many recipes call for dotting the tart with butter prior to baking but brushing gives you a nice even coverage.
How to Make an Apple Tart
How to Make an Apple Tart
A classic french apple tart really highlights the natural flavor of fresh apples and is so easy to make. I've brushed mine with a mixture of apricot preserves and orange liq…