You have NO IDEA how much dessert I ate the past few days! I forsee some 'salad posts' in the near future haha ?  Anyways, I happen to LOVE sweetened, condensed milk. It's what gives 'German chocolate cake' that extra-special-something. If I want to treat myself (essentially, any "day" ending in "y" hehe) I'll add a spoonful of it to my coffee. It helps me enjoy the morning just a little bit more. If you didn't know… Dulce de Leche is made by heating condensed milk. It's creamy, sweet and perfect for a cake filling! I was short on time so I bought the ready-made stuff. It was delish.  I used the sugar glass shards to decorate the cake are sooooo dramatic, I love them! It was especially exciting to make them, as it was the FIRST time I've ever made hard crack candy without suffering horrible burns! So hot… Be careful. Don't be clumsy… like me ?  Enjoy!???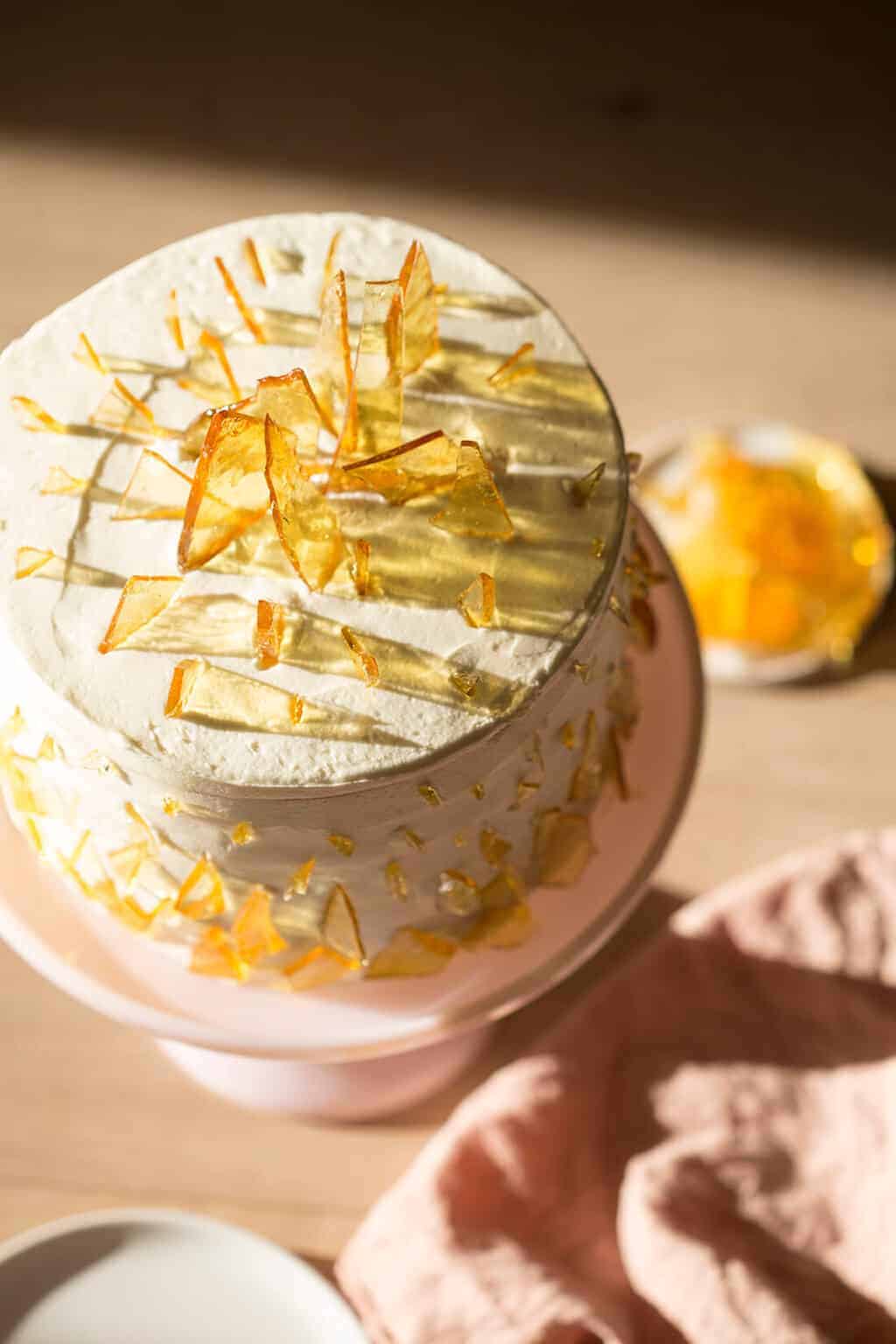 Can I just say this decoration scheme would work with so many cakes. I can totally see a lemon or orange cake with these amber shards too.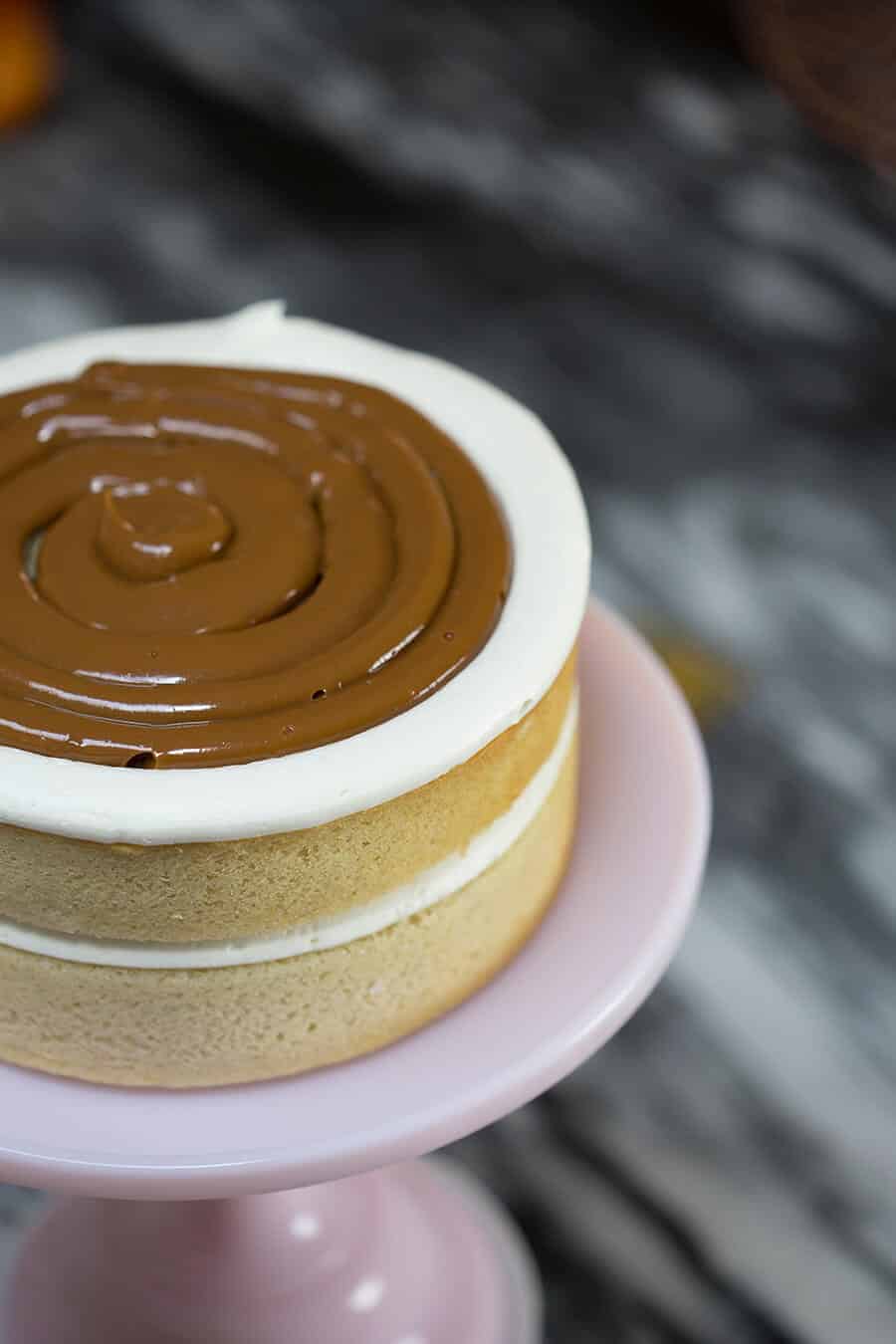 Fill the centers with dulce de leche. You can pipe with a large round tip or just use a spatula. 
Cover with buttercream and smooth with an offset spatula and or a bench scraper.
Print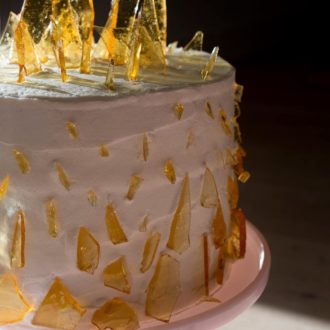 Dulce de Leche Cake
A sweet, decadent dessert.
Ingredients
For the Cake
3 1/4

cups

all-purpose flour

2

cups

sugar

1/2

tsp

baking soda

2

tsp

baking powder

1 1/2

cups

unsalted butter room temperature

6

egg whites

1 1/2

tbsp

vanilla extract

1

cup

plain yogurt whole milk

1

cup

whole milk

3

tbsp

bourbon
For the Buttercream
1

cup

butter

5

cups

confectioners' sugar

2

pinches

kosher salt

3

tbsp

bourbon

you can use vanilla instead if preferred
For the Shards
3½

cups

white

granulated sugar

2

cups

water

1

cup

light corn syrup

¼

teaspoon

cream of tartar
Instructions
For the Sugar Shards
Line 2 edged baking sheets with tin foil.

Add all the ingredients into a medium saucepan over medium heat, stir and bring to a boil.

Set a candy thermometer over the edge of the pan and continue cooking at medium heat until the mixture reaches 300F. This takes about an hour so be patient.

Remove from heat and slowly pour onto the lined pans. Allow to cool for about 20 minutes then crack the sugar with a wooden spoon until you have pieces at the desired size.
For the Cake
Butter and flour 3 eight inch pans. I use cake strips on my pans for more even baking as well. Preheat oven to 340F

Sift the dry ingredients together in a large bowl.

Beat the butter until light and fluffy, add the eggs, one at a time while mixing then add in the rest of the wet ingredients and mix until combined. Don't worry if the mixture isn't totally homogenous.

Add the wet to the dry and mix until just combined. Use a spatula to give the bowl a scrape and a final mix.

Divide the mixture evenly into the cake pans

Bake at 340 for about 30-35 minutes or until the centers are springy to the touch.
For the Buttercream
Beat the butter until light and fluffy. Add the confectioners' sugar, salt and bourbon and mix.
For the Assembly
Pipe a circle of buttercream around the edge of the first layer. Fill center with dulce de leche and place next layer on top. Repeat.

Cover outside with buttercream and smooth.

Place sugar shards on the outside and serve.
Nutrition Facts
Dulce de Leche Cake
Amount Per Serving
Calories 286
* Percent Daily Values are based on a 2000 calorie diet.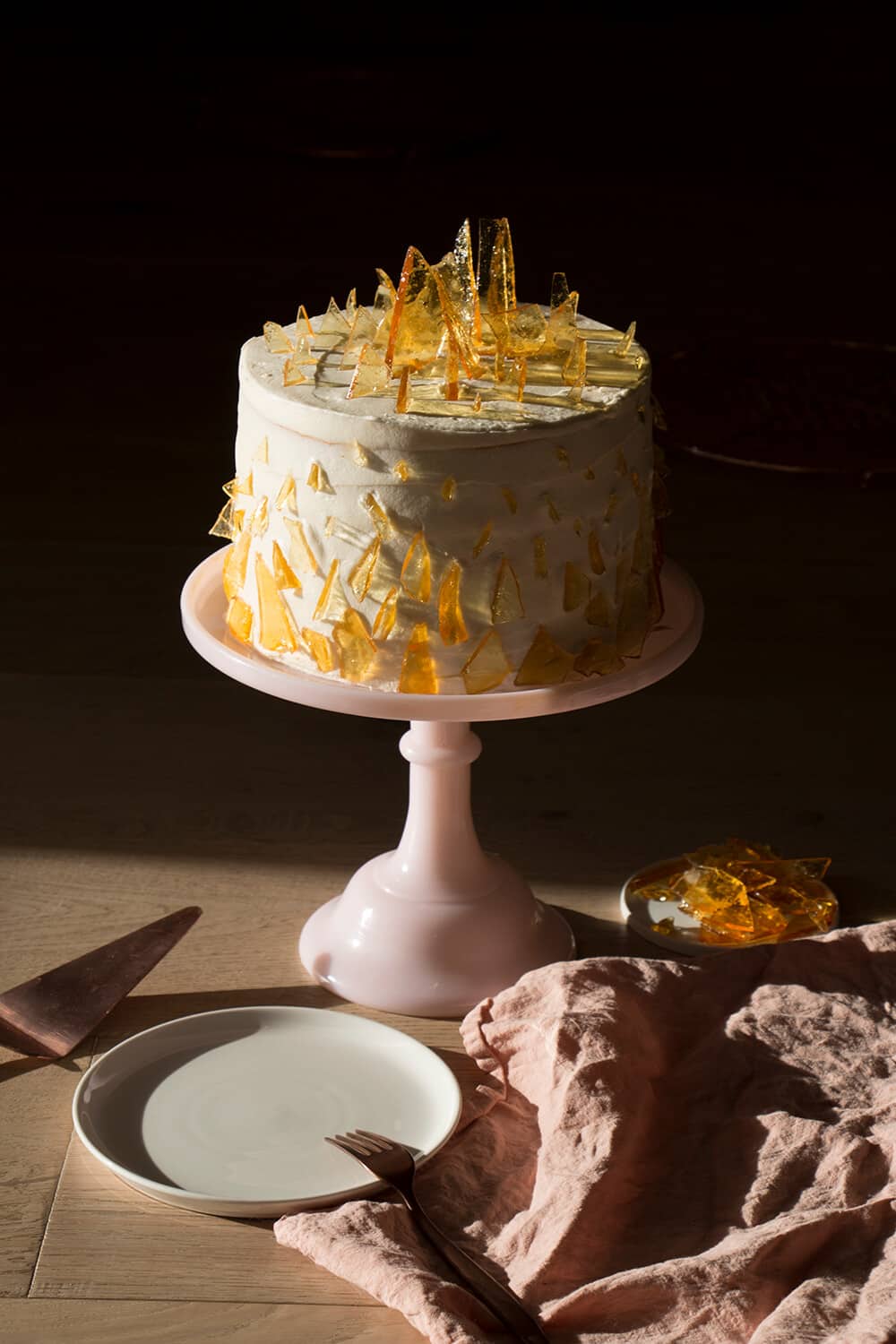 I LOVE how dramatic this cake looks in direct lighting. All the shards sticking out cast a beautiful amber light. 
I couldn't help myself. Might have taken way too many photos of this cake!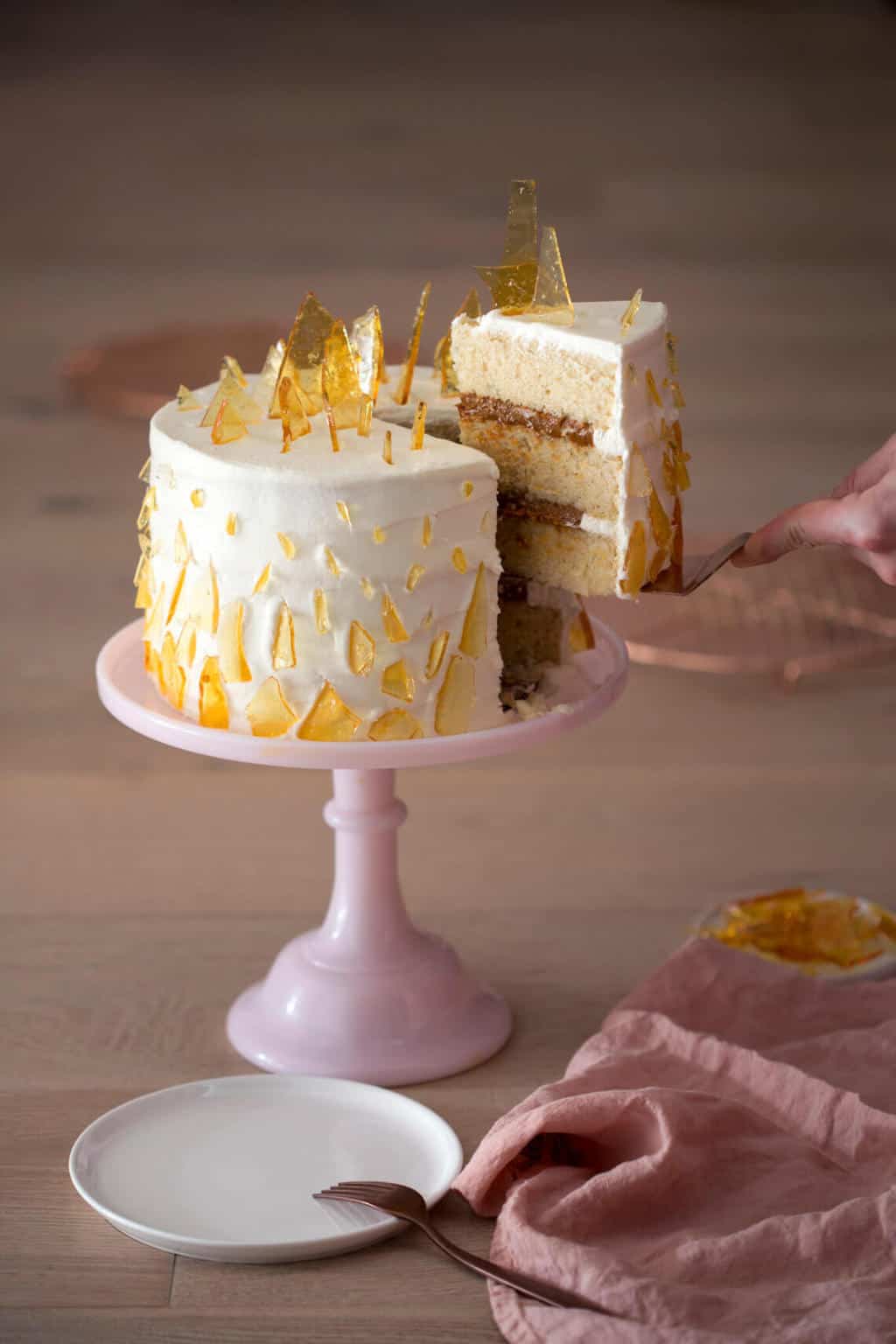 I was tempted to make a bourbon glaze to soak this cake in but I know lots of people and especially kids wouldn't have been able to enjoy a boozy treat. If you're having a grown up party however it might be worth a try!
How to Make Dulce de Leche Cake
How to Make Dulce de Leche Cake
I happen to LOVE sweetened condensed milk. It's what gives German chocolate cake that special something extra. If I want to treat myself (day ending in "y") I'll add a…