If you follow my blog, it will come as no surprise that I am OBSESSED with basil! One of my favorite warm-weather treats is a Caprese salad?? It's a simple, delicious salad from Capri consisting of beautiful tomatoes, fresh basil and mozzarella, a sprinkle of olive oil and balsamic and a dash of black pepper.
It's a perfect way to detox after gorging yourself on Rocky Road Cake and that secret stash of Cadbury eggs (Shhh! Don't tell anyone)…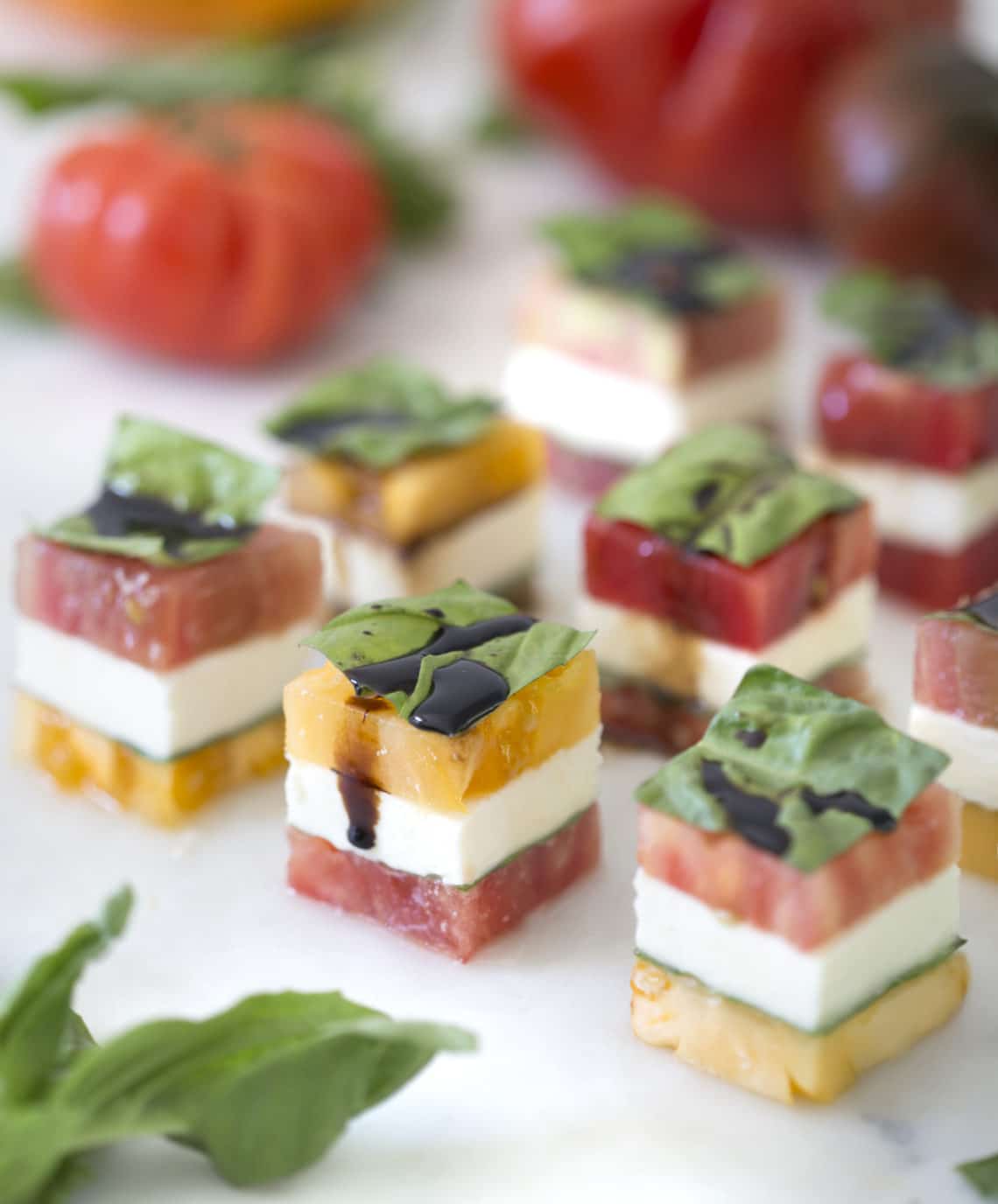 If you want to go crazy and break that ruler out then try making perfect little cubes of heirloom tomatoes, basil and fresh mozzarella. Top with a drizzle of aged balsamic and you have an appetizer fit for even the fanciest parties.
How do you make Caprese salad?
Cut 1/4 inch slices of fresh mozzarella, and tomatoes.
Separate fresh basil leaved from their stems.
Lay alternating slices of tomato, cheese and basil on a tray.
Drizzle with olive oil and balsamic vinegar.
Sprinkle with salt and pepper.
How do you make the best Caprese salad?
To make the best Caprese salad use fresh in season tomatoes, fresh mozzarella, and a high quality extra virgin olive oil. This salad is all about simple fresh flavors so the ingredients all need to shine.
How long will Caprese salad keep?
Caprese salad will keep in the fridge for a few days but I recommend eating within a day of making it. The basil will wilt and the tomatoes will get sad.
What dressing do you use for Caprese salad?
A simple drizzle of olive oil and a nice aged balsamic vinegar is all you need to dress a Caprese salad.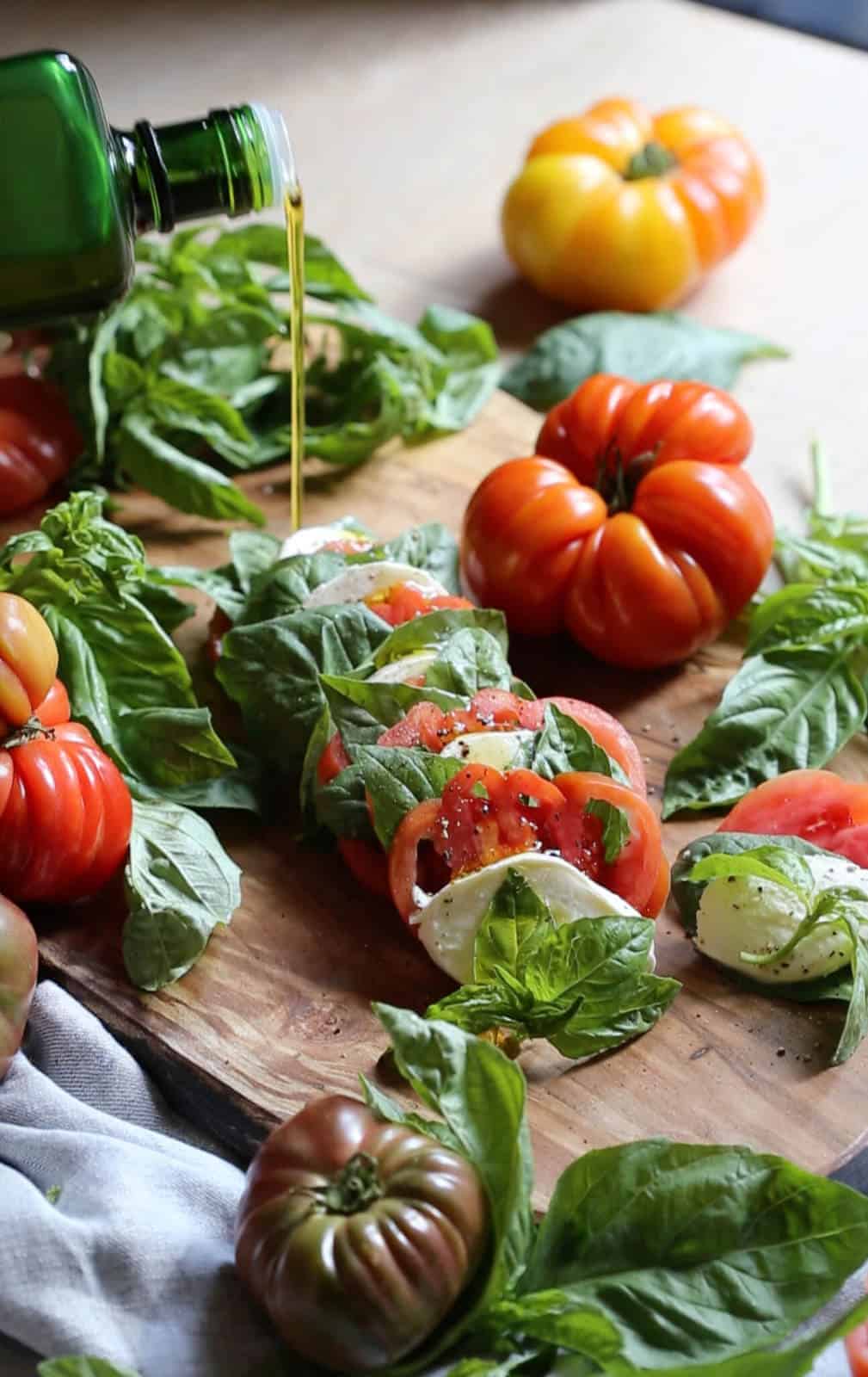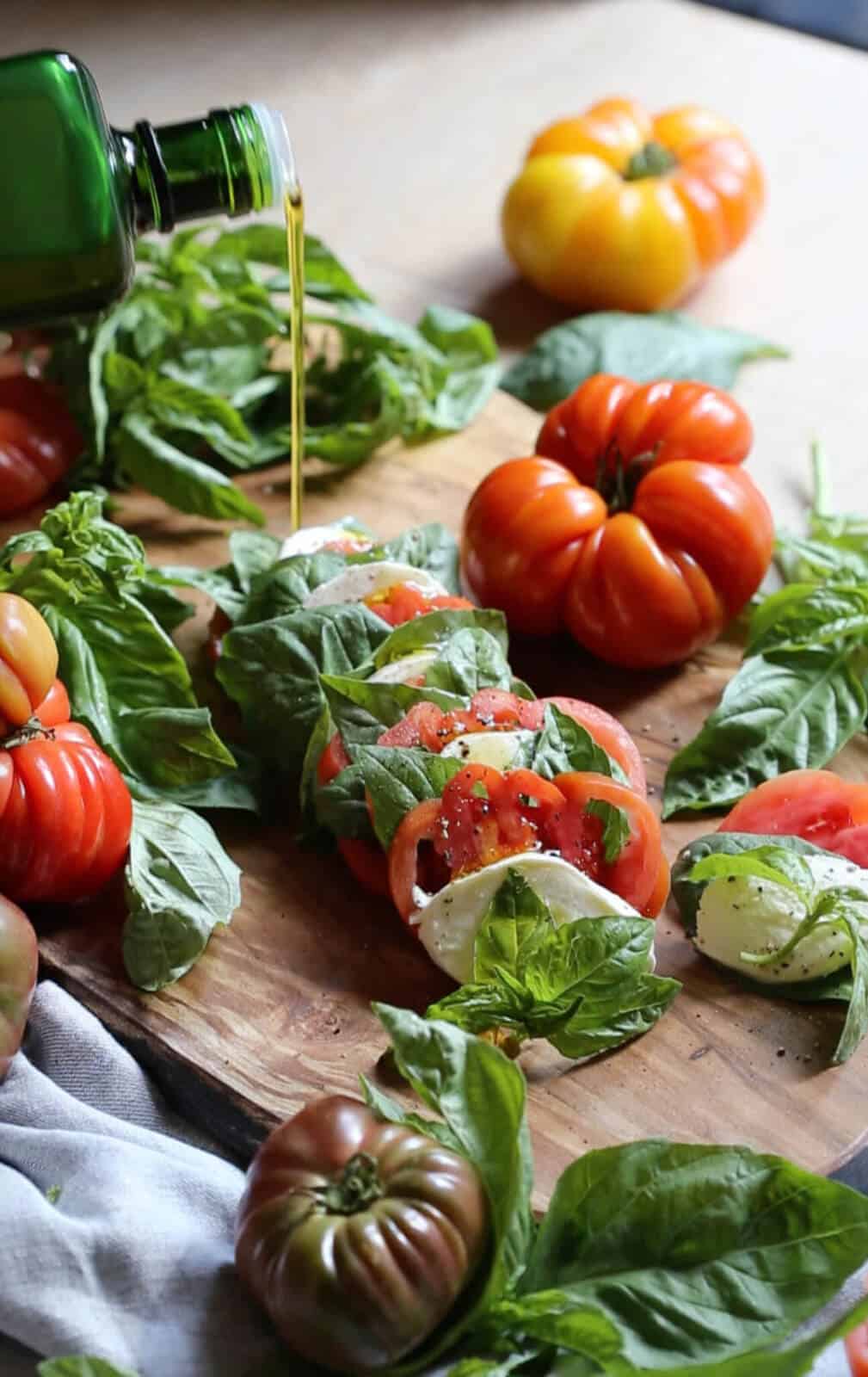 A healthy pour of great olive oil never hurt!
If you've tried this caprese salad then don't forget to rate the recipe and let me know how you got on in the comments below, I love hearing from you!
Print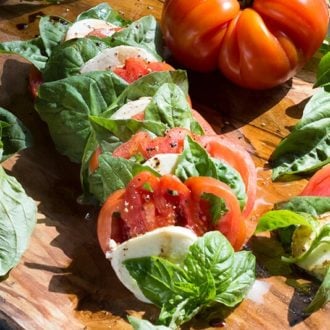 Caprese Salad
This easy, classic Italian salad bursts with flavor from fresh tomatoes, mozzarella and basil
Ingredients
2

heirloom tomoatoes

large

2

balls

fresh mozzarella

1

cup

basil leaves

25g

3

tbsp

olive oil

44mL

3

tbsp

balsamic vinegar

44mL

1

pinch

kosher salt

1g

1/4

tsp

freshly ground black pepper

1g
Instructions
Slice the tomatoes and mozzarella. Remove the leaves from the basil sprigs.




Layer the tomato, mozzarella and basil slices.

Drizzle with olive oil, balsamic vinegar and sprinkle with pepper and a dash of salt.
Nutrition Facts
Caprese Salad
Amount Per Serving (161 g)
Calories 220
Calories from Fat 153
% Daily Value*
Total Fat 17g 26%
Cholesterol 44mg 15%
Sodium 439mg 18%
Potassium 254mg 7%
Total Carbohydrates 4.7g 2%
Protein 13g 26%
* Percent Daily Values are based on a 2000 calorie diet.
IF YOU LOVE THIS RECIPE TRY THESE OUT!