Heirloom tomatoes, asparagus and fresh basil make every piece of this pizza a slice of summer. It's funny that one of my least favorite things to eat is a basic, bland supermarket tomato. The thing that really irks me is the deceit. They look nice and ripe but have no flavor worth mentioning and to add insult to injury, they can be mealy….  Anyways Summer takes the pain away bringing baskets of amazing heirloom tomatoes literally bursting with flavor.  This pizza lets the tomatoes be the star attraction, using mellow garlic oil, fresh basil and asparagus complement their sweet flavor.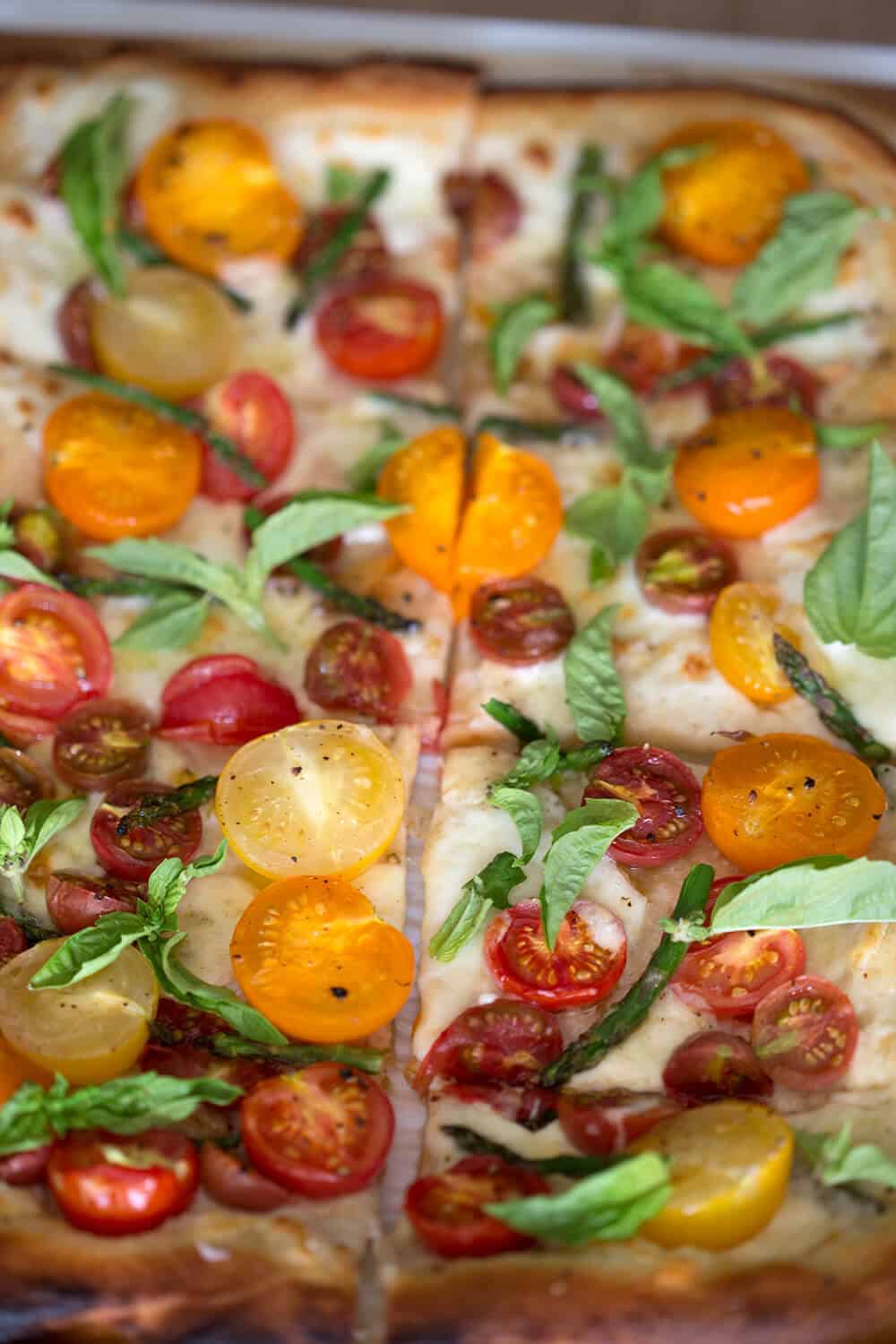 Use a pizza stone if you have one, get one if you can! Just place it in the oven before setting the heat and let it sit there for at least 30 minutes. Your crust will thank you!
Print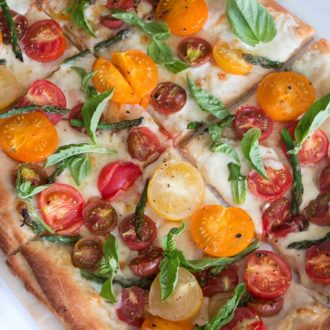 Heirloom Tomato White Pizza
A delicious pizza featuring heirloom tomatoes
Prep Time
1
hour
5
minutes
Total Time
1
hour
45
minutes
Ingredients
For the Dough:
1 1/4

cups

warm

100 to 110 water

2

packages

dry yeast

1

tbs

honey

4

cups

all-purpose flour

plus extra for kneading

1

pinch

Kosher salt

1

tsp

good olive oil

plus more for the bowl
For the Garlic Oil
1/2 cup

Good olive oil

4

cloves

garlic

sliced

5

sprigs

fresh thyme
For the Topping:
1

cup

Asparagus tips

3

cups

Halved tomatos

cherry

1 1/2

cups

fresh Mozzarella

cut into slices
Instructions
For the Garlic Oil:
Place the garlic, thyme, and olive oil into a small sauce pan. Allow it to simmer over low heat for 10 minutes. Do not let it burn. Set aside.
For the Dough:
Combine honey, yeast and water into the bowl of a standing mixer (fitted with a dough hook attachment). When the yeast has dissolved, add half the flour and salt. Mix on medium-low speed. While the mixer is on, add the additional flour (the goal is to make the dough soft).

Knead the dough for approximately 10 minutes, or until smooth. Sprinkle the flour -- when appropriate -- the keep the bread from sticking.

Kneed by hand at least a dozen times. It should be silk smooth and elastic-like.

Next, the dough must rise. In a well-oiled bowl, place the dough. Cover it with a towel. Give it 30 minutes -- at room temperature -- and it will rise.

Preheat the oven to 500F. If you have a pizza stone it really helps get a nice crisp crust.

Divide the dough into 6 equal pieces. Put the pieces on sheet pans, lined with parchment paper. Cover the dough with a damp towel. Let it rest for 10 mins then immediately place in the refrigerator. Let the dough rest for at least 30 minutes. If you want to chill the dough overnight, place in a ziplock bag lined with olive oil, when ready to use just punch it down.

Remove the dough from the fridge. Let it come to room temperature. Contort the balls of dough into an 8-inch circle (or oval :)). Place on a parchment-lined pan.
For the Topping:
Brush the dough with the garlic oil and distribute the garlic pieces. Sprinkle with salt and pepper. Distribute pieces of fresh mozzarella on top then cover with halved heirloom tomatoes (smaller sized) and asparagus tips.

Bake for about 10 minutes, crust should be golden brown and tomatoes will have softened.

Sprinkle with fresh basil leaves just before serving.
Recipe Notes
Olive oil is used to coat bowl**
Nutrition Facts
Heirloom Tomato White Pizza
Amount Per Serving
Calories 230
* Percent Daily Values are based on a 2000 calorie diet.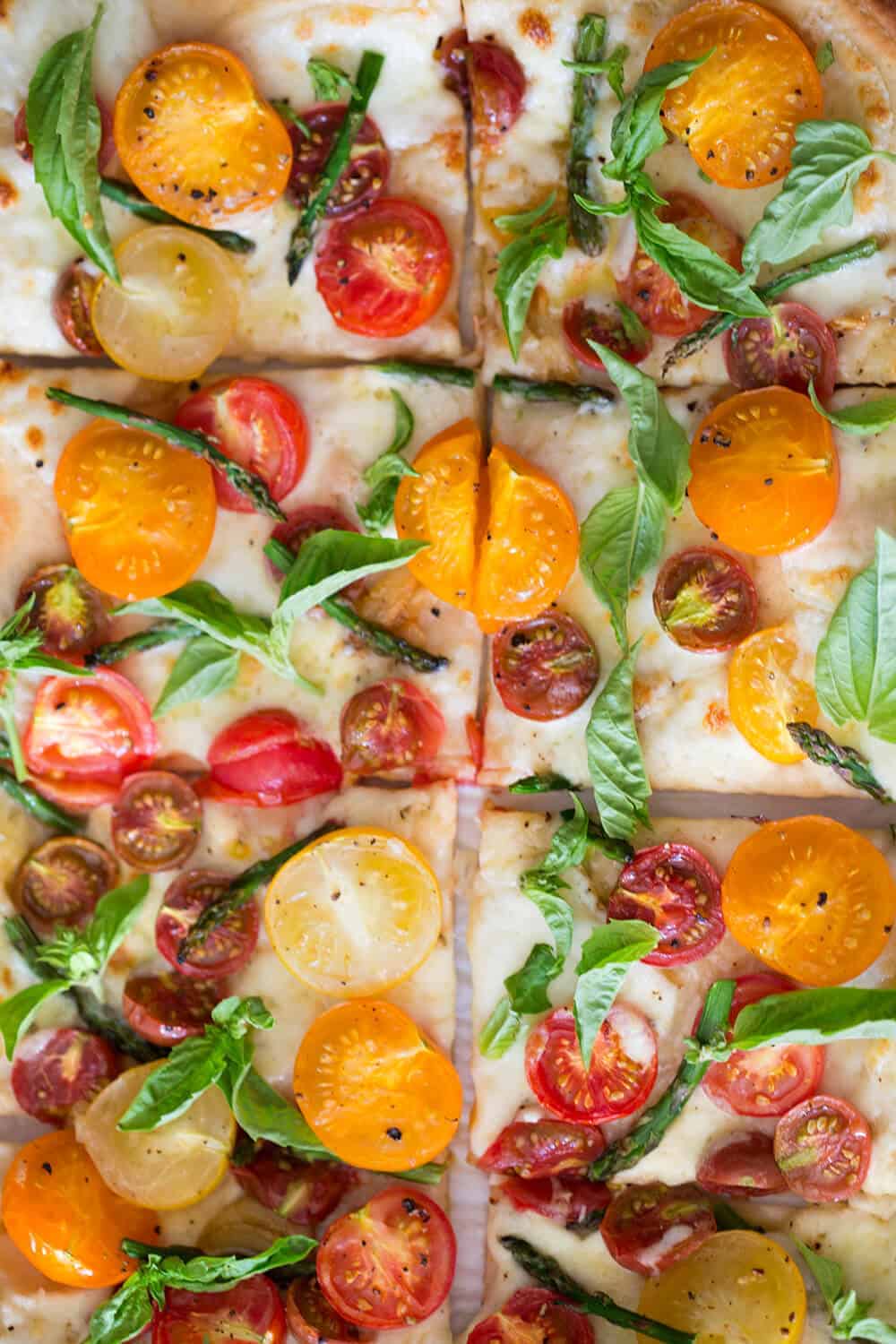 Wait, I ALMOST forgot to mention something! I had some extra home made pesto left over from the night before and I totally used it as a dipping sauce for the crusts. SO GOOD. Usually I like to dip my pizza crusts in a nice balsamic vinegar but this is less overpowering so my tastebuds weren't overloaded. Let me know what toppings you'd add! Hope you enjoy!!