Potato pizza is a popular Italian recipe that not enough Americans know about. It may seem like carb overload but trust me this pizza topping is one of Italy's best-kept secrets it's just incredible!
My version has a homemade pesto spread over freshly made pizza dough. The whole thing gets topped with thinly sliced potatoes and mozzarella cheese it's super comforting and utterly delicious I just know you'll love it.
What you need to make this recipe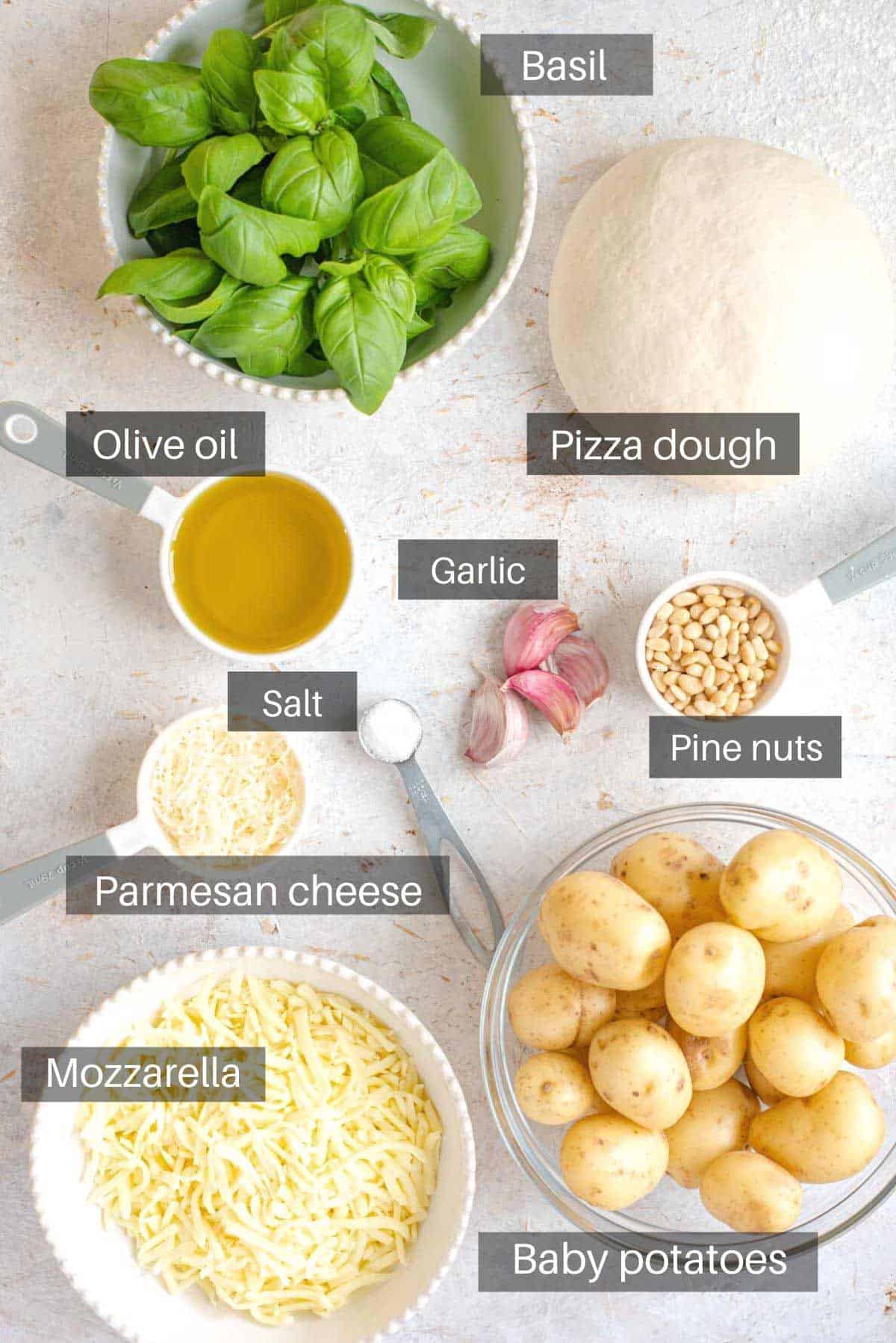 Pizza Dough – Check out my recipe for homemade pizza dough. I have a full step by step guide on how to make it from scratch and its' super easy. Alternatively, you can use a store-bough pizza crust.
Mozzarella – I find that shredded mozzarella works best for this recipe but feel fresh to use slices of fresh mozzarella or your cheese of choice.
Potatoes – You can slice your potatoes thinly or use a good mandolin, pat them dry then toss in olive oil. lay out on pizza and sprinkle with a bit more oil, salt and pepper. The potatoes will cook with your pizza, be creamy and delicious out of the oven. Parboiling the potatoes is an optional step before slicing, especially if your crust is very thin and you worry the dough might bake before the pizza. Be sure to pat them dry with a paper towel before tossing in olive oil.
How to make Potato Pizza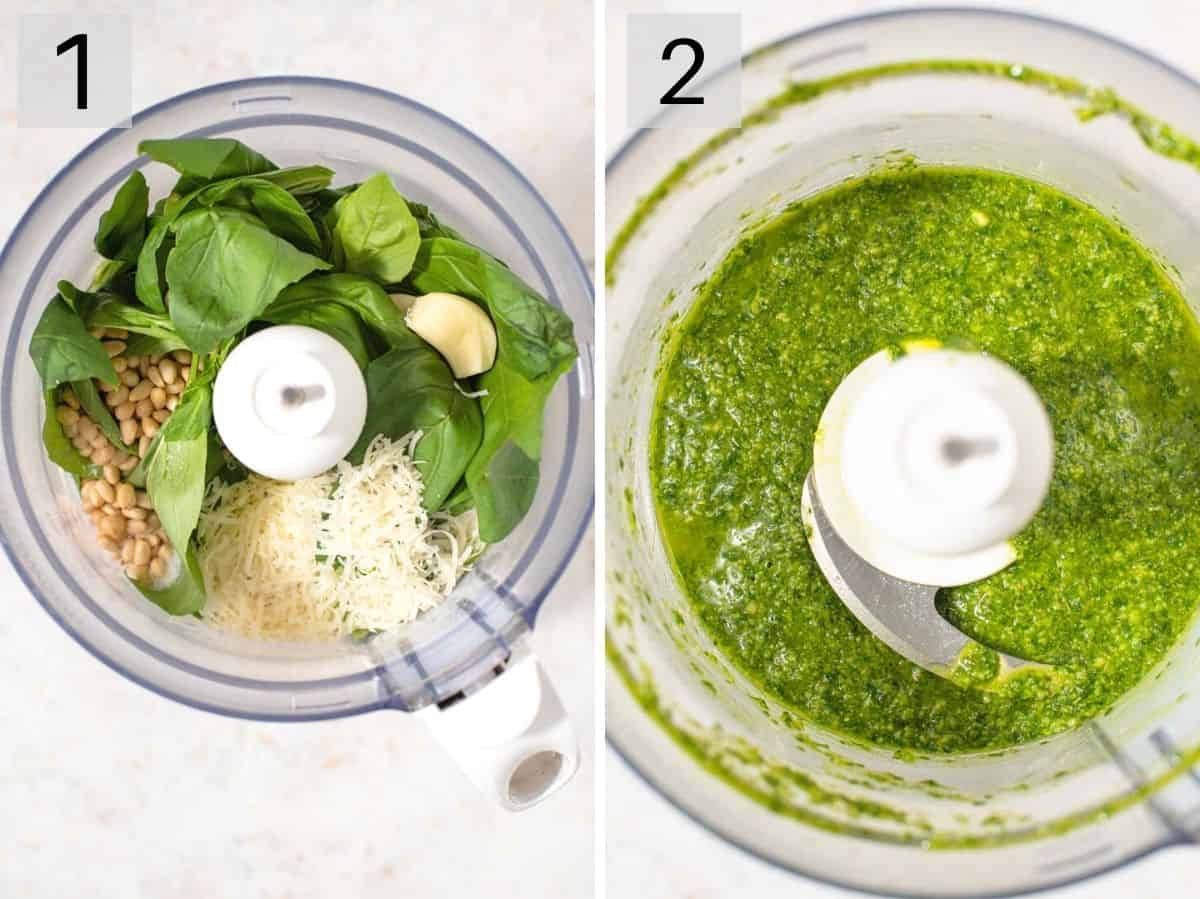 1. Put all the ingredients for the pesto in a food processor or blender except the olive oil.
2. Blitz the ingredients together whilst slowly pouring the oil into the blender until a smooth pesto is formed.
3. Thinly slice the potatoes.
4. Par-boil for a couple of minutes then pat dry.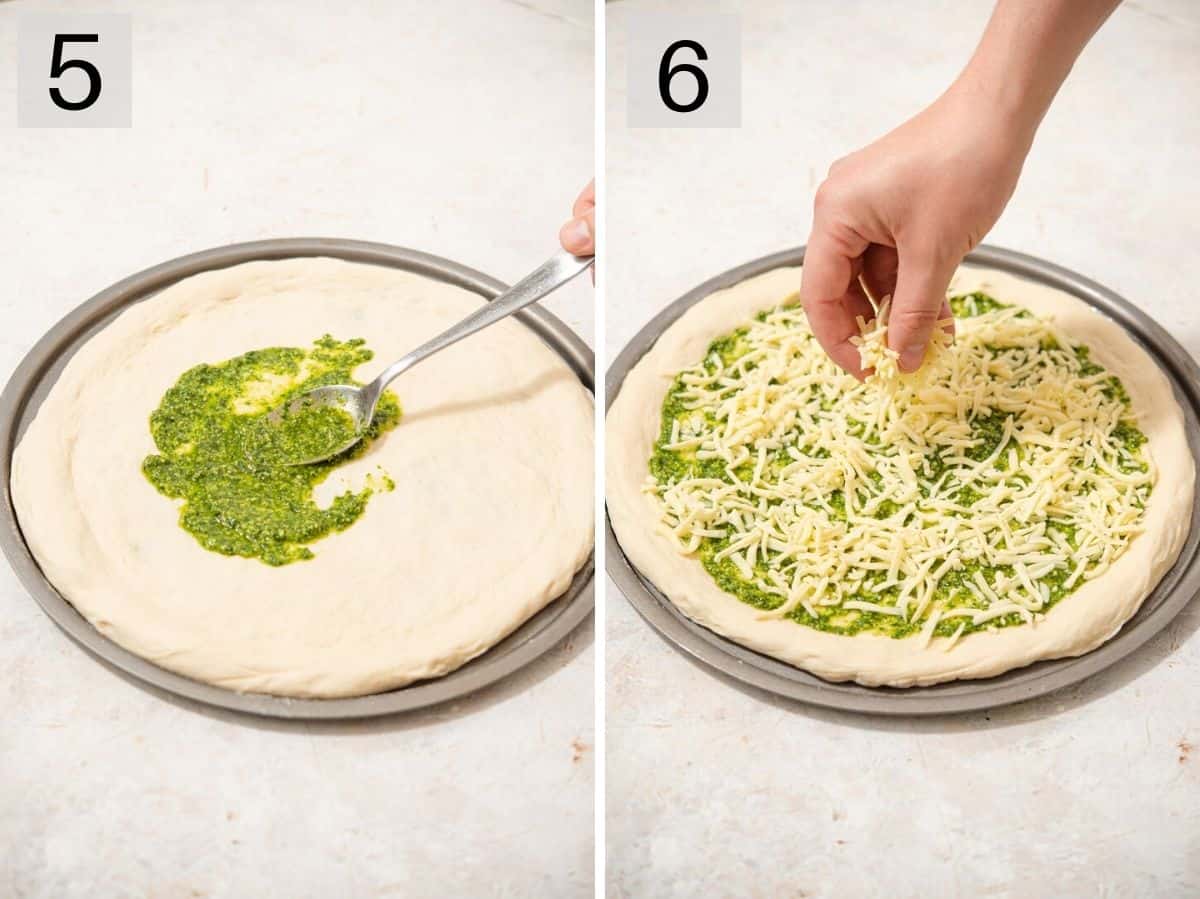 5. Roll out the pizza dough to fit your pizza tray, pizza stone, or use parchment paper. Spread the pesto all over making sure to keep a border.
6. Next, top with shredded mozzarella.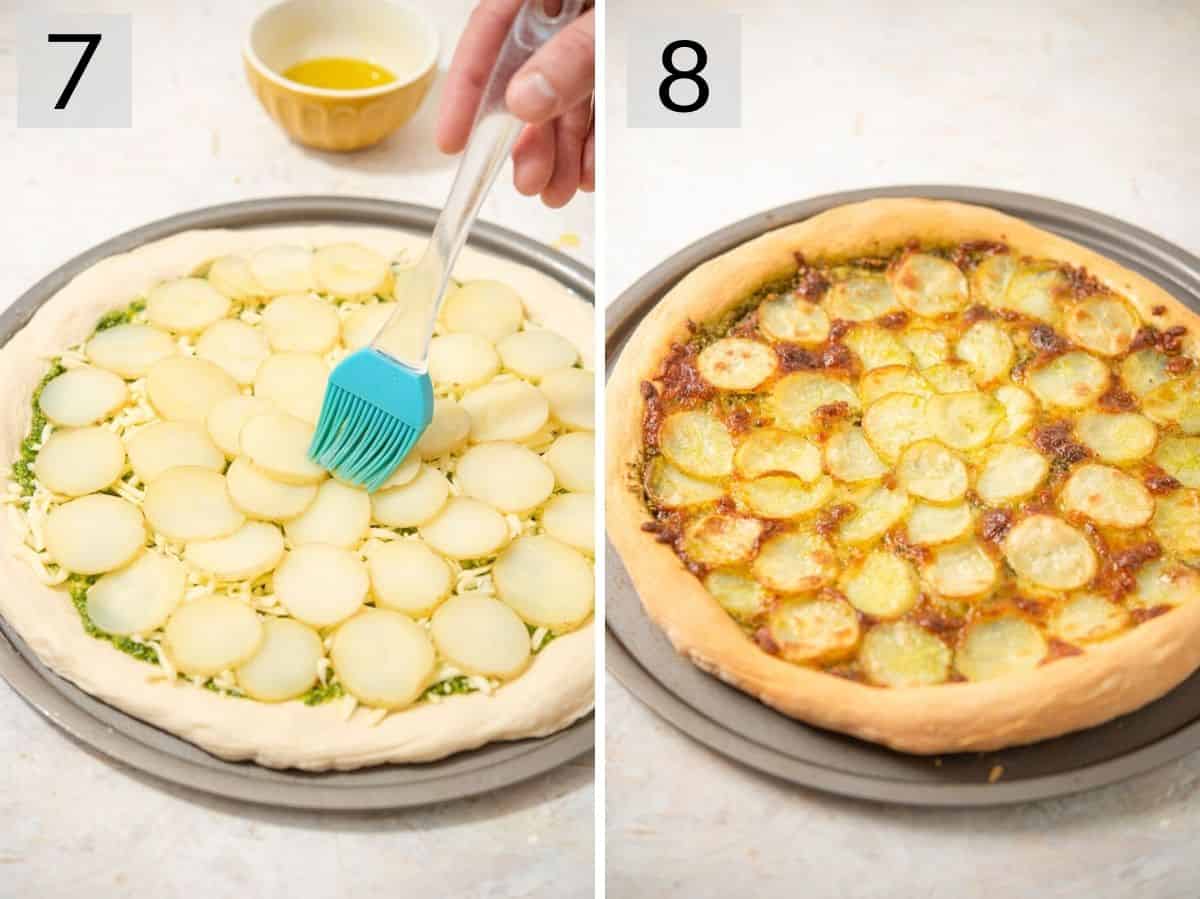 7. Top with the slices of potato so the whole pizza is covered.
8. Bake until golden, crispy and melted.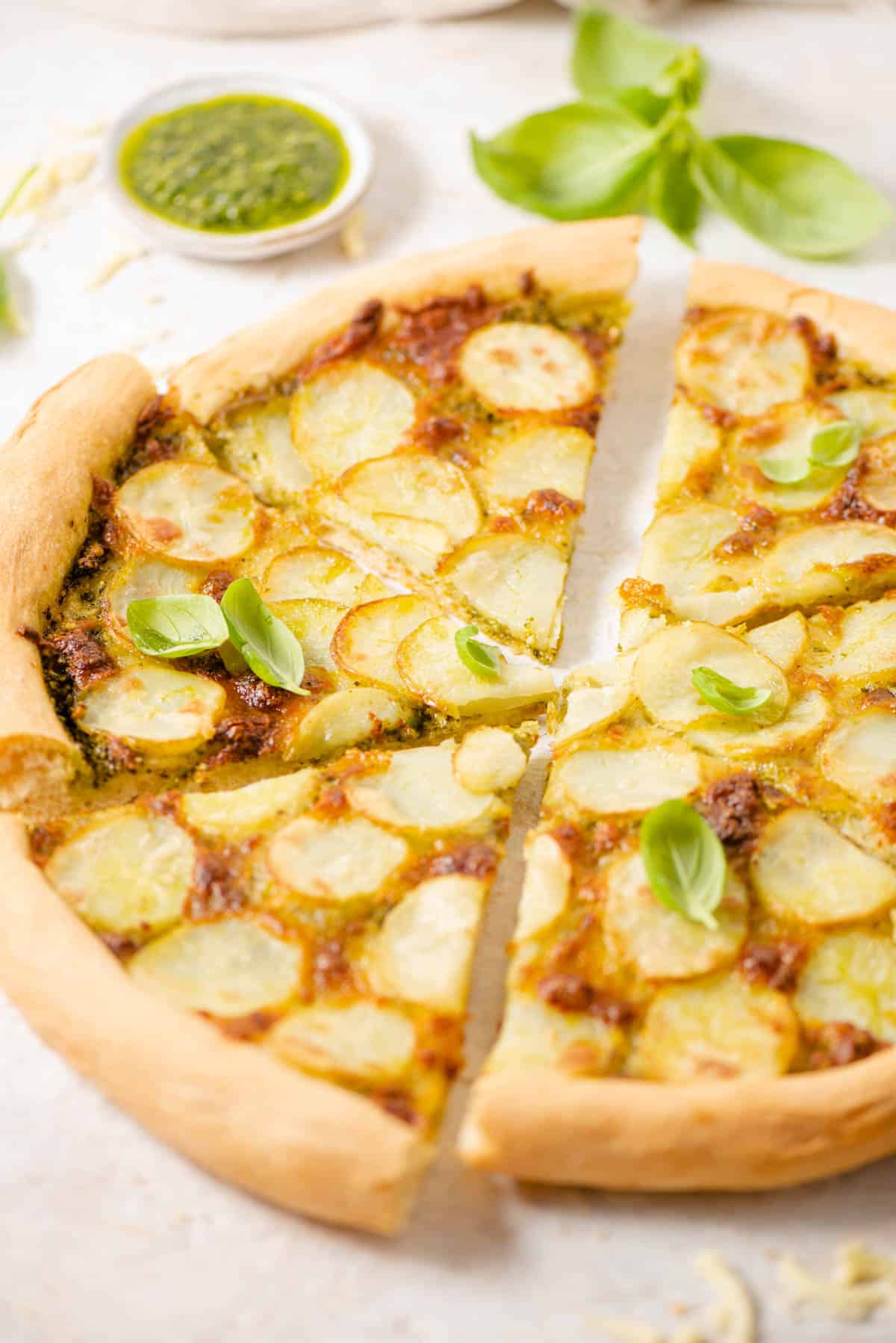 Tips and ideas for making this recipe
This makes an AMAZING white pizza. Add some garlic and rosemary-infused olive oil onto your pizza dough then completely cover in overlapping prepared potato slices and drizzle with some more of the infused oil. Sprinkle with salt, pepper, and some crushed rosemary for a delicious and very traditional pie.
If you love a red pizza then by all means use your favorite pizza sauce, lots of potatoes and you can even sprinkle with some parmesan or pecorino right out of the oven.
Try adding a simple arugula (rocket) salad on top of this just before serving. I would use a lemony vinaigrette with lots of salt and pepper.
Use a pizza stone if you have one, get one if you can! Just place it in the oven before setting the heat and let it sit there for at least 30 minutes. Your crust will thank you!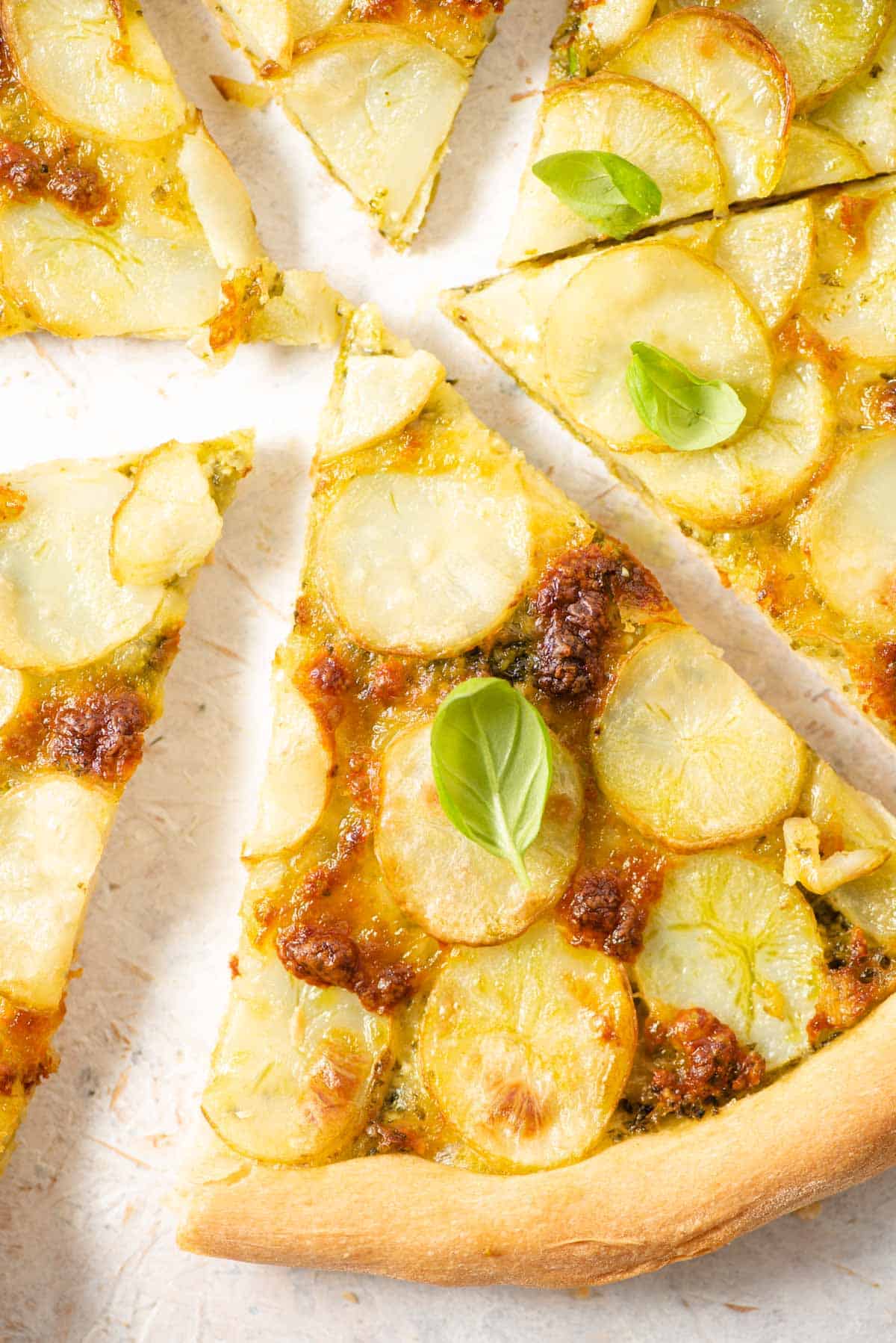 Frequently Asked Questions
What are the best potatoes to use?
I like Yukon Gold potatoes for this recipe because they are waxy, not floury, and have a delicious flavor!
How do I make sure the potatoes are cooked?
You want to make sure you cut the potatoes as thinly as possible. You can par-boil them for a few minutes but not so long that they fall apart. If you use a mandolin to slice your potatoes you won't need to par-boil them first.
Can I freeze this pizza?
Yes, this potato pizza freezes really well. Make sure to wrap it tightly in plastic wrap then aluminum foil then thaw completely before cooking. If you are freezing from raw you'll need to first freeze the pizza on a baking tray so it keeps its shape.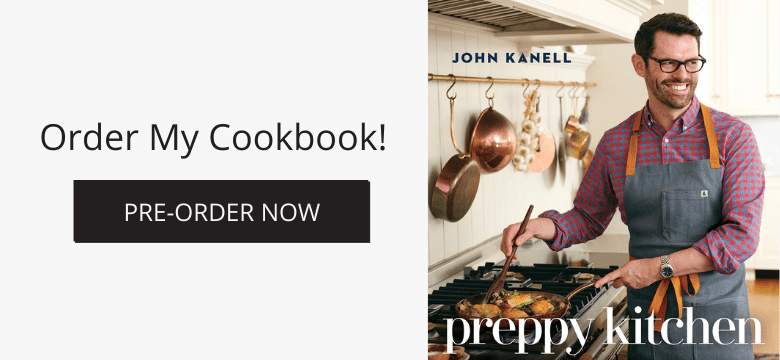 If you've tried this potato pizza recipe then don't forget to rate the recipe and let me know how you got on in the comments below, I love hearing from you!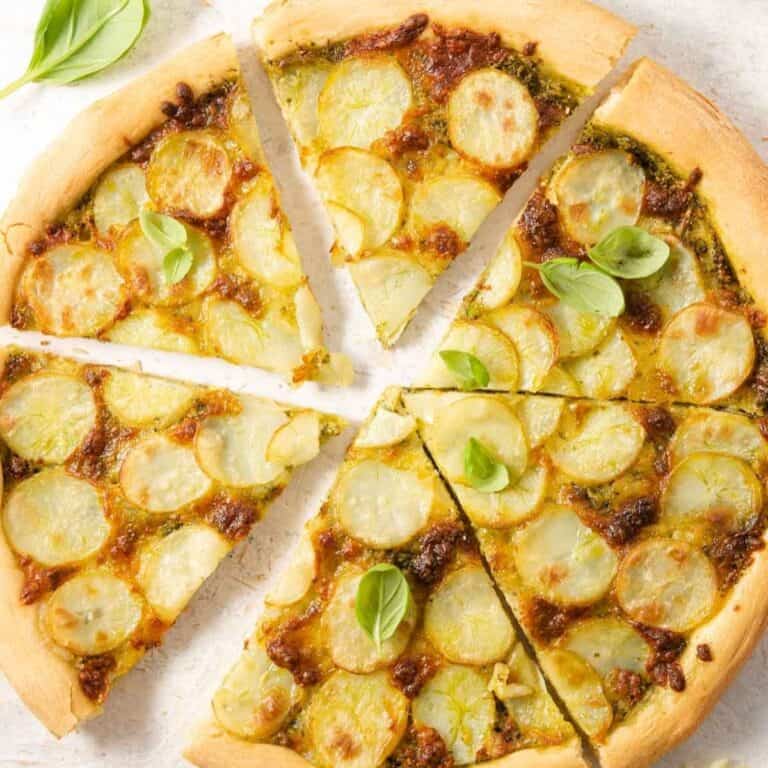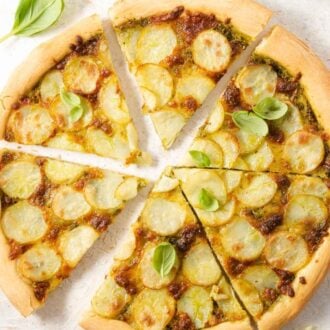 Print
Potato Pizza
A delicious potato pizza with basil pesto and mozzarella cheese. Don't forget to check out my step by step photos and tips above!
Ingredients
For the Dough:
1 1/2

cups

water

360mL, warm (100F - 110F)

4

cups

all-purpose flour

480g, plus extra for kneading

2

packages dry yeast

14g

2

tbsp

granulated sugar

12g

1

pinch

kosher salt

1

tsp

olive oil plus more for the bowl

5mL
For the Pesto:
3

cups

basil

75g

1/4

cup

pine nuts

35g

1/2

cup

olive oil

118mL

1/3

cup

parmesan

30g

1/2

tsp

salt

2.5g

4

cloves

garlic
For the Toppings:
24

whte baby potatoes

1 1/2

cups

shredded mozzarella

165g

1

tsp

olive oil

5mL

1

pinch

sea salt
Instructions
For the Dough:
In a warm mixing bowl, add warm water (about 100F), yeast and sugar. Wait about 7 minutes or until you see bubbles forming in the mixture.

Pour in salt, rosemary and olive oil. Mix until combined.

Attach a dough hook to a standing mixer. Add the flour.

Mix on low for about 1 minute. Increase to medium speed until the dough comes together in a ball

Use olive oil to coat the dough ball. Place it in a greased bowl. Cover with plastic wrap or a fabric bonnet and place in a draft-less place to rise for about an hour or until the dough has doubled in size.

Preheat the oven to 450F degrees. When the dough has doubled, punch it down with your fists. Flour a work surface and knead for about 5 minutes.

Cut the dough into 4 parts.

Work each dough ball into a stretched circle.

On piece of parchment paper, prepare each pizza crust by pressing the dough down to create a collar. You can also bake your pizzas on a baking tray or pizza stone.
For the Pesto:
Place basil, parmesan, salt, pine nuts and garlic into the blender.

Pour in olive oil as the blender begins to blend the original ingredients.
For the Topping:
Slice the baby potatoes thinly. Separate the colors and par boil for a couple minutes to tender.

Spread pesto on the dough and top with shredded mozzarella

Arrange your potatoes on your pizza. Lightly brush with olive oil once potatoes are arranged and sprinkle with sea salt.

Bake at 450 degrees for 15-20 minutes or until crust is gold and potatoes are nice and tender.
Nutrition
Serving:
1
slice
|
Calories:
170
kcal
|
Carbohydrates:
34
g
|
Protein:
6
g
|
Fat:
3.3
g
|
Saturated Fat:
0.5
g
|
Polyunsaturated Fat:
0.3
g
|
Monounsaturated Fat:
2
g
|
Sodium:
10
mg
|
Potassium:
130
mg
|
Fiber:
3.7
g
|
Sugar:
1.5
g
|
Vitamin A:
400
IU
|
Vitamin C:
5
mg
|
Calcium:
110
mg
|
Iron:
1
mg
*
Nutrition Disclaimer