Some neighbors are coming over in a bit to see the new place. I figured it would be nice to have some scrumptious bites ready to go along with a glass of wine! Or two… I've decided to forgo a more complicated option, and instead throw together some canapés. They're simple and delicious!
Pro Tips for Delicious Canapés
If you want to make this in advance I recommend toasting the bread in the oven first.
Of course you can sub chicken eggs for quail.
Feel free to use what's in season and add your favorite ingredients.
If you're toasting the bread let it cool before spreading the ricotta on top.

Frequently Asked Questions
What is the difference between canapés and hors d oeuvres?
A canapé is a type of hor d'oeuvre (appetizer), usually a small bite served on bread, puff pastry or a cracker. Basically canapés are a specific category of appetizer or hor d'oeuvre.
What kind of bread should I use?
Use a nice french bread. If you can find a par baked baguette that's even better. Par baked bread is almost fully baked so you just need to pop it into the oven to finish up and you have a super-fresh moist ing the inside crisp on the outside bread to use.
What's the best cheese for canapés
I love using a fresh ricotta, which really complements many different flavors. You can also try cream or neufchâtel cheese, mascarpone, brie, or any variety you enjoy!
How can I make these in advance?
If you want to make the canapés in advance your best bet is to do all the prep work earlier in the day and store the toppings in sealed containers. Slice the radishes, boil and cut the eggs, wash and prep all your fruits and herbs, etc. Just before you're ready to serve you can easily assemble the canapés in a few moments.
How long will these keep for?
While the preparation of the bread, cheese used, and toppings will all factor into the amount of time a canapé can be left sitting around I would make these no more than 90 minutes in advance to ensure ultimate freshness.
How to make Canapés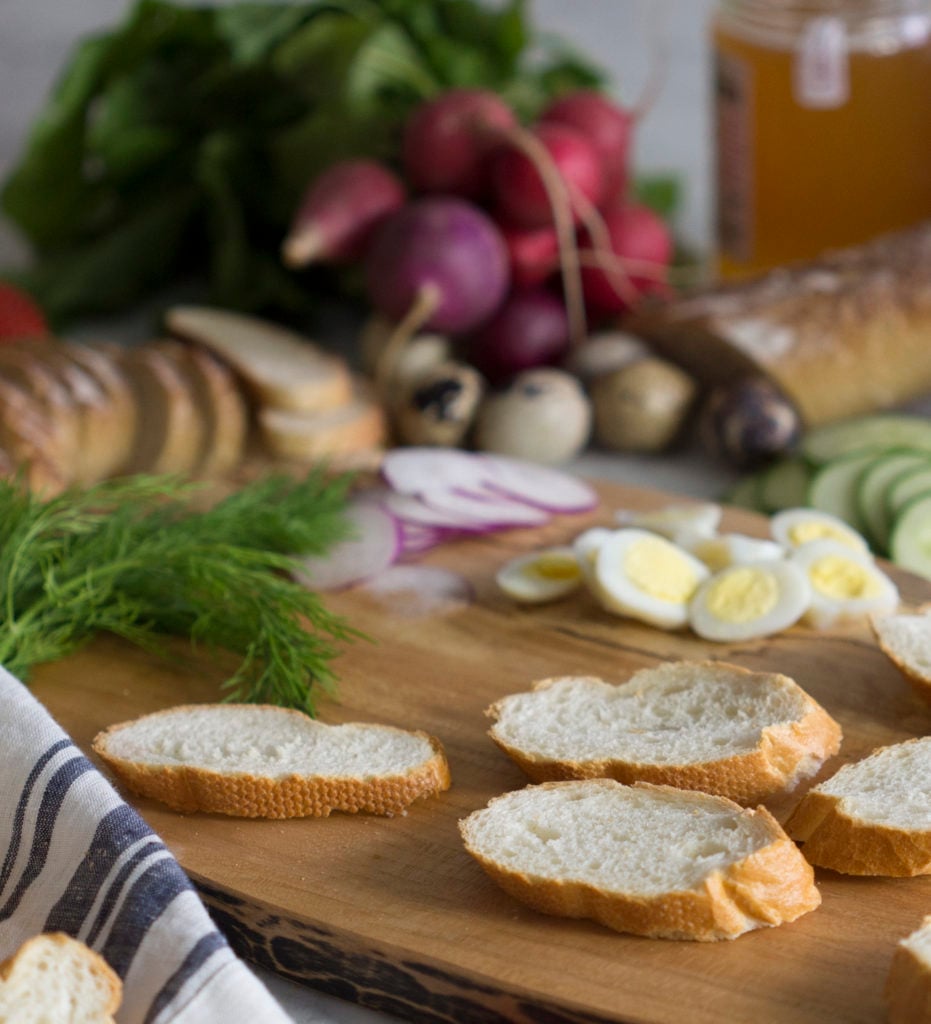 Cut your baguette into 1/2 inch slices. If desired you can brush with olive oil and toast in oven at 400F for a few minutes.
I went to the market and bought one of those partially baked baguettes that you finish off in the oven for a super-fresh out of the oven taste. Then I loaded up on fresh ingredients that I love, radishes, cucumbers, blueberries, cherries, strawberries, and fresh herbs like mint, dill and chives.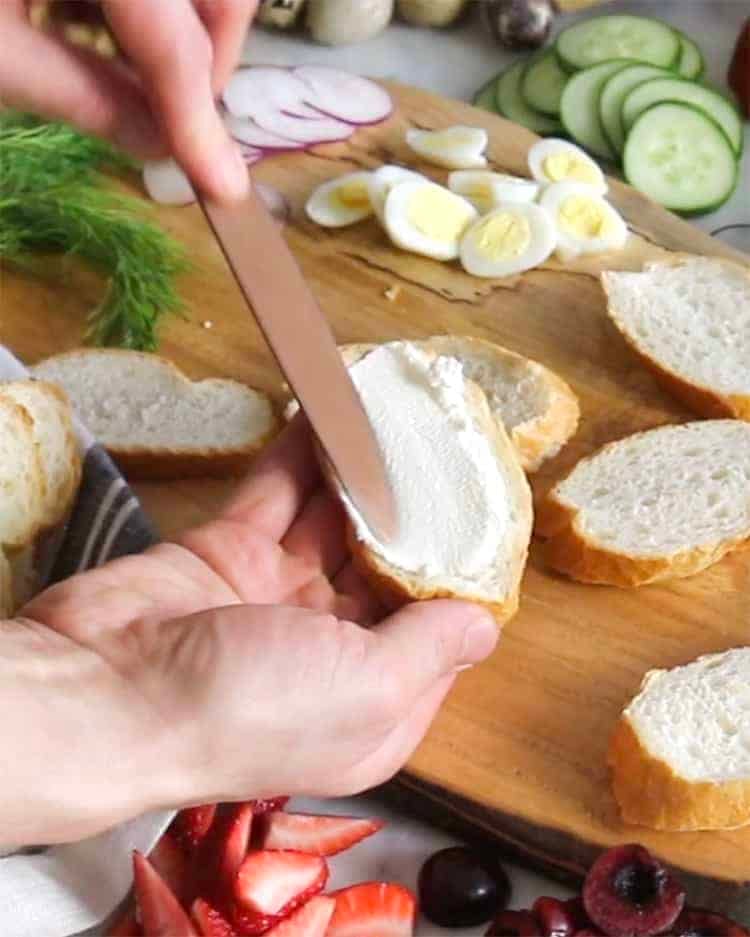 Spread a thin layer of cheese onto the bread. I used a lovely fresh ricotta for these canapés but you can switch things up and use a cream cheese for the salmon, a soft brie, or just brush with olive oil.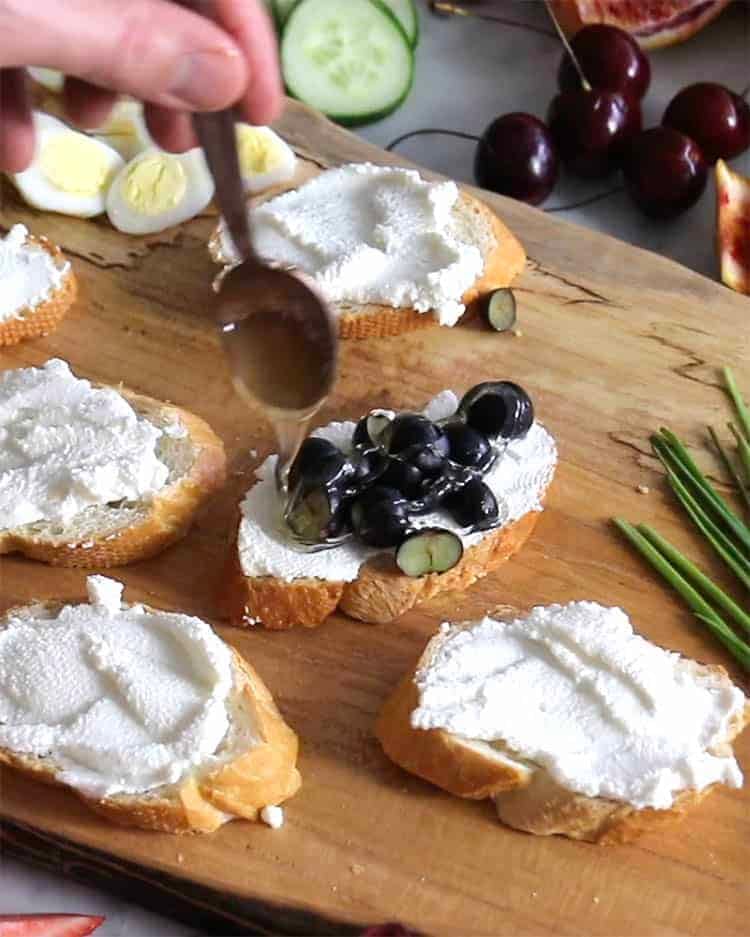 Tart blueberries and a drizzle of honey with ricotta is an amazing combination. Halving the berries makes the appetizer a bit cleaner to eat but is optional.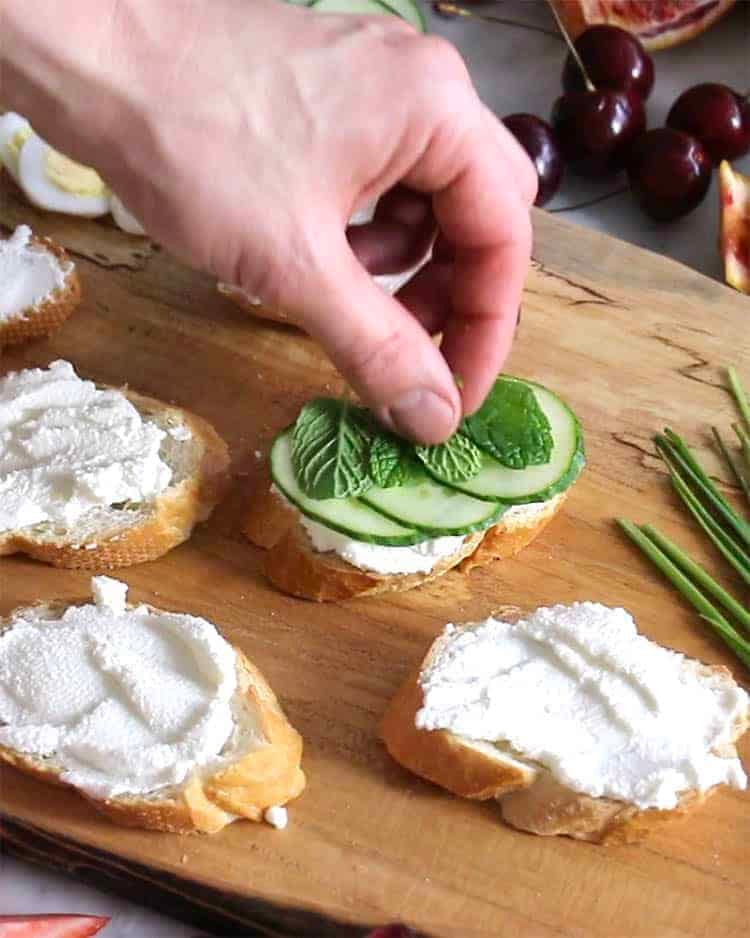 Try a refreshing combination of cucumber slices and mint. I loved this with ricotta but you can definitely go with a smear of cream cheese for some tang.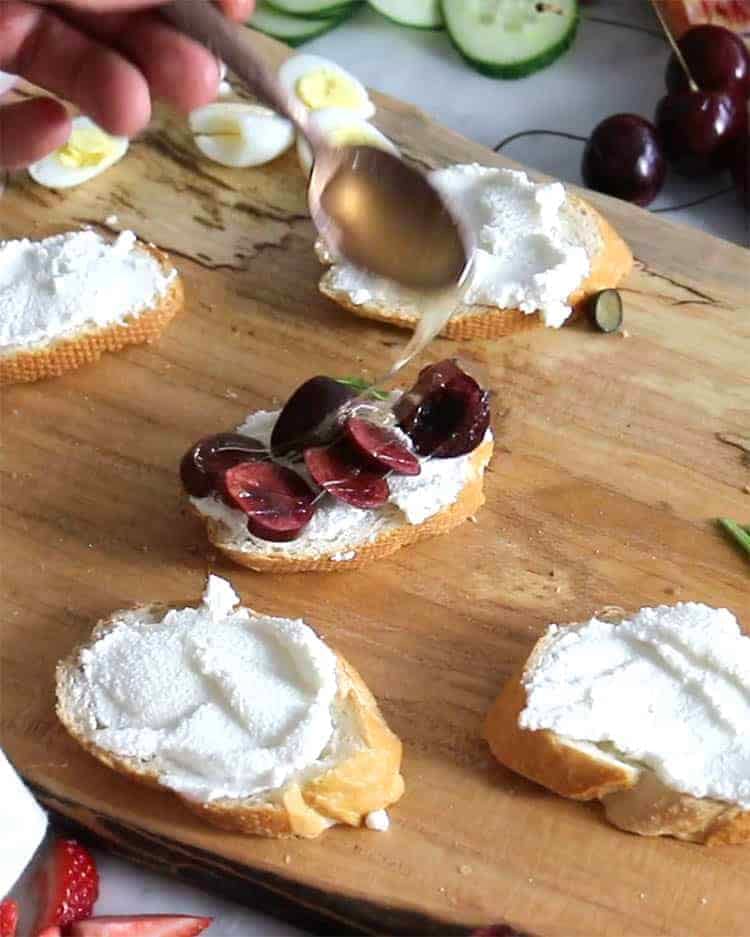 Place the different fruits on the bread and drizzle a bit of honey on top. I slices some fresh cherries, strawberries and blood orange premiums. You'll love the play of colors on your serving tray and of course they'll all be delicious.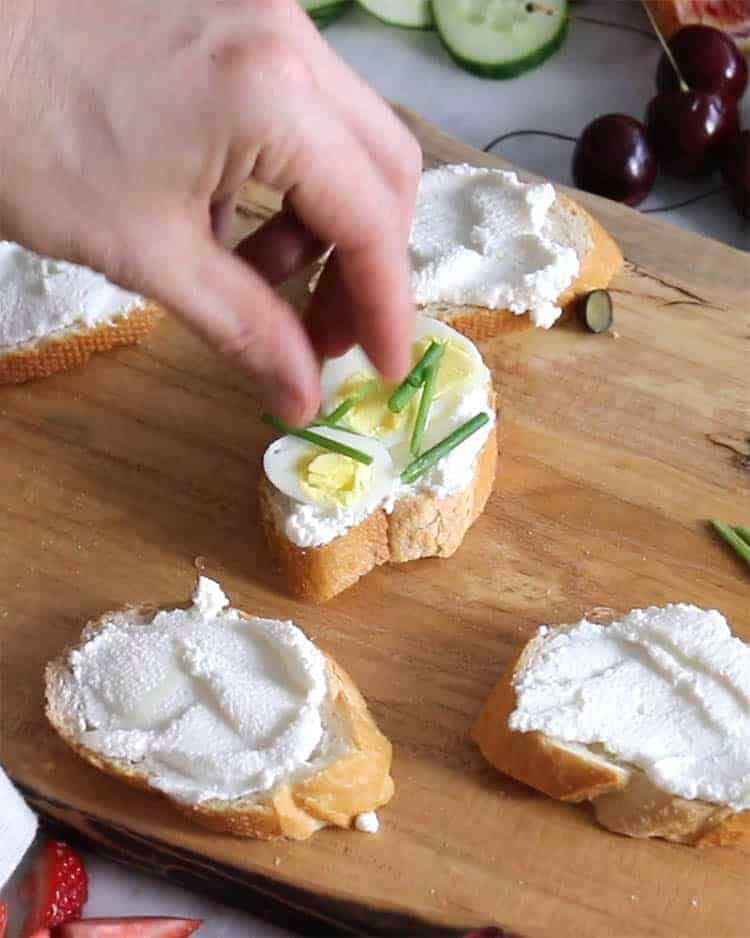 I found the cutest quail eggs at my local market so I just had to serve them hardboiled and sliced with some fresh chives and a sprinkle of salt and pepper. This is another topping that could go well with a cream or neufchâtel cheese.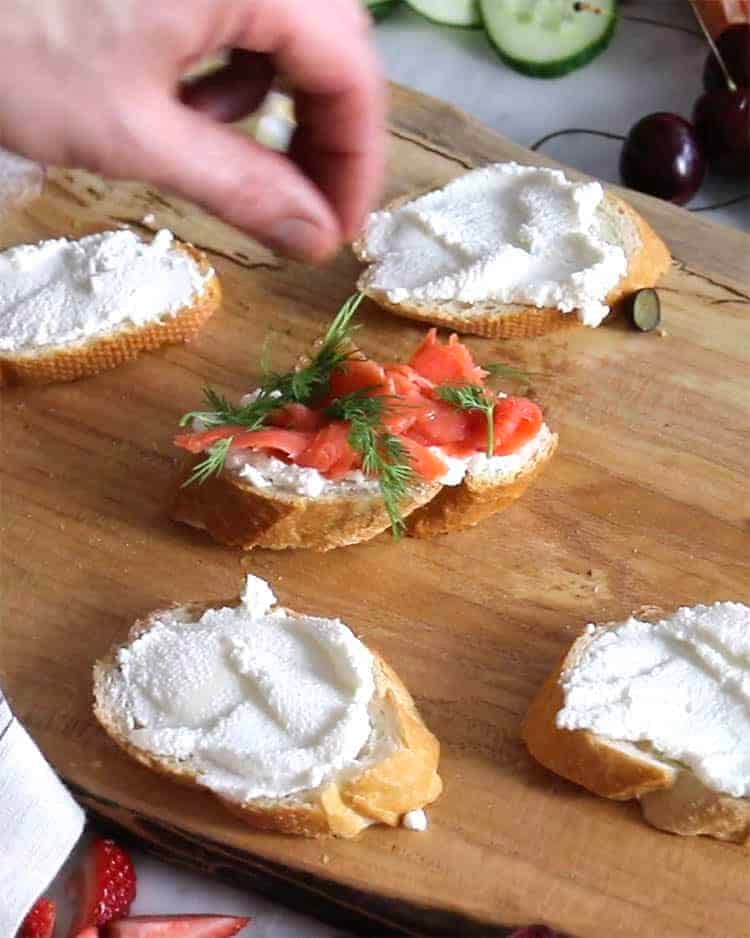 When you're using an ingredient like fresh dill try to find different combinations thad will pair well with it. For this set of canapés I used smoked salmon and thin sliced of radishes with it. Very different flavors but both delicious.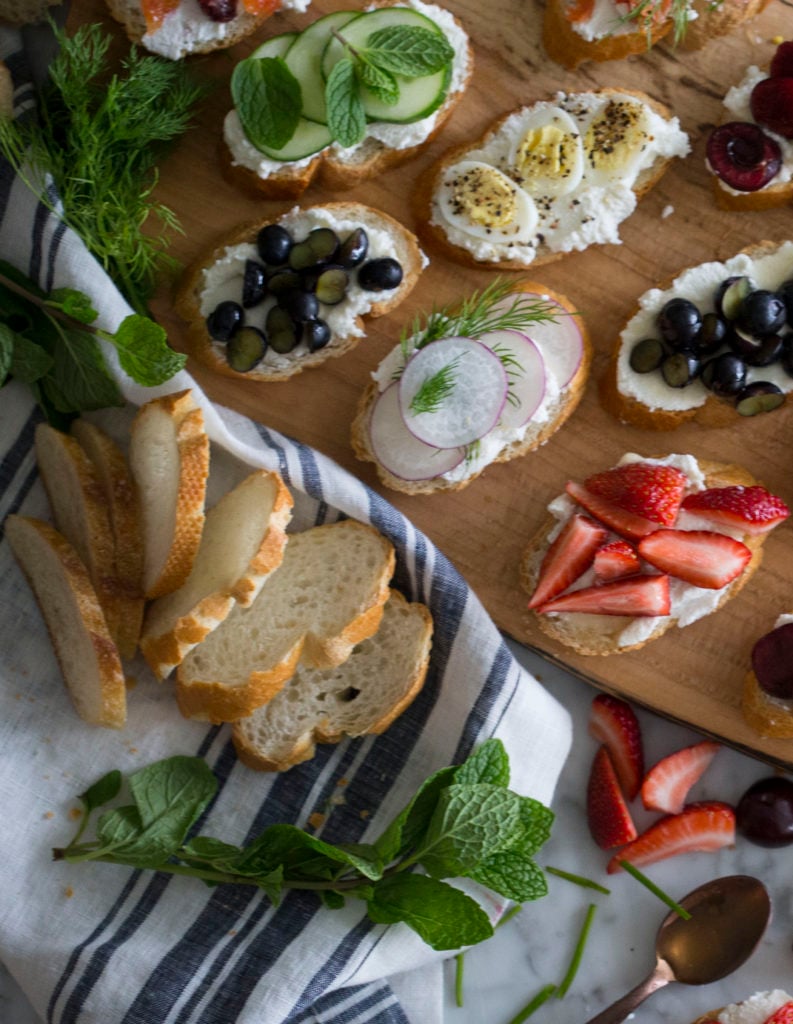 One of my all-time favorite summer desserts is grilled peaches filled with ricotta cheese lightly sweetened with honey. I took that flavor note and applied it here. The ricotta is so creamy and really compliments the flavors of the various toppings.
I love finding new uses for ingredients I love. Blood orange premiums? Yes please! Have fun and experiment with fresh ingredients you enjoy.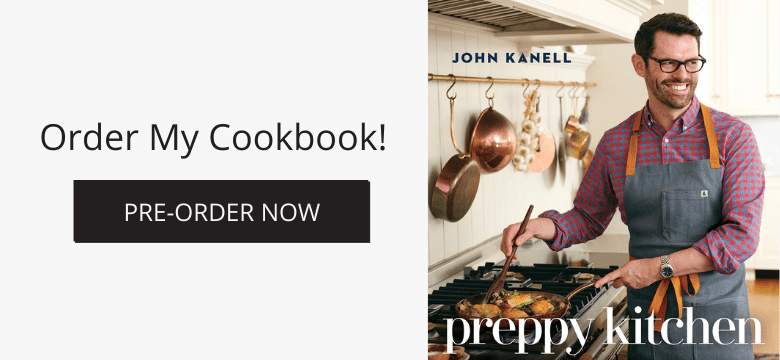 If you've tried this easy canapé recipe then don't forget to leave a rating and let me know how you got on in the comments below, I love hearing from you!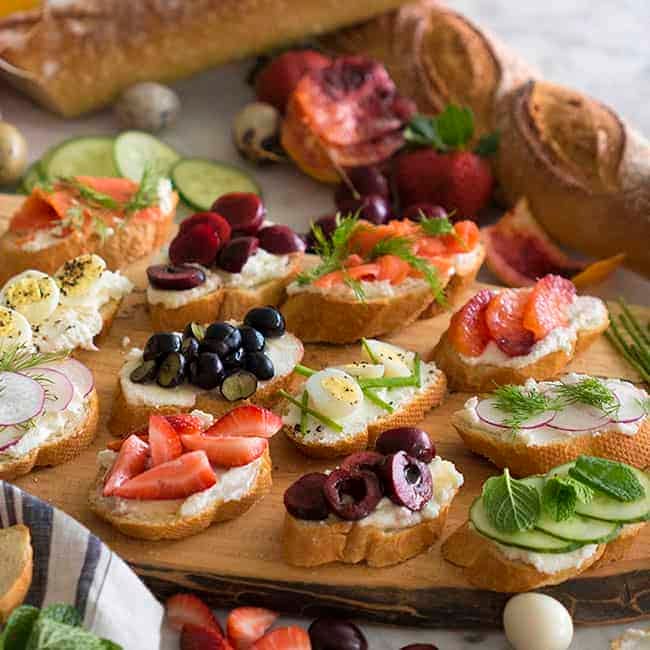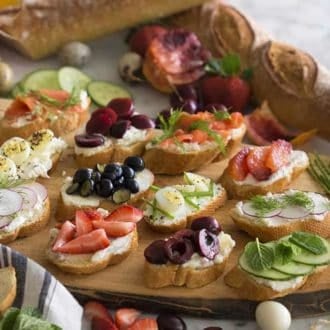 Print
Easy Canapés
These easy but of so delicious canapés made with simple, fresh ingredients will delight your guests.
Ingredients
1

Baguette

toasting each piece is optional

15

oz

whole milk ricotta

2

radishes

sliced thin

6

quail eggs

hard boiled, or hen's eggs

1

orange

premiumed

5

oz

smoked salmon

1

cucumber

sliced thinly

1/2

cup

blueberries

halved

1/2

cup

strawberries

sliced

1/2

cup

cherries

pitted and halved

1/4

cup

honey

2

sprigs

mint leaves

2

sprigs

fresh dill

2

tbsp

fresh chives

chopped
Instructions
Cut the bread into half inch slices. I loved the way this tasted with a fresh baguette right out of the oven but you can toast the slices for a little extra crunch or even brush them with some olive oil and then bake on a sheet at 400F for a few minutes.

Spread ricotta on each piece of bread.

Add toppings. I paired salmon with dill, cucumbers with mint, radishes with dill, hard boiled eggs with chives, and give the fruit a drizzle of honey.
Notes
If you want to make this in advance I recommend toasting the bread in the oven first.
You can sub chicken eggs for quail.
Feel free to use what's in season and add your favorite ingredients.
If you're toasting the bread let it cool before spreading the ricotta on top.
Nutrition
Serving:
4
pieces
|
Calories:
180
kcal
|
Carbohydrates:
24
g
|
Protein:
7
g
|
Fat:
6
g
|
Saturated Fat:
3
g
|
Cholesterol:
9
mg
|
Sodium:
90
mg
|
Potassium:
21
mg
|
Fiber:
3
g
|
Sugar:
8
g
|
Vitamin A:
100
IU
|
Vitamin C:
4.1
mg
|
Calcium:
10
mg
|
Iron:
0.4
mg
*
Nutrition Disclaimer