The cake itself is so packed with flavor, it's pretty nice. I paired it with a super-zesty lemon buttercream and then encased the whole thing in a spiced Italian buttercream. My secret ingredient? Cardamom, such a good spice and I don't think it's used enough, including by me! I was a bit stumped for the decoration, I tried so many things, there are even a few buttercream pine cones in the freezer which did not make the cut… In the end I really love the sparkling cranberries nested on top of the cake, they're like little balls of Christmas!!
Print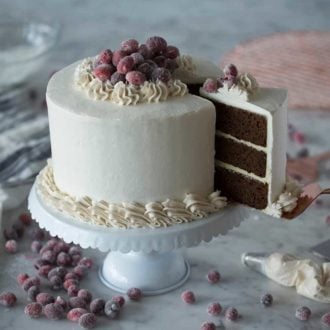 Gingerbread cake
A rich and flavorful gingerbread cake paired with a zesty lemon buttercream and a spiced Italian buttercream all topped by a nest of sparkling cranberries.
Total Time
1
hour
20
minutes
Ingredients
For the Cake
3 3/4

cups

all-purpose flour

1 1/2

cups

boiling water

1

tbsp

baking soda

1

tbsp

baking powder

1

tbsp

ground ginger

2

sticks

butter

unsalted, room temperature

2 1/2

tsp

ground cinnamon

3/4

tsp

ground cloves

3/4

tsp

nutmeg

1/2

tsp

allspice

1/2

tsp

cardamom

3/4

tsp

salt

1

cup

packed light-brown sugar

1 1/3

cup

unsulfured molasses

1 1/2

tbsp

ginger

freshly grated

3

eggs

large, room temperature
For the Lemon Buttercream
1

cup

butter

unsalted, room temperature

5

cups

confectioners' sugar

3

tbsp

lemon zest

5

tbsp

lemon juice

1

tsp

cream

plus one more if needed
For the Italian Buttercream
4

egg whites

room temperature

1 1/2

cups

sugar

divided

1/4

cup

water

1

tsp

cardamom

1

tsp

cinnamon

1/2

tsp

all spice

1/4

tsp

ground cloves

16

oz

unsalted butter
For the Sparkling Cranberries
1 1/2

cups

fresh cranberries

1/2

cup

water

1/2

cup

granulated sugar
Instructions
For the Cake:
Preheat oven to 350F. Butter and flour three 8" cake pans.

Combine boiling water and baking soda in a medium bowl. Sift together the flour, baking powder, ground ginger, cinnamon, cloves, nutmeg, and 3/4 teaspoon salt into a large bowl.

Using a standing mixer with a whisk attachment beat the butter on high until light and fluffy. Add the sugar and beat for about two minutes. Add the molasses, grated ginger, baking soda mixture, and flour mixture. Beat in the eggs.

Divide the batter evenly between the three pans and bake from about 30-35 minutes or until a toothpick inserted in the centers will come out clean.

Allow cakes to cool in the pans for about 10 minutes then turn out onto wire racks to cool completely.
For the Lemon Buttercream:
In a stand mixer fitted with a whisk attachment cream the butter. Add sugar lemon zest, lemon juice and then add cream until desired consistency is reached.
For the Italian Buttercream:
Beat the egg whites and 1/3 cup of sugar until soft peaks form.

In a medium saucepan add the remaining sugar and 1/3 cup water then place on low heat.

Stir until sugar melts and becomes clear.

Maintain at medium high heat until temperature reads 235-240F.

Drizzle the sugar into the mixer immediately.

Run mixer until merengue is cool/tepid.

Add room temperature butter into running mixer one tablespoon piece at a time.

Add the salt and vanilla if using

Beat until butter is combined and mixture has reached a silky consistency.

Add the spices and mix until combined.
For the Cranberries:
Heat the sugar and water to a boil and allow to cool to room temperature.

Toss in the cranberries and allow to soak. Preferably for a few hours or overnight if possible. Move to a wire rack and allow to dry for one hour.

Toss a few at a time in sugar and set aside.

Recipe Notes

Cake recipe adapted from Martha stewart.

Sparkling cranberries are so easy to make and they're excellent snacks. As you can tell from the final photo, I made too many, but have adjusted the recipe accordingly.

Just a closeup of my little cranberry nest. I loved how easy it was to make these dollops, all it took was a little wiggle!
For the Assembly:
Transfer lemon buttercream to a piping bag. Pipe buttercream between each layer.

Pipe Italian buttercream around the outside of the cake.

Pipe continous dollops around the skirt of the cake. Pipe a ring of dollops on the top of the cake, add cranberries.
Nutrition Facts
Gingerbread cake
Amount Per Serving
Calories 180
* Percent Daily Values are based on a 2000 calorie diet.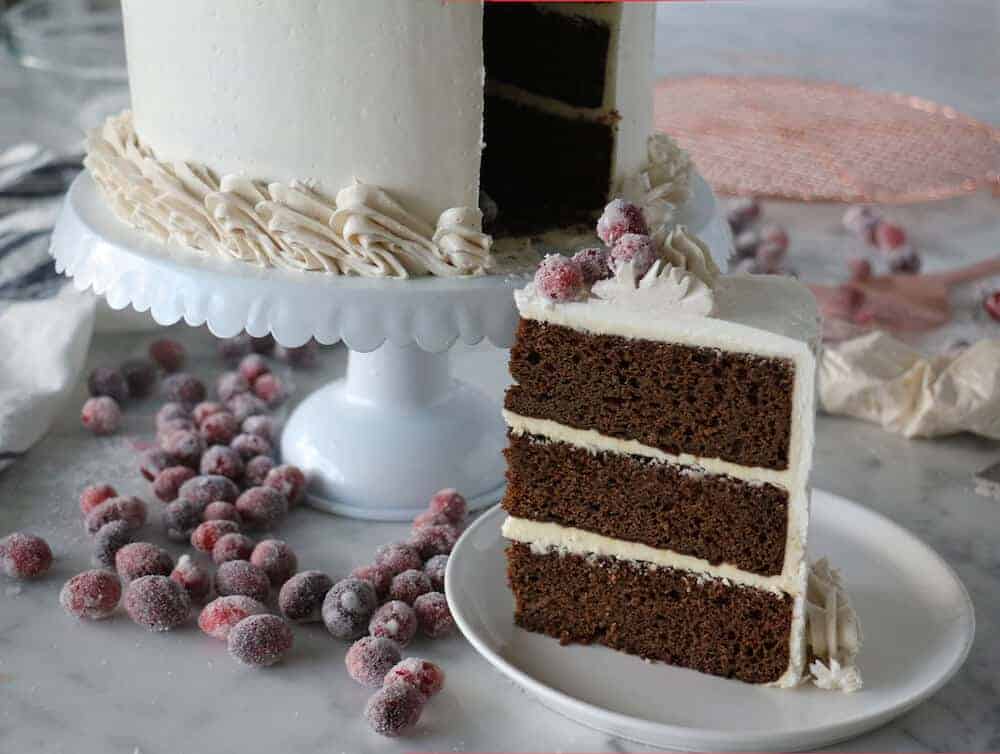 SaveSave
SaveSave
SaveSave