Everyone loves Lofthouse Cookies, those iconic grocery store cookies with a super soft texture, sweet pink buttercream frosting, and brightly colored sprinkles. If you've never tried them before they're not like classic sugar cookies but more of a cross between a cookie and a cake. They have the softest, melt-in-your-mouth texture and deliciously sweet frosting. I've been on a mission to create the perfect copycat Lofthouse Cookies with all of the flavor and texture but way better for you because they are homemade.
For a classic and authentic look, I've added food coloring but it is optional, you can leave it out or use a natural alternative if you prefer. You won't believe how delicious and easy they are to make. They also keep well and can be frozen so your favorite sweet treat is never far away!
What you need to make this recipe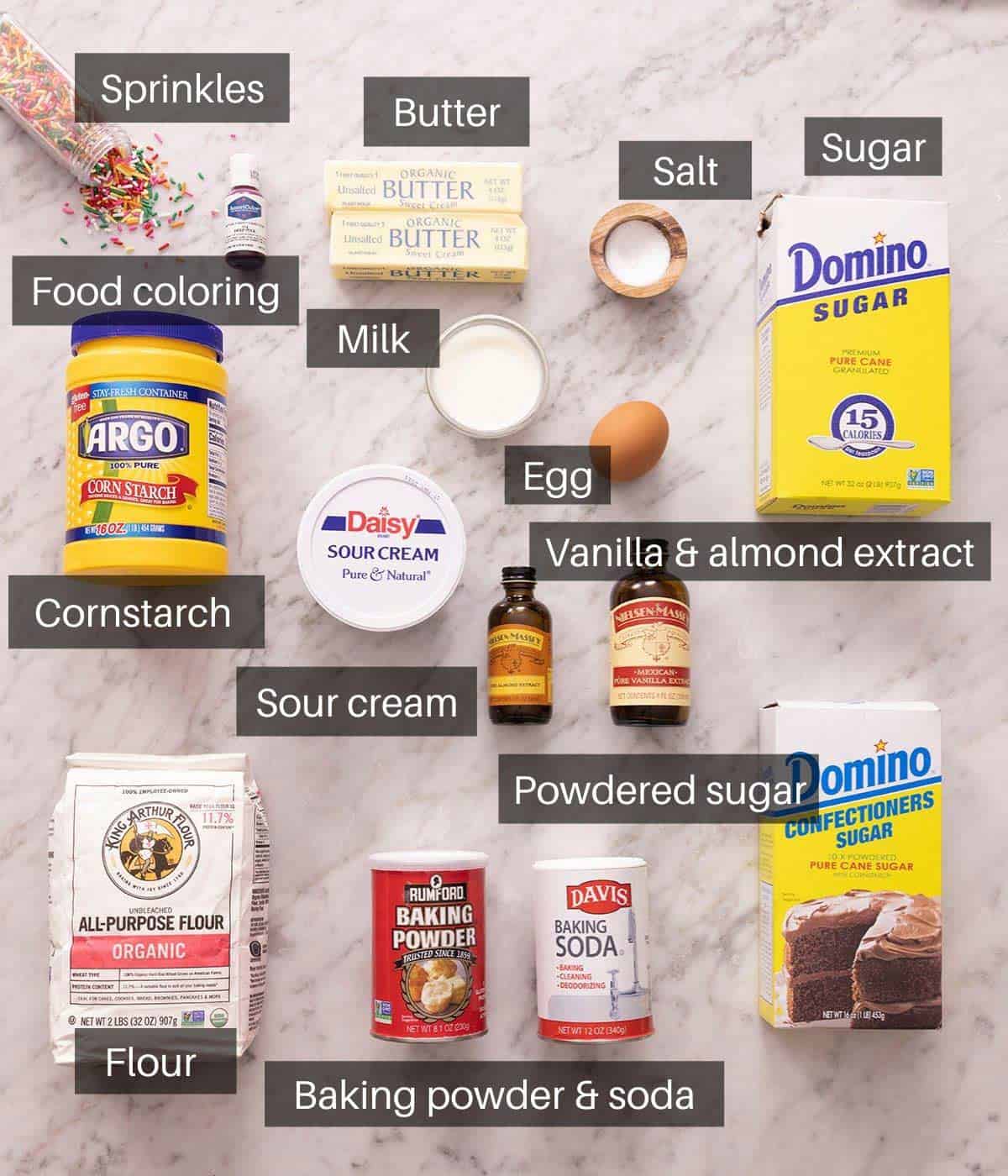 Flour – some recipes use cake flour but I find that all-purpose flour works great!
Cornstarch – it may seem like an odd ingredient but it's the key to super soft cookies.
Butter – make sure you use unsalted butter and that it is at room temperature so it mixes well for both the cookie dough and frosting.
Egg – an egg helps bind the ingredients together and helps the cookies rise, make sure it's at room temperature before starting.
Sugar – for an authentic taste make sure to use granulated white sugar and not brown.
Sour cream – the sour cream helps create a super soft and delicious texture.
Baking powder and soda – I use a mixture of both for extra lift and light texture.
Powdered sugar – powdered sugar is a must for making the frosting!
Milk – this helps loosen the frosting and makes it extra smooth and creamy.
Food coloring – this is optional but it's fun to recreate the classic Lofthouse cookie look!
Sprinkles – again these are optional but are a fun addition, you can choose whatever sprinkles you like.
How to make Lofthouse Cookies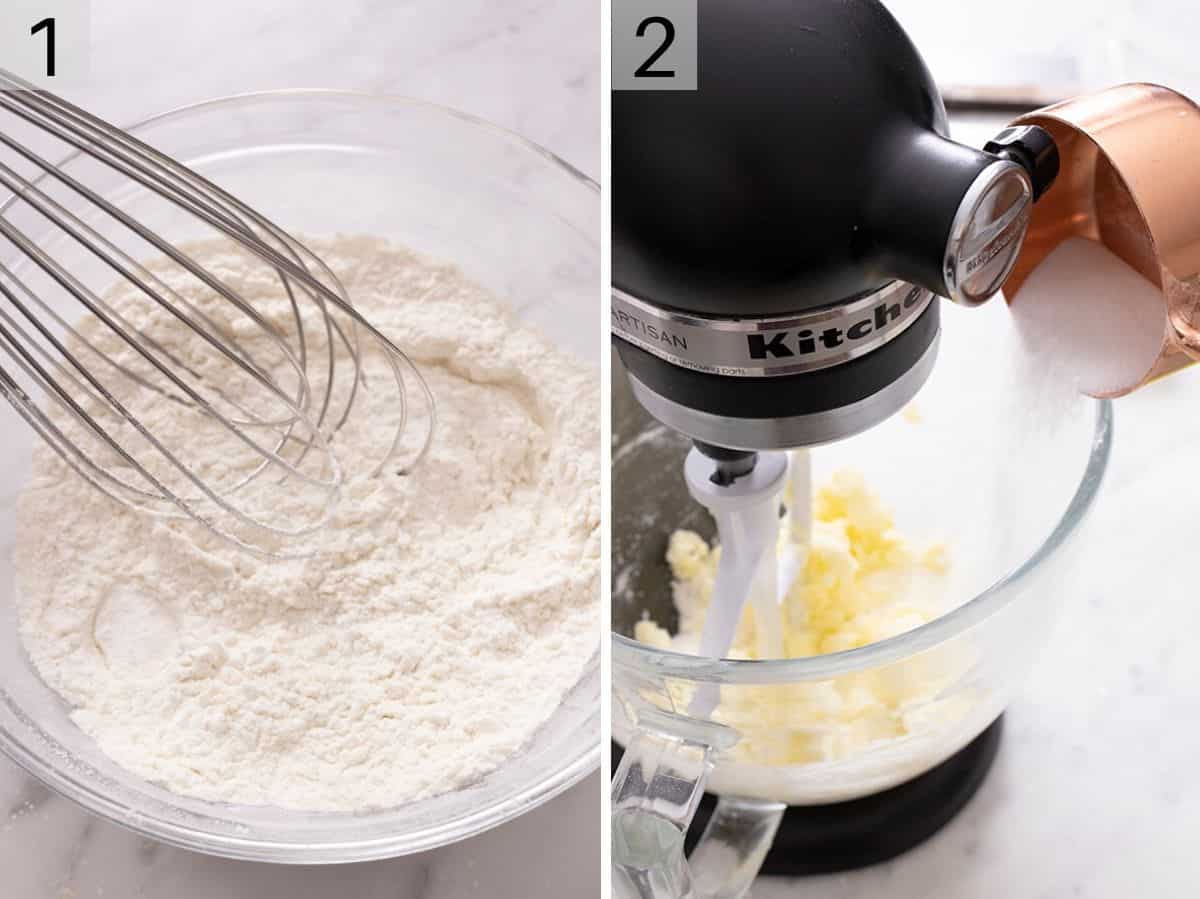 1. Combine all dry ingredients except the sugar in a bowl and set aside.
2. Next, cream the butter and sugar together in a stand mixer until light and fluffy.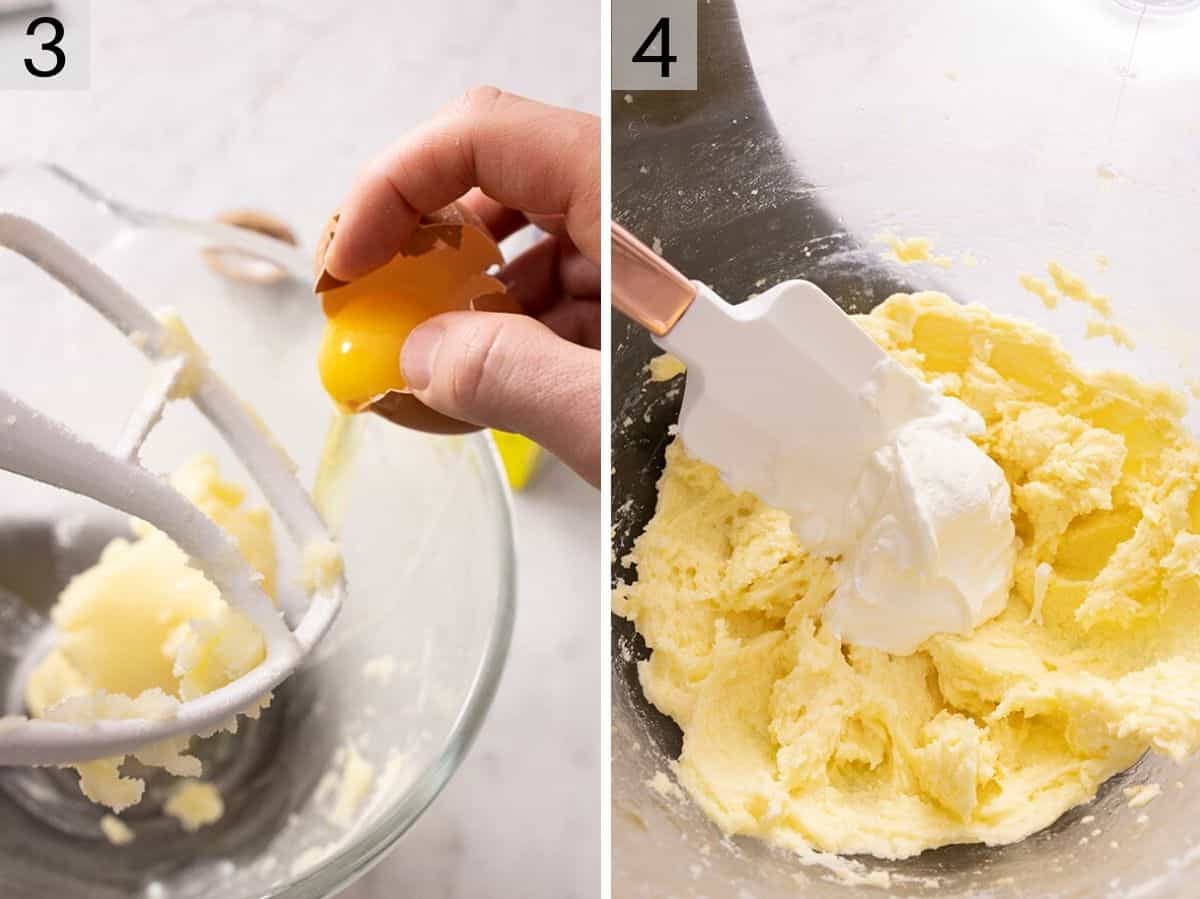 3. Beat in the egg, vanilla, and almond extract of using.
4. Add the sour cream and mix until combined.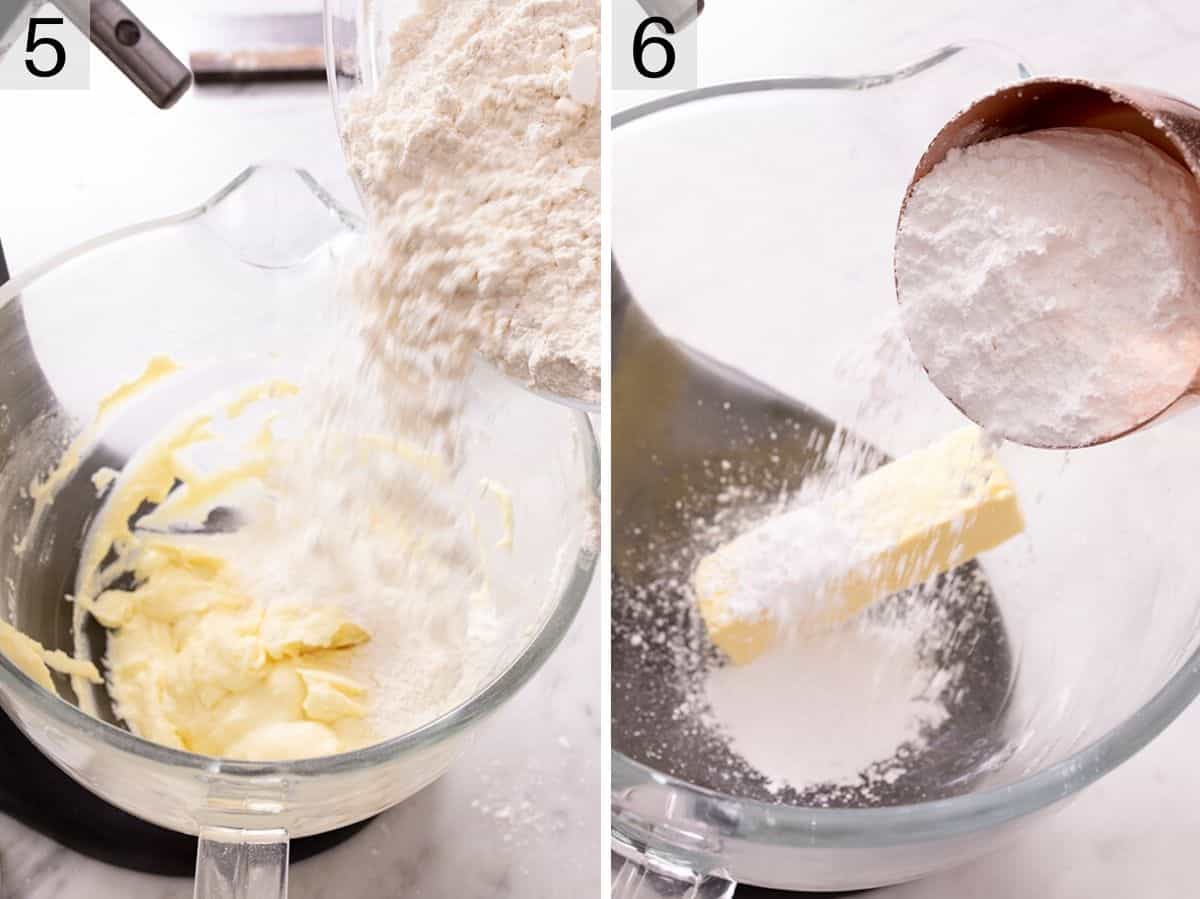 5. Add the dry ingredients to the wet and mix until combined, cover and chill for an hour. Roll out the dough to 1/2 inch thick then cut out the cookies with a round cookie cutter. Place on lined baking sheets and bake for 8-9 minutes.
6. To make the frosting cream the butter until soft then add in the powdered sugar and vanilla. Mix together whilst slowly adding the milk until smooth. Add food coloring if desired. Once the cookies have cooled pipe the frosting onto the cookies followed by sprinkles.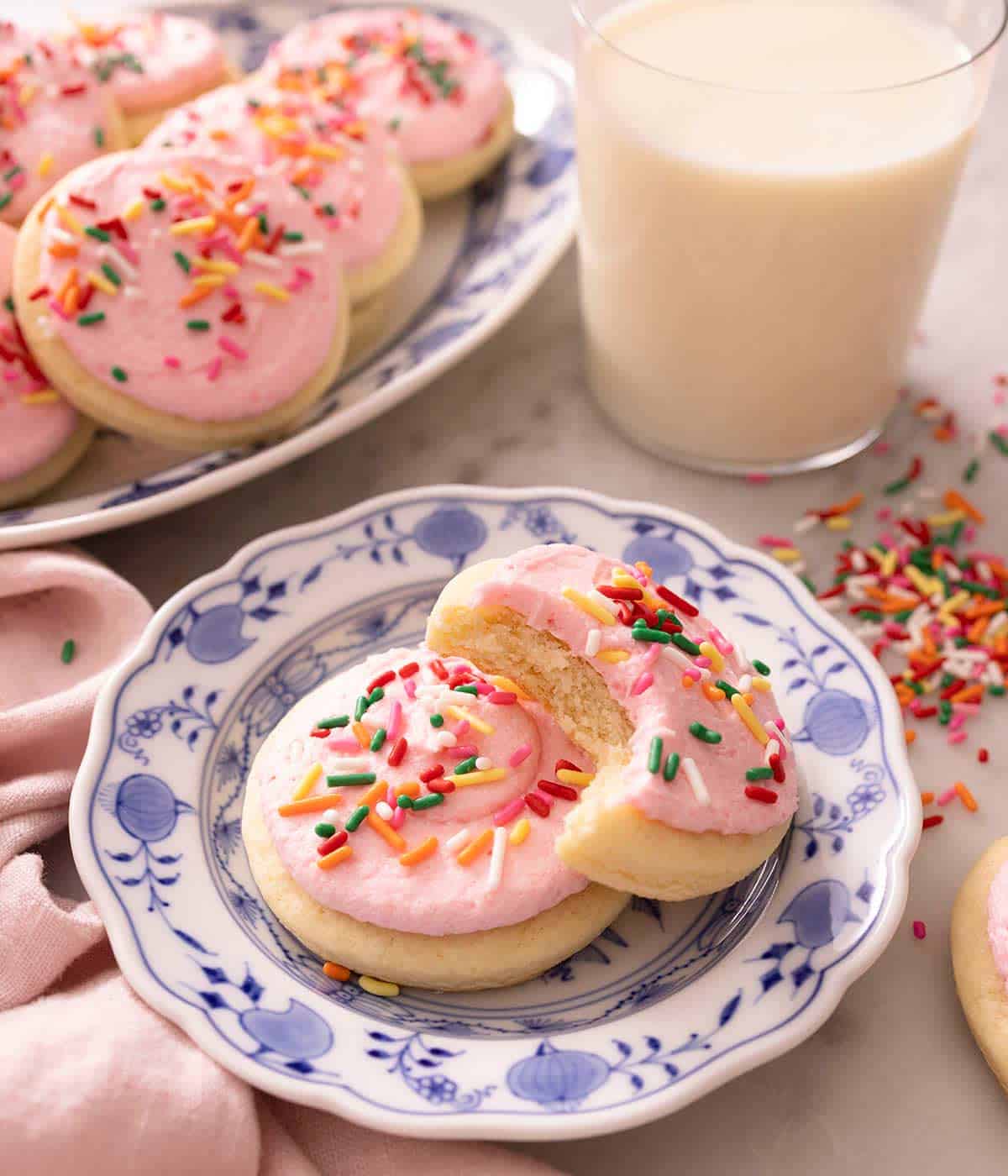 Pro tips for making this recipe
The cornstarch is essential for soft cookies so don't skip it.
Make sure to chill the cookie dough for at least 1 hour or it'll be too sticky to roll out.
The dough will seem thick but it will come together with a few pats.
I used a 2 1/2 to 3 inch round cookie cutter, if yours is bigger or smaller is doesn't matter it'll just affect the total amount of cookies baked.
Make sure your baking powder and soda haven't expired or it won't give the cookies a fluffy texture.
Make sure your refrigerated ingredients are at room temperature (especially the butter and egg) for best results and soft texture.
Use vanilla extract and not essence for best results.
Almond extract replaces synthetic flavor used in the real Lofthouse cookies. If you have a nut allergy you can leave it out.
Make sure you don't over-bake these cookies or the texture won't be the same. These cookies don't brown they should be a nice pale color.
I recommend using gel food coloring because you don't need much to get a nice bright color.
Although pink is the classic frosting color you can choose whatever color you like.
You can smear the buttercream on or pipe it with around tip if you want a neater look.
This makes around 28 cookies but you can easily double the recipe if you need a larger batch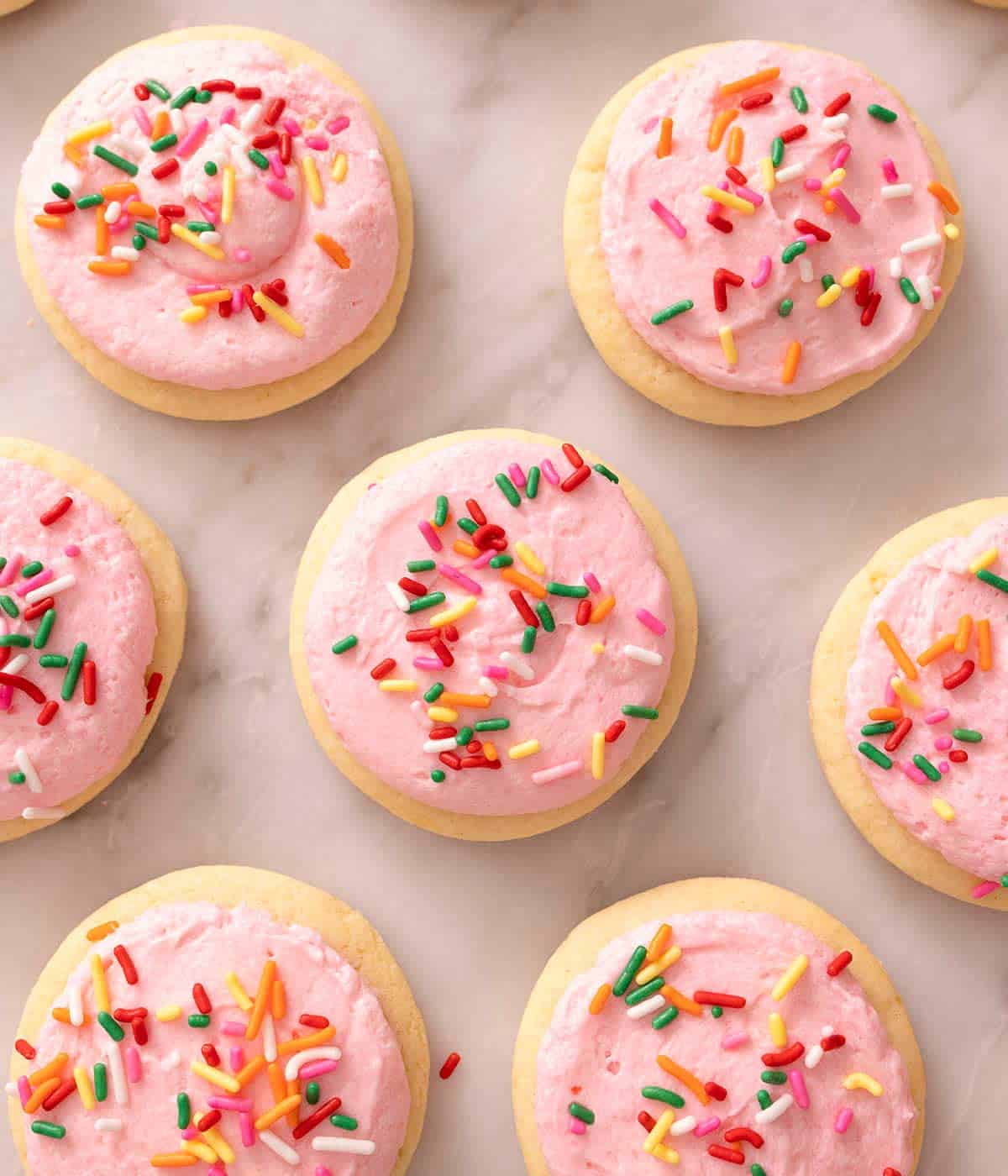 Frequently Asked Questions
What makes Lofthouse cookies so soft?
My copycat recipe has the same super soft and delicious cake-like texture as storebought Lofthouse cookies. I achieved that soft texture by using a mix of both baking powder and baking soda to make them extra fluffy and cornstarch. I also added sour cream which helps keep them moist and soft.
Can I add different flavors?
If you want to try out different flavors then why not try adding in some lemon zest and juice for freshness (try replacing the milk in the frosting with lemon juice or orange juice). You could add cinnamon for some warming spice and switch up the frosting color and look with any food coloring you like and different sprinkles. You can really have fun with these cookies and decorate them just how you like.
Can I prepare these in advance?
Absolutely, the cookie dough will keep well in the fridge for up to 3 days. You might need to let it warm up slightly at room temperature for 10-15 minutes so it's easier to roll out and shape.
How long do they last, can they be frozen?
The cookies will keep well in a sealed container in the fridge for up to 1 week or can be frozen for up to 3 months. Although you can freeze frosted cookies I recommend freezing them unfrosted so they are easier to store. Once thawed, frost and serve.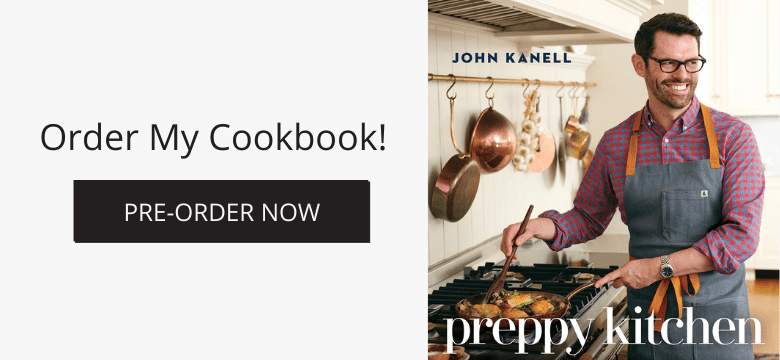 If you've tried this Lofthouse Cookies recipe then don't forget to leave a rating and let me know how you got on in the comments below, I love hearing from you!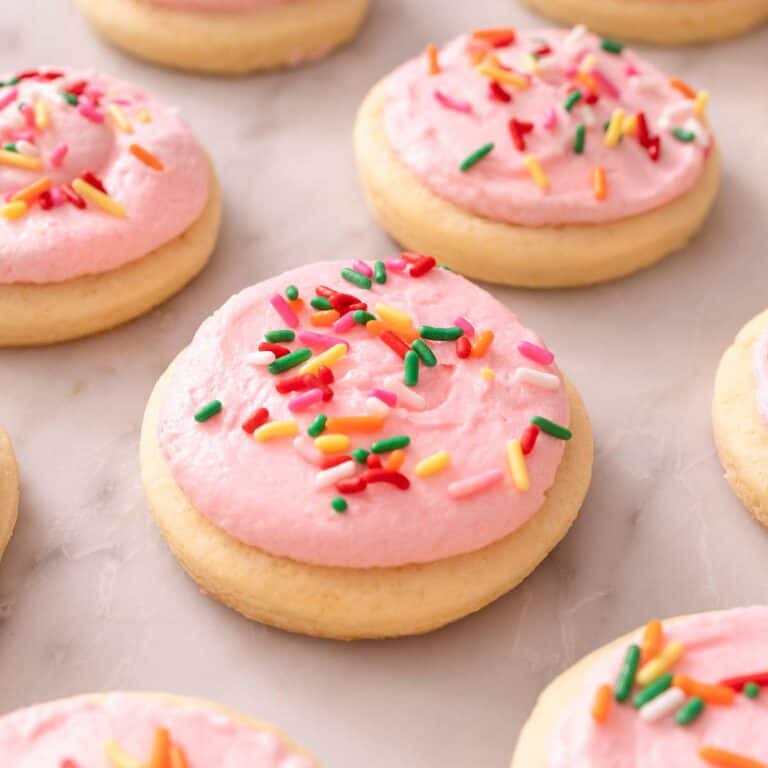 Print
Lofthouse cookies
The most delicious copycat Lofthouse Cookies. Don't forget to check out my step by step photos and tips above.
Ingredients
2 1/4

cups

all-purpose flour

(270g)

1/2

teaspoon

baking powder

¼

tsp

baking soda

1

tbsp

cornstarch

1/2

tsp

salt

1/2

cup

unsalted butter

room temperature (113g)

1

cup

granulated sugar

(200g)

1

egg

room temperature

1/4

cup

sour cream room temperature

(60g)

1 1/2

tsp

vanilla extract

(7.5ml)

¼

tsp

almond extract

optional
For the Buttercream
½

cup

butter room temperature

(113g)

2

cups

powdered sugar

(240g)

1

tsp

pure vanilla extract

(5ml)

2

tbsp

Milk

(30mL) plus more if needed

Food coloring optional

Sprinkles optional
Instructions
Combine the flour, salt, baking powder, baking soda, and cornstarch in a bowl then whisk together and set aside.

Cream the butter and sugar until fluffy then beat in the egg, vanilla, and almond extract if using. Add the sour cream and mix until combined, scraping the bowl down as needed.

Add the dry mixture to the wet and mix on low until just combined. Use your spatula to scrape down the bowl and combine any errant flour. Shape dough into a disk then cover in plastic and chill for an hour.

Preheat oven to 375F. Roll the dough out to ¼ inch then use a 2 1/2-3 inch circular cookie cutter to cut the cookies, Reroll the scraps and cut the remaining cookies. Transfer cookies to parchment-lined baking sheets and bake at 375F for 8-9 minutes or until the cookies are just turning color on the bottom edge. Set aside to cool completely.

While the Cookies bake, cream the butter then mix in the powdered sugar, and vanilla. Drizzle in the milk while mixing on low then increase speed to high and beat until smooth. If using food dye, mix in a drop at a time until desired color is reached.

Top the cookies with a thin layer of buttercream and a smattering of sprinkles.
Notes
The cornstarch is essential for soft cookies so don't skip it.
Make sure to chill the cookie dough for at least 1 hour or it'll be too sticky to roll out.
The dough will seem thick but it will come together with a few pats.
I used a 2 1/2 to 3 inch round cookie cutter, if yours is bigger or smaller is doesn't matter it'll just affect the total amount of cookies baked.
Make sure your baking powder and soda haven't expired or it won't give the cookies a fluffy texture.
Make sure your refrigerated ingredients are at room temperature (especially the butter and egg) for best results and soft texture.
Use vanilla extract and not essence for best results.
Almond extract replaces synthetic flavor used in the real Lofthouse cookies. If you have a nut allergy you can leave it out.
Make sure you don't over-bake these cookies or the texture won't be the same. These cookies don't brown they should be a nice pale color.
I recommend using gel food coloring because you don't need much to get a nice bright color.
Although pink is the classic frosting color you can choose whatever color you like.
You can smear the buttercream on or pipe it with around tip if you want a neater look.
This makes around 28 cookies but you can easily double the recipe if you need a larger batch
Storage - bake and frosted cookies will keep well in a sealed container in the fridge for up to 1 week or can be frozen for up to 3 months.
Nutrition
Calories:
157
kcal
|
Carbohydrates:
23
g
|
Protein:
1
g
|
Fat:
7
g
|
Saturated Fat:
4
g
|
Trans Fat:
1
g
|
Cholesterol:
23
mg
|
Sodium:
84
mg
|
Potassium:
23
mg
|
Fiber:
1
g
|
Sugar:
16
g
|
Vitamin A:
213
IU
|
Calcium:
9
mg
|
Iron:
1
mg
*
Nutrition Disclaimer