Peanut brittle is a classic sweet snack that's traditionally served around Christmas time. It's surprisingly quick to make from scratch and is better than any store-bought version. Best of all, it uses just a few simple ingredients! Personally, I love putting out a big batch on my dessert table at holiday parties along with all my favorite cookies, toffee, and homemade buckeye balls!
What You'll Need for This Recipe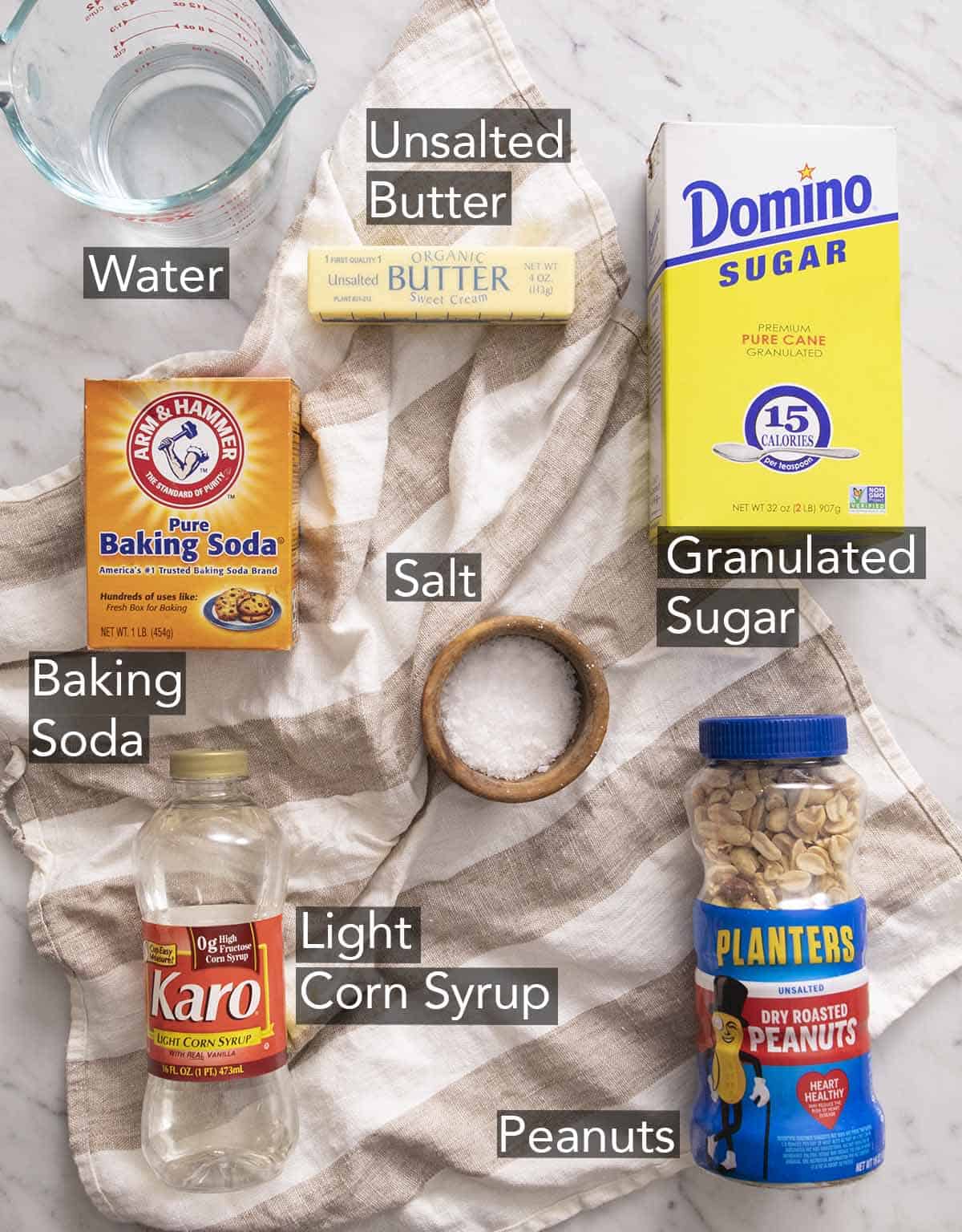 Peanuts: Dry roasted unsalted peanuts work best for this recipe.
Unsalted butter: If you're using salted butter then reduce the added salt in the recipe to 1/4 tsp.
Light corn syrup: Corn syrup will help prevent the sugar from crystalizing so the brittle stays smooth rather than turning grainy or gritty.
Baking soda: This helps to aerate the caramel making it light and fluffy. Do not omit it.
How to Make Peanut Brittle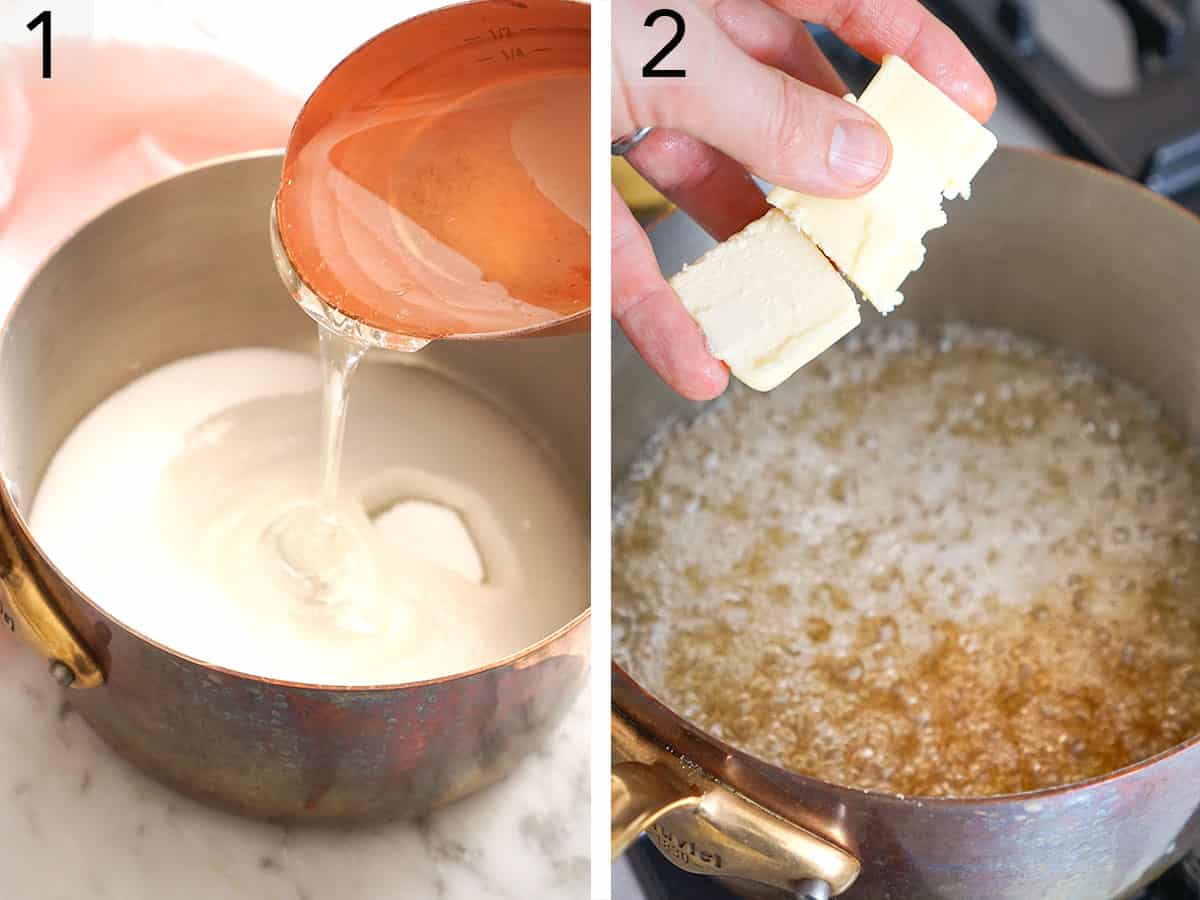 1. Add the sugar, water, salt, and corn syrup to a heavy-bottomed pot then stir together.
2. Attach a candy thermometer to the pot and place over medium-high heat while stirring occasionally. Once your mixture comes to a boil add the butter and start stirring frequently.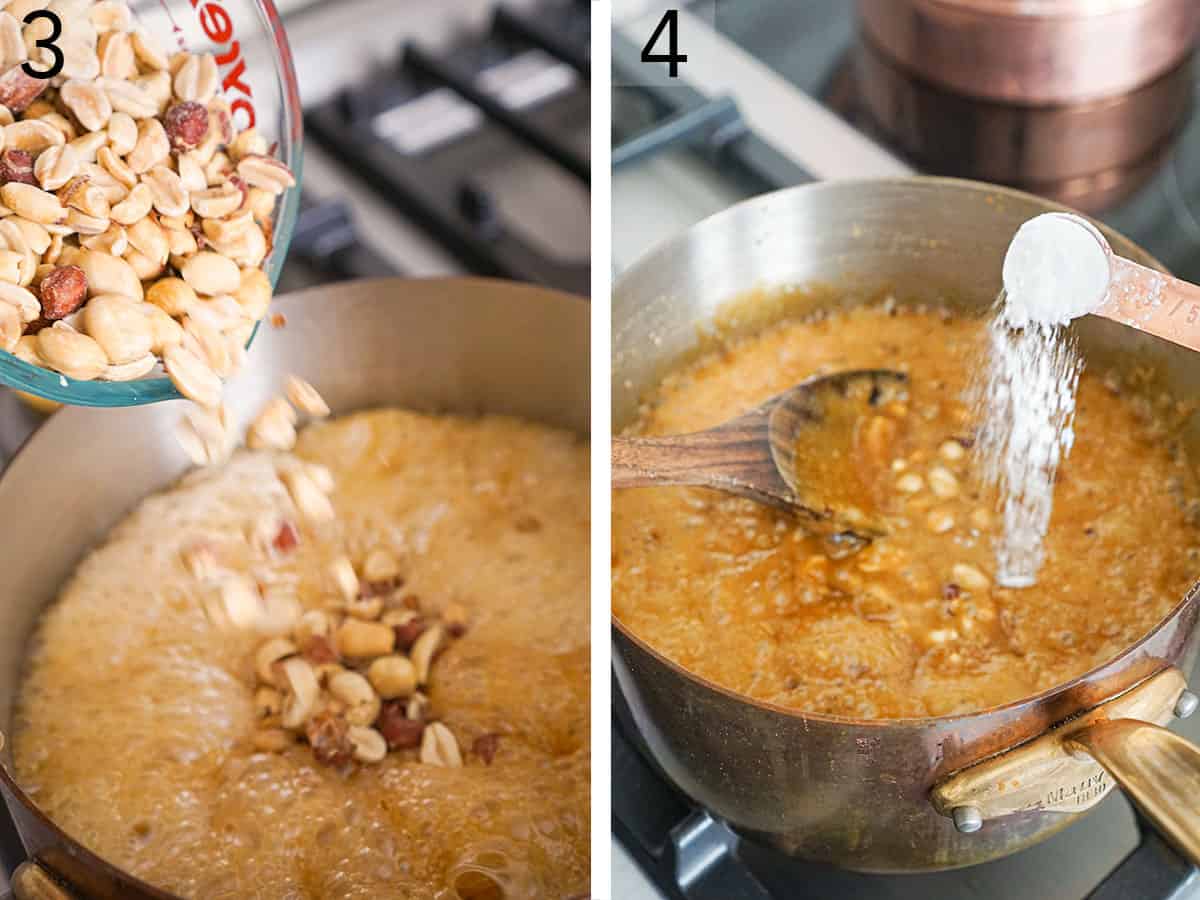 3. Once the mixture hits 280F it's time to add the peanuts. Mix well and keep stirring.
4. When your candy thermometer reads 305F remove from heat and stir in the baking soda.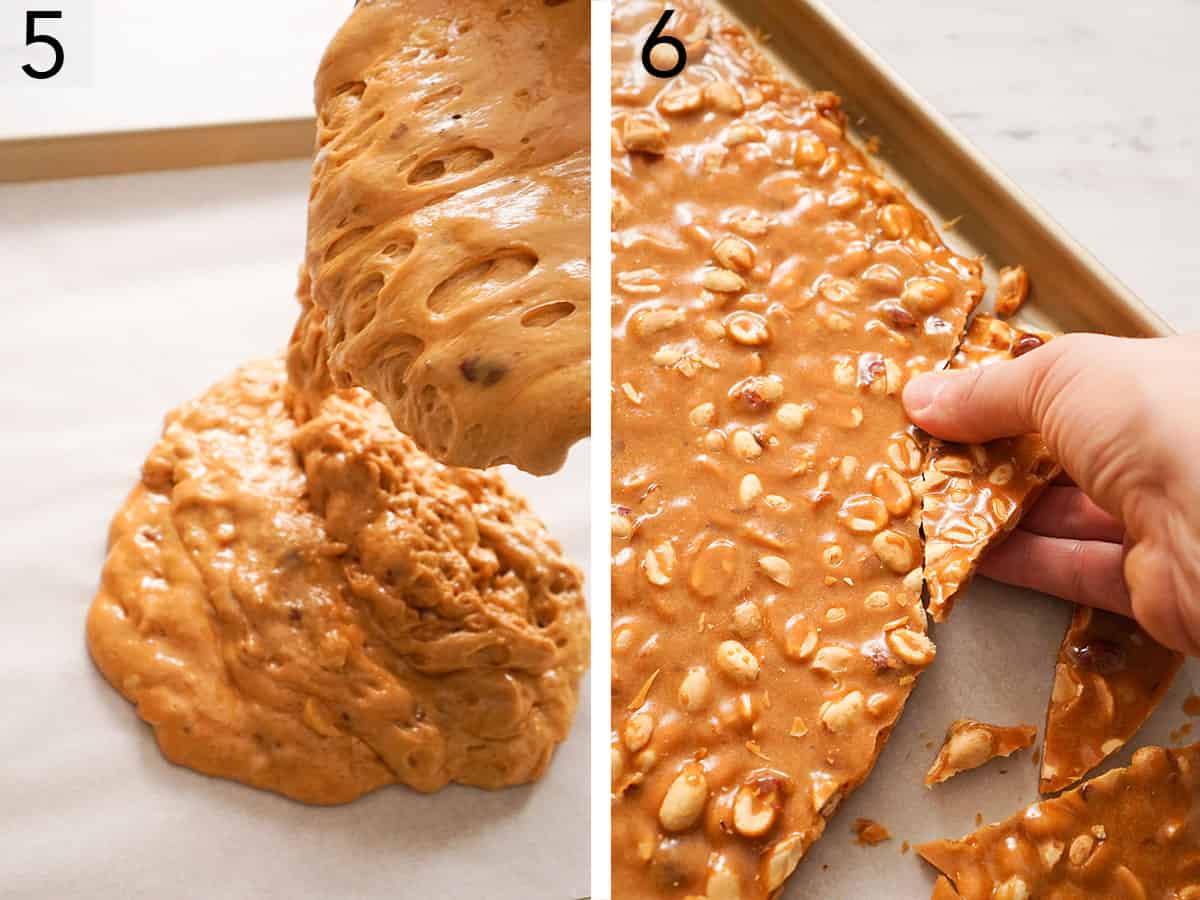 5. Immediately dump the mixture out onto your parchment paper-lined baking sheet and spread out into a thin layer as quickly as possible without going back and fidgeting with it once spread. Allow it to cool and set for about 10 minutes.
6. Once the brittle has hardened you can break into pieces and enjoy.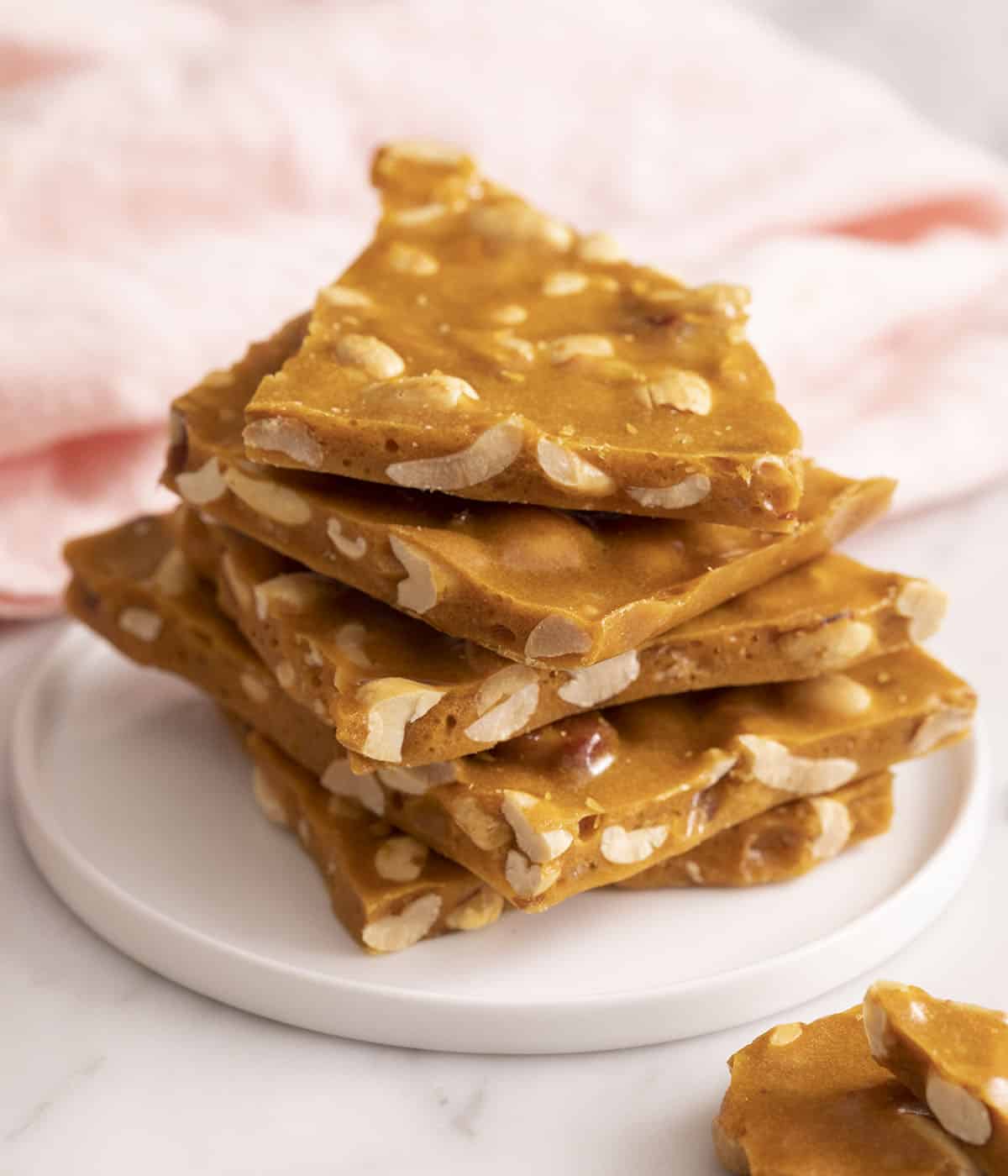 Pro Tips for this Recipe
Have all your ingredients measured out and ready before you start. The brittle comes together VERY fast so you'll need to have the peanuts and baking soda ready to mix in.

You can spread the brittle onto one large cookie sheet or two quarter baking sheets.

It's best to not overwork the brittle once it's ready. Spread it out thinly as fast as possible using an offset spatula. You want to maintain the air so your brittle is light and delicate.

You can sprinkle some flaked sea salt over the brittle after it's spread out for an added salty crunch.

Store in an airtight container to avoid humidity which could make the brittle sticky.

Be careful when pouring your caramel onto a sheet pan. It's extremely hot and will burn you if you're not careful.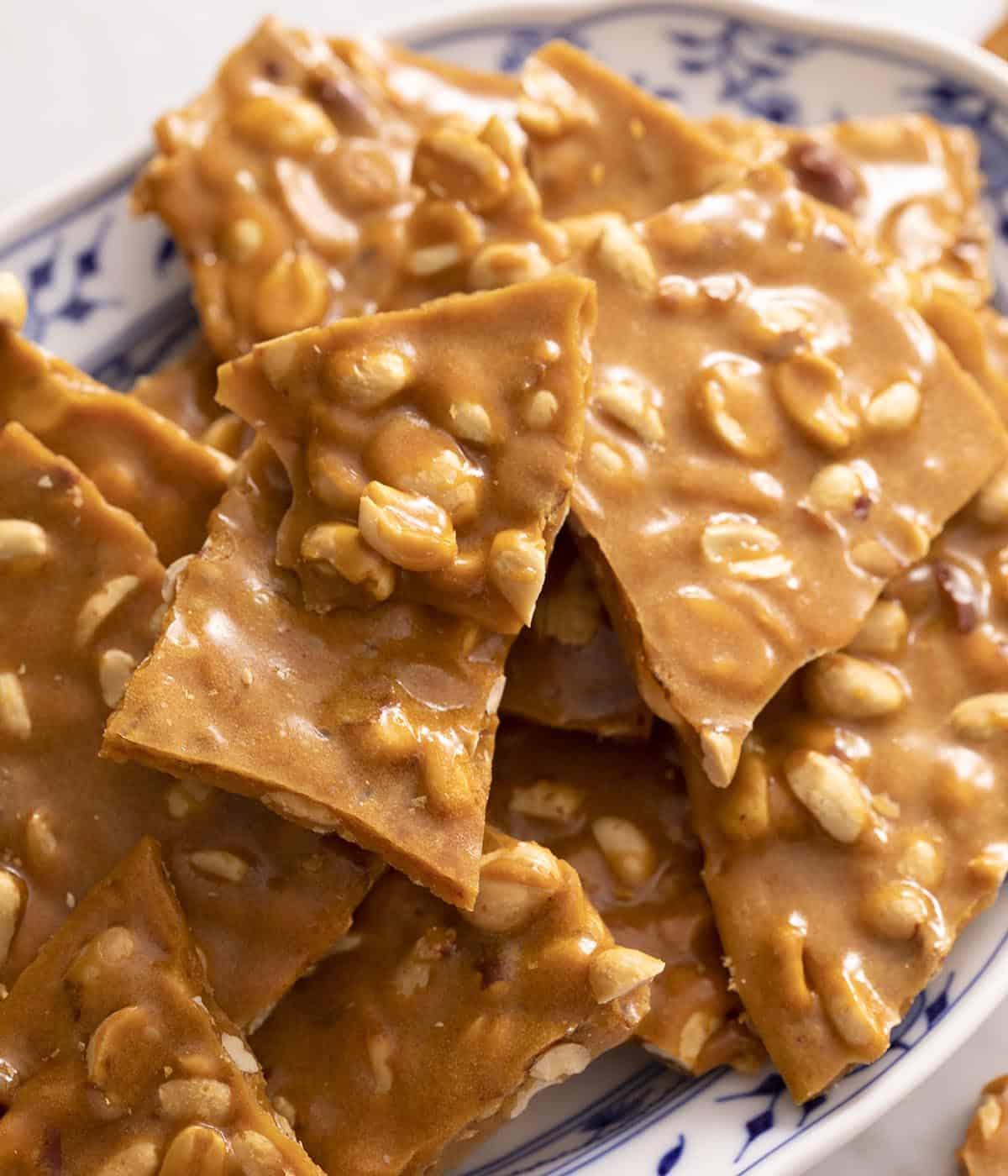 Substitutions
Feel free to substitute the roasted peanuts with another unsalted nut like pecans or walnuts if you prefer. You can also use a mixture of your favorite nuts. As for the other ingredients, substitutions like using honey, molasses or agave syrup are not recommended. They are more likely to burn easily and lead to a bitter-tasting brittle.
Frequently Asked Questions
What does baking soda do for peanut brittle?
Baking soda causes many small bubbles to form in the brittle, which then create a light and airy texture that makes it easy to bite into and enjoy.
Why is my brittle chewy?
You did not heat your caramel enough. If the sugar does not reach a certain "crack" stage, it will never get hard enough to break. Using a candy thermometer ensures the brittle reaches the hard candy texture we want. The color should resemble a penny.
Why is my peanut brittle too hard?
If you didn't add enough baking soda or you over worked the brittle when it was spread out and setting then there will not be enough bubbles to lighten the texture and make it easy on your teeth when eating.
How long does it take to harden?
Your brittle will set and harden in about ten minutes if the baking sheet is laying on a cold counter. You can give it 20 minutes if it's very warm or you have some concerns.
How do you store it?
Store in an airtight container at room temperature or in a paper bag to prevent humidity from getting to it, creating a sticky situation. Brittle can last for up to 6 weeks if stored properly. You can freeze your brittle for up to 3 months in a freezer-safe container.
Can you make this without a candy thermometer?
In theory yes but practically speaking I would not recommend it. Your sugar has to get to the hard crack stage (305F), which you can determine by taking a little bit on a spoon and dropping it into cold water. The sugar should form a hard ball. If it forms a soft, sap-like, ball or dissolves then it is not hot enough. When you're making the recipe things can go pretty fast and it's not easy to keep testing your sugar with this method. Looking out for an amber color helps but it's so much easier to use a candy thermometer.
If you've tried this Peanut Brittle recipe then don't forget to leave a rating and let me know how you got on in the comments below, I love hearing from you!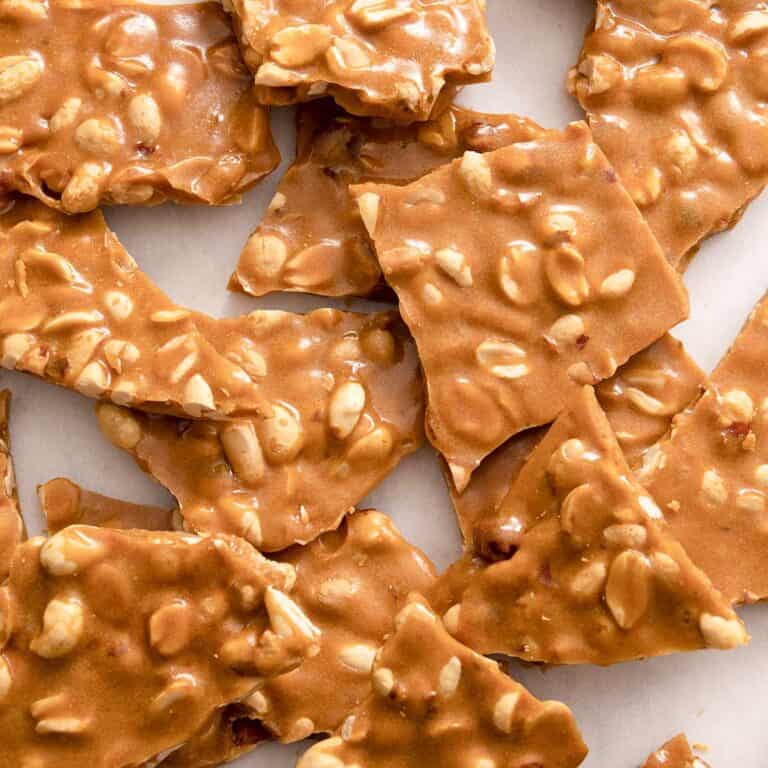 Print
Peanut Brittle
You'll love this sweet and salty crunchy peanut brittle.
Equipment
pot

Candy thermometer

Baking Sheet

Parchment paper
Ingredients
2

cups

granulated sugar

1

cup

light corn syrup

½

teaspoon

salt

1/2

cup

water

3/4

cup

butter

room temp, cut into tablespoon-sized pieces

2

cups

dry roasted peanuts

unsalted

1

teaspoon

baking soda
Instructions
Line two a large baking sheet with parchment paper, measure out two cups of peanuts and a teaspoon of baking soda. Combine the sugar, water, salt, and corn syrup in a medium-sized pot then stir to combine and place over medium high heat. Clip your candy thermometer in so it does not touch the bottom the bottom of the pot.

Allow to the mixture to come to a boil while stirring occasionally then add the butter and continue stirring.

Once the mixture reaches 280F, add the peanuts in while stirring constantly until the thermometer reads 305F. Remove from heat, stir in the baking soda then immediately dump onto your parchment lined baking sheet and quickly spread out using a spatula. Your brittle should be thinner than the peanuts embedded in it.

Allow brittle to cool for about 10 minutes before breaking into pieces.
Notes
Have everything measured out and ready before you start. The brittle comes together very fast and you need to have the peanuts and baking soda ready to dump in.
You can spread the brittle onto a large jelly roll pan or two quarter baking sheets.
Don't overwork the brittle, spread it out thinly right away. You want to keep all those bubbles to make it light and delicate.
You can sprinkle some flaked sea salt over the brittle after it's spread out for an added salty crunch.
Store in an airtight container to avoid humidity making the brittle sticky.
Nutrition
Serving:
2
pieces
|
Calories:
229
kcal
|
Carbohydrates:
30
g
|
Protein:
3
g
|
Fat:
12
g
|
Saturated Fat:
5
g
|
Cholesterol:
15
mg
|
Sodium:
239
mg
|
Potassium:
84
mg
|
Fiber:
1
g
|
Sugar:
28
g
|
Vitamin A:
177
IU
|
Calcium:
10
mg
|
Iron:
1
mg
*
Nutrition Disclaimer