Print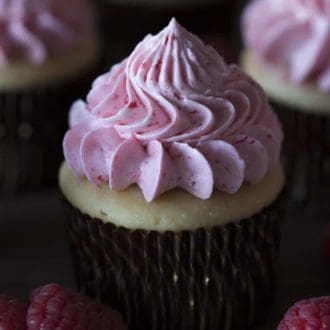 Peanut Butter Jelly Cupcakes
Here's my somewhat more elegant take on an American classic. Growing up I was OBSESSED with PBJ sandwiches. Last week, I even made a few peanut butter chocolate cakes. It inspired me to try out this combo. The cake is moist. You can definitely taste the peanut butter.The buttercream is light and has just the right amount of berry flavor. If you want to really pump up the flavors, you can make this into a filled cupcake to which you could add a peanut butter ganache or jam. Let me know what you think!
Ingredients
For the Cupcakes:
1 2/3

cups

all purpose flour

1

cup

sugar

1/4

tsp

baking soda

1

tsp

baking powder

1/2

cup

salted butter

1/4

cup

+ 1 TBS smooth peanut butter

3

egg whites

3

tsp

vanilla extract

1/2

cup

sour cream

(120ml)

1/2

cup

milk

(120ml)
For the Italian Buttercream:
4

large egg whites

1 1/2

cups

sugar

1/3

cup

water

1

pinch

salt

16

ounces

unsalted butter at room temperature, cut into 1-inch pieces

(32 TBS)

1

tsp

pure vanilla extract
For the Raspberry Reduction:
6

ounces

raspberries

2

TBS

sugar

Juice of 1/2 of a lemon

1

TBS

water
Instructions
For the Cupcakes:
Sift together the dry ingredients and give them a good whisk.

Cream the butter, peanut butter and sugar, then mix in the rest of the wet ingredients, eggs, milk, vanilla etc.

Slowly add the wet ingredients to the dry, mixing until just combined.

Fill cup liners about 2/3 the way up and place in middle rack of oven for about 20-25 minutes or until the centers are cooked.
For the Raspberry Reduction:
Place the ingredients in a small sauce pan on medium low heat.

Mash the berries with the back of a spoon or muddler and stir occasionally.

You want to reduce the amount of liquid, intensify the flavor, and thicken the liquid so aim to cook until the mixture is reduced by half.

Strain the reduction and set aside to cool.

For the Italian Buttercream:
Beat the egg whites and 1/3 cup of sugar until soft peaks form.

In a medium saucepan add the remaining sugar and 1/3 cup water and place on low heat.

Stir constantly until sugar melts and becomes clear. Maintain a medium high heat until temperature reads 235-240F.


Drizzle the sugar into the mixer immediately. Run mixer until meringue is body temperature.


Add room temperature butter into running mixer one piece at a time. Beat until butter is combined and mixture has reached a silky consistency

Mix in the cooled berry reduction and pipe onto cupcakes (I used an 869 tip).
Nutrition Facts
Peanut Butter Jelly Cupcakes
Amount Per Serving
Calories 145
* Percent Daily Values are based on a 2000 calorie diet.