There's something so special about a roasted artichoke, simply drizzled with oil and roasted with lemon and garlic, it's the simplest recipe yet jam-packed with flavor! Artichokes are only in season for a short amount of time so the majority of the time we enjoy jarred or canned artichokes, I mean they are so delicious and can be used to make so many incredible recipes like my artichoke dip or artichoke pizza or even but there's nothing quite like fresh globe artichokes, roasted and seasoned to perfection!
I serve these artichokes with a super easy 5-minute garlic aioli made with roasted garlic and lemon juice, it's so delicious and turns this dish into one incredible appetizer indeed!
What you need to make this recipe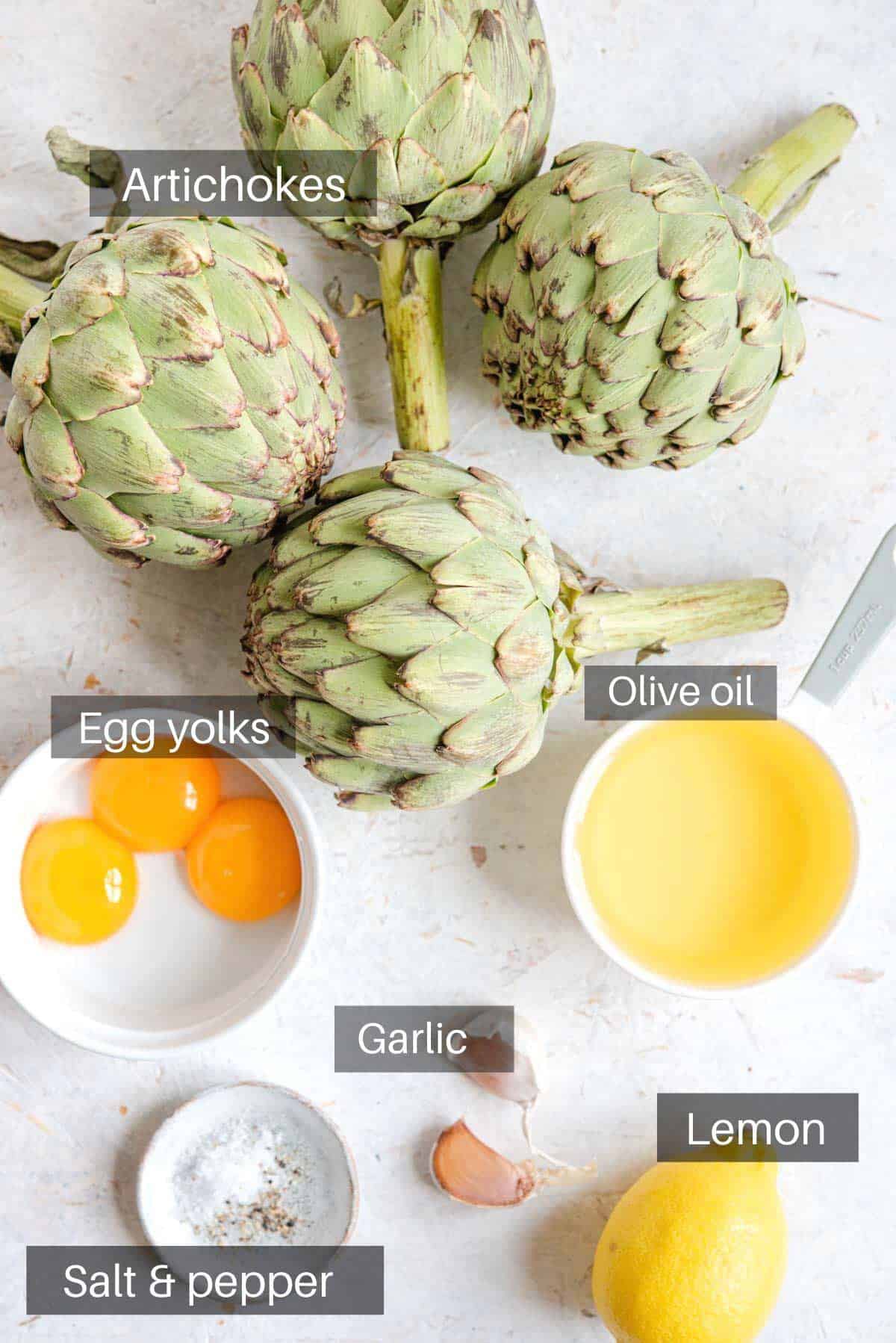 Artichokes – when artichokes are fresh they feel heavy so check how they feel before you buy them.
Garlic – fresh garlic is placed inside the prepared artichokes and it really infuses into the artichokes and tastes so delicious. After roasting I remove the garlic and use it to make the aioli!
Olive oil – I like to use regular olive oil for roasting and a higher quality one to make the aioli.
How to make Roasted Artichoke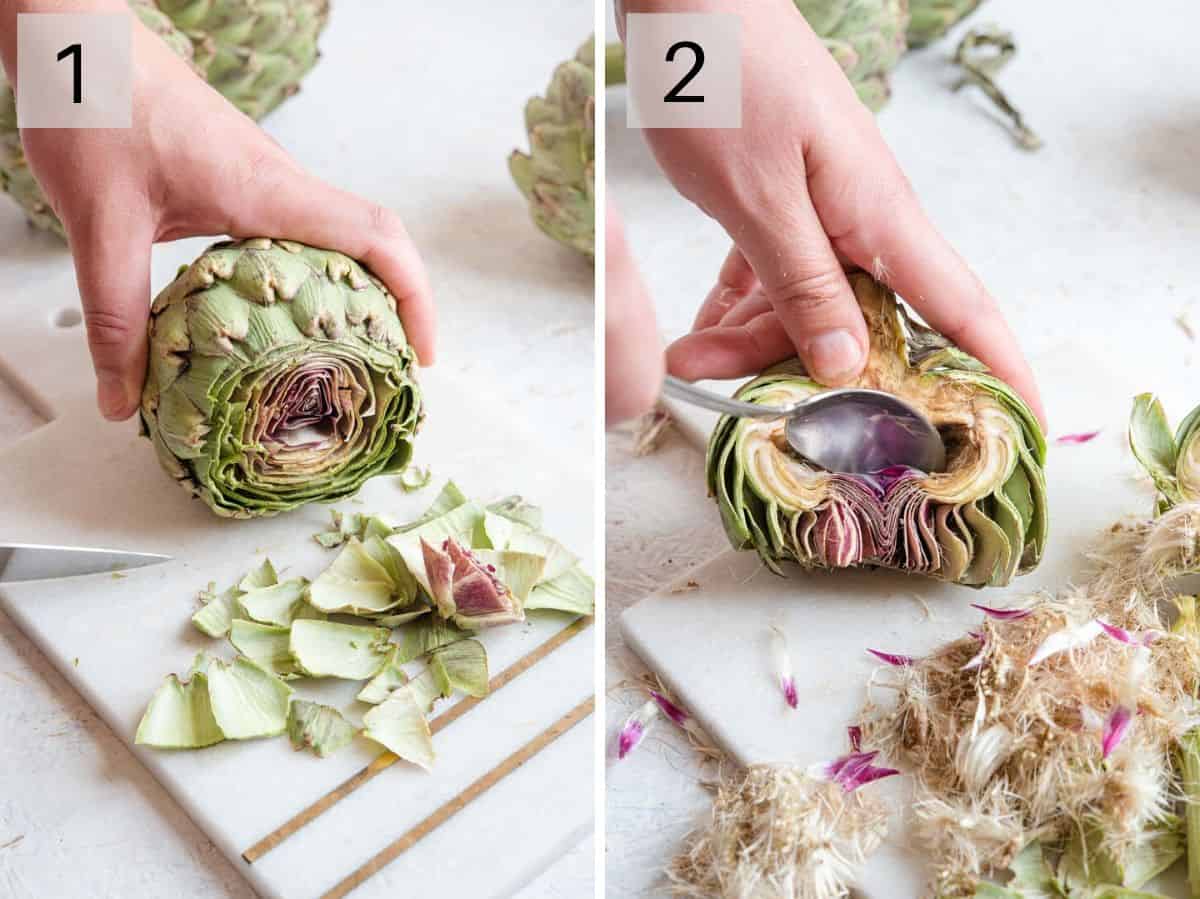 1. First, cut off the pointy tips from the artichokes, cut the stalks so they are only around 1 inch long and then cut in half.
2. Hollow out the choke from the artichoke (the fluffy part).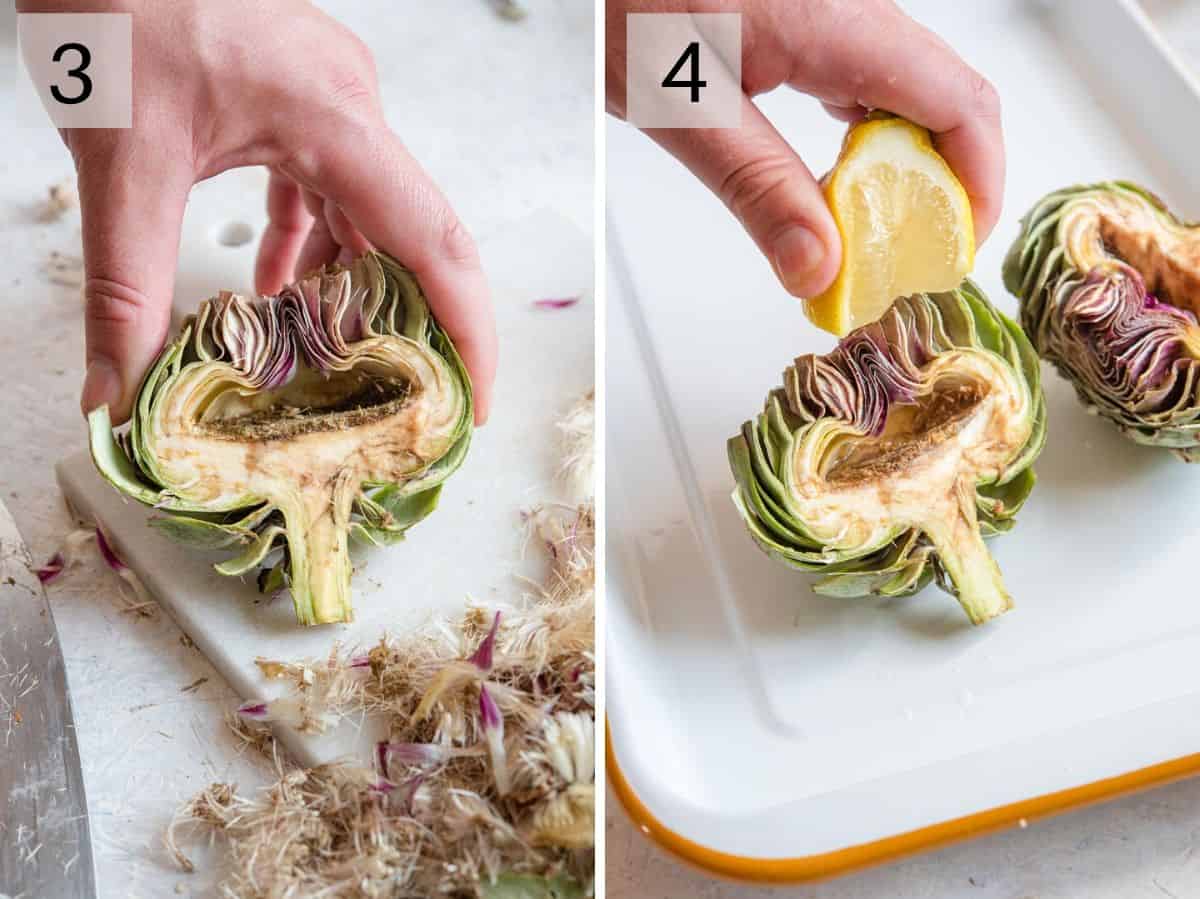 3. Discard the fluffy part as it won't be used.
4. Squeeze lemon juice all over the cut side of the artichoke.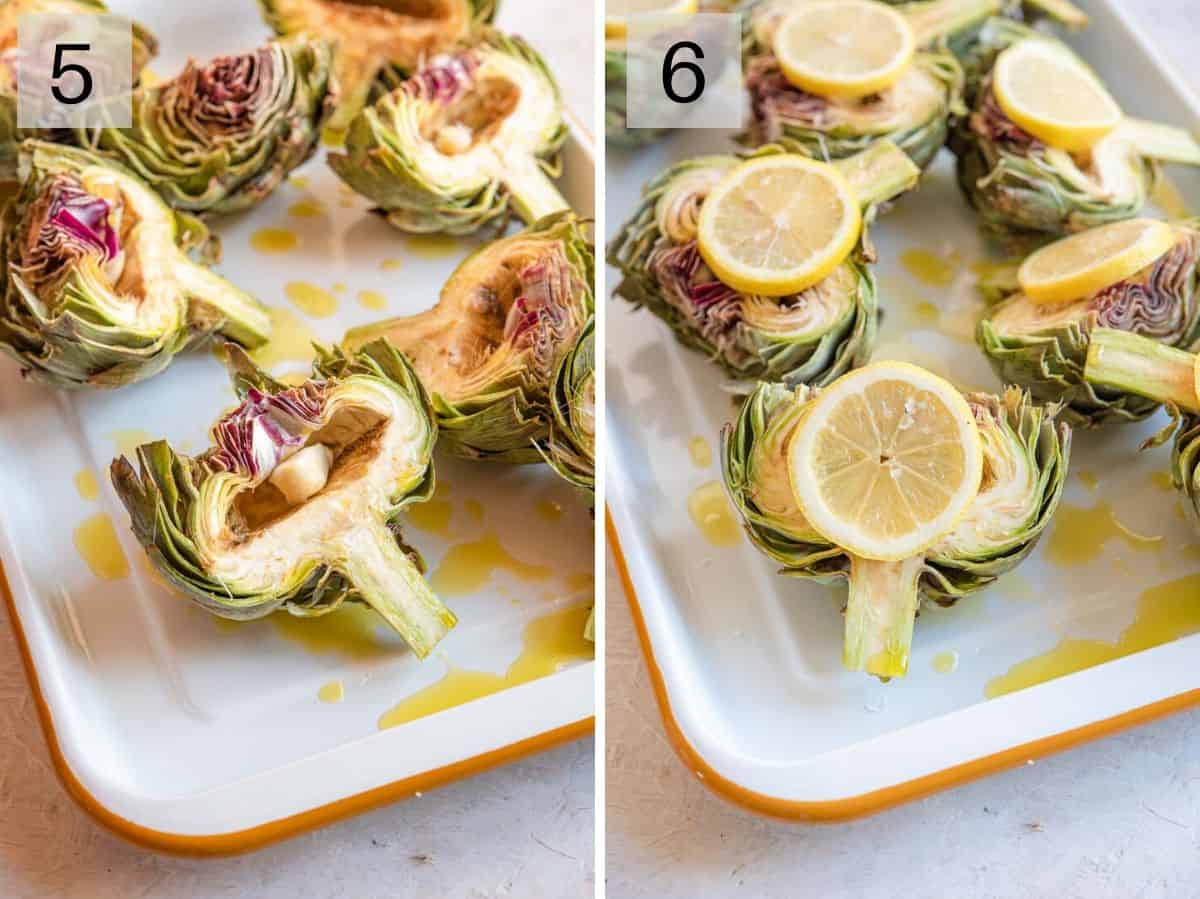 5. Salt the artichokes and place a little garlic inside each one and drizzle with olive oil.
6. Place a slice of lemon over each artichoke.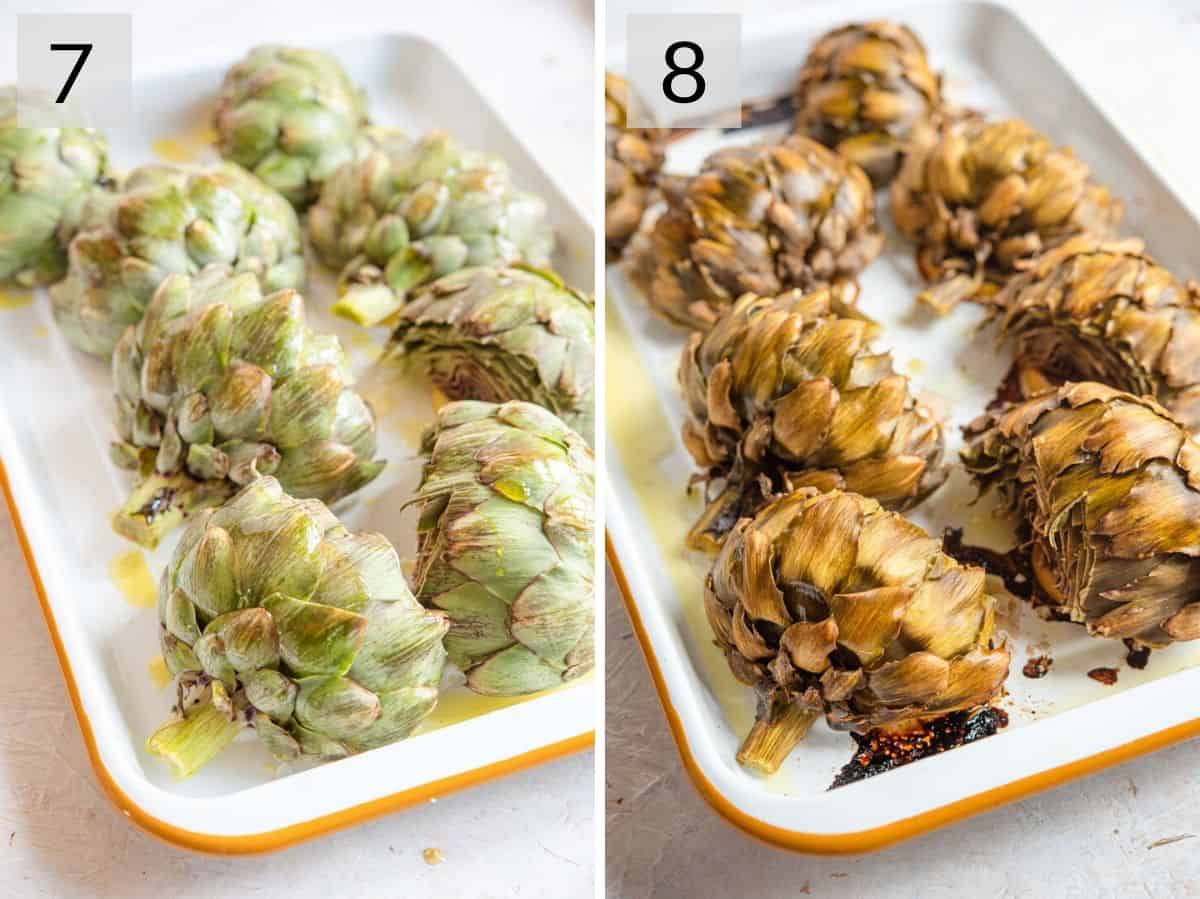 7. Turn the artichokes over so the cut side is facing down, use the slice of lemon to stop the garlic falling out.
8. Roast uncovered for 15 minutes then cover and bake until tender.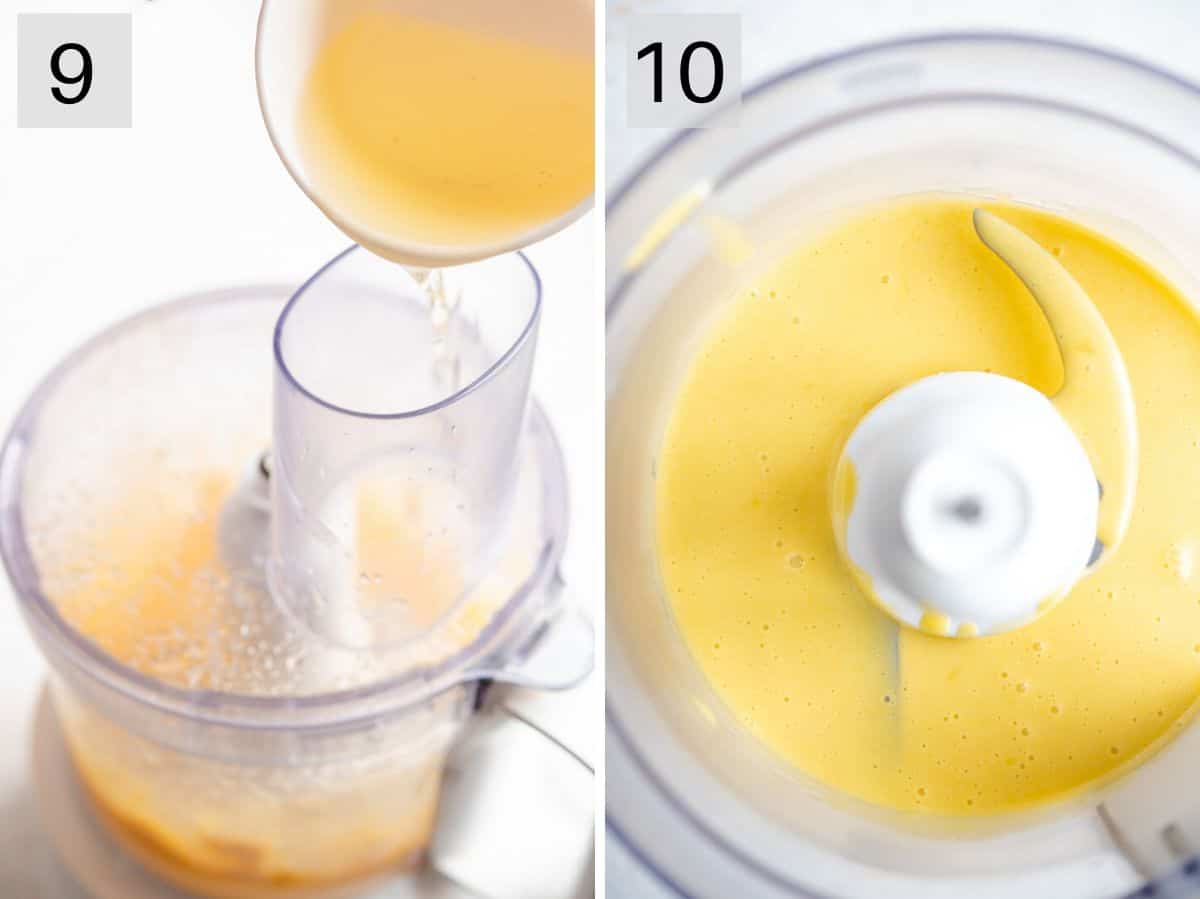 9. Add the egg yolks, lemon juice, roasted garlic and salt and pepper to a blender.
10. Pour the oil very slowly into the blender until thickened, serve.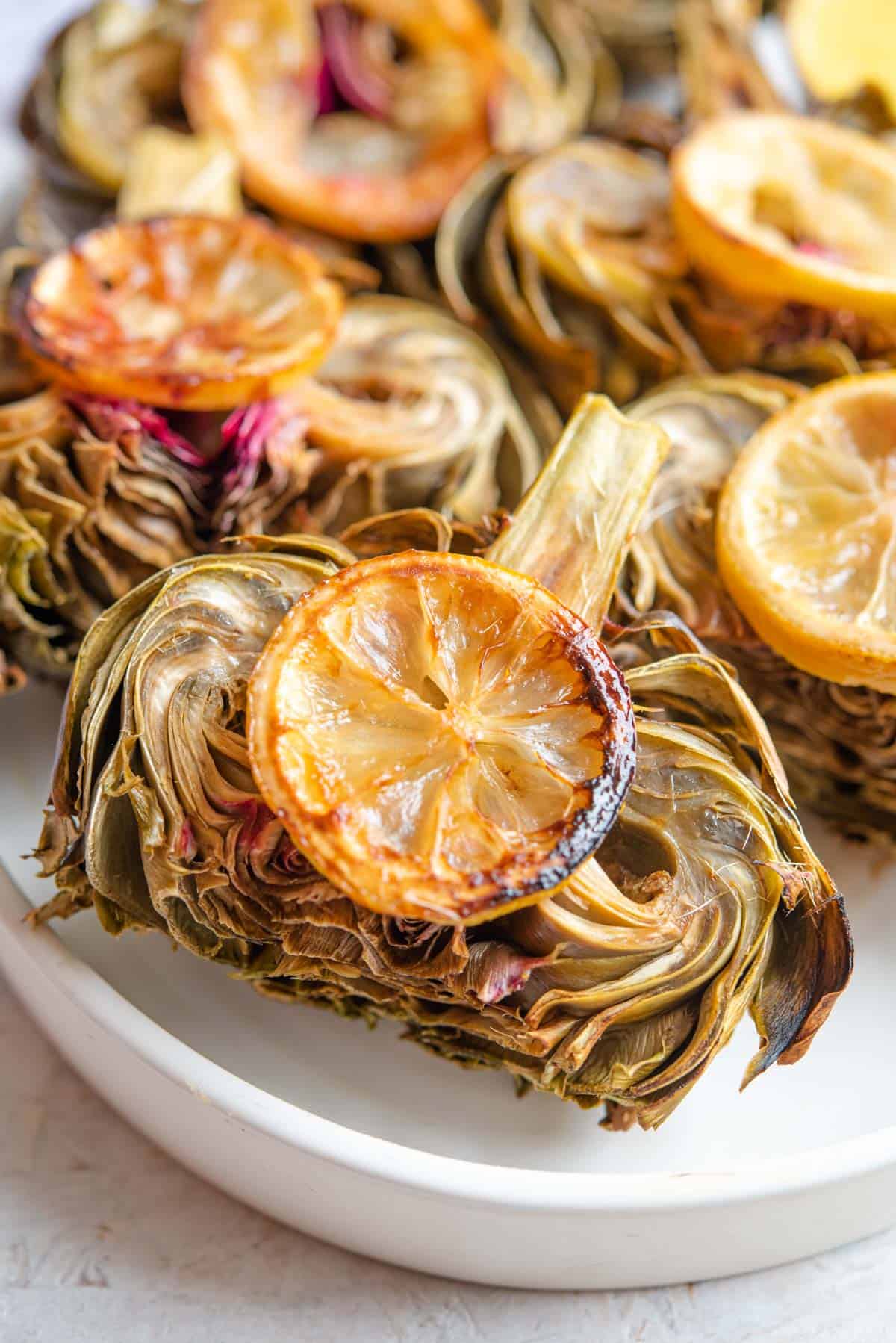 Tips and ideas for making this recipe
Use a serrated knife to cut the artichokes, they are pretty tough to cut through so a serrated knife really helps.
The pointy tips of an artichoke can be quite sharp so be careful when handling and cutting.
Why not try out different flavor combinations like adding fresh or dried herbs, olives, capers, or chili.
When making aioli it's really important to pour the olive oil into the blender slowly or it will split.
You can also make the aioli in a bowl and use a hand whisk.
My mom would always serve our artichokes with that onion powder you mix with sour cream. That stuff was what little kid dreams are made of! So If you don't have time to blend up an aioli just serve with whatever dipping sauce your family loves!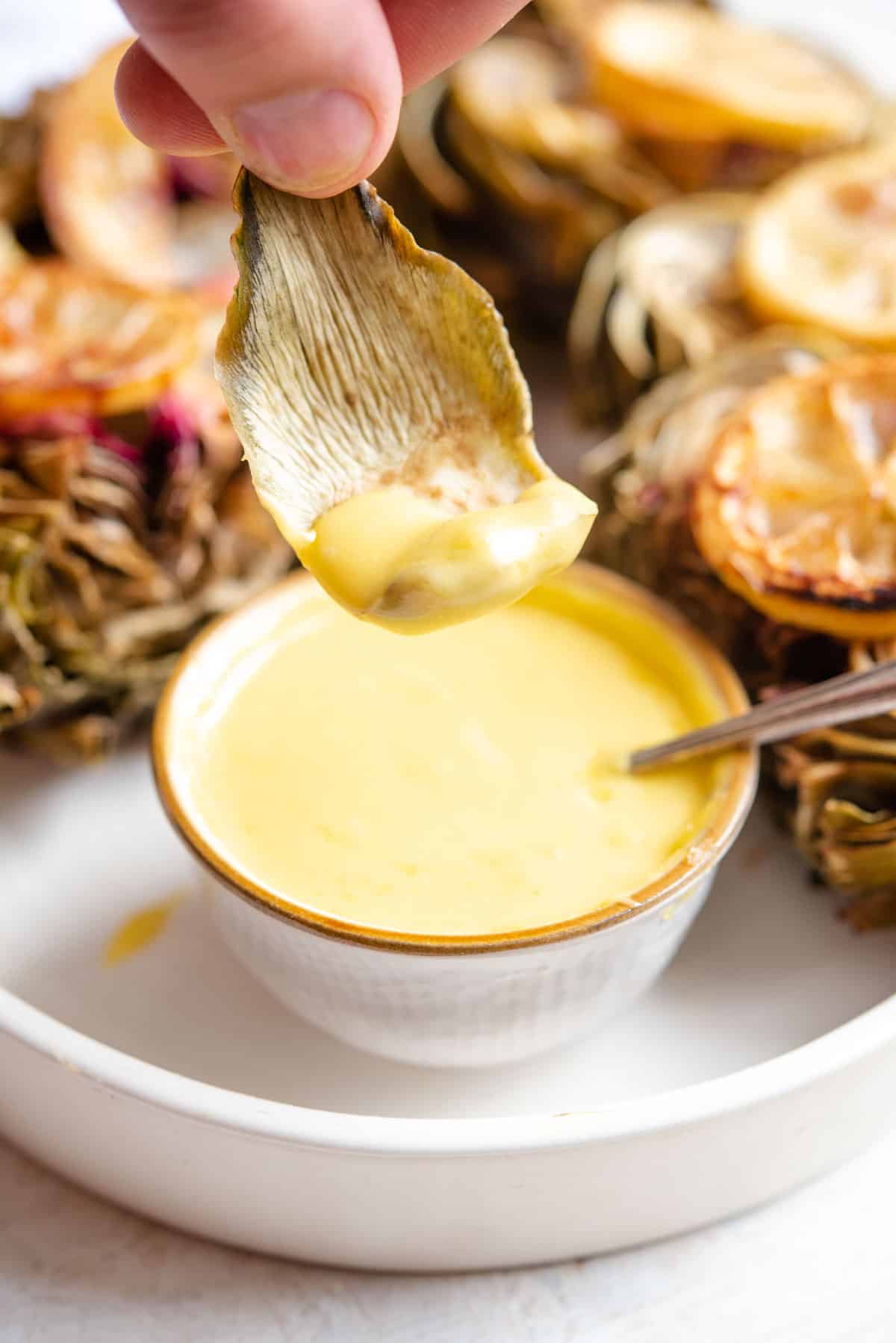 Frequently Asked Questions
How do I stop them from browning?
As soon as you cut artichokes they immediately start to brown, the best way to prevent that is to rub lemon juice all over them, It also helps add flavor!
What is the best way to cook artichokes?
You can steam, fry or roast artichokes but I find roasting has the best flavor, especially when they are roasted with fresh lemon and garlic, it's the best combination!
Are all parts of an artichoke edible?
No, the top part of the leaves and outer stalk are very tough and inedible, you can only eat the soft, fleshy part of the leaves and the artichoke heart. See below on how to eat them.
How do you eat roasted artichokes?
Use the petals of the artichoke as scoops for whatever dip you're using. Place the fleshy bottom part in your mouth, bite down and pull the petal away. Your teeth will scrape off all that delicious flesh and you won't have to worry about the fibrous part. The Delicious heart can be eaten with a fork and knife, just make sure you have removed all the fur.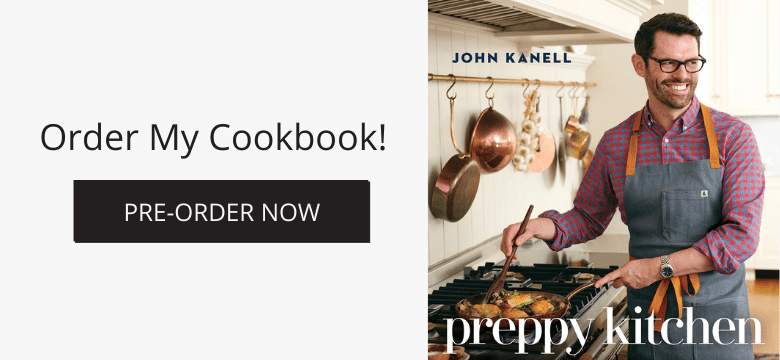 If you've tried this Roasted Artichoke recipe then don't forget to rate the recipe and let me know how you got on in the comments below, I love hearing from you!
Print
Roasted Artichoke
How to make the best roasted artichoke with garlic aioli. Don't forget to check out my step by step photos and tips above!
Ingredients
4

artichokes

1

tablespoon

lemon juice

15mL, per artichoke

½

cup

olive oil

118mL, per artichoke

Sprinkle salt

per artichoke

1-2

garlic cloves

per artichoke
For the Aioli:
3

egg yolks

3

garlic cloves

Taken from roasted artichokes

1/2

teaspoon

salt

3g

1

cup

olive oil

236mL

pepper

Freshly ground

2

tablespoons

lemon juice

30mL
Instructions
Trim the pointy ends of the artichoke. Halve and scoop out the insides.

Sprinkle with lemon juice.

Place 1-2 cloves of smashed garlic in each.

Drizzle olive oil liberally on the inside.

Sprinkle with salt and top with lemon slice.

Turn artichoke halves cut side down using the lemon wedge to hold the garlic in. Bake at 400F cut side down for about 15 minutes.

Remove from oven, cover in foil, and bake an additional 25-30 minutes or until tender.
For the Aioli:
Blend egg yolks, garlic, lemon juice, salt and pepper until smooth.

Add oil gradually.

Drizzle over artichokes or pour into a serving dish for dipping.
Notes
Use a serrated knife to cut the artichokes, they are pretty tough to cut through so a serrated knife really helps.
The pointy tips of an artichoke can be quite sharp so be careful when handling and cutting.
Why not try out different flavor combinations like adding fresh or dried herbs, olives, capers, or chili.
When making aioli it's really important to pour the olive oil into the blender slowly or it will split.
You can also make the aioli in a bowl and use a hand whisk.
My mom would always serve our artichokes with that onion powder you mix with sour cream. That stuff was what little kid dreams are made of! So If you don't have time to blend up an aioli just serve with whatever dipping sauce your family loves!
Nutritional information is for the artichokes only
Nutrition
Serving:
1
g
|
Calories:
70
kcal
|
Carbohydrates:
3
g
|
Protein:
1
g
|
Fat:
7
g
|
Sodium:
120
mg
|
Potassium:
60
mg
|
Fiber:
2
g
|
Vitamin C:
9.1
mg
*
Nutrition Disclaimer