Apple cakes are a Fall favorite for me and this year I stepped up my game and made a little apple dipped in caramel sitting on top. I even broke my cardinal rule of not using fondant!  Browned buttercream infused with Fall spices is completely addictive by the way. If you don't do anything else whip up a batch and slather it on everything! I Partnered up with hello Products for this post. They sent me their naturally friendly training toothpaste for the twins and the apple flavor had the cutest packaging. So cute it inspired the design of this cake!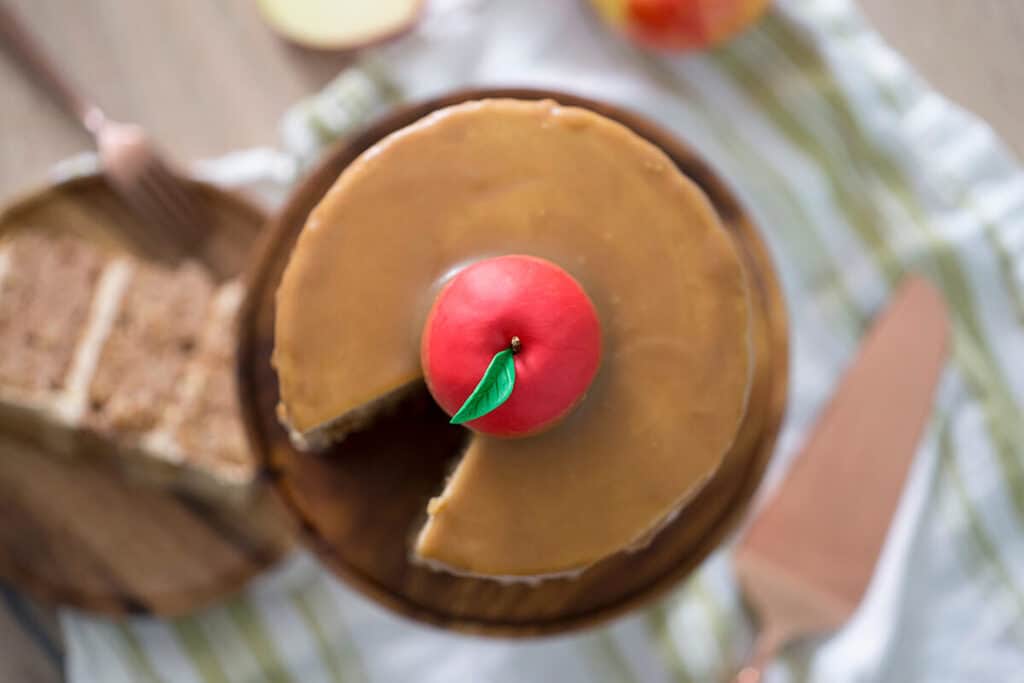 So if you try to make this apple remember to freeze or chill the apple before you smooth it. That way you can handle it without things falling apart!
Apple Cake
A rich apple cake covered in browned buttercream infused with Fall spices and topped with homemade caramel.
Ingredients
For the Cake:
3

cup

all-purpose flour

2

tsp

ground cinnamon

1/2

tsp

ginger

1/2

tsp

nutmeg

1/2

tsp

allspice

pinch

of ground cloves

1

tsp

vanilla

1

teaspoon

baking soda

1

teaspoon

salt

1/2

cup

coconut oil

1/4

cup

vegetable oil

1/4

cup

yogurt

plain

1.5

cup

sugar

3

large eggs

3 - 4

apples

cored and cut into 1/2-inch pieces, I prefer honey crisps
For the Buttercream:
1

teaspoon

cinnamon

1/4

teaspoon

ginger

1/4

teaspoon

all spice

1/4

teaspoon

cardamon

1

pound

confectioners' sugar

3/4

cup

butter

browned

3

teaspoons

vanilla

1/3

cup

cream
For the Caramel:
1

cup

brown sugar

5

tablespoons

butter

unsalted

1/2

cup

cream or half and half

1

tablespoons

vanilla extract

pinch

of salt
For the Apple:
1/4

cup

fondant

red food coloring

green food coloring
Instructions
For the Cake:
Sift and whisk together the dry ingredients

Mix together the wet ingredients until well combined in a large bowl or stand mixer.

Gradually mix in the dry ingredients until combined.

Divide the mixture evenly into four three 6inch pans, which have been buttered and floured. (I always use cake strips too)

Bake at 350F for approximately 40 minutes or until centers are done.
For the Buttercream:
Heat the butter over medium low heat, stirring occasionally until it is browned to a caramel color. Transfer to a bowl to cool to room temp, add confections sugar, cream and vanilla.
For the Caramel:
Combine ingredients in small pot.

Heat over medium-low heat while whisking

Cook for 7-8 minutes
For the Apple:
Bake the half circle cake pieces in semi-cricle cake pan for about 12 minutes. Remove them, let sit.

Trim tops and pipe buttercream in between to halves to assemble a sphere.

Cover the outside in buttercream and freeze.

While in the freezer, roll out fondant. Add red food coloring to fondant create skin. Add green food coloring to fondant to create a stem.

Cover the apple in red fondant and shape a leaf with the green.

Add the stem from a real apple and a fondant leaf. Dip apple half way in caramel and place on top of cake.
For the Assembly:
Place on cake stand. Pipe butter cream and caramel ganache between each layer.

Finish off with dripped caramel ganache.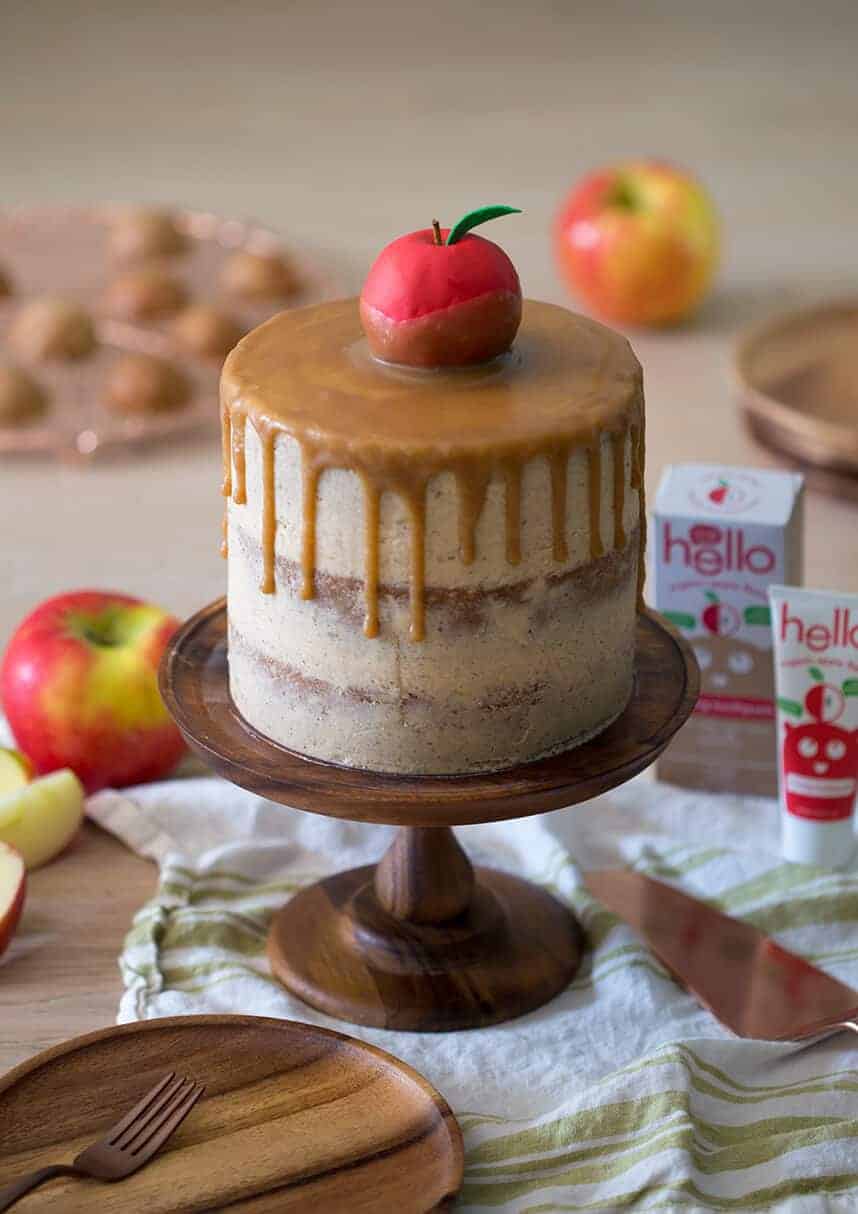 hello's training toothpaste has cute packaging, is naturally friendly ingredients and tastes great!
Sponsored Post