These no bake cookies are SO fast, easy and delicious there's basically no excuse not to make them especially since you probably have all the ingredients hanging around in your pantry already!
Pro Tips for making no bake cookies
Have all your ingredients set out before you start including the parchment paper you need for the cookies to set on.
Set a timer when the mixture is boiling, cooking for too long makes dry cookies but if it's not cooked enough the mixture will not set properly.
You can add a tablespoon of vanilla and/or a teaspoon on instant espresso for extra flavor.
Butter or ghee is the only way to go here, do not sub in margarine or coconut oil.

Frequently Asked Questions
What's the best peanut butter to use for no bake cookies?
You can use crunchy or creamy peanut butter but for cookies that set well use a brand of stabilized peanut butter like Jif or Skippy. Natural peanut butters can be a bit runny and your cookies might have issued setting up.
How long will no bake cookies keep for?
Stored in an airtight container, these cookies will last about a week at room temperature and two weeks in the refrigerator. Like most cookies these are best the day of.
Can you use old fashioned rolled oats to make no bake cookies?
Rolled oats are in bigger pieces and take longer to cooke and do not absorb liquid as quickly. If you need to make this substitution try pulsing the oats in your food processor to break them up but not pulverize them into a powder.
Can I add nuts or dried fruit to this recipe?
Definitely! This cookie is amazing with roughly chopped roasted peanuts mixed in. Try adding one cup and see how you like it. Dried cranberries, raisins and dried cherries cherries are all nice additions if you'd like a touch of fruit.
Why are my cookies dry?
Dry cookies will happen if you cook the mixture for too long. Too much liquid has boiled off and the sugar is so hot that the whole thing sets pretty fast. These are still pretty tasty but not as moist as they might be.
How to make No Bake Cookies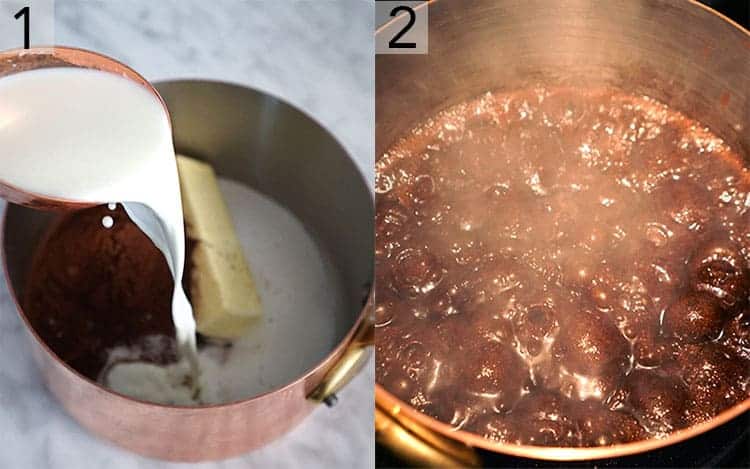 1. Add the butter, milk, sugar, cocoa powder in a medium sauce pan.
2. Place pan over medium-high heat and cook while stirring occasionally until it reaches a boil. Once your mixture reaches a boil, boil for ONE MINUTE ONLY! Set a timer then remove from heat immediately.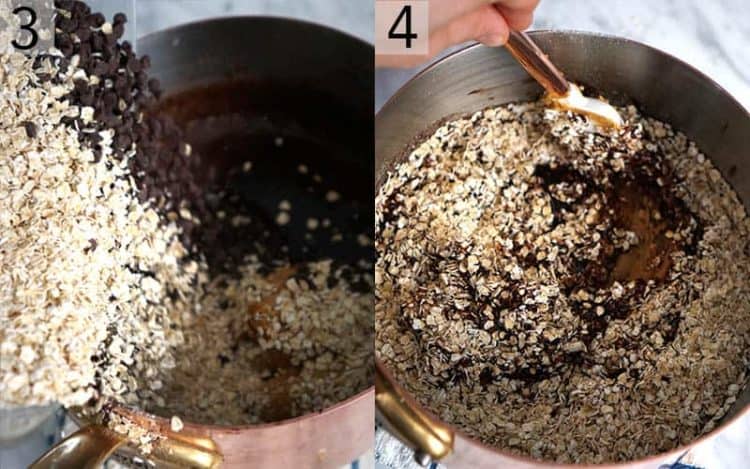 3. Add oats, chocolate chips and peanut butter.
4. Stir until all mixed in.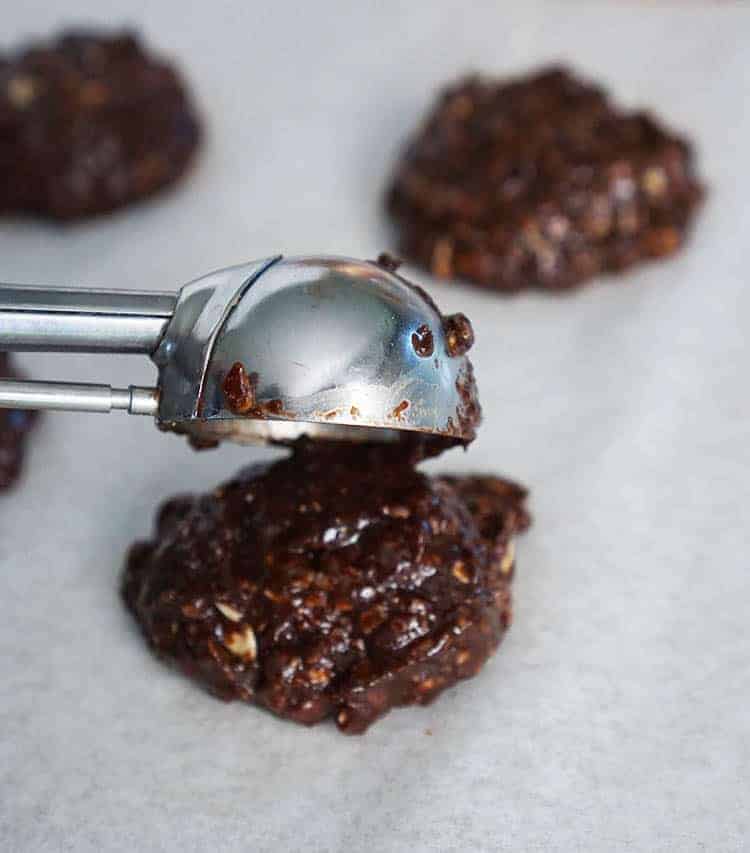 Use a small ice cream scoop or a heaping tablespoon to scoop the batter onto a sheet of parchment paper. Allow to cool until set, about 20 minutes. You can of course eat this by the spoonful but then portion control becomes VERY difficult…
IF YOU LOVE THESE COOKIES TRY SOME OF THESE RECIPES OUT!
Peanut Butter Chocolate Chip Cookies
Chewy Chocolate Chip Cookie Recipe
Oatmeal Chocolate Chip Cookies
If you've tried this no bake cookie recipe then don't forget to leave a rating and let me know how you got on in the comments below, I love hearing from you!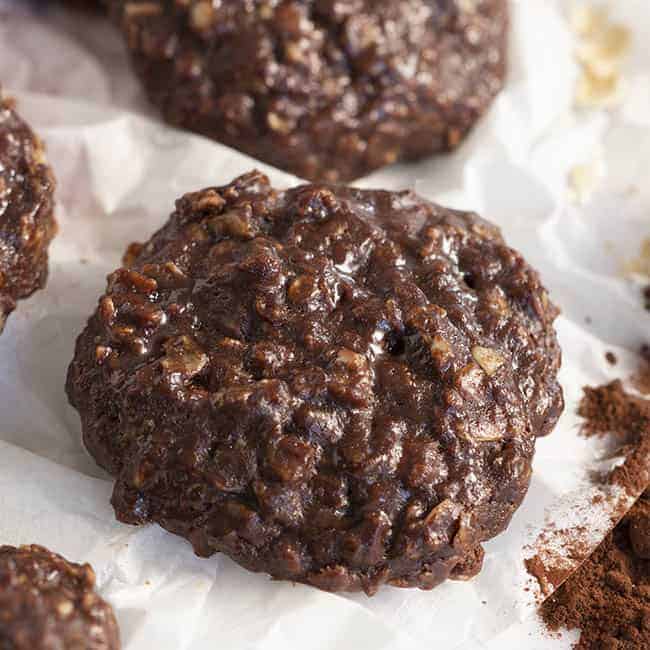 Print
No Bake Cookies
These easy no bake cookies are chocked full of peanut butter, chocolate, oats and general yumminess. They come together in less than 10 minutes and are totally DELICIOUS!
Ingredients
1 1/3

cups

granulated sugar

1/2

cup

milk

1/2

cup

unsalted butter

1/4

cup

unsweetened cocoa powder

1/2

cup

chocolate chips

3/4

cup

peanut butter

1

tbsp

vanilla extract

2 1/2

cups

quick cooking oats
Instructions
Add the quick oats, chocolate chips, and peanut butter into a medium bowl and set aside.

Place the butter, cocoa powder, sugar, and milk in a medium pot on medium high heat. Stir together while cooking until mixture reaches a boil.

Allow to boil for EXACTLY 60 seconds then immediately remove from heat and pour in the dry mixture.

Stir until fully incorporated then use a small ice cream scoop or tablespoon to drop heaps of the mixture onto parchment paper.

Allow to cool until set, about 20-30 minutes. Enjoy immediately or store in an airtight container.
Video
Notes
Have all your ingredients set out before you start including the parchment paper you need for the cookies to set on.
Set a timer when the mixture is boiling, cooking for too long makes dry cookies but if it's not cooked enough the mixture will not set properly.
You can add a tablespoon of vanilla and/or a teaspoon on instant espresso for extra flavor.
Butter or ghee is the only way to go here, do not sub in margarine or coconut oil
Nutrition
Serving:
2
cookies
|
Calories:
136
kcal
|
Carbohydrates:
16
g
|
Protein:
3
g
|
Fat:
7
g
|
Saturated Fat:
3
g
|
Cholesterol:
8
mg
|
Sodium:
32
mg
|
Potassium:
77
mg
|
Fiber:
1
g
|
Sugar:
11
g
|
Vitamin A:
100
IU
|
Calcium:
15
mg
|
Iron:
0.5
mg
*
Nutrition Disclaimer