Yesterday was the first day of Spring. To celebrate, I made a cake just for little ol' me! ?  I made up one of those recipes where you just know it's going to be tasty because you're only using your favorite ingredients hehe. Got to treat yourself! For example, I don't love the taste of flour so I didn't use any! I substituted coconut and almond flour instead. I don't have a gluten intolerance but this cake is GLUTEN FREE! I made a reduction using fresh blackberries and orange liqueur to flavor part the batter and the buttercream (mascarpone buttercream ?). It is filled with shredded coconut and topped with tons of berries. I will warn you that while dishes without flour make it more tender and moist — it will also — make the cake more delicate. Beware but enjoy!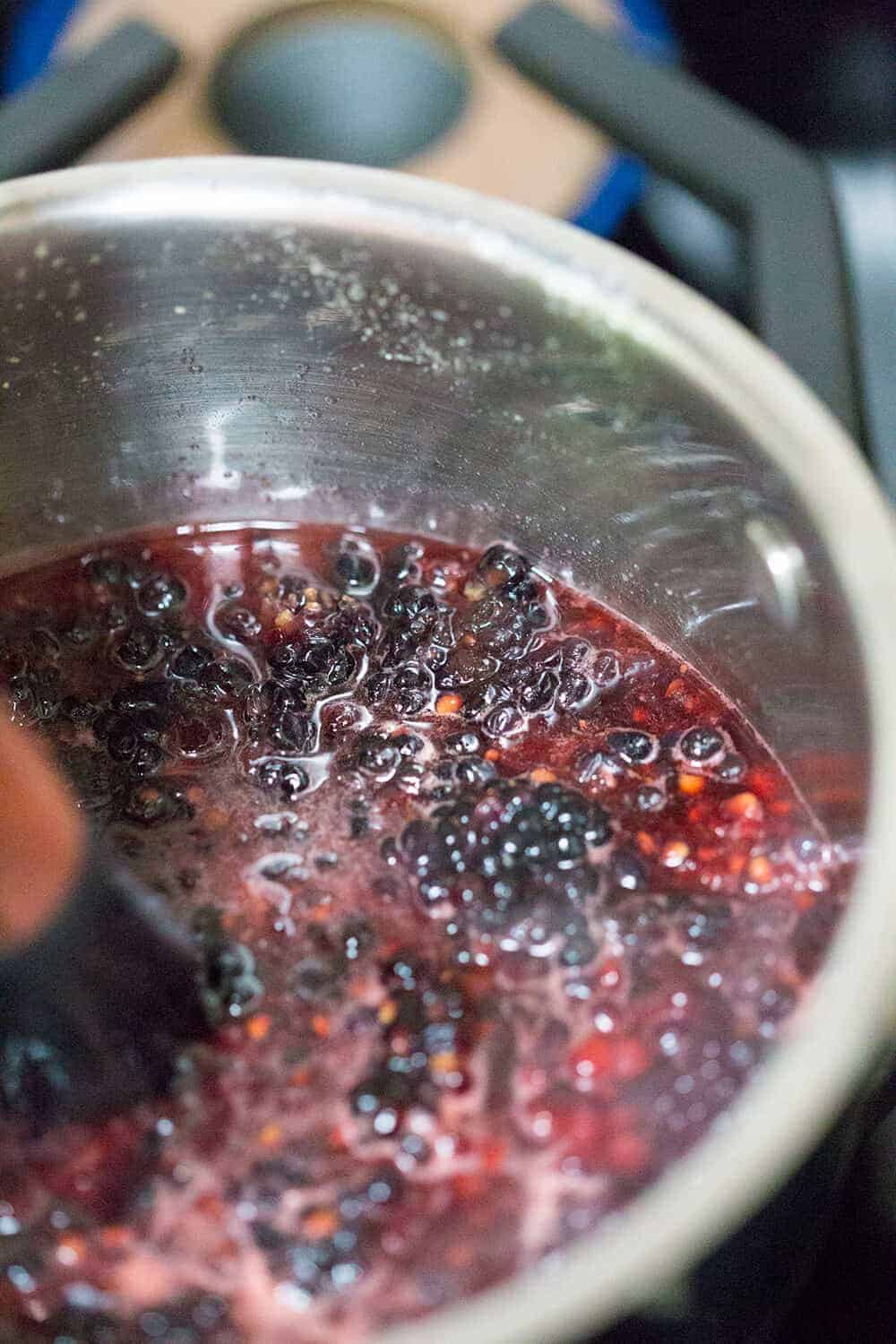 This reduction is so tasty and easy. The orange liqueur adds just the right depth of flavor. I strained the mixture and ate all the solids as a snack, it was that good. Also I think this would be a great cocktail ingredient, any ideas on that?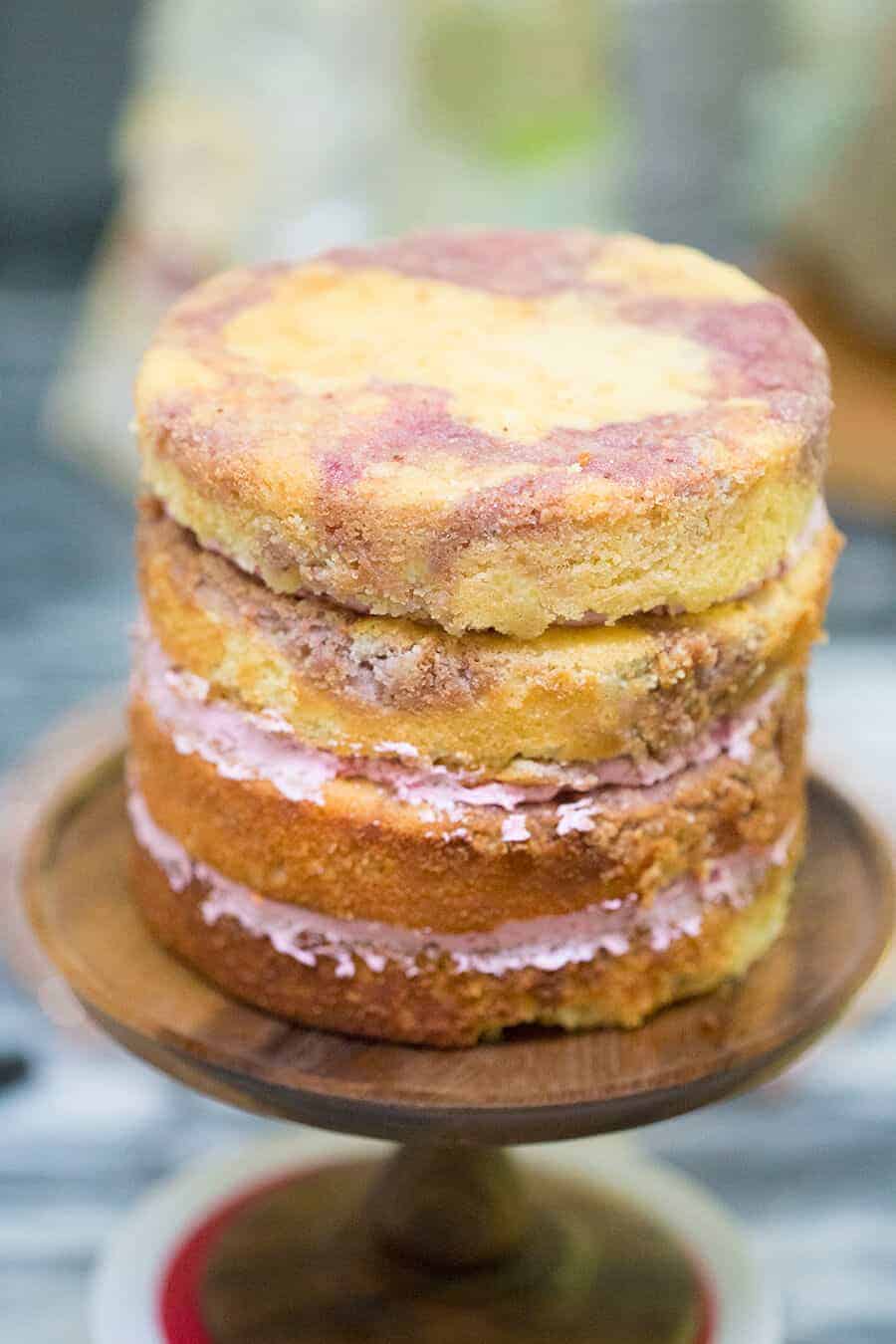 These cakes are not easy to remove from the pans. Parchment paper really helps.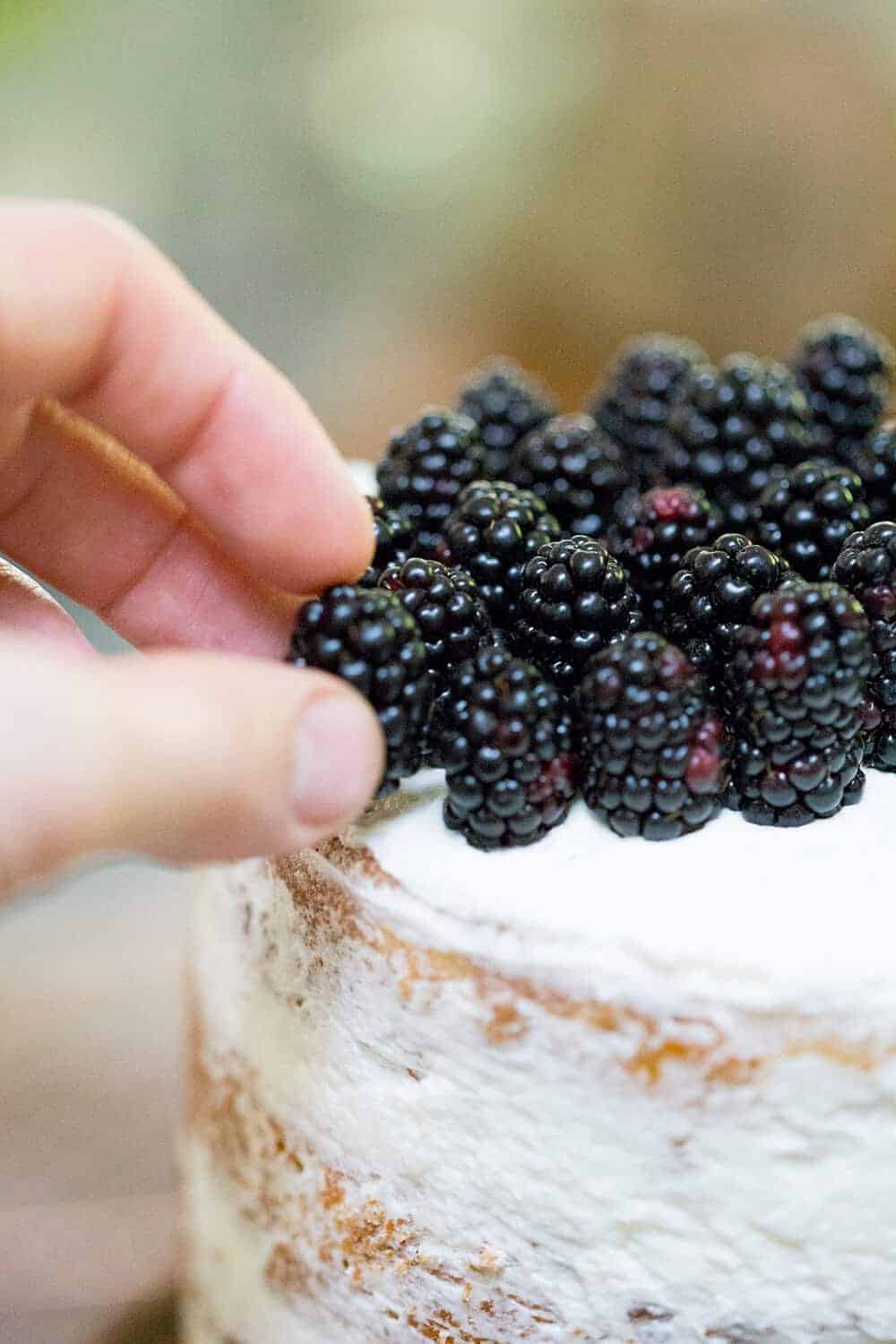 Try and find the best blackberries possible for this. I also use organic ones as the thin skins of the berries can absorb pesticides.
Print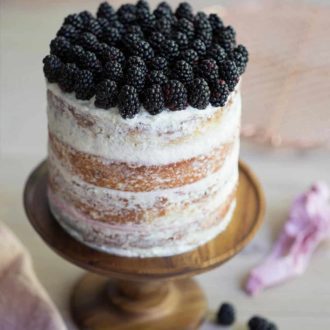 Blackberry Cake
Blackberries and coconut make an amazing cake.
Ingredients
Cake:
2¾

cup

almond Flour

1/2

cup

coconut Flour

¼

teaspoon

cream of tartar

1

tbsp

baking powder

½

teaspoon

kosher salt

2

cups

confectioners sugar

sifted

5

large eggs

room temperature

12

tablespoons

unsalted butter

1

cup

sour cream

1½

teaspoon

pure almond extract

1½

teaspoon

pure vanilla extract

1

cup

almond milk

1

tbsp

honey

5

ounces

sweetened shredded coconut
Frosting:
3

cups

confectioners' sugar

3

sticks unsalted butter

8

oz

mascarpone
Reduction
3

cups

fresh blackberries

1/4

cup

Grand Marnier

2

tbsp

water

1/4

cup

sugar
For the Decoration
4

cups

fresh blackberries
Instructions
For the Reduction
Place the ingredients in a small sauce pan on medium low heat.

Mash the berries with the back of a spoon or muddler and stir occasionally.

You want to reduce the amount of liquid, intensify the flavor, and thicken the liquid so aim to cook until the mixture is reduced at least by half.

Strain the reduction and set aside to cool.
For the Cake
Preheat oven to 350 °F, butter four 6' pans or two 9″ cake pans and cut parchment paper rounds for the bottoms.

Sift the dry ingredients

Add flours, Baking powder, cream of tartar, and salt in bowl.

In bowl of electric mixer beat butter on high until butter is lighter and creamed, about 3-5 minutes.

Lower speed of mixer to low and add eggs and extracts until mixed, and then slowly add confectioner sugar until blended.

Alternating between, flour mix, sour cream and milk add in thirds (1/3 flour, ⅓ sour cream, ⅓ milk) until, blended.

Stir in the coconut.

Place about a cup for the batter in a separate bowl and mix in about 1/4 of the blackberry reduction. If the mixture seems too wet you can fold in some more almond flour.

Divide mixture between the prepared pans. Swirl in the blackberry infused batter.

Bake at 350F until centers are set. About 30 minutes.
For the Buttercream
Cream the butter until it lightens and changes texture, at least 5 minutes. Beat in the cup of confectioners' sugar. Add the mascarpone cheese and 1/4 cup of the reduced poaching liquid. beat JUST until combined. If you over beat the texture will loose it's silkiness.

Divide the batch in two and beat in about 1/4 cup of the blackberry reduction
T Assemble
Add blackberry buttercream to between each layer. Cover in plain buttercream and smooth sides. (I made mine a naked cake by scraping more from the edge)

Top cake with blackberries.
Nutrition Facts
Blackberry Cake
Amount Per Serving
Calories 154
* Percent Daily Values are based on a 2000 calorie diet.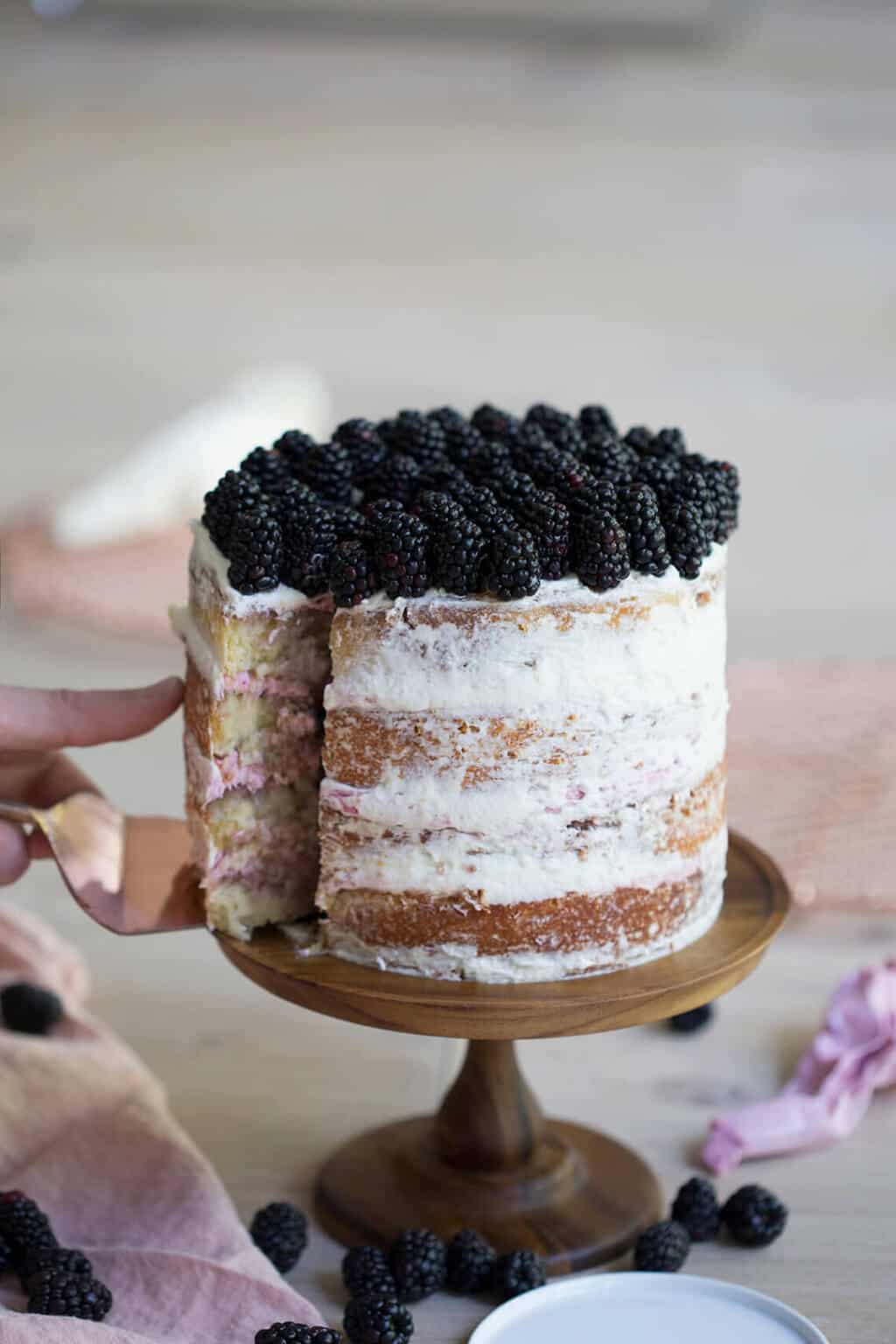 Hope you enjoy!
DIY Blackberry Cake
DIY Blackberry Cake
Yesterday was the first day of spring and to celebrate I made a cake just for me! ?
I made up one of those recipes where you just know it's going to be tasty because you're only us…